Been pondering a dropper post for a while, people seem to rate the gravity dropper as the most reliable and lightweight (perhaps not the slickest design), however it seems very expensive (to me) for what it is.
Then I spotted the Forca Vario - a gravity dropper clone: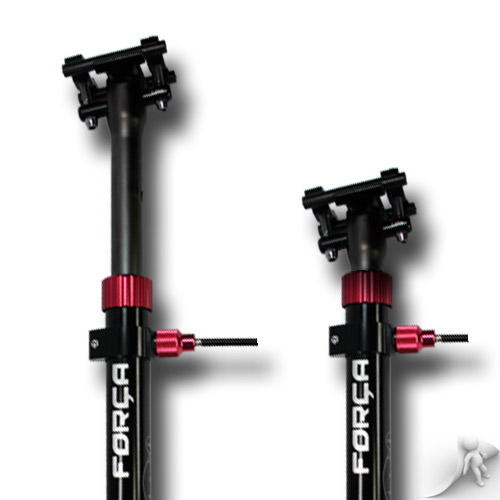 http://www.forca-sports.de/?p=63
85mm drop, comes in 27.2 with shims included, dirt boot protection for a fiver extra.
Here is a translation of the German MAg article provided by Schweiz off here. Apparently they did 1991KM on it to test it!
There are not many dropper posts available with 27.2mm diameter which is common on hardtails
Forca SPS350
99€, 551g
Cheap and surprisingly light. Simple mechanics with steel spring and cable actuated positioning bolt. In use it's not a smooth as the expensive hydraulic posts but even in Winter it's astonishingly reliable. If something does go wrong then you can disassemble and maintain it in minutes thanks to the simple design.
Changing the cable is simple and you can also "pimp" the system with Nokon cable outers which have tighter clearances which are advantageous. The cable connection is at the base of the stanchion and so is less disturbing in the dropped position compared to other posts.
On the downside, there's only 85mm of travel but considering the limited other options, 85mm is better than nothing!
Postives : Simple, reliable mechanism, 27.2mm diameter, cheap and light.
Negatives : Extension is not very smooth, only 85mm travel
Missing from the review but also important - It only has 2 positions, up and down. You also get the shims for the other tube diameters delivered with it.
http://singletrackworld.com/forum/topic/any-german-speakers-able-to-traslate-this-short-mag-review?replies=6#post-3227226
Theres a few users on MTB News de that seem happy with them: http://www.mtb-news.de/forum/showthread.php?t=501708
I decided it was worth a punt for £65 from here: http://www.ebay.co.uk/itm/400228107736 they do ship to the UK €18. The "shock boot" is €6 extra.
I will update when it arrives.