I found a thread on making a 'compressor' from a drinks bottle - I made one and it worked !! Having tried with a tyre compressor with no luck and virtually given up on getting my Onza Ibex FR 2.25 tyre inflated without a tube, due to the very loose bead - I'm very pleased this worked, using things I already had in the shed!
I used a 2 litre drink bottle.
Drilled a 6mm hole in the bottom end and inserted a presta valve from a cut inner tube - to use as the end I attach the pump to. Where you screw on the tightening ring, I made a rubber 'washer' from a piece of inner tube with a tiny hole in the middle - so the tightening ring formed a better seal.
I inflated this with the lid on the bottle to ensure it reached sufficient pressure and 60psi was fine.
Then drilled a 6mm hole in the bottle cap (centrally) .... and inserted another valve in that end, this time with the valve core removed as this would be the 'exit' end.
I had the No Tubes sealant kit which has a short length of plastic tubing off the syringe for sealant to go through, so decided to cut this tube to use. It has a handy screw on piece the other end for attachment to the valve on the wheel! [valve core removed for now]
In order to fix the tubing to the bottle-cap valve [tubing was slightly too big] I wrapped some blu-tak around the valve outer thread and squeezed the tubing over that and then zip-tied it in place - so that was air tight.
I then tested it again by crimping the tube with a set of grips [using spare inner tube rubber to protect the tubing from the metal edged grips & create a nice tight seal].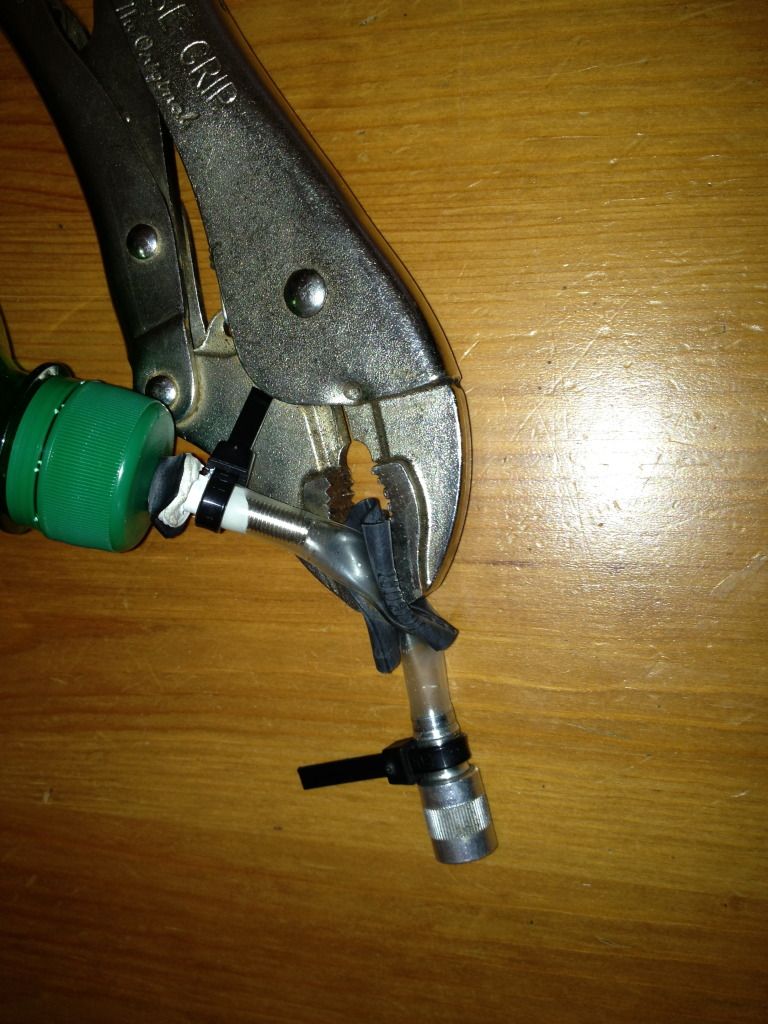 Pumped up my bottle to 70psi fine.
The tyre had already been inflated for a while with a tube in, so having taken the tube out I lubricated the tyre beads with soapy water.
Then I simply attached my bottle to the wheel valve - inflated it to 70 psi - released the grip .... and 'wham' up it went.
Fantastic.
I let it sit for a while to allow the tyre to sit in the rim fully.
I then used my Stans syringe to inject sealant through the valve on the rim (core was already removed).
Put the valve core back in and pumped up with my track pump, which worked fine - didn't need the bottle that time, now the beads were in place.
Job done....