We're all about the outdoors which can be difficult during the current epidemic, so here are our 10 Tips to Surviving Coronavirus Lockdown.
Even with all the latest advice and restrictions in front of you, it's still pretty hard to plan what riding you can and can't do during the Coronavirus lockdown because as soon as you've worked it out, things change again (I know, I've rewritten this enough times).
As of writing this (evening 25 March 2020) if you're living in the UK and don't fall into one of the 'at risk' groups you can still ride outside once a day either alone or with household members. This may well change so if you're reading this in a few days' time, don't take our word for it but check the latest restrictions.
Remember, alone means alone.
Remember, alone means alone. Many of us ride for the social aspect as much as the fitness and adrenalin, but these are unprecedented times. If you've never done it, spend some time appreciating the serenity of a solo ride. I promise you a lone ride on an early spring evening is something to be savoured.
Whether you ride on your own or take the kids out keep 2 meters from other people to avoid coughs, splutters and spits over the shoulder. Make sure you don't stand around chatting to other people who are out and remind anyone else who has congregated in a group of their social distancing responsibilities. The more we abuse the rules, the more likely they'll become more draconian.
And finally, wash your hands as soon as you get home, and the rest of you for that matter. Wearing gloves is no good if you cough into them and spread it all about or touch stuff and then wipe your face.
You can check out all the rest of our tips for riding during the pandemic over here.
But what about all the rest of the time when you're stuck at home? Here's our guide to staying in during the pandemic:
1. The turbo / rollers / smart trainer
Ah, yes, every cyclist's least favourite thing to do. I mean, why would you? But these are exceptional times and – as they say – any port in a storm. An hour, nay 30 minutes, on the turbo can tell you an awful lot about yourself. And if your will power alone isn't enough, training apps like Zwift have MTB specific programmes to make the experience more 'fun'. Zwift the Coronavirus Lockdown worst enemy!
2. Not the turbo
If you'd rather not pedal in your garage, there are other ways to exercise at home. Take the opportunity to work on your strength and flexibility with one of the plethora of YouTube fitness videos and on line programmes. Google and you will find…
3. Sweet jumps
Limited time on your mountain bike doesn't mean you can't work on some specific skills. In fact, having limited riding time can make you spend time on things you'd never normally do.
NB: Keep in your back yard and off the street during lockdown. And don't go big, the Coronavirus Lockdown is not the time to turn up in A&E, they'll be busy enough.
Even in the most limited space of a hallway you can practise balance and track stands or buy/make yourself a manual machine to take out on the patio.
4. Tinker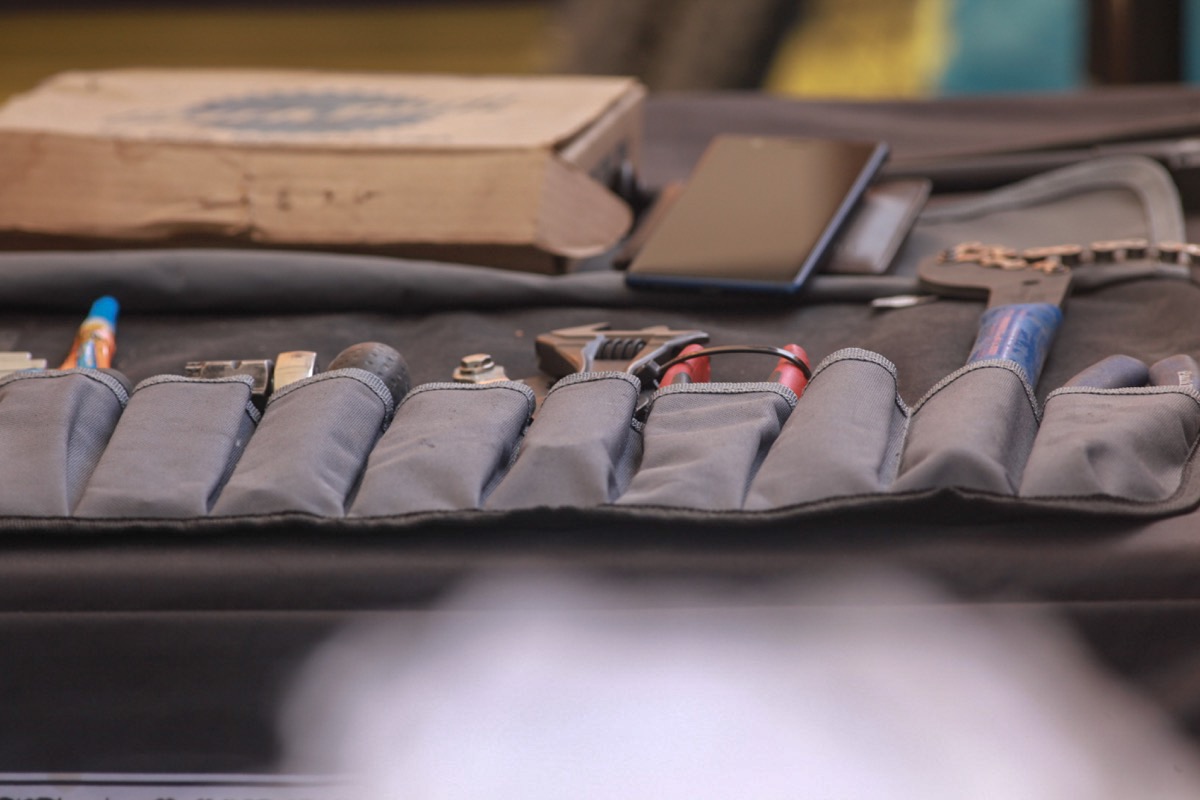 You know those knackered bearings and that drivetrain that's well passed it? Now's the time to get it all sorted. You're unlikely to have such an uninterrupted stint at home ever again. Whilst you're at it, sort out that garage / shed / under stairs cupboard so you can find the pedal spanner next time you need it.
5. Support your spannering, support your LBS and support the industry
During the Coronavirus Lockdown, bike shops are classed as one of the essential services that can remain open so you can still get those spares you need or book your bike in for a service. It's also a great opportunity to financially support the industry as a whole and your local shop. Remember that going out is restricted to getting 'basic necessities' as 'infrequently as possible' so save your tyre kicking for on-line.
Whilst shops can stay open many have chosen to close so a call ahead to check they're open and if they have what you want and use on-line / phone ordering where possible.
All this doing is fine, but what about if you are unwell or just crashing out at the end of the day?
6. Dream big
To bastardise a quote, "Time spent researching a new bike, even a bad one, is never wasted time". Go to town; dream big; geek out on a spreadsheet comparing weight, prices and performance of every last component possible; consultant the Singletrack forum. Go on, you know you want to.
7. Movie night
Many on-line subscription services are opening up access at the moment and there are already lots of free-to-view MTB films. There are too many to attempt a comprehensive list but here are a few highlights.
Let us know of any other gems in the comments below.
8. Catch up with some reading
Now's the chance to finally read those few copies of Singletrack you've never had chance to get to (we've opened up access to issue 129 published in February). If you need more you can subscribe for additional on-line content and a lovely glossy paper copy of the mag on your doorstep too.
9. Expand your mind
Why not learn something? Read the manual for your forks, or your shock. Understand exactly how the different components work together, figure out how to be a suspension tuning guru. Read up on tyre compounds – do you really know how they work? What about the difference between forged and extruded metals?
10. Try something new
If all you have in your life is mountain biking, what you do if you're injured? Maybe now is a good time to become a more rounded human being. Learn the guitar, learn to sew, make jam.
However you're spending your time, be safe, be sensible and be responsible. The trails will still be there when we get back.
---