Last week Pivot Cycles introduced its newest mountain bike called the Trail 429. Replacing the existing Mach 429 Trail, the new Trail 429 not only has a revised name, it also has a brand new carbon fibre frame with an increase in rear suspension travel to 120mm. Also new is the move to wider rear hub spacing, which has allowed Pivot to shorten the rear stays while providing monster tyre clearance for 29×2.6in or 27.5×3.0in tyres.
I travelled over to the US to test out the new short-travel 29er on the highly technical and rocky trails in Moab, and you can now read a detailed rundown and my first impressions of the new bike right here.
While I was in Moab for the launch, I got a chance to pose some questions to Pivot's CEO, Chris Cocalis, to find out a little more about the development of the Trail 429, and why Chris wanted to bring us to Moab to ride this bike. Check out the full interview below, or watch it via the embedded video here;
ST: Chris, I've got a couple of questions for you about the bike. Can you give me three key features that define this bike relative to the rest of the pivot lineup?
Chris: Sometimes it is difficult to keep it down to three. The bike is 120mm of travel, up from the previous versions bike at 116mm. It's got a longer reach, and – I'll do geometry as one – longer reach and shorter chainstays. It's designed really to be a snappy fast bike and retain the XC capabilities of the previous version but be way more trail capable.
ST: Good response. Excellent, and I'm glad you kept it to three! When did the development start for this bike?
Chris: Really shortly after that launch of the last one. So we based the last one, the Mach 429 Trail, off the Mach 429SL and the goal was to basically make a more capable XC bike. So it was kind of interesting how we arrived at 116mm of travel at the time, and we did some prototypes at 120mm and the bike seemed to lose some of that XC snap. At the time, trail bikes weren't quite so progressive, it was still, for the time in that shorter travel 29er, it was a very capable bike, but 116mm of travel is not a huge amount of travel. And we wanted to make it…this…fairly bottomless feel but not really give up anything in the pedalling performance that we had with the SL.
With this bike, when we started the development, we really kind of took a look from the trail bike end and said okay, so we learnt a lot of things from this bike and now everybody…we have got guys racing enduro on the original Mach 429 Trail, people were using it well beyond its capabilities, asking if they could put reservoir shocks on the bike and do all of this stuff that was really a little bit outside of the spectrum. So we were like, okay well we've hit the mark, but people want more of the bike. So, with the Trail 429 when we started that, it was okay we're going to start at 120mm and we were well into the development of bikes like the Switchblade and then the Mach 5.5 that we launched last year. And so a lot of those ideas of the geometry came into this bike where we could still get that snappiness and not lose the XC capability but really drive it forward as a good trail bike.
ST: So would you say, perhaps as an approach, the original Trail 429 came from an XC background whereas this has come as more of a pure trail bike?
Chris: Absolutely. It really evolved from the 429SL. People were like putting 130mm forks on the bike. So they wanted a little bit more, so we gave them a little bit more. But then they wanted a little bit more, so we gave you a lot.
ST: Give the people what they want!
Chris: Give the people what they want, and give us what we want too, 'cause we started riding the bike that way and one begets the next and you always want more. That's why we're here.
ST: You're American!
Chris: Exactly. We supersized it.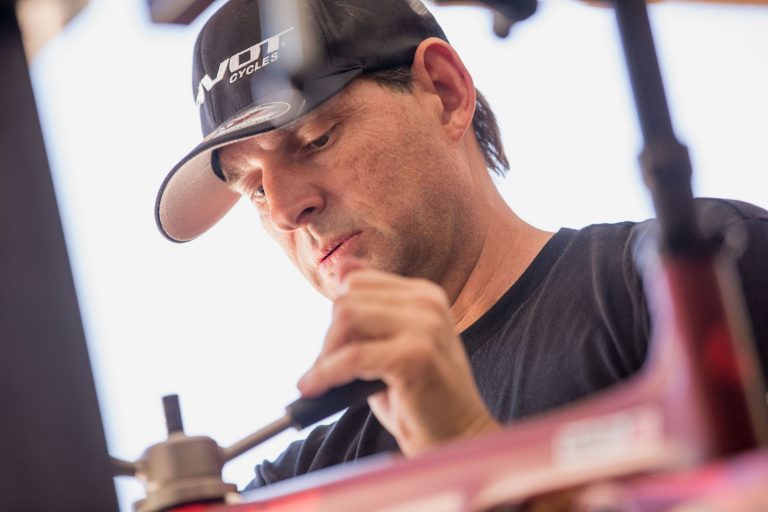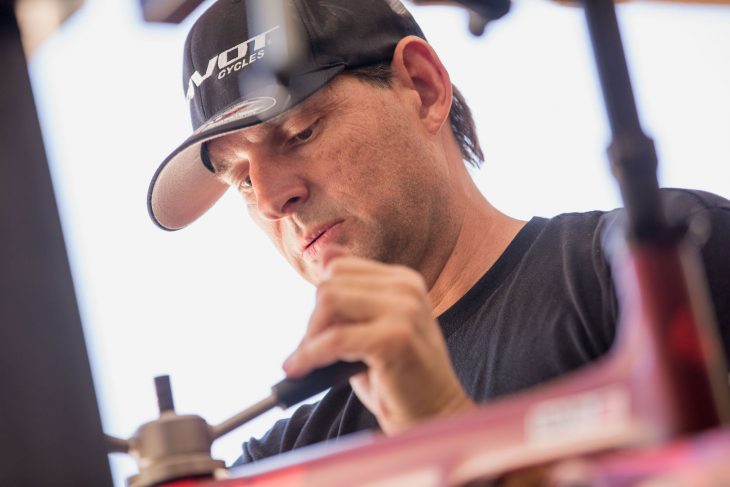 ST: So I guess you've kind of answered the next question, but perhaps you could be a little bit more specific. What did you want to improve over the existing bike with this one? Can you name any specific features that you definitely wanted to hit the nail on the head with?
Chris: Well there are several trails that I consider tech trails that, when we're developing a bike like the Mach 6 or 5.5 that it's like okay, especially the Mach 5.5, that bike needs to be able to pedal on smooth, nice, easy or general all round trails, but if it can do this group of trails that we like to test on, then we've really nailed it. And the Mach 429 Trail, the original one, I could go ride those trails but you found the limit pretty quickly on the bike, and I wanted to see if we could without again upsetting the snappiness not trying to turn everything into a pure enduro bike, keep that ability to really have an endurance-like race bike but be able to tackle that level of tech trail and not be held back by it. Not go, 'Oh s**t I made it through this but I just made it through' – we just want to limit those oh s**t moments.
ST: You want to fear for your life a little less.
Chris: A lot less. And this bike is capable of doing that.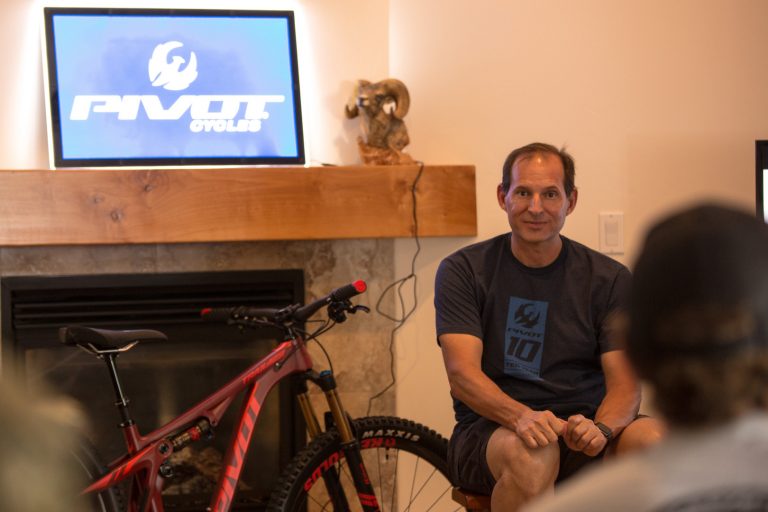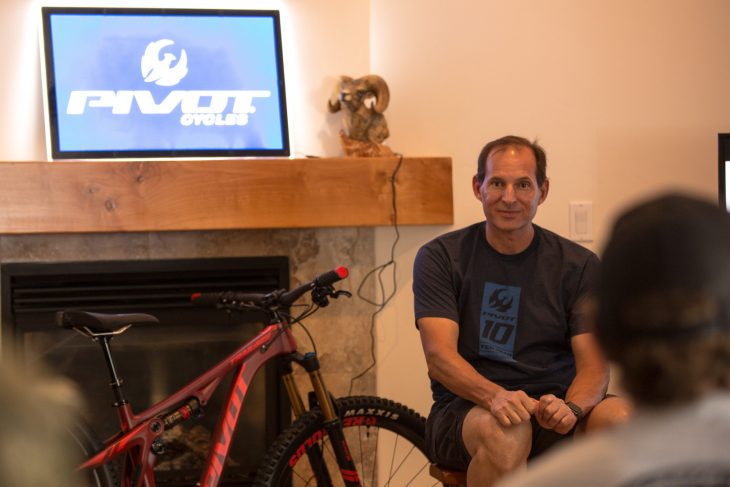 ST: Good response. I like that. Alright next question. Super Boost Plus. This is the second bike to feature Super Boost Plus spacing in the Pivot lineup. Why does this bike need it and could it have been designed without it?
Chris: What's Super Boost Plus?…….I'm just kidding! (Everyone laughs) Never heard of that!
ST: That was really convincing!
Chris: Just to give a little background, with the Switchblade we went to a 157mm rear triangle, worked with some hub manufacturers to redesign the hub, spread the flanges out. It offered a pretty substantially increased wheel stiffness. But the main thing was just like Boost, which moved the drivetrain everything out 3mm, Super Boost moves it out a full 6mm, gives us a lot more space around the tyre and allows us to keep those chainstays short, build a stiffer bike. Basically does away with a lot of the limitations that we have in designing. And so the question of whether or not we could build this bike as a Boost bike? No, we can't build this bike as a Boost bike. We could build the bike kind of like it, that wasn't as stiff, that maybe the chainstays were a little bit longer, certainly doesn't have or wouldn't have the tyre clearance that this has, but there would be compromises all across the line. So with this, everything about the bike, not just the geometry and its capability but that snappiness and the frame weight, the ability to pedal, and the ability to take Plus and pretty large 29 inch, 29 x 2.6in tires on this bike, and still I think we're at 430mm on the chainstay of this bike. It can have all of those things without compromise.
ST: Right. Because of that I guess a good follow on question from that is the wheel size compatibility. Do you see it being more popular as a 29er or a 27-plus?
Chris: It depends where in the world. The Switchblade in the US sells, at times, slightly over 50% as a Plus bike. In Europe it's like 18% and other parts of the world it's 30%. The previous 429 Trail was a Boost bike and it could clear 2.8-inch tyres but not with the clearance that this has, and the chainstays on that bike were quite a bit longer. But it's amazing, once we had the Switchblade, how many people asked 'can I put plus wheels on the Mach 429 Trail?', and so yeah, again we gave people what they want. And it was a good percentage of our sales of a bike that really wasn't, even with our 17mm (headset) cup in, it would kick the seat angle a little bit farther back. It rode well, but in my mind it wasn't the optimal situation whereas with this one I can really say, you know if you want plus wheels, I like the way the plus wheels give riders confidence. In a short travel 29er, the range of customers that are not at the extreme end of the enduro spectrum, that's an average rider, a weekend warrior, and maybe they're riding on stuff that they want more confidence, they want a little bit more traction, they're not going full race speed, and with the plus wheels that gives them that extra level of confidence to go through roots, to go through rocks and climb and descent technical things with more traction and so that's a great thing too.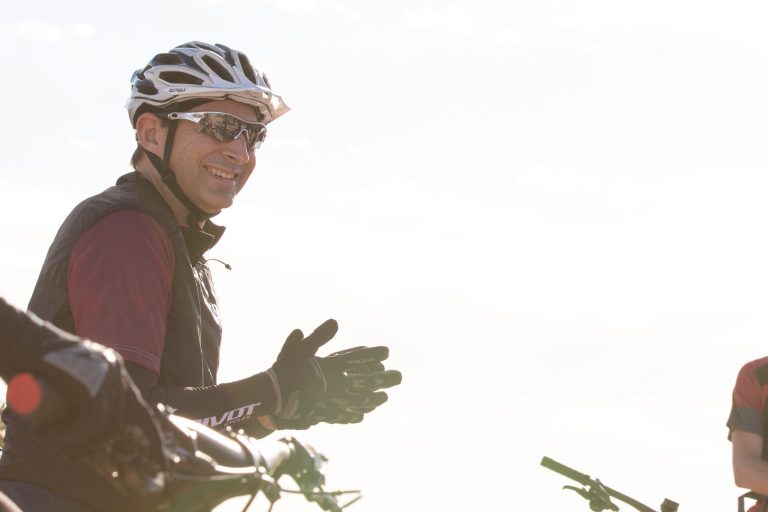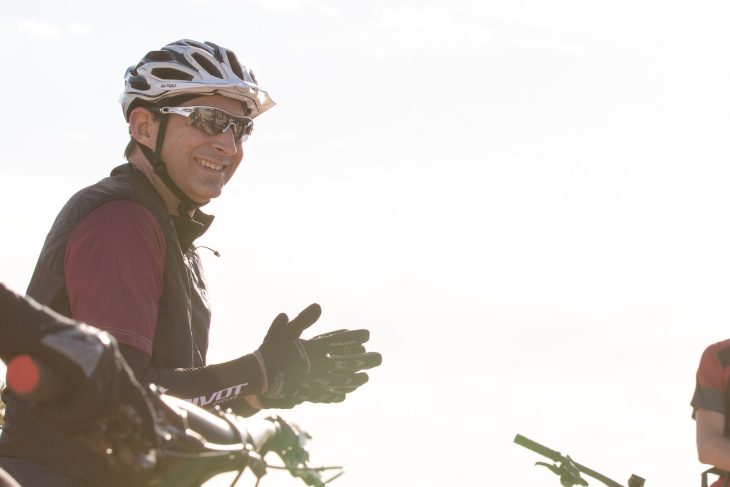 ST: On the Trail 429, what was the hardest design aspect about this bike? What caused you the most headaches?
Chris: We always want to give as much tyre clearance as possible, and when we were working on the designs, even when we're looking at all the different tires that we need to accommodate, even with the big tyre clearance that we have, the area down by the chainstays always winds up being the most challenging. I don't know if this is going to be later question or not, but one of the things on this bike is it's our first bike that's not front derailleur compatible and we went much wider on the lower link and have the double uprights of some of our longer travel bikes, and that made it easier to build a nice and stiff frame without having to go to really expensive exotic materials, so we were able to have a bike with more features that holds a price point similar to the previous Mach 429 Trail and just is a better, stiffer bike all the way around. But yeah that chainstay area, cable routing that whole thing down by the front sprocket, and again also accommodating a wide range of front sprockets. A lot of things come together down there.
ST: Here's a question for you. What are you most proud of about this bike? Is there any one aspect that you are just like, 'Yes! I nailed that. I'm super happy with it.'
Chris: Its overall capability. I mean that is something we're always proud of on every Pivot that we designed. You want to take a bike and kind of define what its category is going to be or what it's best at, but then really trying to make sure that it goes so far outside the boundaries that it is, regardless of the type of rider that buys this specific bike, they are not pigeonholed into using it for one thing. And so just having a very versatile bike, and with this, it does that. I raced a 24-hour cross country race, on a team, I wasn't solo, but I actually did my first lap on the 429SL and my second lap on the 429 Trail. There was some slightly technical things here and there, and I actually turned a faster lap time with the 429 Trail even though I suffered a little bit more on the climb on my lighter SL.
And then at the other end of the spectrum at at this event, I mean we rode some really extreme stuff. Stuff that in the past we've taken much much longer travel bikes on, and some of the editor group that came on this, and we said 'We are going to take this on Portal'. Some of the ones that have been here several times were like, 'Errrrrr…really?' And here we are. Everybody had a great time, most of them are still alive (no they're all alive), no broken bones, no crashes. The bike survived well and everybody had a good time and we were able to show that it's like, 'okay, yeah, it doesn't meet its limits on that type of terrain', so the versatility is what I'm most proud of.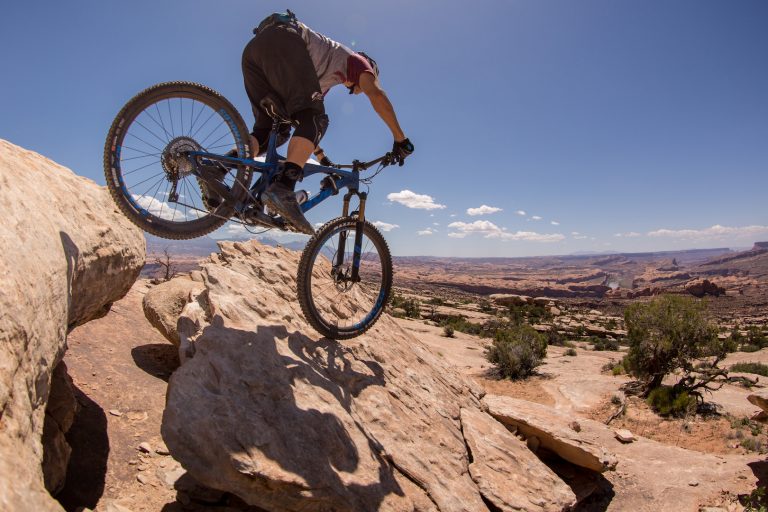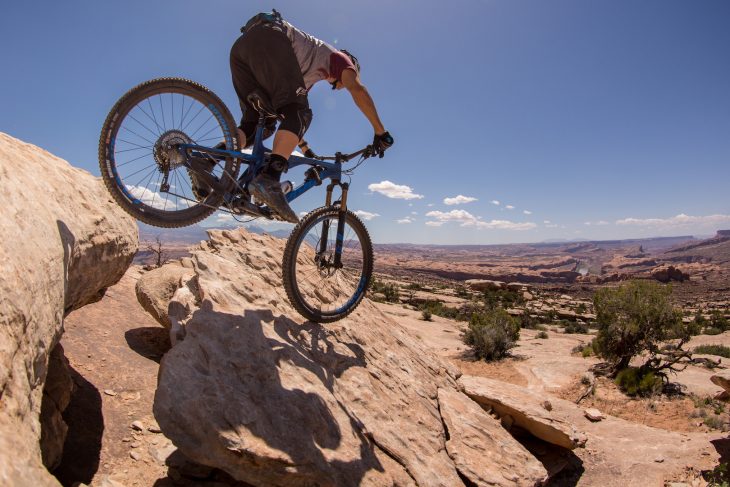 ST: Fantastic. Is there a specific feature of the bike that you like in particular? I'm interested in this question from a design engineer perspective, where a consumer would look at it and go, 'I love the red colour and I love that shape', but is there something a bit smaller that you just…
Chris: I am actually going to give you a non-engineering answer because sometimes in the past, in our early years in particular, it was really always function over form, and making a bike look beautiful is important. To me when I look at the bike and the line from the head tube down to the rear axle, that's with some of our newer bikes, this and the Mach 5.5, I think we've been able to do something special that maybe Pivots weren't known for in the past. All the pieces come together and our engineering package is sound as it always is, and always pushing the limits on that side, but now you've got a bike when you look at it across the room, there's something special about how it looks as well.
ST: Cool. And are you getting that feedback from the Mach 5.5?
Chris: Yes.
ST: That must be satisfying.
Chris: It is satisfying! We've got some good designers and good industrial designers. In the old days I couldn't care less if we even painted the damn thing, as long as they just rode perfect. Then, who cares what it looks like? And we've had our first Firebird, a face only a mother could love really (laughter), a fantastic bicycle but really not a looker. So having something like this when I look at it I am pretty proud, I look across the room and go, 'Damn!' Like it is a starter. You don't have to talk too much about the suspension because people look at it and go, 'Wow! That's a cool looking bike!' and that's a good place to start, and then to have all the engineering and the right quality to back it up is obviously the most important thing for us as well.
ST: I have got two more questions for you. This is a bit of a loaded question obviously because we have been riding this, and this is the newest model. But if you could only have one bike from the Pivot range, what would it be?
Chris: Oh! That is such a loaded question. Introducing the new Trail 429, and we've said it's a shorter XC-based bike, so it's still fine but it's not an enduro racer. And I tend to something with a little bit more travel than this and sometimes a little bit smaller wheels as well…so I probably spend the most time on my Mach 5.5.
ST: Excellent answer! Last question for you. And I think I know the answer to this one already but I would just like to hear it from you. Why did you bring us to Moab to test these bikes? Why did you choose Moab?
Chris: I love Moab. It's my favorite place to ride in the world actually. You got to experience it for your first time and it's…some of the longer rides we do here are super epic, and you can start up in the trees and end in the desert, and you work hard the whole way even though you're supposedly descending, but there is nothing like the riding here. And honestly I've been coming here, I built my first suspension bike in 1989 or 1990 and that was also my first trip to Moab. So some people say, 'Remember when we used to have to ride this stuff on hardtails?', and I say 'No I actually don't ever remember riding this on a hardtail'.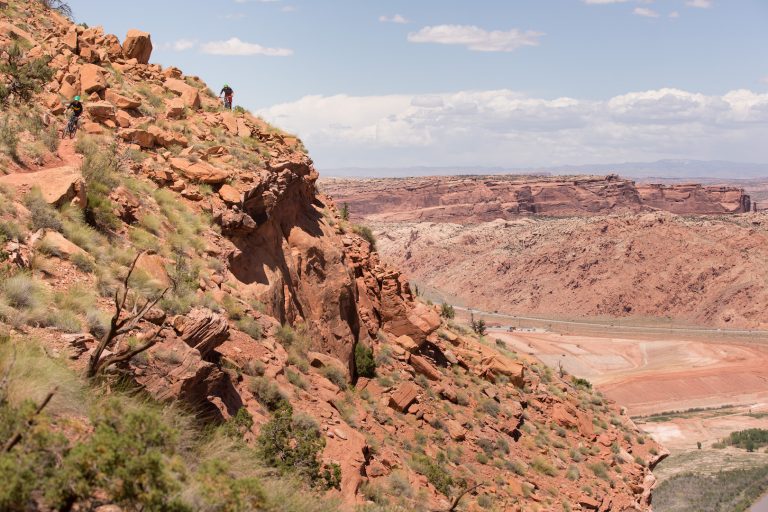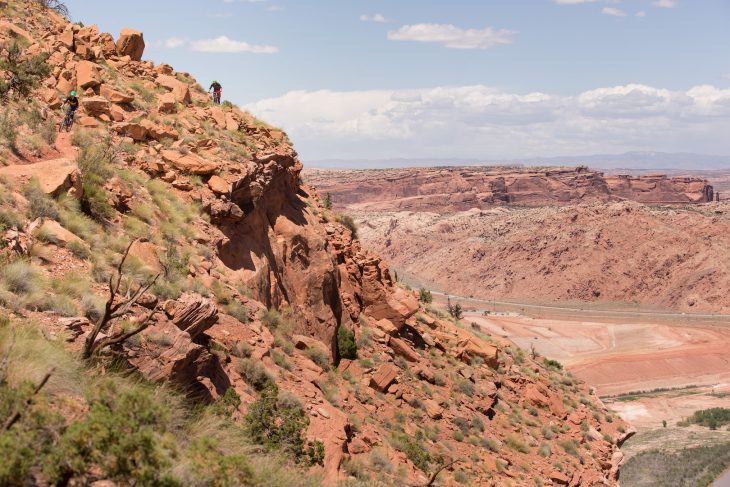 And so this place is brutal. And over the years we have broken a lot of stuff here and Poison Spider Bikes in Moab has been our dealer since my Titus days and we've had rental bikes in their fleet. It's made our bikes better over the years having bikes in their rental fleet. And the stuff we've learned from the beat down that Moab can provide…it's like a bike that's been ridden 3 times in Moab, it's a 3-year-old bike for everybody else. So, when we bring you here, we want everybody to have a good time but we also want to test the limits of the bicycle and not take you to some super groomed, like 'Oh yeah, here is our fairy bike' and we've put you in perfect conditions, and everything's just well groomed and we know the suspension doesn't need to work too hard. And here we want it to work too hard, and basically have everybody know it can handle this s**t.
ST: You want the editors to work hard as well?
Chris: You guys work hard too, you know.
ST: We've got to earn that food at the end of the day!
Chris: Absolutely you do!
ST: Chris Cocalis from Pivot, thank you so much for your time. I really appreciate it.
Chris: Thank you Wil.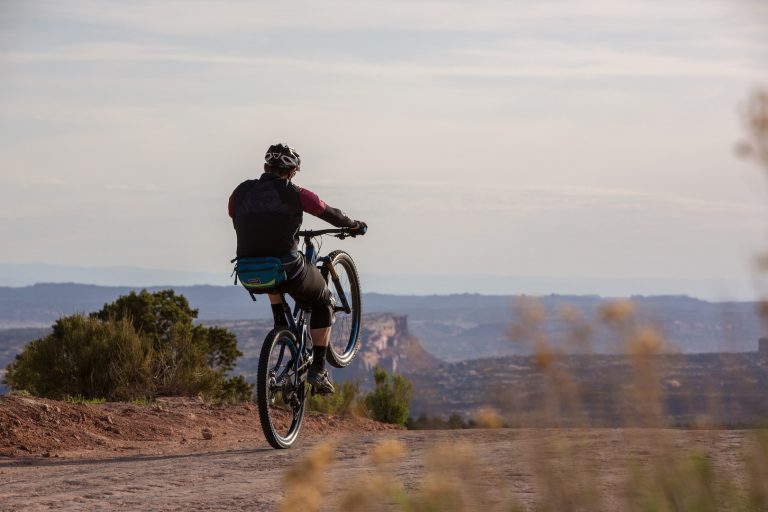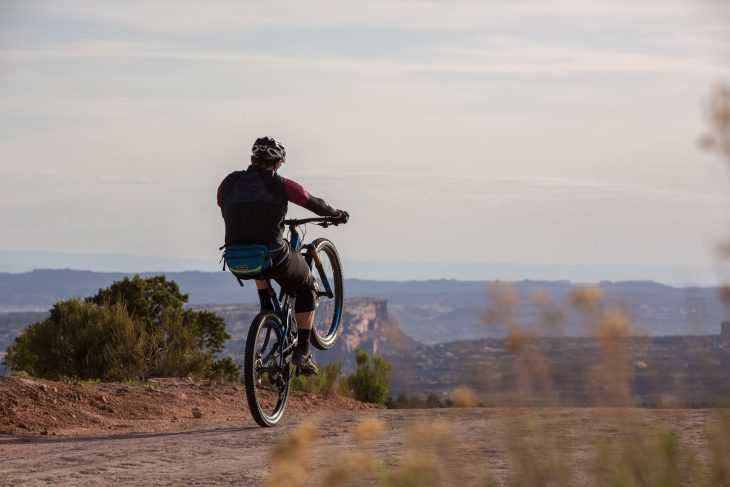 ---
Disclaimer
Travel & accommodation for this trip were covered by Pivot Cycles
---