Hi guys thought id share my review of the Canyon.
Product Description: Canyon Nerve AM 9.0 SL
Type: Bike
Purchased from: Canyon
Review: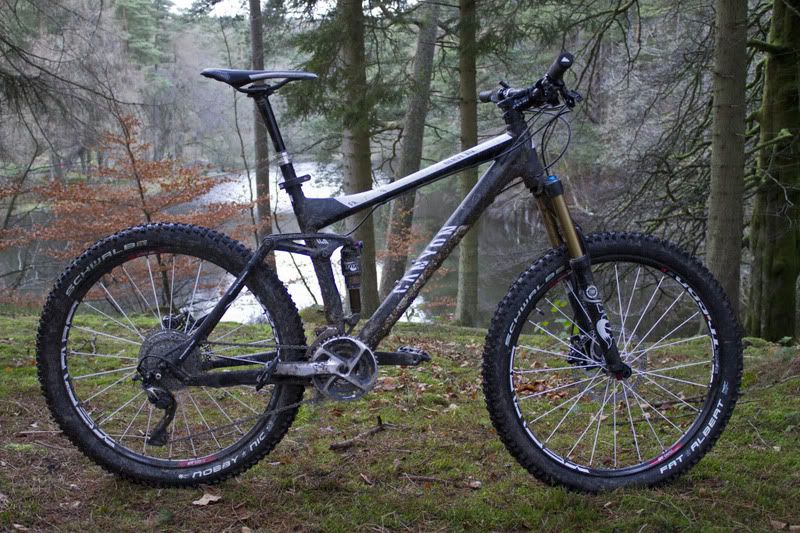 Ride & Handling.
Pretty much faultless, has to be up there with some of the best Bikes in the Market, combined with Anti Sqaut Kimatics and the amazing RP23 Shock the rear is pefectly controlled and pedal bob does not seem to exist making climbs smoother and the ride fantastic.
Cornering is excellent with the 15mm front end and DT Swiss top wheelset it inspires confidence to push that bit more to get the most out of it.
Equipment:
Fox 32 TALAS Forks with Kashima Coating (£838)
The verdict on these are Fox have done a great job, they feel plush and offer 120-150mm of Travel, with them being air it takes a while to get it set up right but once you have it really is a neat fork and with a 15mm Axle its nice and Stiff on the front and steeres well.
Fox Float RP23 BoostValve with Kashima Coating (£375)
I would go as far to say that this is the best Shock fox have come out with, like the Forks its super smooth, it absorbes everything from the little bumps to some of the larger ones and offers very little pedal bob, in fact on the climbs i never even noticed any.
DT Swiss Tricon Wheels (£900)
Never heard about them before so did a bit of reading and they are DT's high end XC wheel and also tough enough for big hits and WOW. They are already tubeless so dont require any rim strips just change from tubes to Tubeless which included the valve in no less than 10mins. They perform so well into Corners and are stiff and just makes you push more and more.
Shimano XTR Crank (£329)/Shifters (£130 pair)/Front(£53)/Rear Mech (£135).
Not much to say thats never been said before about these, Shimano's top of the range and in 10 Speed i can certainly see the advantage of it. The Shifters as usual are super crisp and the rear Mech with a lock that stops it moving forward on technical bits is a neat idea.
Rockshox Reverb Seatpost (£250).
A piece of kit that if your going to buy anything for your bike this has to be it. Gone are the days of stopping and ajusting the seatpost, this is quick smooth and instant.
Formula The One Brakes (£387 pair)
Some people are not fans of the but the Formula brakes are up there with the likes of Shimano's Saint brakes. They are really Powerful maybe a little too much for trail use but reach ajustment and the perfect leaver makes it a joy to use.
Schwalbe Nobby Nic Rear 2.4 UST (£45)
Never been a great fan of Schwalbe expect on my old XC Bike but theres something about it, i would have liked it if it was the 2.2 version as i think 2.4 is a bit overkill so the verdict is still out on this.
Schwalbe Fat Albert 2.4 UST(£40)
Again when i first got the Cube these tires went after one ride, but again like the Nobby's wether its the combination of both thats working or its that they are Tubeless but they are performing better than i thought but again a 2.2 version would be enough in my opinion.
Shimano XTR Trail Pedals (£99)
Been eyeing these up for a while and as they were cheaper when buying the Bike i thought why not. And once again the dont fail to impress, the cage offers that little more stability and de-clipping and clipping in are what you would expect for XTR smooth.
Overall
Iv included the prices in the review so you can see the value for money. At £3189 nothing comes close and weighing in at only 27.5lbs (minus pedals) for a AM Bike is truely amazing. The ride is great and to get a bike where you cant think of anything to change and im the worst person for changing kit is a bonus.
Customer service is great, buying direct is not ideal but to be honest the bike out performs better than i thought and with a quick delivery you really cant fault them.
Canyons smart internal Cable routing is neat and with protection on the Cable rub areas they really have listened to what riders want. It would have been nice if the Reverb cable was internal that you see on Trek and Scott for there 2012 bikes so maybe Canyon will follow