This article was written by and stars Stu Taylor.
That's it done, the Highland Trail 550 2018, in 4 days 7 hours and 24 minutes of the most amazing Scottish riding…and hiking.
In the build-up and preparation for the event it never even crossed my mind that it would be hot and sunny – after all it is Scotland. This made for some last-minute kit ditching: first to go was the stove along with winter gloves, thermal hat, waterproof socks, tyre sealant, space blanket, deodorant, spare brake pads – I fitted these so had new pads – four AA batteries, base layer, ¾ bib and a Leatherman. I kept thinking 'Don't pack your fears'.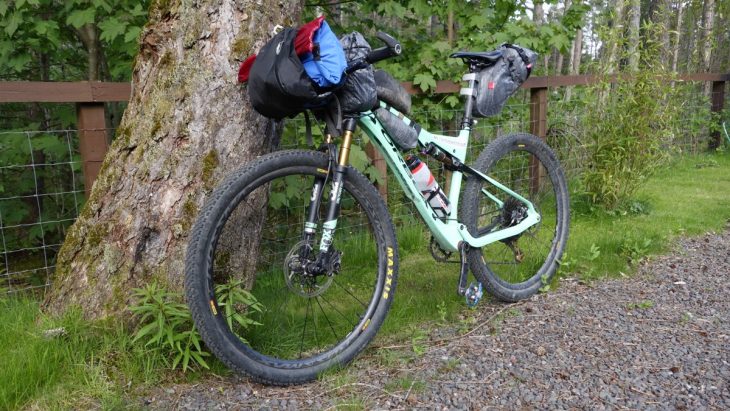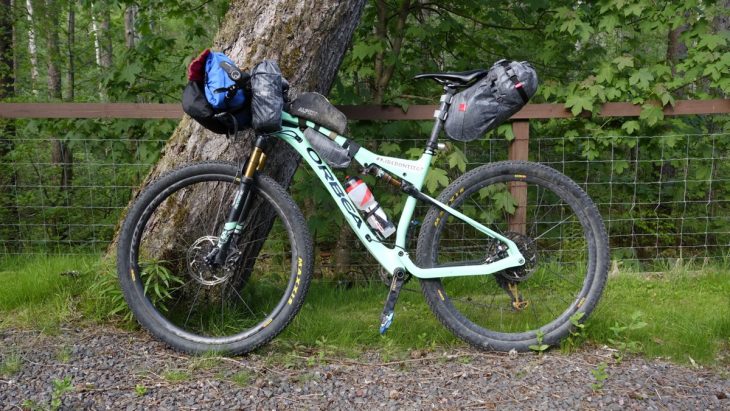 Once packed I decided on a little modification to my cockpit giving my luggage more room, as I was only running 700mm bars and it was all a bit snug. I cut down my Ergon grips and moved the brake levers out which made room for the Alpkit bags to sit more securely with less pressure on the brake hoses, but less room for my hands. I did have a slight concern of getting blisters on the base of my thumbs from the levers, but this wasn't the case and I managed ok riding with loose thumbs or up on the bar ends. Pre-race this is a change I would make for next time…yes, next time! I would fit a wider bar or a hoop bar like Alpkit`s Love Mud Confucius.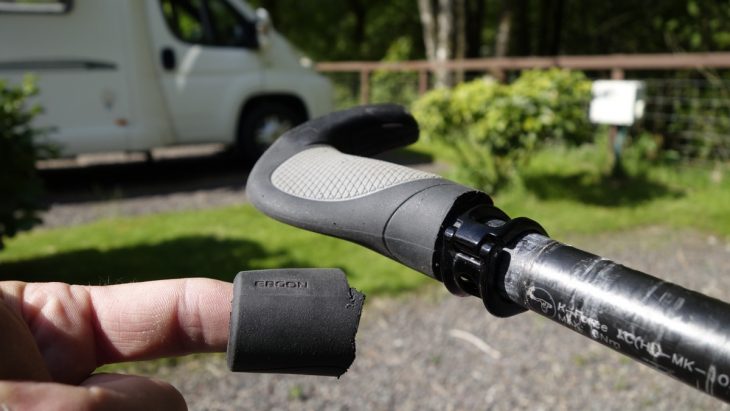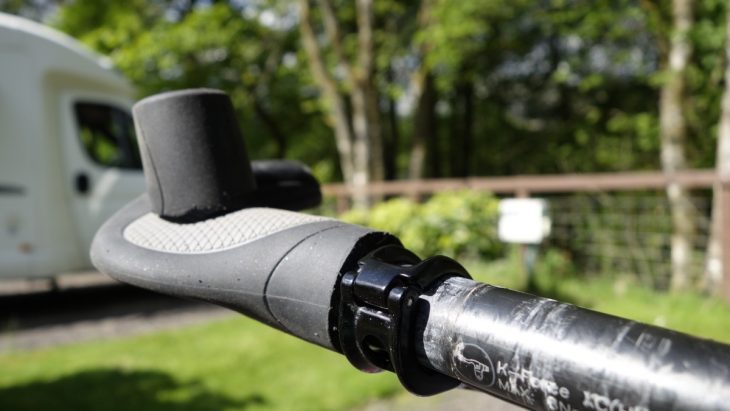 Lined up at the grand depart I was surprisingly excited to ride, thinking of what Lee Craigie had said 'the hardest part is getting to the start line' and here I was with my lightweight Orbea Oiz bike fully packed, all kit choices made. That was it – no turning back now – I was ready to commit myself to the HT550 gods and see what would happen!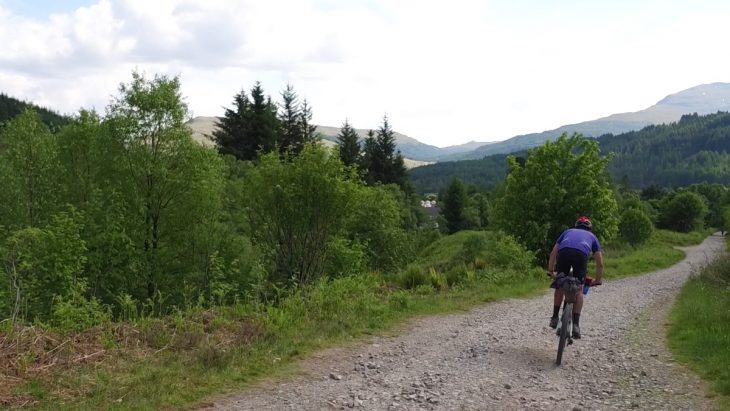 Early on in the race I found myself riding up near the front and feeling happy with the pace until I had my first issue whilst rattling down a fast rocky track and my saddle decided to disengage from my bike! Noooo! The initial panic was 'that's it race over' – I wasn't carrying any spare bolts and standing up to pedal for 500 miles was not an option. The HT gods this time were with me as the saddle had just worked loose and luckily all the fixings and bolts were still on the seat post…phew. After a bit of faffing getting the saddle back on and my seat bag secured again I was back in the race. I started pedalling hard to chase down the front riders and others that had passed me during my repair but this wasn't the best idea in the heat – I would just blow myself up, and after all it's a marathon not a sprint. In a way this helped me settle down to my own pace.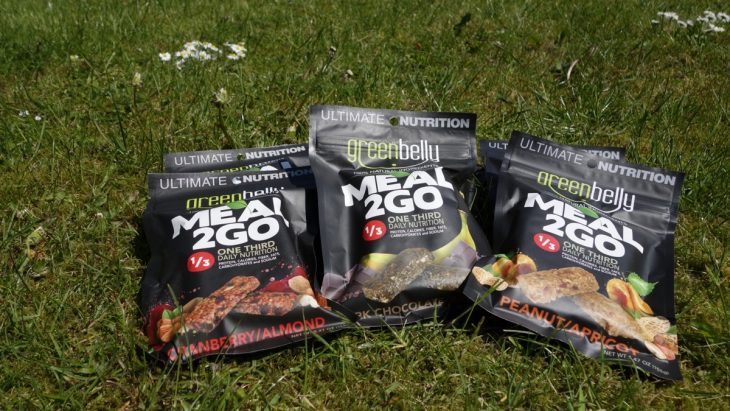 The food I was carrying as back up and for times in between stops was some Lake District beef jerky, which I tended to store in my cheek at times like chewing tobacco, two packets of energy shot bloks, and two Green Belly Meals 2 Go – one chocolate and banana, one peanut and apricot. I did find that these meals were tasty but at times a bit dry to swallow and I would need to drink a lot of water with them – which I didn't have much of as I was only carrying one litre bottle. This was just about enough thanks to some beautiful fresh highland water. A wetter food for me would have been easier to get down, and I found myself craving rice pudding and custard. Food stops were at times a long distance apart so it was a matter of fuelling up and stocking up on whatever you fancied when you arrived at one. For me this was usually lots of fizzy drinks, sweets, and savoury food. My best buy was a half roast chicken in the reduced section, only 60p, stuffed into my compression bag. Squashed flat, I enjoyed it feasting like a caveman around midnight in my tent overlooking the loch at Fisherfield. The best chicken ever!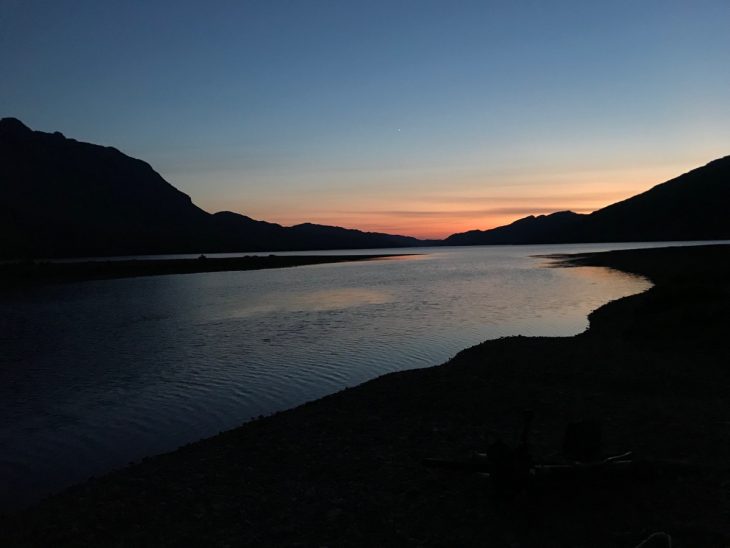 For sleeping I had opted for the slightly heavier and bulkier tent over a bivi bag. For myself I think this was the right choice. Even though I only used it twice the times I did it gave me my own space to organise gear or eat away from the weather and any midges. Pitched without the outer I laid down with a view the amazing skies for all of the thirty seconds I was awake.
The one night I didn't use the tent I managed to find a barn to bed down in. Using the Alpkit Numo for comfort and Pipedream 200 sleeping bag was spot on for taking the edge off any cooler temperatures, the other one hour's rest I had was at 3am on the 4th night when I laid down on a pile of sawn tree planks at a clearing using, just my sleeping bag whilst being feasted on by midges during a quick recharge.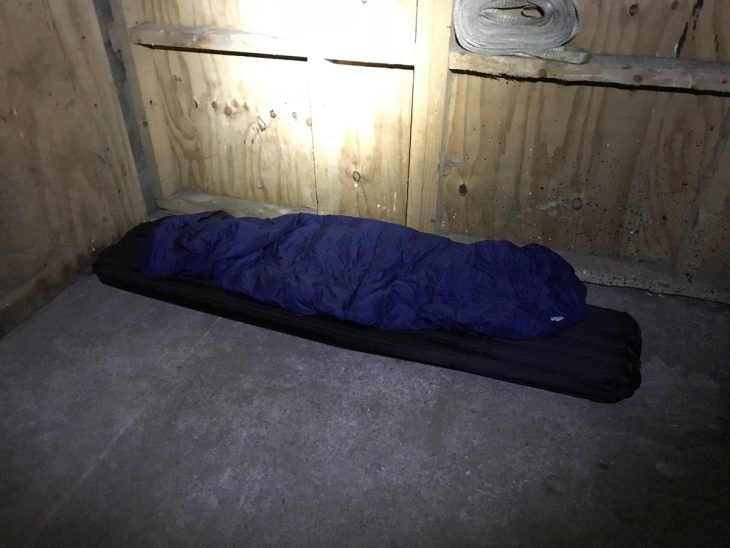 Ticking off the miles the Orbea Oiz was amazing. Despite being fully laden the bike is fast and carries speed so well along undulating trails. I did notice the weight on the climbs but could mostly pedal these except for the super steep ones. For the descents I added extra air pressure to the forks and shock, taking into account the extra weight and to try and prevent my front luggage rubbing the tyre, which on occasion it did, usually because I had re-packed in a rush and not secured the bags on as well.
Some of the descents were amazing ribbons of endless swoopy singletrack that went on and on, to the full on gnarly lines of Torridon which are more suited for an enduro rig, pads and full-face helmet. Things did get a little rowdy and out of control riding down Torridon when I decided to try and keep up with an unknown Mr Enduro on some biggish lines, only to be brought back down to earth with a big OTB which saw me tangled up under the weight of my bike, struggling to move. At this point I did think that I needed to rein it in! I had to survive and a race to the finish even if the flying Orbea wanted more!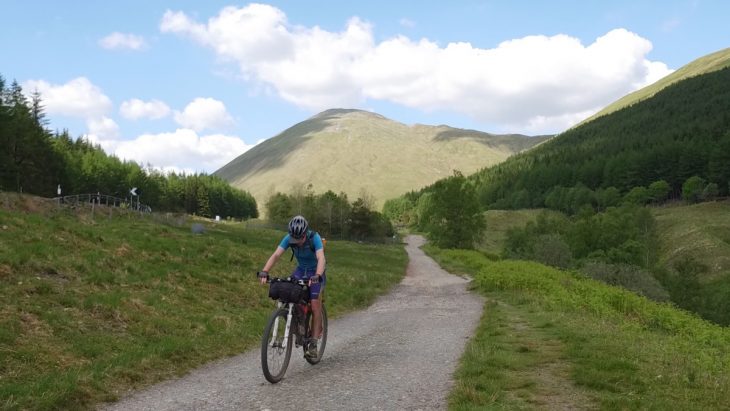 At any hike a bike sections I had no choice but to push up due to the weight of the bike. This did get me thinking would a rucksack have helped to distribute the load and also give me an option of carrying the bike, or would I then have had a sore back? I think a spare lightweight rucksack for supplies would have been good so at any food stops I wasn't adding more and more weight, plus this would then get lighter again as you devoured all the calories.
With the gearing I did have slight concerns as to whether the SRAM 34 tooth chain ring up front with 50T Eagle cassette would be enough as the days took their toll on my body. On some climbs it was enough, but getting off to push was a welcome break from pedalling and I felt better.
Running Maxxis Icon 2.2 tyres front and rear were good, fast rolling and grippy where needed. I had one slight nick in the tyre due to rider error trying to bunny hop a drainage gully with a heavy bike and hitting it square on, but this soon sealed. All that was needed was a little more air in the tyre and I was off again.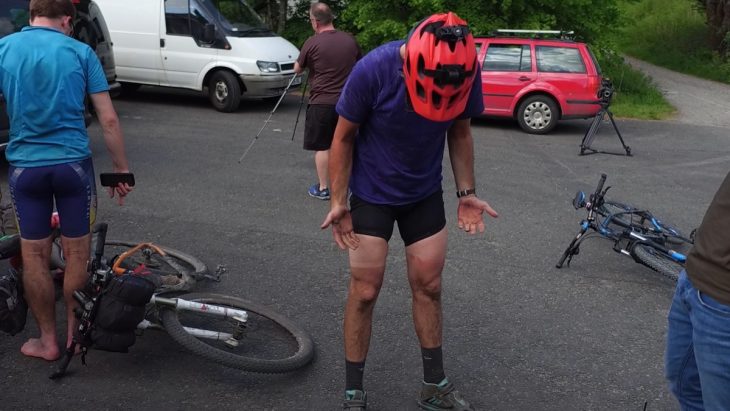 Looking back at the race and my kit selection there a few items that I didn't use: toiletries – I never touched them, embracing the aromas of the HT550; waterproof shorts were just too hot and I was at risk of boiled sweetbreads; and spare batteries. There were a couple of items I maybe should have had such as rear hanger, which I forgot, and maybe some spare bolts. But there is always the 'what if' scenario and then it goes back to 'don't pack your fears'. In terms of weight saving kit, the biggest for me would have been electronics and batteries. You only really need two GPS units – one for guiding, one for back up – phone switched off unless needed, one light, spot tracker and four spare batteries. I was carrying an extra two cameras plus eight spare batteries, memory cards, spare head light and a power bank.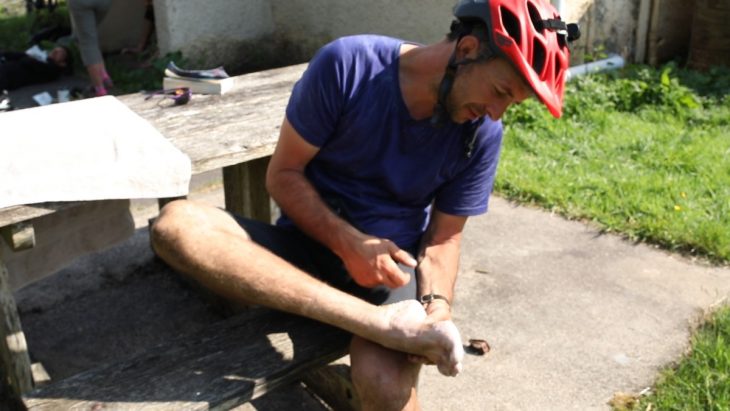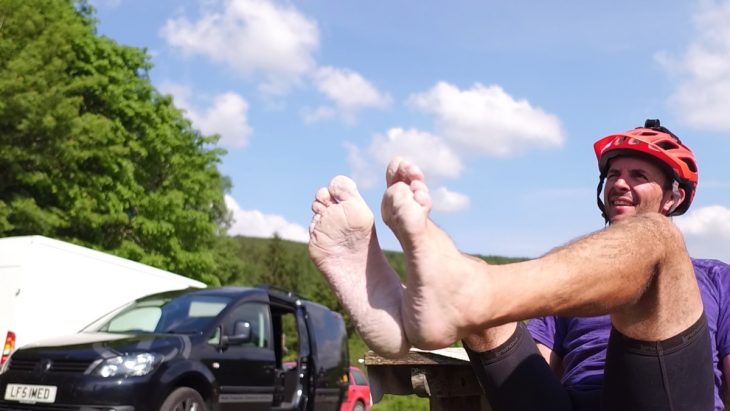 Since the finish of the race I've found myself thinking 'could I go sub four days?' and if so what would I need to change in my race strategy? One major factor would be that having completed the route and now knowing where things are or what is ahead would be a big benefit. I had no idea of what was coming up and relied on asking fellow riders for information on the route regarding elevation or the terrain ahead. On a couple of occasions I should have pushed on a little more with an end goal of where to stop to rest to avoid a big hike a bike first thing in the morning. Saying that, this soon woke you up! Again, with knowledge of food stops I could have missed them or stayed less time in some knowing that only a couple of hours later there would have be another. These are only little things, but combined with the weight saving and a couple of hours less sleep they all add up.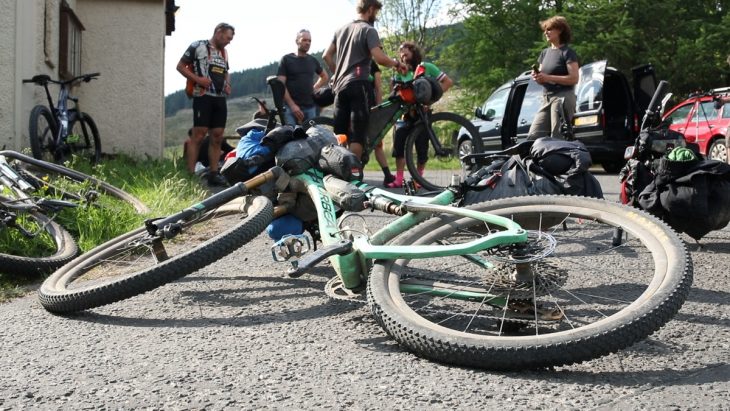 Overall my first Highland Trail 550 was an amazing experience, I didn't expect it to be so social, meeting and riding with so many different people throughout the race, sharing stories of what's happened so far at different food stops.
The trails themselves were amazing, I never gave any thought to how much fun they would be, I just presumed we would be grinding out mile after mile. This helped so much to keep me positive knowing that over this huge climb could potentially be another singletrack gold moment – of which there were a few.
Bring on next year! But will I crack sub 4?