Shimano unveiled a brand new line of gravity-oriented flat and SPD shoes last year, and since then we've been testing a whole swag of them. Two such shoes are the latest GR7 and GR9 models (GR = flat pedal specific), which we decided to give to our resident flat pedal expert, David Hayward, to see what he thought of each one, and which one he would recommend. Over to David!
---
A perennial thread on bike forums about five years ago was "what's the best winter flat pedal shoe?", and more often than not the answer was "there isn't one", or "this skate/running shoe", or "walking boots", or "this one but it'll take a week to dry out". Many companies have tried, some have failed, and a few classics have been discontinued. Thankfully though, more manufacturers have been considering flat pedal rider needs in recent years. Among the more recent entries are these two sets of kicks from Shimano.
The GR9 and GR7 are based on the same sole unit, made in collaboration with Michelin. The uppers are similar (though not the same), designed to soak up less water than bulky shoes, and dry quickly. Both pairs have some moulded toe protection too. Stiffness is identical between them, and both sport variants of the same light grey and lime green colour scheme.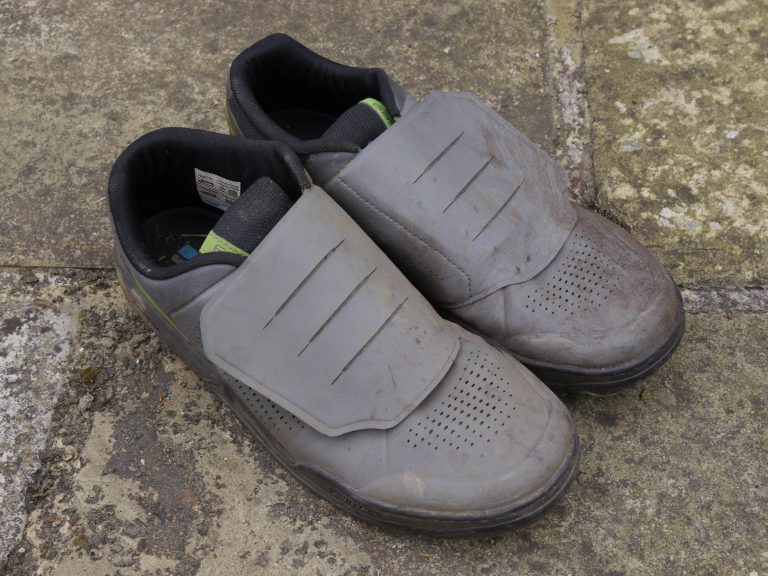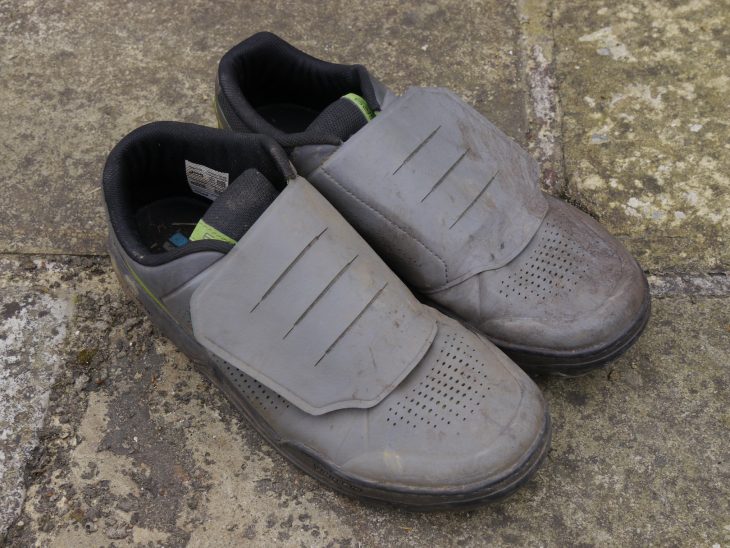 Shimano GR9
The GR9 is Shimano's flagship flat pedal shoe, and more oriented to colder or wetter weather. It's not waterproof, but does have a velcro storm flap covering the quick laces, as well as different side vents to the GR7. The inner side of each has a raised ankle collar, giving just a little more crash protection if your ankles hit your bike.
In terms of looks, the GR9 is much more like Shimano's previous flat pedal shoes, such as the AM series made with Vibram soles. Matching the GR9's racier aesthetic, it also comes in a touch lighter at 770g for the pair (size 44), compared to 797g for the GR7.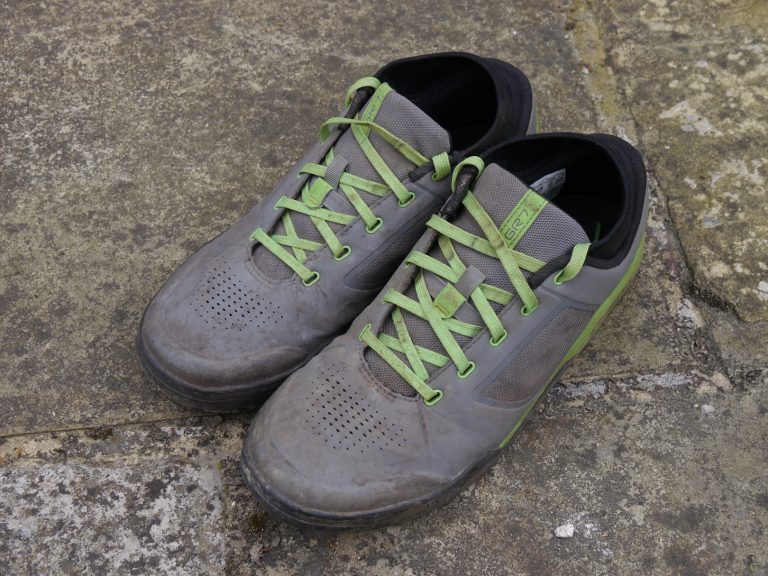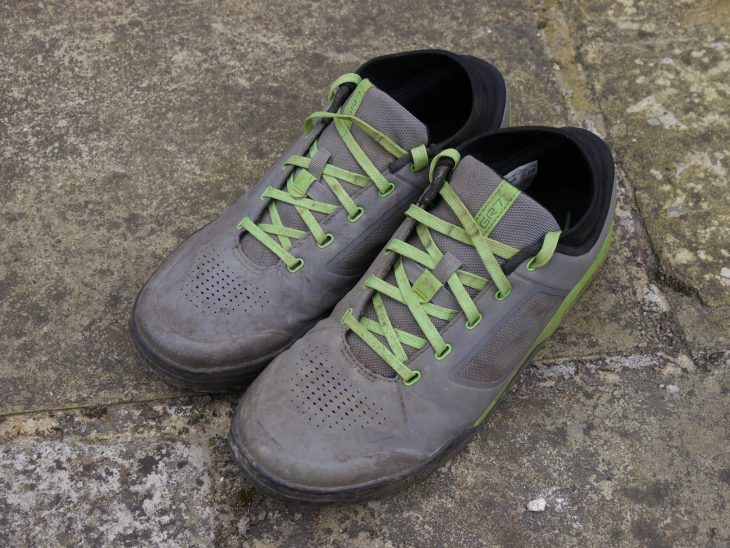 Shimano GR7
The GR7 is a slightly cheaper but very similar shoe to the GR9. The main differences are no raised ankle collar, a little stretchy rubble sock around the top, standard laces instead of speed laces, and mesh side vents. The GR7s I tested also weighed about 27g more in total than the GR9s. Split between your two feet, I wouldn't worry about this.
The laces have no flap covering them, so naturally they can let in a little more water than the GR9s. Halfway down the tongue there's a little elasticated lace retainer, which worked well and kept them in place for every ride, crashes included.
The GR7 looks much more like a street shoe than the GR9. Shimano also make a GR7W 'women specific' version of this in smaller sizes, with a smaller volume, and slightly different green accents too.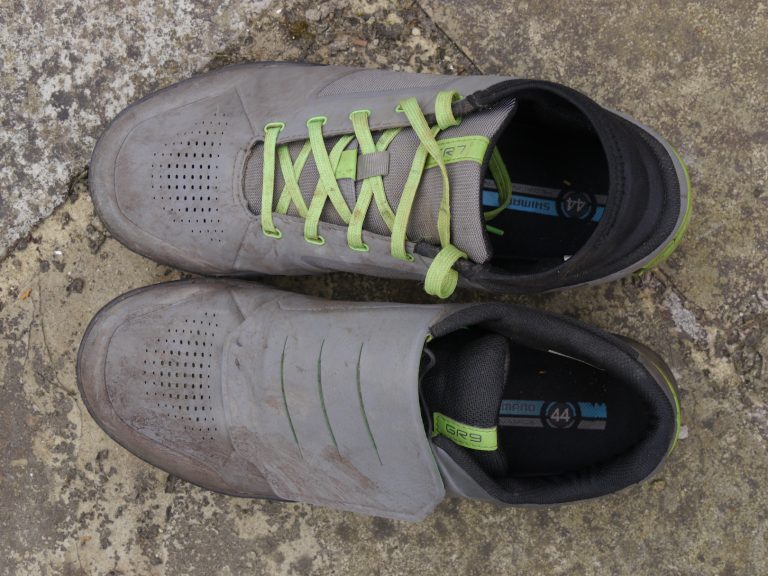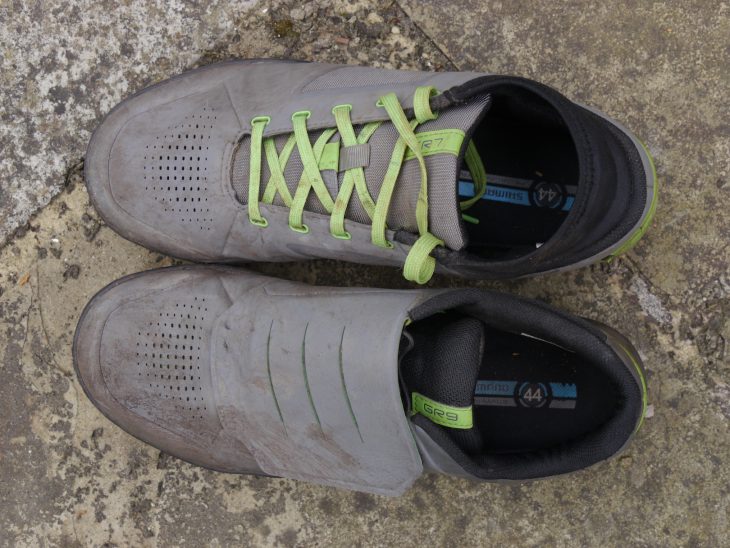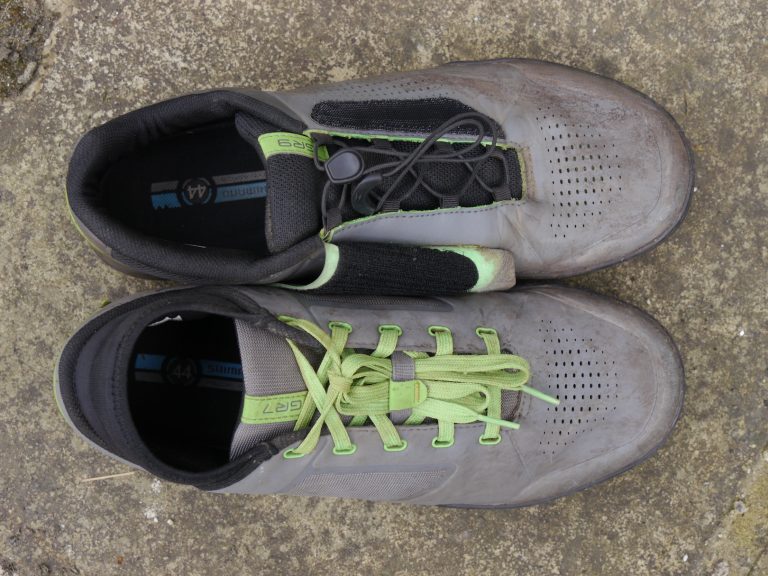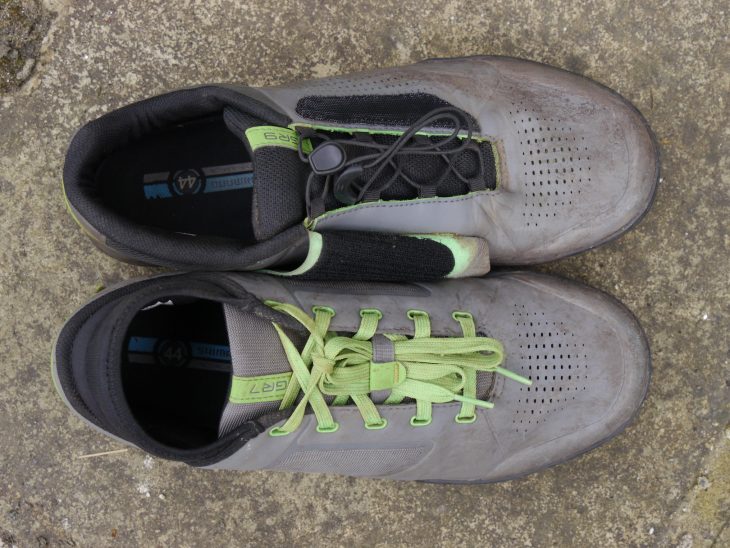 Head to Head, But Foot To Foot
To test fairly, I wore one GR9 and one GR7 for every ride I did, swapping which feet went in which shoe (on the right feet!) between rides, so all four got even wear.
April was a bonanza for nerdy bike kit testers, with everything from -13°C temperatures with 8 foot snowdrifts, to a 28°C heatwave. These shoes got a run out in all kinds of weather and trail conditions.
I'm a UK 9.5/EU44, and previously I've sized down to 43 in Shimano. The sizing of the GR7 and GR9 was dead on the money though, with no need to size down even with light summer socks. I got no noticeable heel-lift in either.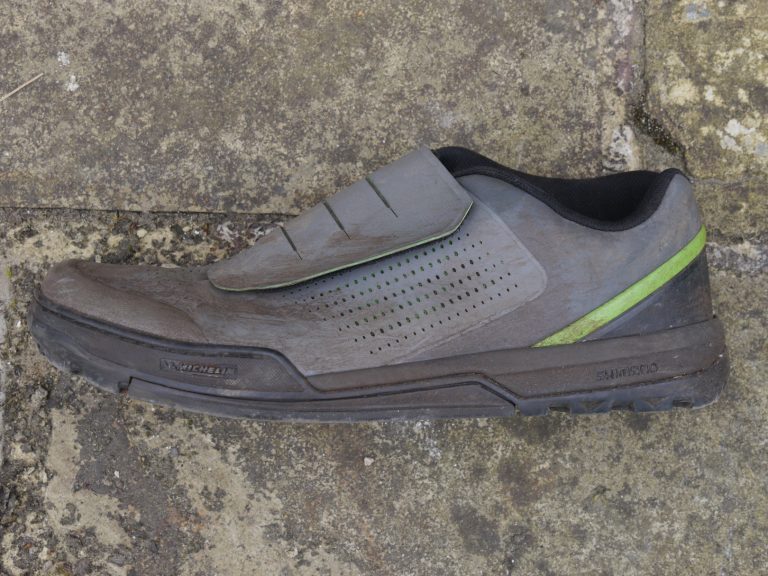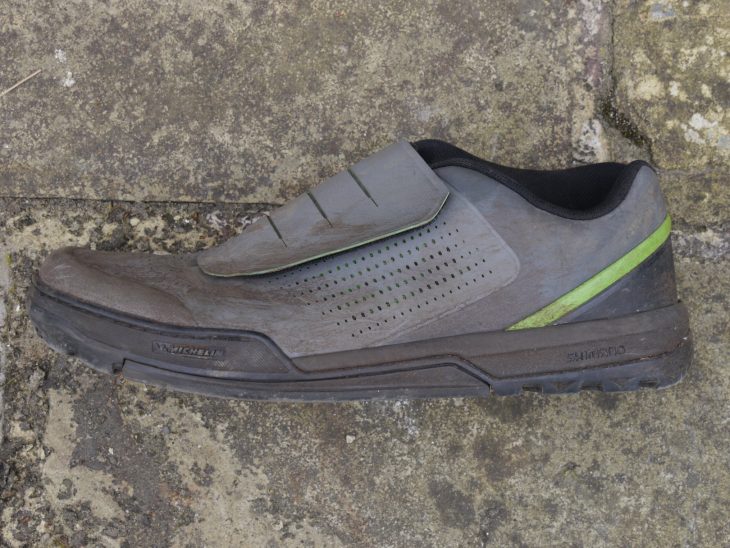 The soles and stiffness between both pairs are the same, and grip was good on a variety of flat pedals. The soles aren't too rigid, letting them settle into a variety of pedal profiles. At the same time, unlike a popular brand of skate shoe some flat pedal riders resort to, Shimano's shoes are not too thin or flexy. The soles are thick enough to stop you bruising your heels if you bail.
Apart from the slightly ergonomically upturned toe end, they're also very flat. I would like to see more pronounced rubble claws, as walking boots and trail shoes have, on the toe and heel. As is, they do have larger, more spaced out tread there, which did still work better on grass and soil and than a purely flat sole would. There were no hike-a-bike faceplants, treadmilling or ungracious backslides during this test.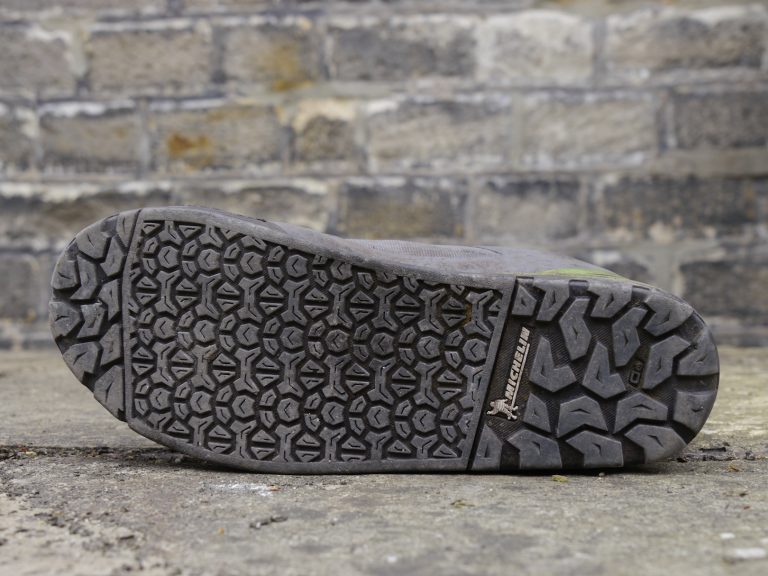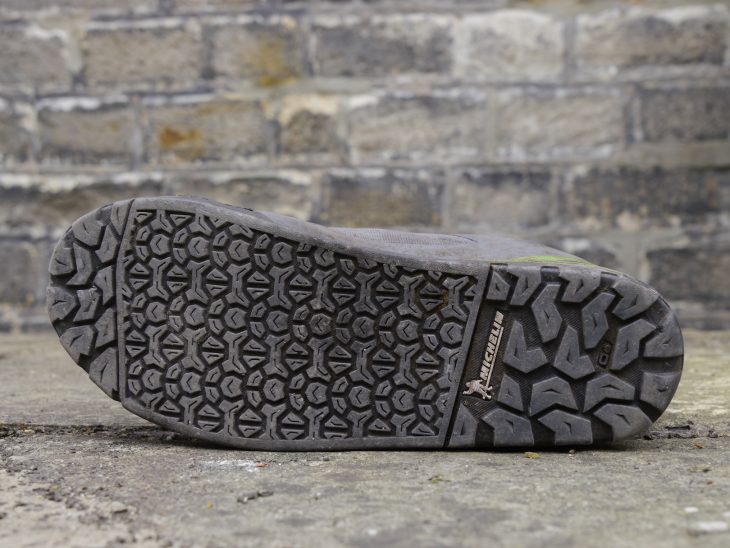 The GR7 is predictably best for hot weather, with the foot in that one slightly less sweaty at the end of a 20 mile heatwave ride. As you might also expect, the GR9 made itself more at home in winter conditions. Certainly not waterproof, but at the end of every soaking wet loop, the GR9-shod foot was a little warmer than the other.
After wet rides, both dried quickly when left near a heat source, but there was no need for any shoe drying gadgets. Next day, they were never even slightly damp.
Compared to the cuffless GR9, the GR7's rubble cuff didn't seem to do much to stop tiny bits of bracken and gravel getting in, but how would I know for sure? Perhaps I'd have been in agony from small stones without it.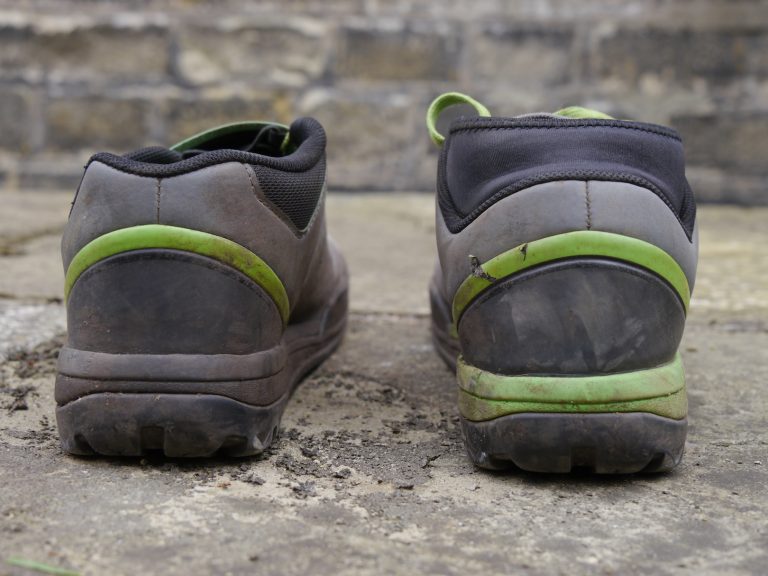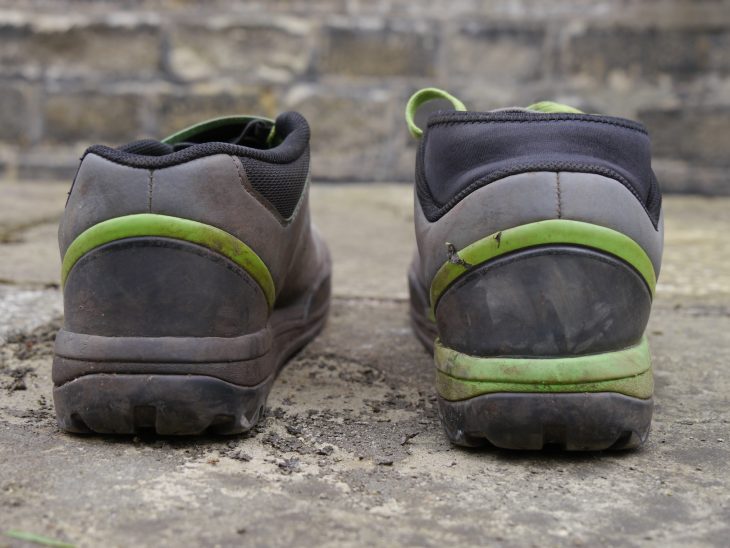 The differences between the GR7s and GR9s are small, and aren't big enough to bother me on shorter rides, but they would come into consideration for longer ones. For short loops, either pair will do you. The GR9s aren't hellish in summer, and combined with a good waterproof sock, both do fine for winter riding.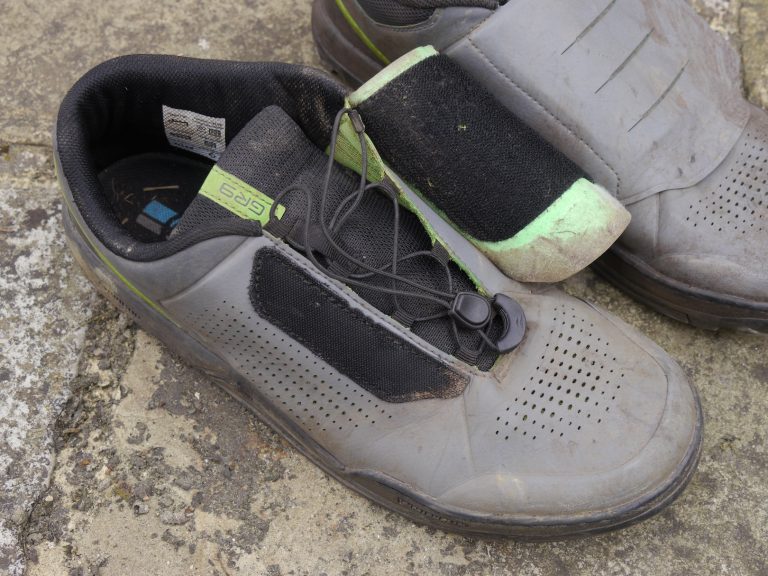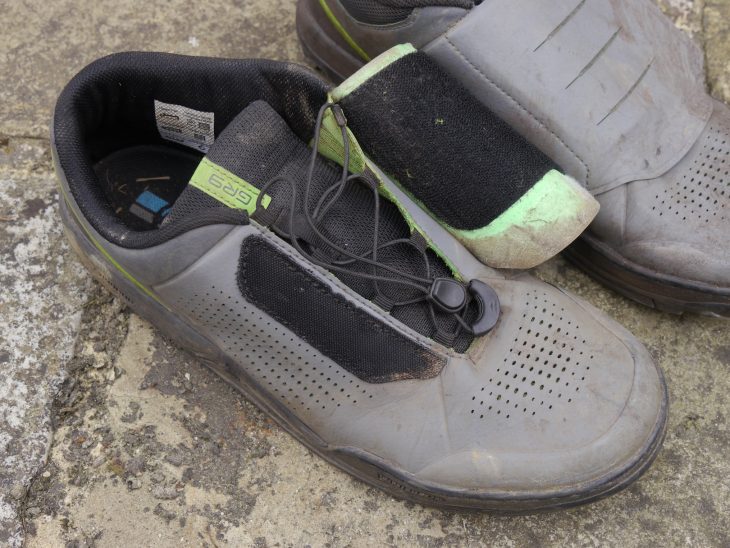 The speed laces on the GR9s are very nice to have, especially for getting kneepads on and off faster. Of course, though they don't have exactly the right eyelets, you could still pick speed laces up for less than a tenner and add them to the GR7s if you really wanted.
The other consideration is looks. The GR9 has much more of Shimano's aesthetic heritage from the AM41, whereas the GR7 looks more like a street shoe. The GR7s also come with spare laces in grey to match the upper (though still have more lime green on the sole unit than the GR9), so if looking less orthopedic off the bike is important to you, maybe that'll swing it.
And Compared To Five Ten?
Because someone will surely ask if I don't mention it, this is how they compare to Five Tens: They're not quite as sticky. I tested by, again, wearing one of each and seeing how easy it was to reposition my foot while riding. The difference between the Michelin rubber on Shimano's sole units and the Five Ten Stealth rubber was obvious, but not extreme. This doesn't present itself as an actual problem with real-world grip, more that they just compensate a little less for sloppy technique.
That said, the textured pattern on the sole does well to lock into traction pins on the pedal body, giving a secure and stable feel when descending. Also, the Shimano shoe also had noticeably better padding underfoot, making that foot feel a little less fatigued at the end of a longer ride.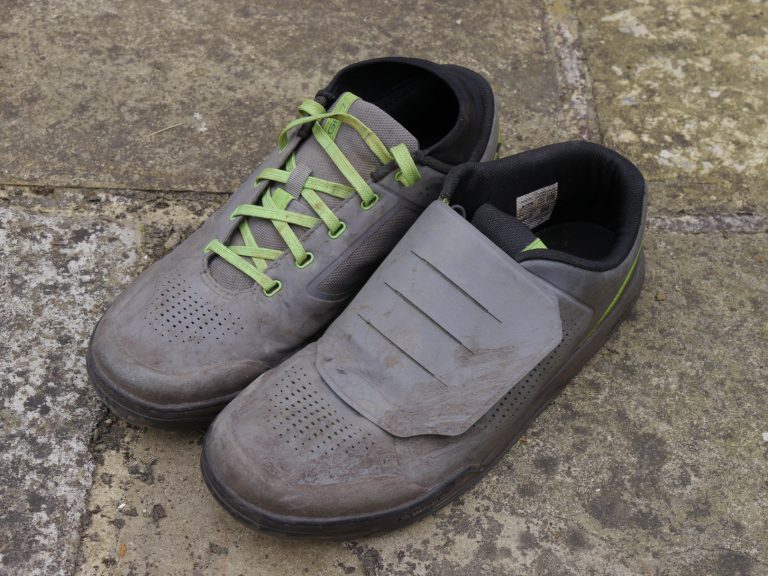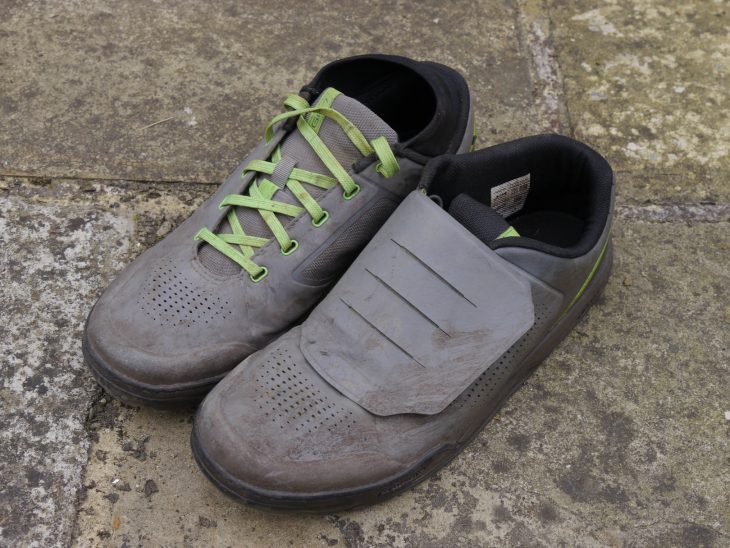 Overall
Since both of these shoes are based on the same sole unit, and extremely similar uppers with different feature sets, there's no clear winner to this test. A lot of it will come down to personal preference. If you do more riding in cold and wet weather, or your feet are sensitive to the cold, the GR9s are the better bet. If you're more the kind to do long rides in baking sunshine, GR7s will keep your feet a little cooler.
Review Info
| | |
| --- | --- |
| Brand: | Shimano |
| Product: | GR7 & GR9 |
| From: | Madison, madison.co.uk |
| Price: | £99 (GR7), £119 (GR9) |
| Tested: | by David Hayward for 4 months |
---