Claiming to offer more grip, faster rolling and improved durability, Schwalbe's new Addix rubber compound has been implemented throughout its entire mountain bike tyre range, replacing the previous PaceStar, TrailStar and VertStar compounds in the process. Our resident pedal-head, Rachel Sokal, has been putting the latest Addix Speed compound to the test in the lightweight Rocket Ron tyre, to find out just how much better it really is in the real world. Over to Rachel!
---
For a long time Schwalbe tyres were the favourite for me and my many riding mates. For our local woodsy singletrack and on the race track too, different front and rear permutations of a Rocket Ron and Racing Ralph saw us right for most of the year-round. When we ventured a little further away from home, combinations of Nobby Nics, Hans Dampfs and Magic Marys were donned to cope with the bigger trails and when we favoured grip over speed.
But there were two major drawbacks to Schwalbe tyres for everyday use: their high price, and their low durability.
So when Schwalbe announced a big change to the compounds of their tyres I was immediately interested. Gone were the PaceStar, TrailStar and VertStar compounds, and in their place the new Addix Speed, SpeedGrip, Soft and Ultra Soft. With a more precise approach to the mixing of the compound ingredients (like sulphur, rubber, black carbon and many, many others), Schwalbe says it has better control of the compounds' properties with the new Addix compounds, and that's resulted in better grip, lower rolling resistance and improved durability.
Not all the tyres come in all compounds. Generally the more XC orientated tyres like the Racing Ralph are available with the harder and faster Speed and SpeedGrip compounds, whereas the Enduro / DH orientated tyres such as the Magic Mary come in the grippier Soft and UltraSoft compounds. Each compound has a colour-coded logo and motorsport style stripe round the tyre itself.
Fancy new rubber claims aside, how have the tyres actually performed?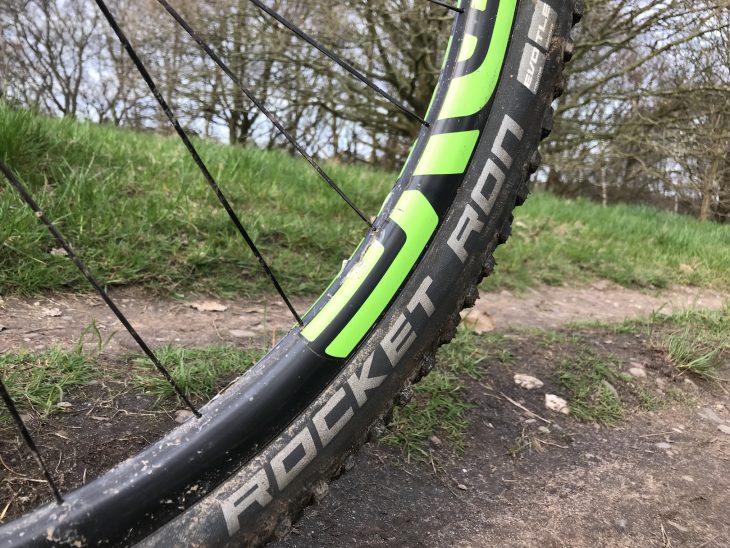 Schwalbe Rocket Ron Addix Speed Tyre Features
Lightweight XC racing tyre for mixed conditions
Size tested: 29×2.25in
Also available in 26in & 27.5in diameters, and widths from 2.1in to 3.0in
Rubber compound: Addix Speed
Lightweight 127tpi casing
SnakeSkin sidewalls
Folding Tubeless Easy bead
Claimed weight: 610g
RRP: £58.99
I've had a pair of 2.25in Rocket Ron EVO tyres with the Addix Speed compound (the hardest and fastest compound) on my 29er XC bike for the last four months or so. The tread pattern hasn't changed from before, so I won't go into too many details aside from saying I do like the Ron as an all-round winter XC tyre or in the summer when you want a bit more grip in softer conditions. It rolls quickly, has enough tread to bite into the mud and shed it quickly too and holds well on roots and rocks. Unlike a good number of XC tyres it has decent shoulder knobs too, which allow you to lean into corners with a little bit more confidence. It's nice and light too, weighing in just a few grams over the claimed 610g.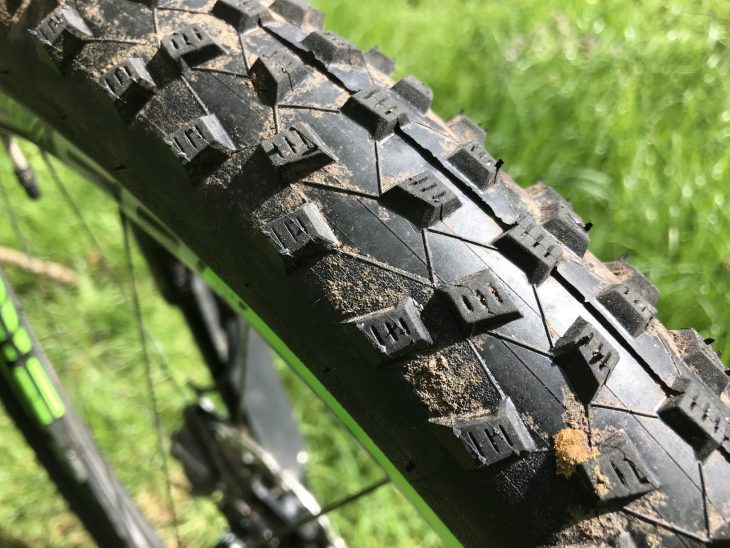 The most noticeable thing is that with about 500 miles in these tyres there isn't significant wear – even on the rear – which is certainly very different to my experience from the previous PaceStar compound (I only ran a Rocket Ron on the rear on special race-day occasions as they would just wear too quickly). The tread is still in excellent nick with the sipes visible indicating a low level of wear, you'll see this from the pictures I took the day before writing this review. This was the Speed compound, which is the most durable of the four, so I wouldn't necessarily believe they'll all wear so well, but Schwalbe claims all the new compounds have significantly better durability than their previous equivalents so you should see improvement across the range.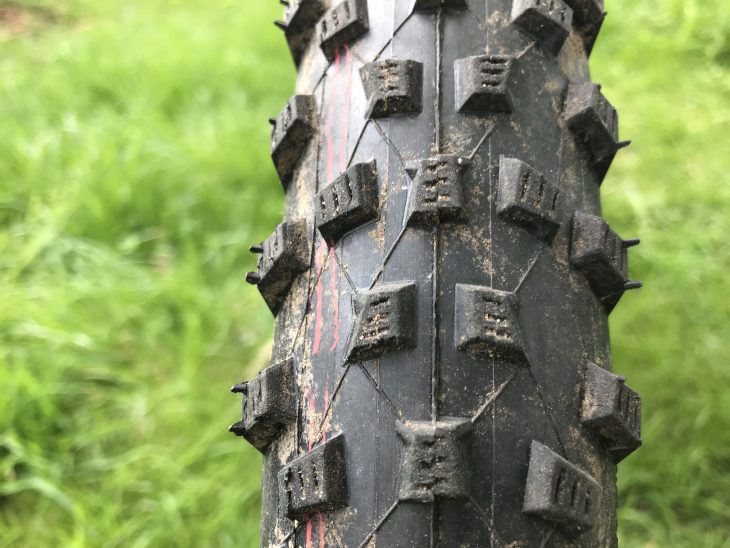 I did find, on the front at least, there wasn't as much grip as I wanted and consequently gave myself a good few scares in some wetter, more slippery conditions. Schwalbe state the Speed compound has 15% more grip than the PaceStar that came before but I'm less convinced, or maybe I'm just expecting too much from a fast rolling XC tyre in winter conditions (particularly as I've been running much bigger tyres on bikes of late). The blue Addix Speedgrip compound offers (surprise, surprise) a greater level of grip (35% more than the PaceStar) so my plan is to buy one of these for the front and keep the Speed compound on the rear. Whilst I haven't tested any of the other compounds I can imagine this would be a fairly good approach across different tyres and bikes; being able to mix your compounds and treads between front and rear will really help get that balance between grip and roll where you need each the most.
In the past I've found the Snakeskin casing to be pretty reliable and the same is true with Addix rubber on top, I punctured just once (despite several rocky rim dings) while I've had these tyres on. The hole didn't seal on the trail but that was due to lack of sealant rather than the size of hole, as once I topped it up with some fresh Stan's NoTubes sealant, it sealed with no problems and has held since.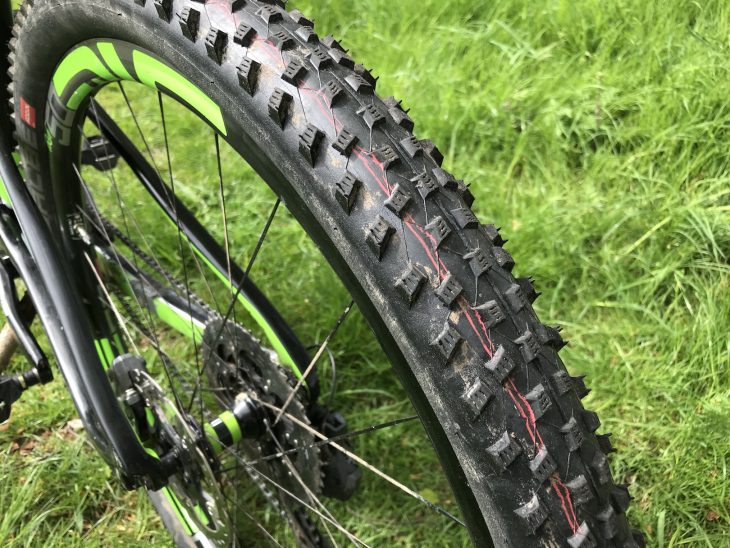 Overall
As well as a general improvement in durability, rolling resistance and grip, the new Addix compound from Schwalbe offers a much greater choice of characteristics to suit different riders and riding. The Speed compound is definitely that and gives the Rocket Ron vastly improved durability over the previous version. I did find front grip from the Speed a little lacking so would choose to run a grippier compound on the front and keep the faster rolling on the rear. While these tyres still aren't cheap – sadly not many high end tyres are – the lower wear rate means that at least they won't cost you as much in the long run to replace.
Review Info
| | |
| --- | --- |
| Brand: | Schwalbe |
| Product: | Rocket Ron EVO SnakeSkin Addix Speed 29x2.25in |
| From: | Schwalbe, schwalbe.com |
| Price: | £58.99 |
| Tested: | by Rachel Sokal for 4 months |