This article was originally published in Issue 117 of Singletrack Magazine.
Hannah interviews five people who've said 'Right! That's it! I'm leaving to go and work with pushbikes!' Then they've carried through with the threat. And how.
Words: Hannah, Photography: Various
---
Whether it's 'just a job', 'your career', or even 'a vocation', the chances are you'll spend at least half your life 'at work'. Maybe you're thinking about making your at-work time relate a little more closely to your playtime? Here we look at a few people who have done just that.
Charlie the Bikemonger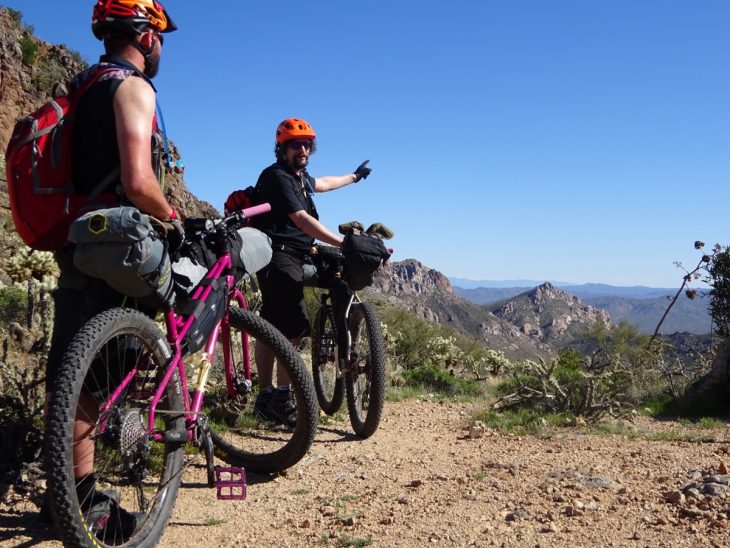 What is your current job title/role in the bike industry?
Overlord at The Bikemonger Ltd, where we distribute, retail (shop and online), run events, hire and repair. Head tester at Happy Bottom Bum Butter, the world's leading arse cream with a silly name. Overlord of Singletrack's Room 101 feature.
What was your job title or field of work before you joined the bike industry?
Senior Marketing Executive for LV= (Liverpool Victoria), where I managed the rebrand and car insurance advertising. They trusted me with an advertising budget of millions and millions. I had some really nice lunches too. I think I was 37.
What made you leave your previous life?
A miserable cow. I was on a course called 'Your Future' doing an activity, sliding words around and scoring our personality traits. I stood in front of 20 people and presented my bar chart. I scored highly on entrepreneurial and autonomy (I had to Google autonomy). Suddenly I'm heckled by this miserable cow; she really was a pain in the office. She heckled "but you are not entrepreneurial". I explained that I'm just presenting results, and not making claims. She banged on again. And then I said: "Look here I made more money out of my bike shop last night than I did working with you clowns." I then thought 'Why am I here? Who made this decision? Why am I not running a surf camp, or climbing mountains…' and I had always made decisions based on necessity, rather than the heart. I sacked necessity and ran with the internal mantra 'Think it, feel it ****ing do it'. The book 'The 4-Hour Work Week' put me into an entrepreneurial spasm, a fit of escaping and business building. I was on fire.
And what have the benefits been?
I'm way healthier, lighter and happier. I'm also much better at sleeping in deserts – the job has taken me on incredible adventures, with great people. I now have a killer work ethic, something that may have been missing at times before. You have to get stuck in… and making good decisions pays quickly… so this keeps me working hard and fast. I'm also a hell of a lot braver, things don't scare me, and people don't scare me.
Would you go back?
Maybe… but not forever, and it would have to be with the right people in the right company. I would need to know there is an escape tunnel. What I hated was the feeling of entrapment. They own you… your ability to pay your bills and provide for your kids is directly linked to how much someone in management likes you, or some budget politics.
Graham Stock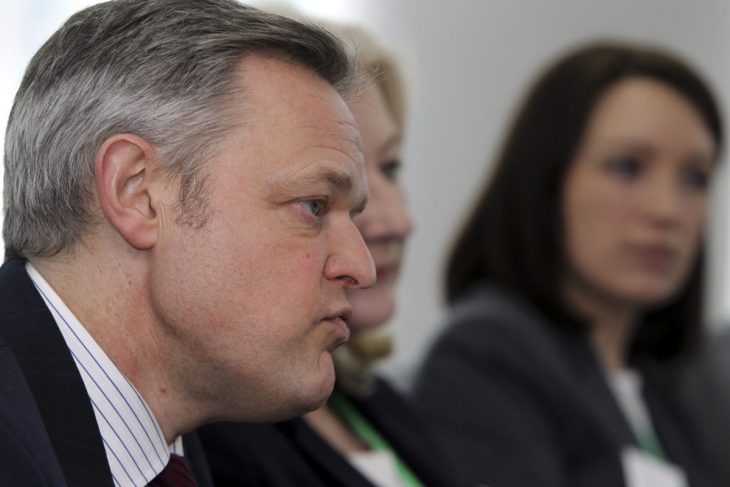 What is your current job title/role in the bike industry?
Founder and Director of Sixth Element Wheels. I take the technical lead on our product development and personally check every set of wheels that goes out the door. I started the company in 2015 and have remained very hands on since. I was young enough to start and grow a business that has a long-term future (and still young enough to have significant bills to pay at home!), but old enough to have learned important lessons about running sustainable businesses.
What was your job title or field of work before you joined the bike industry?
Town Planner. I ran businesses that were tasked by councils and developers to advise on when and where to build new houses, offices, internet distribution centres, business parks, etc.
What made you leave your previous life?
I'd been building bikes and bike wheels for ever. In my 40s I really got into wheel building, trying out all sorts of carbon rims and builds. I knew that there was a sustainable business to be had. It got to the point where I had to make a choice – either stay with the town planning or do wheels full time.
Was there a particular 'Eureka!/Sod it' moment?​
A fair amount of time before I left town planning I knew that the basic concept of Sixth Element had legs. I looked at the details, costs and practicalities, did some testing on the rocks and in UK slop, and concluded that there was every reason why high-quality carbon wheels could be sold to riders for reasonable prices. I had to be clear with my (former) business colleagues about what I had in mind – so I told them, and we agreed a leaving date. I had to then plan my move carefully (especially the financial side) – I'm fortunate enough to know people who could provide advice on the boring bits of business and financial planning. It was very deliberate.
Has it delivered the expectations you had?
Absolutely; it's been amazing. The buzz from customers is so addictive, as is seeing our wheels on the trail and on bikes that get riders onto the podium. I was so stoked by the press reviews. And then being nominated for two Singletrack awards in year two of trading, wow! But it is hard. But then I've always worked on the basis that you need to work hard at life. I love the fact that I am involved in growing a business, creating jobs/employment and producing a genuinely great product that, to put it simply, I believe in.
What was the hardest thing about making the change, and how have you handled it?
Doing everything 'myself' (actually, that isn't at all fair to all the people who have helped me, often unpaid!). I came from an environment where we had IT, marketing, accounts and admin people. You don't get that when you start a business yourself.
Tell us any unexpected benefits of the move?
I have a very direct set of connections with our customers – I love that. I have no intention of losing that. On a personal level I'm fitter than I ever was. I get to ride my bike more and that's got to be a good thing.
Anything you look back on from your previous life that you miss?
Honestly – no. While I really enjoyed the previous working environment and the people I worked with, equally I work in an environment now where we are never short of conversation – call it mutual bike obsession.
Would you go back?
No – I'm so constantly and consistently excited about Sixth Element. I would so miss the customer feedback. We're in the midst of launching our new wheel ranges, and when that is done we'll be onto our 2018 events, then next year's innovations, and then… it just never stops!
Cy Turner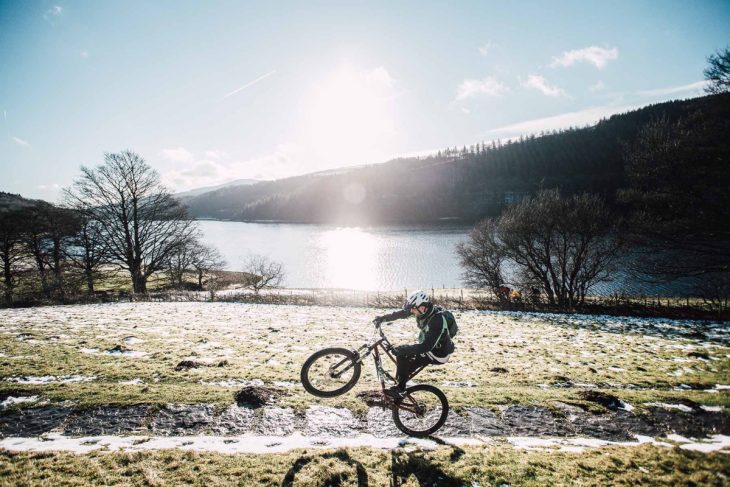 Wheelying into a bright new life. Credit: Richard Baybutt
What is your current job title/role in the bike industry?
Founder and Director of Cotic Bikes. I own and run Cotic and design all the frames.
What was your job title or field of work before you joined the bike industry?
Project Manager in a small railway engineering consultancy, but that was via being a design engineer and project engineer. I helped design parts of trains, everything from on-board kitchens to full freight wagons. I had a particular specialism with vehicle dynamics, which meant I spent a lot of time in the early 2000s figuring out whether the new trains being introduced at the time would hit bridges and platforms or not (which they don't, I hasten to add!). I was 30 when I left.
What made you leave your previous life?
Desperation is probably closest.
Was there a particular 'Eureka!/Sod it' moment, or did it happen gradually?​
Bit of both. It built up for ages. I was promoted to Project Manager and ended up running a wildly escalating project that was extremely technically difficult, large budget, with an extremely difficult customer. I went stress-pop, forgot my wife's birthday six weeks after my first daughter was born. I was SO angry at myself I resigned the next day. Cotic was then three years old and I didn't have a plan to do that full time – I just knew I had to stop doing what I was doing.
It was my accountant who pointed out it might be a viable alternative. Although it had made money, I had never taken anything out of the business, just enjoyed having something fun to do, designing bikes and getting my hobby paid for. Because there was some profit built up, my accountant told me that even if I barely sold another thing, I probably had a year to have a go at Cotic, so that's what I decided to do. That was in 2006, so it's gone fairly well so far!
Did any skills from your previous job help you make the shift?
Absolutely! My previous employer was a small, independent engineering consultancy owned by two guys who are two of the most inspiring people I've ever met. They showed me how a great business could be run, the basics of profit margins and the like, believed in me and taught me so much. I also, rather obviously, learnt my trade as a design engineer in my previous industry, learning from other great people in my graduate training job and at the consultancy. I always tell people who ask me about wanting to design bikes to go and work in a big industry first. You'll learn your trade as an engineer way better.
Anything you look back on from your previous life that you miss?
I really miss the long, freewheeling design meetings we used to have when starting up a new project. We would just blast through ideas, scribble on whiteboards, wave hands, talk around concepts for two, three hours… It was so much fun, so creative, so much energy. I really miss having lots of great engineering people around me to do things like that. Paul here is a brilliantly intuitive engineering guy, so we have fun coming up with solutions to things and chat through ideas, but those project start-up meetings at my old job were just an absolute pleasure.
Would you go back?
As a design or project engineer – absolutely! I still have a real soft spot for the rail industry as it's a truly interesting place to work from an engineering standpoint, very varied. I'd really miss a lot of the other sides of my current job though – I enjoy getting involved in the marketing and promotion, having a race team, the buzz at events.
John 'Shaggy' Ross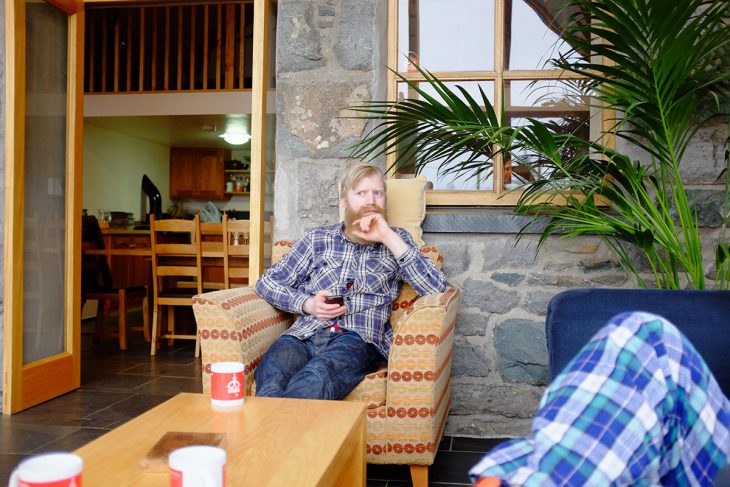 What is your current role in the bike industry?
Head of Retail and Distribution at The Bicycle Academy and Academy Tools. It's a new facet of the business so it sounds overly grand, considering I'm the whole department.
What was your job title or field of work before you joined the bike industry?
Systems Standardisation Lead Specialist for Airbus.
What made you leave your previous life?
I'd been doing it a long time and was looking for a change. When I was younger, work was very much there to subsidise my bike racing. I had some substantial help from people like Trek, Alpkit and USE/Exposure, but having a job was very much just to keep me racing. When I didn't race so much, work was beginning to rule my life.
Was there a particular 'Eureka!/Sod it' moment, or did it happen gradually?​
Neither really. I did an engineering degree and always wanted to work with bikes, but it just took some time for me to get there.
Did you leave your job and then just end up in the bike industry, or make a deliberate move into working with bikes?
I had stayed in contact with Andrew [Denham, founder of The Bicycle Academy] after being one of the early students. I was looking to change jobs and as The Bicycle Academy was growing we discussed a job that would be appropriate for both of us.
What attracted you to the bike industry?
Well, bikes. I like bikes. Specifically I really liked the ethos at The Bicycle Academy. Practically all the other available courses seem to do things just because 'that's the way it's always been done'. I liked the fact this was questioned, and details such as brazing theory are actually explained. As they started developing products I noticed a similar approach – they weren't just copying what had come before, but actually going back to basics and trying to make the products as good as possible.
Did any skills from your previous job help you make the shift, or was it a complete change of scene?
I'd like to think professionalism. I think a lot of the bike industry has played on the 'by riders, for riders' thing for too long. Obviously, having passionate riders is great. However, great riders don't necessarily run a great company. I think coming from a bigger industry often means you take things more seriously.
Has it delivered the expectations you had?
Yes – I'm working harder and longer hours, but enjoying it much more. We are currently shipping out the first batch of our Low Cost Frame Fixtures (LCFF), which has led to a lot of late nights, but I love the end product. It was cool working on big projects like the A380, but you end up playing a really small role in that. With a project like the LCFF I had a real tangible part in making this actually happen, and that's really exciting. Being in a smaller company is nice for when we have to do reactive things; I certainly don't miss having loads of meetings to get consensus on something.
Anything you look back on from your previous life that you miss?
I miss a lot of the people. And the shorter commute.
A few years ago the Filton site where I worked looked like it could have been owned by a Bond villain, it was quite a mad place. I remember giving directions 'when you get to the Concorde, we are in the office on the left'.
Would you go back?
I wouldn't rule it out, but I'm far happier where I am now.
Doug McDonald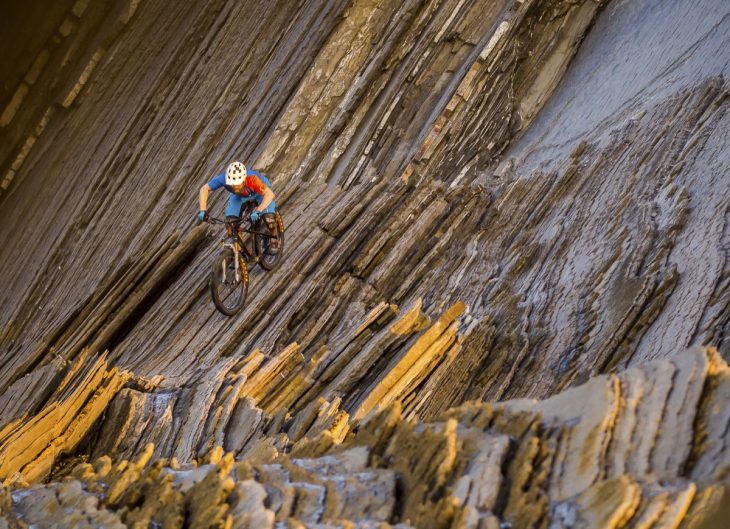 What is your current job title/role in the bike industry?
I am the owner of basqueMTB. That basically means guide, driver, picnic maker, bike fixer, marketing department, booking department, trail builder… you get the idea!
What was your job title or field of work before you joined the bike industry?
I was a process manager in the optoelectronics industry, making semiconductor lasers.
How old were you when you made the change?
Too old! I was about 32.
What made you leave your previous life?
I fell in love with a Basque girl, Amaia. She was offered a job back in the Basque Country and I was really ready for a change. We were walking off hangovers on the beach on the island of Iona when Amaia mentioned her job offer. We decided instantly to make the move and by the end of the walk we had drawn up basic plans for basqueMTB! Of course, that was just the dream and the realisation of it took a lot more time.
What attracted you to the bike industry?
This is like the 'what attracted you to multimillionaire Paul Daniels' question! I was attracted by riding bikes in the sunshine each day.
Did any skills from your previous job help you make the shift, or was it a complete change of scene?
I used computers a lot in my previous job and that helped me because I started basqueMTB with zero money and couldn't pay anyone to do anything for me. I had to learn to code websites, write booking databases and all those things that you don't normally associate with bike guiding. Apart from that, the two things couldn't be more different!
Has it delivered the expectations you had?
Running basqueMTB has exceeded my expectations in every way. I never imagined I'd be able to make a living like this; it was something to do while I learned Spanish and got a real job. I love my job way more than I ever thought would be possible and it has been fulfilling in so many different ways. I've met so many amazing people and ridden hundreds and hundreds of days over the past few years. I love it.
Any unexpected benefits of the move?
I've learned to wheelie! It took seven years, but I got it in the end.
Anything you look back on from your previous life that you miss?
I miss not working, now I don't really have a stopping time and I'm always working – I'm always checking emails and thinking about work. When I had a normal job I finished at 5pm and didn't think about work again until the next morning, that doesn't happen now. It's a very small price to pay though!
Would you go back?
I honestly don't think I could. I lie awake sometimes worrying about what I would do if basqueMTB stopped working, it's probably one reason why I put so much into it. I can't imagine having a normal life again. Amaia and I had a deal when we moved to the Basque Country, if things didn't work out between us I would move back. I told her a little while ago that I could no longer promise that. (Fortunately everything is working out!)
Could you make that leap? Hannah did…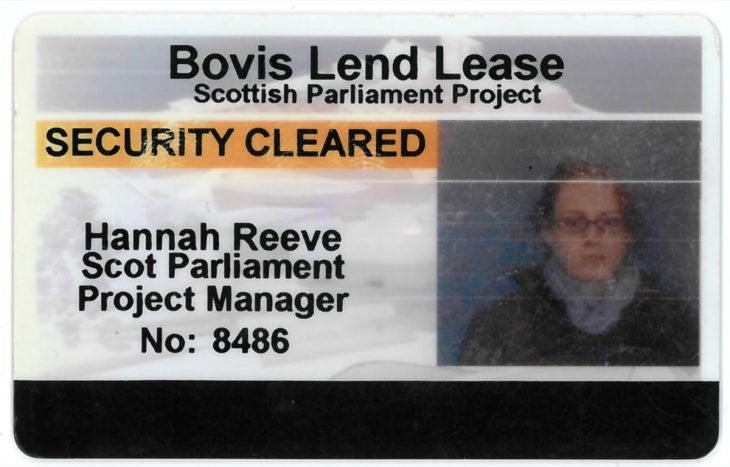 Everyone here made a deliberate choice to work in the bike industry, but I did not. I didn't set out to be writing magazine features, and I'd never really considered that there was something in the world of bikes that could be considered 'work'. I did however quit my job – as a public sector project manager delivering multi million pound infrastructure projects. Cy's story is very familiar – I don't like to think what state of stress I'd have reached if I'd stuck with it. And so I quit, with the intention of earning less, seeing my children more, and finding something closer to home that would use my skills. I had this vague idea that it should be possible to work to live, rather than living to work – or working to death.
And so I find myself at Singletrack experiencing a world I never even knew existed when I quit that project management job. It's not all fun, and it's not all easy, but it's a world away from the high stakes pressure of my previous life, and I'm glad I'm here. I also thank my lucky stars my husband really likes his job and the mortgage paying salary that comes with it. His support meant I could quit the job that was breaking me before I broke completely. Beyond being convinced that there must be a job out there where my skills would be useful and the subject interesting, I didn't plan it. It's probably not the best approach to career development, but it has worked for me.
Is it for you?
Shaggy and I have gone the route of being employees with regular payslips, while others here have taken the entrepreneur option and created a job for themselves. Doug went the route of clean break and new start, while the others gradually built up their business while holding down another job. When it comes to making an actual product, the gradual transition from old life to new is probably a wise one – it's a big old world of Amazing New Products out there, and knowing yours is going to pay the bills will stop you finding yourself having to take any job going if it doesn't work out.
Whether your motivation for looking to the bike industry is a rat race-quitting leap or a planned evolution of skills and interests, getting rich probably shouldn't be one of them. That doesn't mean you'll be poor; it's amazing how much money you spend enabling you to be at work. Cut those out and factor in a likely reduced cost of bike bits and you might be surprised at just how much you can do without given a bit less time in the office. A holiday to 'get away from it all' might not feel quite as essential.
That said, getting to ride bikes in work time means that work time creeps into play time, and switching off can be hard. Quitting the stresses of a 9-to-5 doesn't mean leaving all your stresses behind – they'll just be different ones. If you're the sort of person that needs everything to be finished to be able to sleep at night, you might not want to make your hobby your job. The blurring of lines between professional and personal lives is not for everyone, but for everyone here it has been a life improvement.
If your sense of achievement is linked to your position on the corporate ladder, then a leap off into the plaid shirt world of the bike industry may be unthinkable. But if you're wondering whether there's more to life than the next promotion or paycheck, then keep wondering, and maybe start planning. For the last word, let's head back to Charlie, who sums up his career advice as follows:
'It's not for everyone, but if you have the balls it's a hell of a ride. And hey, it's better to regret something you did do than something you didn't do. But you can't do it "lite", you need to do it full f***ing on.'