If a 2.4in tyre is considered 'normal', and a 2.8in tyre is considered 'plus', then where does that leave the new breed of 2.6in tyres? An emerging trend amongst modern trail and enduro bikes, this Goldilocks tyre width claims to offer similar levels of traction and comfort to a plus tyre, but without the casing wobble and pinch-flat tendencies. To put those claims to test, we got four pairs of these new-school 2.6in wide tyres from four different brands, and put them in the hands of our enduro moustachio, Ben Gerrish. Over to Ben! 
---
Ah, 2.6in wide tyres. Another size to add to the huge list. But is this emerging trend really #yetanotherstandard? In my humble opinion, no it is not. Allow me to explain why.
While standards are an ever changing and expanding field in the world of mountain bikes [the word 'standard' itself is just a little bit of an oxymoron in itself – Ed], sometimes the progression of a product is actually an answer to an already modified element.
Sitting somewhere between 'regular' 2.3-2.5in trail tyres, and 2.8-3.0in 'plus' tyres, the new breed of 2.6in tyres are supposed to offer the best of both worlds. Compared to skinnier tyres you get more volume and a bigger contact patch for better comfort and grip, but without the flimsy sidewalls and vague handling that you can often get with bigger plus tyres. Or so we're told.
In muddy conditions, a 2.6in tyre is also better at cutting through the mud compared to bigger 2.8-3.0in plus tyres that tend to skate over it – something that we've learned from testing plus bikes across the UK. This is what lead us to coin the term 'British Plus' when talking about 2.6in tyres.
The other advantage over plus tyres is compatibility. Though it can depend a little on what bike and wheels you have, 2.6in tyres don't necessarily need a whole new frame, fork and wheelset like plus tyres do. Many current frames and forks on the market – particularly those with Boost hub spacing – will already clear 2.6in tyres.
And that brings us back to the standard thing, because 2.6in tyres haven't just been dropped on us out of the blue. No, 'British Plus' has actually been cooking for a while now, and it's below the tyre bead where you'll find the reason for its existence.
Millimetres Matter
Over the years wheelsize has been a great point of contention. You don't need me to list the existing variants since you've heard it all before, but one element amongst all of the available options that has been relatively consistent in its evolution is rim width. Five years ago you wouldn't have blinked an eye if your long travel enduro bike came fitted with rims with a 19mm internal width. These days though, 30mm is the norm (ignoring fat bikes), and rims pushing 35-40mm wide internally are common.
With these kinds of modern rim widths, you really are pushing the design limitations of traditionally sized tyres, which, up until very recently, have been designed to be fitted on much narrower rims. Admittedly some tyres do work well when they're stretched onto a wider rim, but for the vast majority the profile begins to square off significantly, reducing the traditional lightbulb shape. Aside from affecting the sidewall damping characteristics, this can also see the tyre casing bulging out further than it's supposed to, where it ends up sitting wider than the edges of the tread pattern. For cornering, this is not good.
For this group test, I was given a selection of new generation 2.6in tyres to try out from Bontrager, Maxxis, Schwalbe and Specialized. Each tyre is aimed at its own specific corner of the mountain bike market, so they aren't designed to compete with each other. This was partly because we wanted to showcase a variety of 2.6in tyres currently available, since tyres are so condition and rider-specific. The other reason though is that availability on 2.6in tyres is still relatively limited, with not every brand offering every single tread pattern in the new-school width.
Regardless of their tread pattern, all are designed to be ridden on a standard 27.5in mountain bike frame and fork in conjunction with a now standard rim. Each tyre is also available in 29in sizes too. To keep testing consistent, I mounted all of the tyres tubeless on Roval Traverse rims with a 29mm internal width, which were fitted to a Specialized Enduro 27.5in bike with Boost hub spacing. The Enduro specifically has clearance for up to 2.6in tyres, and there were no troubles there in terms of clearance.
All four tyres were also ridden by various testers on a number of other test bikes with rims up to 34mm wide. All but the Specialized Hillbilly tyre fitted into a standard non-Boost bike, although they were quite snug given that the non-Boost test bikes didn't officially have clearance for 2.6in wide tyres. If your frame and fork isn't listed as having clearance for 2.6in tyres, we'd recommend a cautious approach before assuming they will fit. For that reason, I've listed the measured tyre width in each review, and you'll see that there was a bit of variance between each option, though no tyres actually measured up true to their stated width – a consistent quirk we've found with most mountain bike tyres over the years. However, where clearance was limited, we still had to rely on wheels being nice and true and with minimal mud build up to avoid any issues.
The majority of my testing was carried out on the very rocky and unforgiving terrain around the Lake District. Because there can be so much more grip available with these bigger 2.6in tyres (compared to skinnier rubber) when I was pushing them hard I didn't always have the confidence to come out of some of the sections unscathed. The larger volume did give me more confidence in rim protection and control through harder sections, but more sidewall support (particularly for the Maxxis and Bontrager tyres) would have given each tyre a near-indestructible feel. That said, your conditions and riding style will see your results vary, and not everyone will be riding in the tyre-shredding conditions offered by the Lake District.
While 2018 will see more tyre options becoming available, and perhaps there might be some heavily reinforced casing options in there that will suit hard riding rock hoppers like myself, for many riders there will already be a 2.6in tyre to suit. From groomed trail centre cruising, through to big mountain bashing there are options for all, though at present you won't find you have the same range of treads to choose from as is in other sizes.
In general though, you don't need to reinvent your knowledge on tyres and treads to upsize to a 2.6in wide tyre. There is an increase in volume and footprint, but not drastically so. The tread patterns on our 2.6in test tyres remain very similar to their smaller 2.3-2.5in counterparts, and the weight penalty is also quite minimal, being less than 100g per tyre. As long as you've got rims with an internal width around 30mm or more, you're likely good to experiment with your existing setup.
---
Bontrager XR4 Team Issue 2.6in Tyre
"The Bontrager XR4 is marketed as an aggressive trail tyre that's suited to loose and rocky trails, which seemed ideal for my go-to local trails. The dual compound rubber features a firmer 61a rubber for the centre tread blocks, along with softer 50a rubber for the outer edges, which indicates the XR4 will be fast rolling in a straight line, combined with some traction-rich cornering once you lean it in…" Read the full review here.
---
Maxxis Minion DHF 2.6in Tyre
"The Minion DHF is a long standing cult classic of the Maxxis stable, and thanks to its ongoing popularity it now comes in a dizzying array of compounds, casings and sizes. The 2.6in width (only available in a 27.5in diameter for now) is the newest option in the Minion family, and upon first glance, the high volume size suits the Minion DHF's well-spaced shoulder blocks and fast rolling centre pattern equally…" Read the full review here.
---
Schwalbe Nobby Nic 2.6in Tyre
"The Nobby Nic tread pattern is endowed with a generous collection of square and rectangular tread blocks, which are spaced consistently throughout the tread. Combined with the Addix Speedgrip compound, this makes for an incredibly efficient and fast rolling tyre on hardback trail. The high volume casing floats along nicely with minimal drag, and on the right trails you'll feel like a pedalling hero given how much rubber is rolling underneath you…" Read the full review here.
---
Specialized Hillbilly GRID 2.6in Tyre
"With the most aggressive tread pattern in the Specialized tyre range, the 2.6in Hillbilly is an absolute beast of a tyre in almost every sense. It comes equipped with the thicker and reinforced GRID casing, which has proved itself to be strong and durable without a huge weight penalty – our test tyres actually came in a lick under the claimed weight…" Read the full review here.
---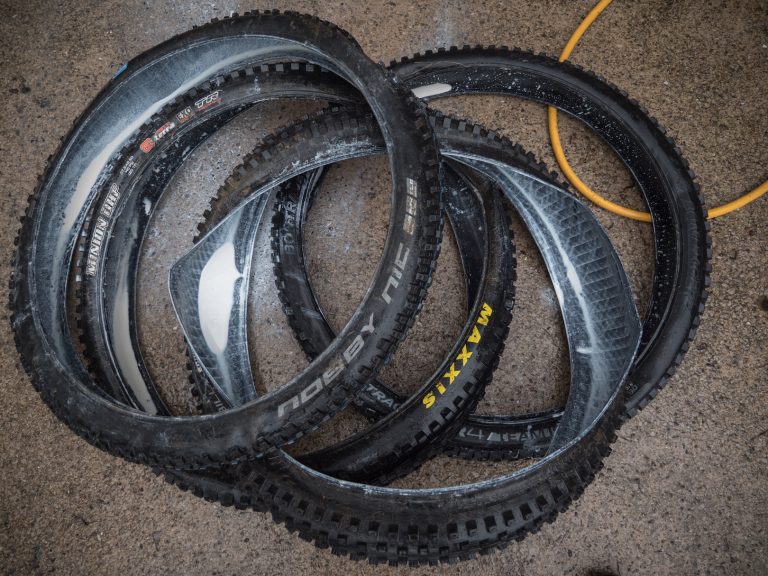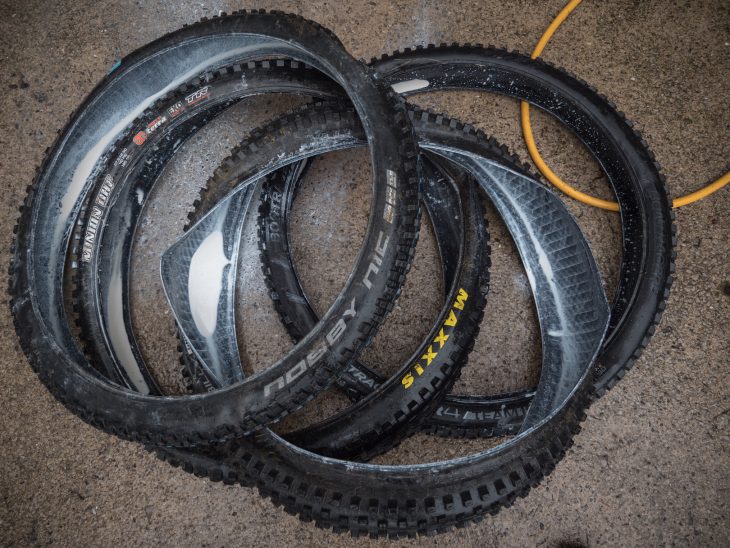 The Verdict
I ran all of these tyres in matching pairs to build my initial basis for the review, but I also played around with some combos. By far my favourite for local wet and dirty laps was what became dubbed the mullet set up, with the high grip, confidence-inspiring Hillbilly up front, paired with the tough and agile XR4. This provided traction and control on climbs and descents alike, but also had a tendency and ability to really cut loose at times, relying on the front grip to keep it all in line. Rowdy times.
The ever increasing options available on the market will inevitably provide the perfect set up for anyone wanting to venture into the British Plus tyre set up. From trail centre cruising to all mountain and enduro, the larger size most definitely has its advantages and will fit seamlessly into a good chunk of existing set ups, next time you're in the market for some new rubber.
---