A couple of months back we started off a series of interviews about inspiring women in mountain biking by chatting to HopeTech's Rachael Walker and then 75 year old downhill racer Pat Horscroft.
This month's interviewee is MTB coach Ally Campbell of Campbell Coaching. Why Ally? Let's start by handing over to Katherine Goodey who nominated her.
Katherine: "I first met Ally in 2010 shortly after falling head over heels for mtb. I needed help as I'd entered the Mega Avalanche and was still really a beginner! I got in touch with Ally's company and booked a private session. She was so calm, competent and confidence inspiring and I made a huge amount of progress. Ally is a fantastic rider however, it's her dedication to coaching and particularly her support of women riders that I have nominated her for."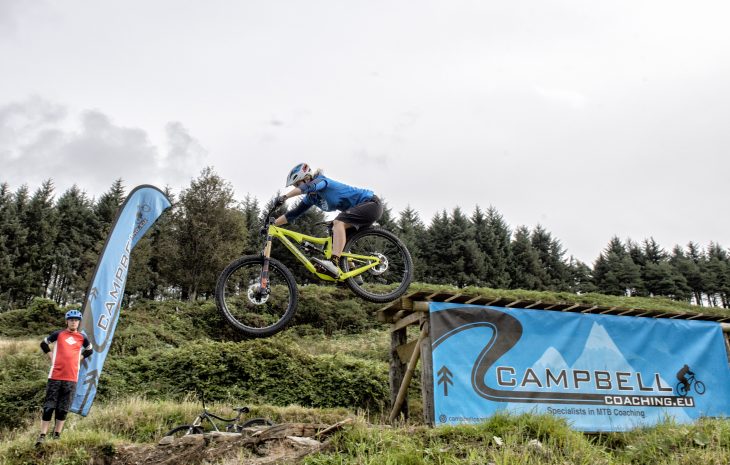 When I spoke to Ally she was up in her home town of Glasgow after doing some coaching with Air Maiden at their freeride festival. After her trip north she was heading back home to Afan via a coaching session in north Wales. All with her three-an-a-half year old son in tow.
RS: Tell us about your coaching and your company:
AC: "We [Ally and her husband Bob] originally set up in north Wales at One Planet Adventure in Llandegla, then we moved to Onegiant Leap, Llangollen about 10 years ago before moving down to south Wales about four years ago. We have a bit more independence now that we're not actually based at a trail centre. We still use the north Wales base, we have a lot of people from up north who want to come to sessions and it's a long way to come to south. We use there in the summer and the one in the south all the time. As for the coaching itself, I do most of it and Bob comes in now and again to help out if I can't cover a session."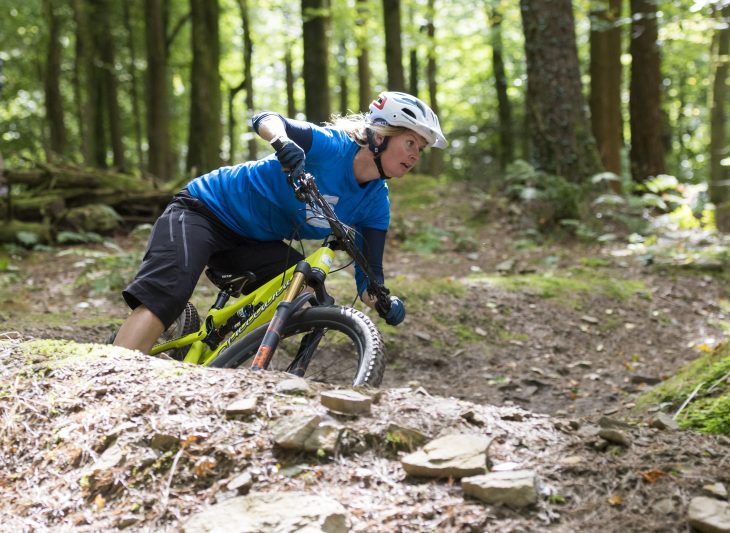 You seem to have quite a set up at each of your coaching bases.
"I always build skills areas wherever I am, people get more out of it then – you can coach all sorts when you build your own areas. It also means that you're not trying to coach where there are other people flying around. You go to a trail centre skills area you've got everyone else who's gone there that weekend wanting to ride. You can definitely get more out of it if you have your own areas."
You have always done a fair number of women's sessions, long before many other coaches and companies offered similar. What prompted you to start them off?
"I've come from a paddling [canoeing and kayaking] background where people were a bit more advanced and savvy about getting women and other people involved with their development coaching. So we thought "why not for biking?". Doing women's only sessions is about giving people an opportunity to feel comfortable. When you feel comfortable you'll enjoy it more. It's trying to reach out to everyone really.
"Paddling is strongly male dominated, I was the only female I know doing it so I'm quite happy and confident riding with men but I know not all women are. I think women only stuff suits some people really well if they don't have the confidence to do things with men. It depends a lot on people's experiences; if you're used to doing things that have lots of men, and done them from when you're young, then it doesn't bother you as much. But if you're used to doing things with women all the time when you go into that male environment it is more uncertain. Then it's not just the biking you are new to, it's the male environment too.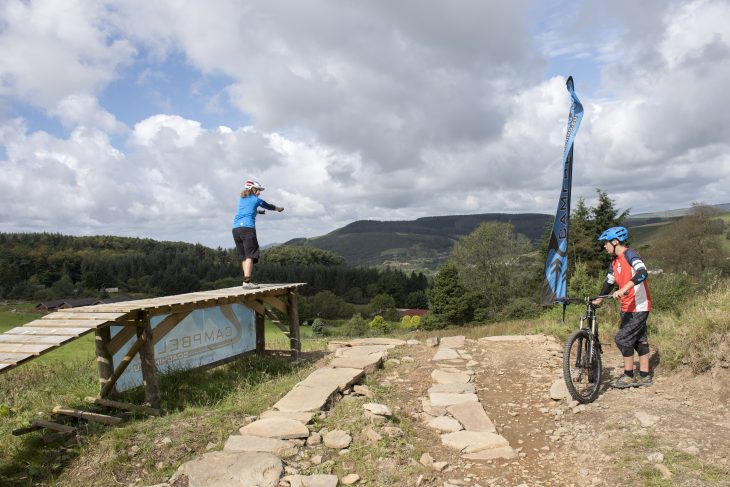 "We've often thought about having men only courses too but there doesn't seem to be any point as they are happy to come along anyway whereas we want to encourage more women along so want to offer something additional. Obviously there are more women biking now and at a higher level but numbers are still low compared to men so it's just about being a bit more proactive and getting more women involved. Of course, women do our open courses too, especially local riders as it's a good opportunity to meet other people too. We've had lots of people who've met on our courses and continue to ride together after that after several years, it's a good network."
You mentioned there are some key differences between men and women from a coach's point of view. What are these?
"In general women tend to have a good skill level but aren't quite sure of themselves so it's often about building up their confidence so they can believe in themselves and their ability, to try and nurture that. The trick is knowing when you can push them and when you should not push them. As a female coach I think I can read that a lot better. Men aren't entirely different, there are lots men that need to build their confidence. In fact that's what a lot of people need as well as knowing that what they are doing is right. It's looking for little things to change."
What are the most enjoyable parts of coaching for you?
"I like whatever I do, from beginners' sessions to the more advance Jumps and Drops courses [Campbell Coaching's most popular course]. I just get a kick out of watching people progress – when the light bulb goes on, and the smiles, and the confidence – it's why I do what I do. I just love coaching and helping people with that progression and helping them understand how to progress.
"It's not a one day switch where people go away and say "right that's it" but it's about giving them the understanding of what they can do and why, so they can go away and practise. Obviously you get people progressing on the day too but it's really about giving them that stuff to go away with. That's all the nice bit."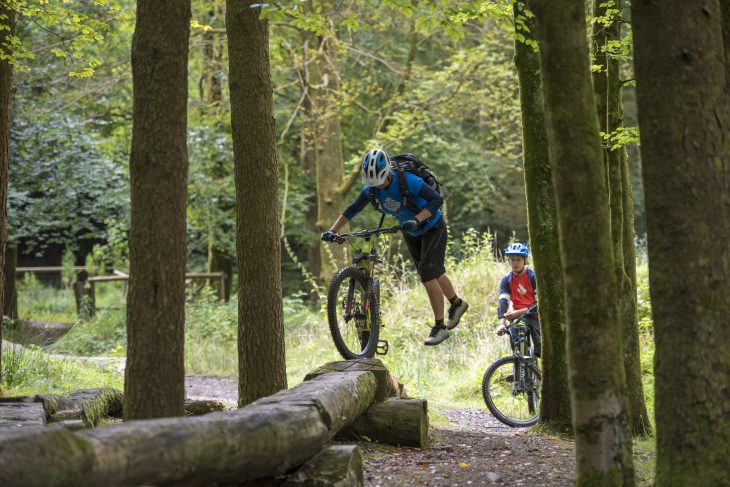 What about your riding?
"Like a lot of people I've had a bike since being a kid and messed about building ramps and stuff like that. I always used a bike to get from A to B and a bit of a cross-country ride but for proper riding, I started around 2000."
And I gather you've done a bit of racing too
"Yeah, it was when I was just getting into it really. I've done Mega Avalanche four times when the women did the same race as the men, I actually preferred that but I can tell why they changed that, it was just getting a bit insane. And then when the UK Gravity Series started that Steve Parr organised I did all of them. But my head was never in all of that, into proper competition, I just don't enjoy it. I really enjoy riding my bike but the racing stresses me out too much. They were a good way to get me fit and when I was racing on the day I was fine but that run up to it, I was like "Oh my god". And then I got into the elite category and I was like, "that's it, I can't do it".
How did you manage to ride and coach throughout your pregnancy, in the early stages after your son was born and now he's a toddler?
"[During pregnancy and in the months after Ally's son was born] I went by feel a lot. If I had a day that I didn't feel well, I obviously didn't do much. If I'd done a lot and felt it afterwards, then I'd rein it back for a couple of days. It was just about judging it and trying to listen to my body. You get a lot of people being quite reserved and saying "I wouldn't do that if I was you". But you can still do what you love, you just need to adjust it and go down the trails you know rather than hucking off a big unseen drop. I just adjusted and rode within myself and if I knew the trails well, then they were fine to do.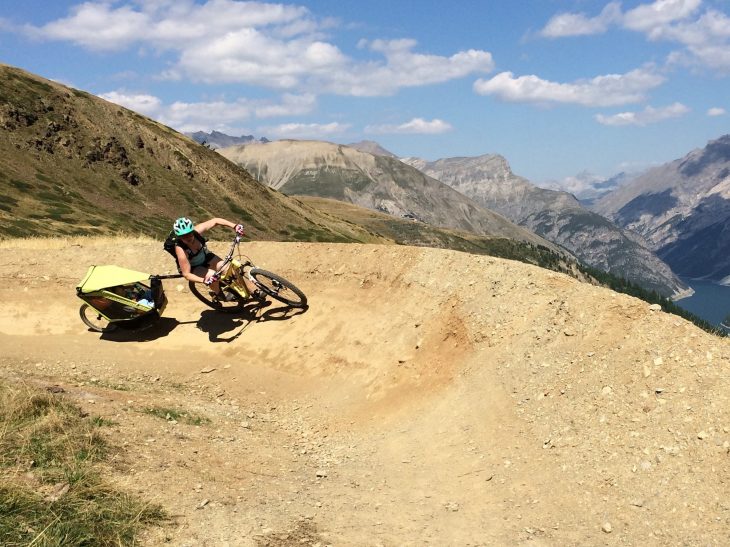 "When he was old enough I did put him into child care a bit so I could get out for a ride. Because I kept riding through my pregnancy I had a good base of fitness which helped me get going again. Now he's got his own little bike of course and doing lots of stuff himself. I don't want to be a pushy parent though and make him do stuff he doesn't want to do."
After chatting with Ally I can really understand why people are so motivated and inspired by her, she exudes enthusiasm and instils a belief that we can all challenge ourselves and progress. The fact that over recent years she's done this through a pregnancy, then with a new baby and now a toddler in tow is a great example of how our riding may change but we can still get out and find enjoyment and challenges. And on that note, it's back to more drops practice for me.
---
Thanks to Katherine for nominating Ally. We would love your nominations for who to interview next. Whether you're male or female, who is the female rider who enthuses you to do more, or who has done lots to support women's riding? They could be a pro, a local coach or someone next door. Let us know in the comments below who it is and why and maybe it'll be your nominee that we choose to include in the next 'Inspiring Women' feature.