We've been working on something special for the upcoming issue of Singletrack Magazine, and we think a lot of you are going to be very interested in this one. Oh and a quick note – for those of you who aren't subscribers to the UK's favourite 100% independent mountain biking magazine, fortunately there's still just enough time to subscribe to either the digital or print version of the mag. You'll have to hop to it right now so you can make sure you're one of the first to get your hands on the brand new issue of Singletrack Magazine though!
Right, so as with every bike test we feature in the print magazine, this one has it's very own theme that ties all three bikes together. And the theme for the bike test in Issue #119 is on full suspension bikes that have been manufactured right here in the UK. Well, the frames anyway, though each bike has been assembled here too. This test actually came off the back of a story we ran on the website last year. Having surprised ourselves with being able to come up with such a list in the first place, we published a listicle titled '10 UK-Made Full Suspension Bikes' back in November, which proved to be one of the most-read articles of 2017.
For this group test, we narrowed that list down to three short-travel trail bikes that all feature 29in wheels, and suspension travel at both ends that are within 20mm of each other. Aside from that however, the three bikes on test couldn't be anymore different from each other.
So let's take a closer look at what we've got on test;
---
Orange Stage 4 RS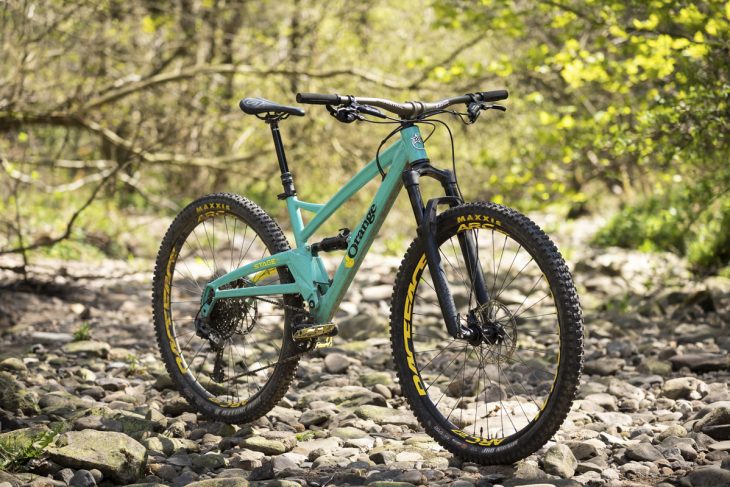 A UK-made full suspension bike test would be incomplete without an Orange, so for this test we picked the Halifax brand's newest model in the Stage 4. Officially made available earlier this year, the Stage 4 is the replacement for the popular Segment 29er, and it slots into the 29er full suspension lineup from Orange underneath the bigger Stage 6 and Stage 5 models.
The Stage 4 is equipped with 'only' 110mm of rear travel, and a 120mm fork, but it's geometry and build kit are as progressive as it gets for a bike of this stature. For any clues on this bike's intentions, just look at the powerful 4-piston Guide brakes, stout RockShox Pike fork, and 800mm wide Renthal Fatbars. And for a closer look at all the details, including why there's a new Metric-sized rear shock, check out the first look story here.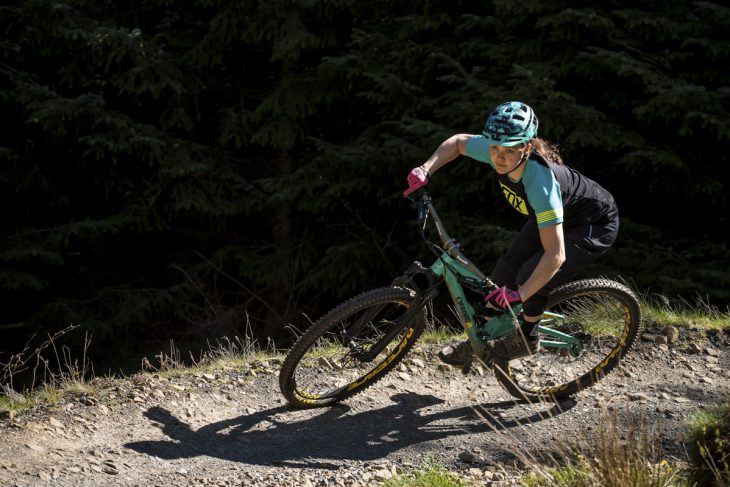 ---
Robot R130
Price: £3,895 (frame w/RockShox Super Deluxe RT3 shock)
From: Robot Bike Co.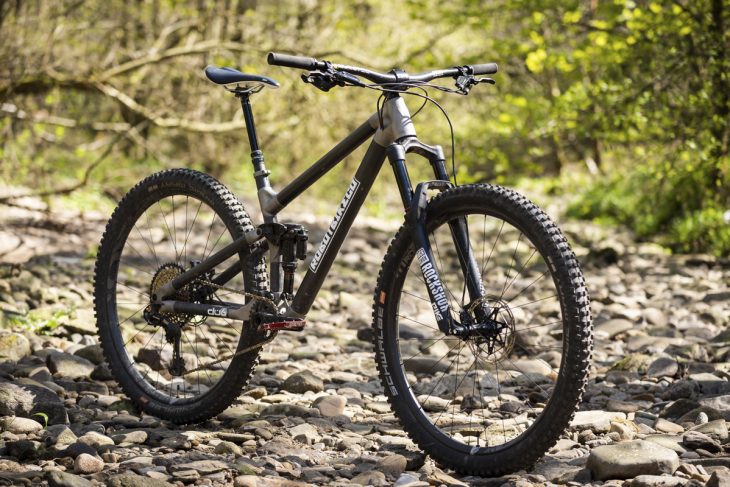 The R130 is the second full suspension model from Robot Bike Co., and just like the R160 enduro bike, this one is made with Robot's funky hybrid construction technique that sees big, round carbon fibre tubes plugged into custom titanium lugs that are created using an additive manufacturing process. Each frame is tailor-made to the rider, with measurements such as head angle, reach and chainstay length being entirely customised for each bike.
The R130 is pitched as a more versatile trail bike option, with 130mm of rear travel and 29in wheels. Our test bike is built with a 140mm travel fork and chunky Schwalbe Magic Mary tyres, and the complex DW6 suspension design is governed by a piggyback-equipped RockShox Super Deluxe rear shock. If you want to know how it all works, we've got loads of photos and info on the Robot R130 from our exclusive first look feature here.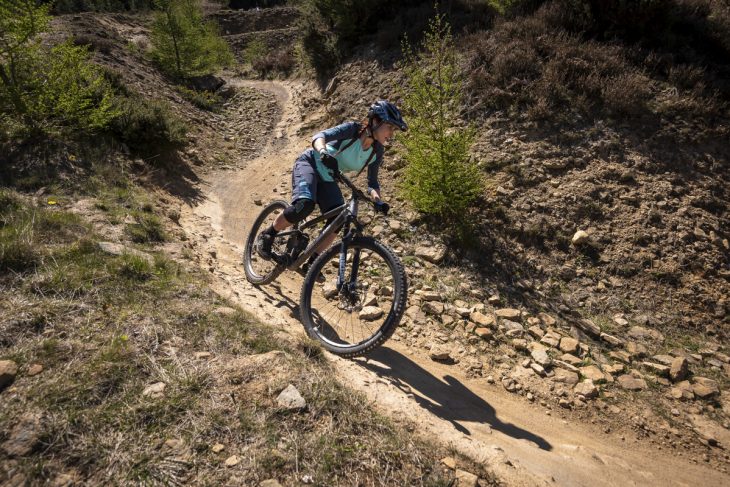 ---
Swarf Contour
Price: £2,250 (frame w/Cane Creek DBcoilIL shock)
From: Swarf Cycles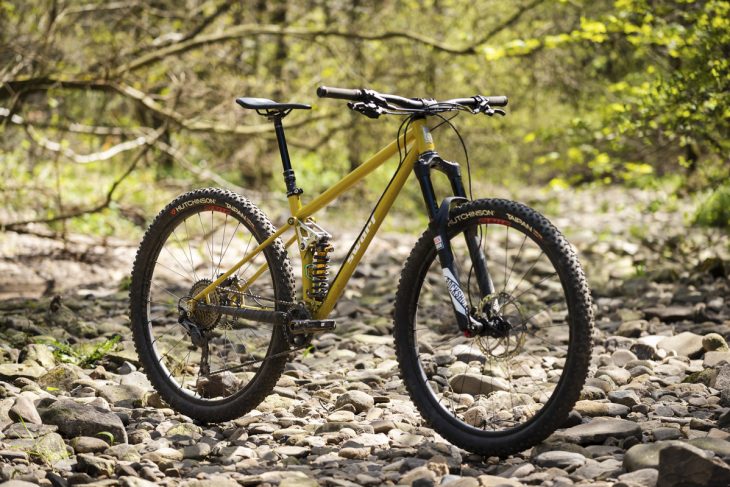 Coming from a much smaller outfit than the other two test bikes, this mustard-coloured Contour uses a steel full suspension frame that is manufactured by the one-man-band known as Swarf Cycles. Using steel offers up numerous benefits for small-scale frame builders, with durability and strength being high up on the list. At the very least, steel offers a striking aesthetic that looks nothing like most of today's carbon fibre frames.
The Contour features 115mm of rear wheel travel, which is delivered via a rocker-activated design and a chromoly swingarm that uses super thin seatstays that flex ever-so-slightly as the shock cycles through its travel. Our test bike has a Cane Creek DBcoilIL shock, and up front is a 130mm travel RockShox Pike fork. You can read more about our first look of the Swarf Contour here.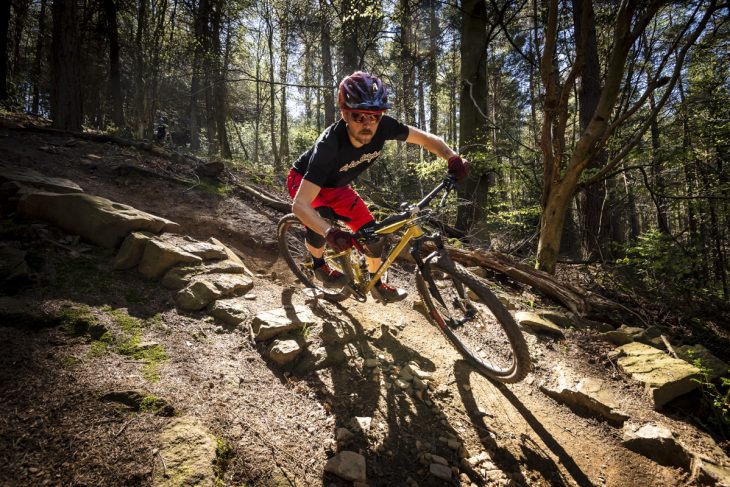 ---
We're currently putting the finishing touches on the new issue of Singletrack Magazine, which will be heading to our local printer very soon. Keen to read about these bikes? Want to support what we do? Then consider coming on board as a subscriber, and not only will you get the new issue of Singletrack Magazine delivered straight to your door, you'll get loads of other cool stuff too!