Scott Sports has a new prototype downhill bike, which is currently being raced on by the Scott-Velosolutions team this weekend at the 2018 Fort William World Cup. First shown in Losinj, Crotia, for round one of the 2018 World Cup series, the prototype is a radical departure from the current Gambler downhill bike, with a new alloy frame and a completely new suspension design. 
---
The Scott-Velosolutions team is back on the downhill race circuit for 2018, with Brendan Fairclough and Gaetan Vigé returning to battle it out through the World Cup series along with Claudio Caluori – the team owner. For 2018, the team has a host of new sponsors including TRP, BOS Suspension, and DMR Bikes, which have changed the setup considerably over last year's race bike.
On top of that, Brendog and Gaetan are also aboard a new prototype frame, which is currently under development by Scott Sports. According to Brendog, the prototyping phase is ongoing, with both himself and Gaetan providing real-world rider feedback for the engineers to digest and work into future designs.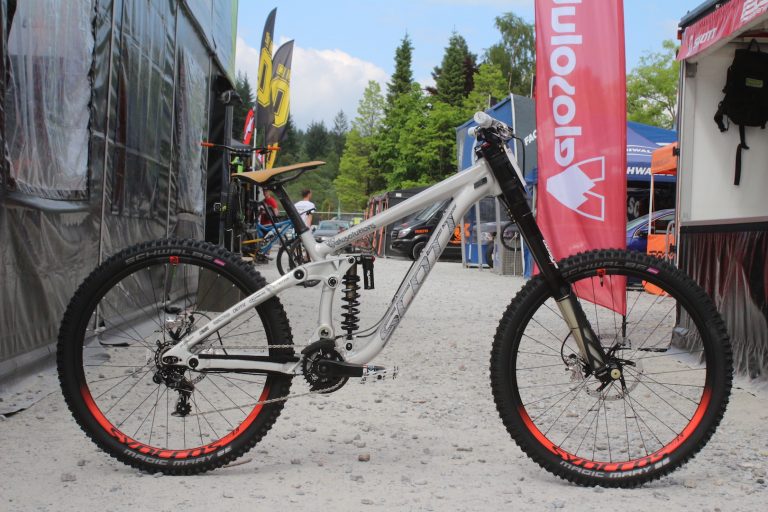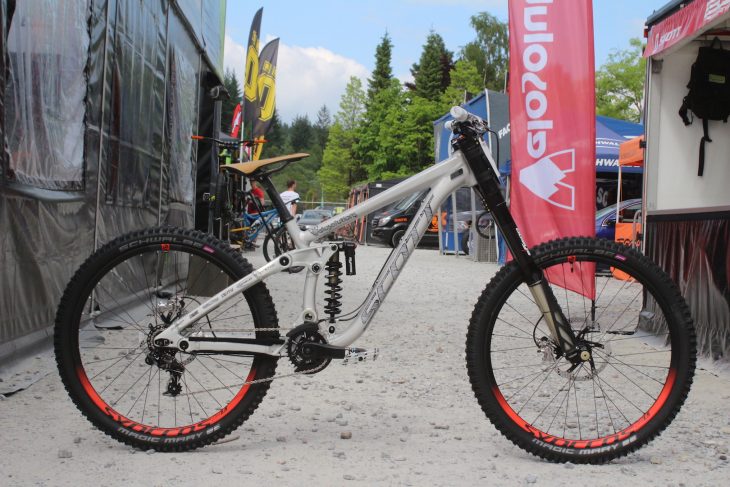 The first thing that's immediately obvious about the Gambler prototype is the change to a four-bar suspension design. Gone is the single-pivot swingarm and the floating 'scissor' linkage, and in its place is a much more conventional four-bar system with a horst-link pivot that kind of makes it look like a cross between a Trek Session and a Cube Two15.
The move away from a linkage-driven, single-pivot design isn't exactly a surprise though, given that Scott's mid-travel Genius recently moved to a four-bar suspension layout. Still, it looks very, very different to the current Gambler. One similarity is the high and central main pivot though, which sits a good way above the chainring – higher than what you'd see on the aforementioned Trek and Cube models.
We caught up with Brendog in the race pits on Track Walk day to chat with him about the new prototype, and how he's finding it on the demanding Fort William race course;
Brendog doesn't give a whole lot away in the video, and even admits at the end that he's not really at liberty to say what the bike can or cannot do. But we can always speculate right?
Though Brendog's bike is rolling on 27.5in hoops, given the two-position dropout system at the back for adjusting chainstay length, we're assuming the team is currently testing both 27.5in and 29in wheels. Because 29ers are pretty hot right now, and BOS offers that Obsys fork in a 29er version.
There's a geometry chip at the lower shock eyelet – much like the Genius – that has 'Low' and 'High' stamped on it, which clearly offers two positions for adjusting geometry. However, there's also an interesting shock shuttle for the lower eyelet, which looks to be removable, and possibly replaceable with other length shuttles. This might be for testing more radical geometry setups, or it might be for trying out different length shocks as well. Or it might just be that these prototypes were flat-out wrong from the factory, and this is just a solution to get them rideable…
Speaking of shocks, the BOS Syros is still a relatively new coil shock of the metric-sized variety. Scott is using the trunnion mount version of the Syros here.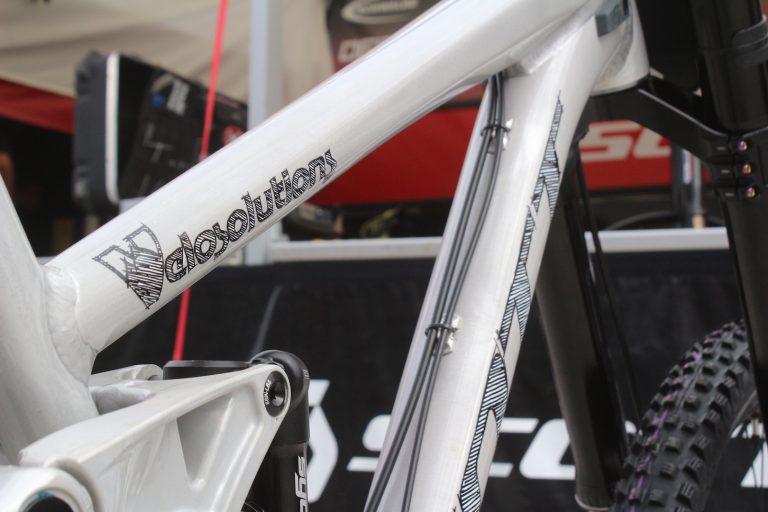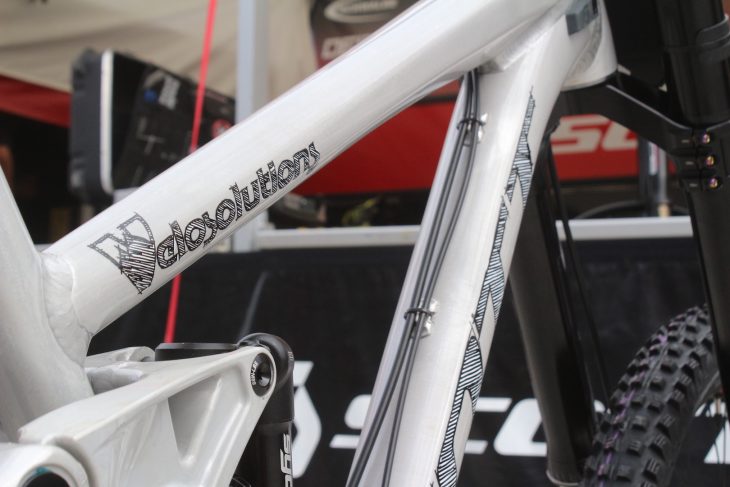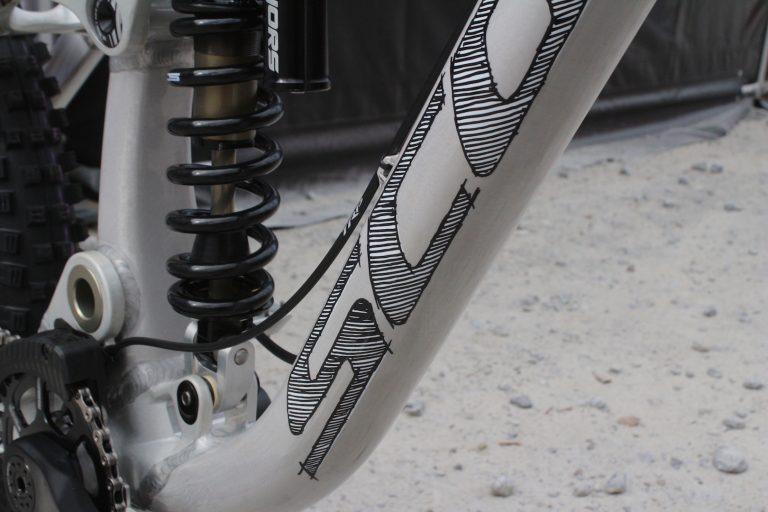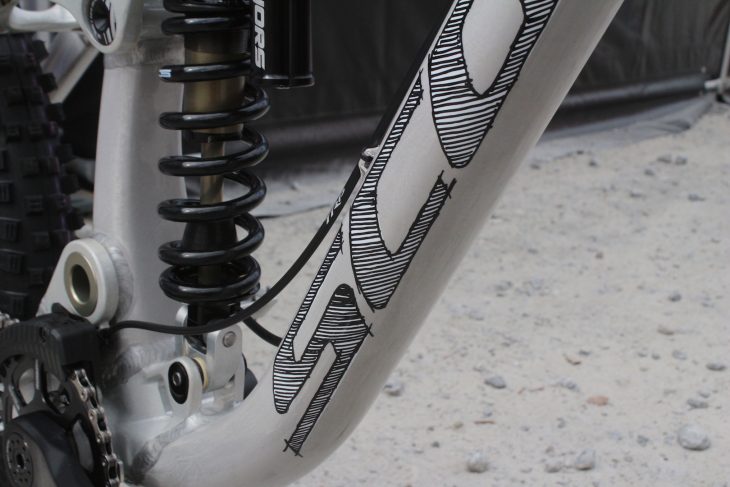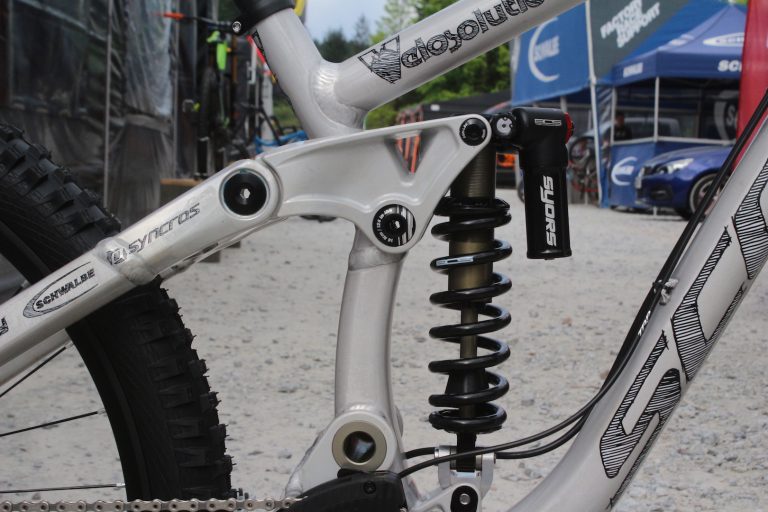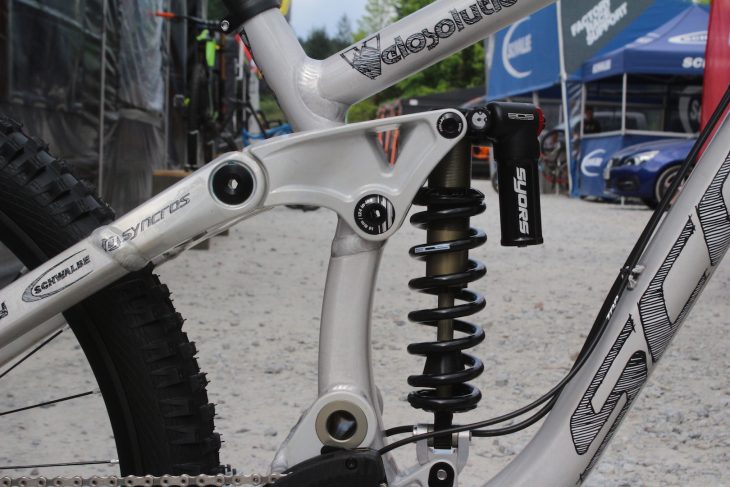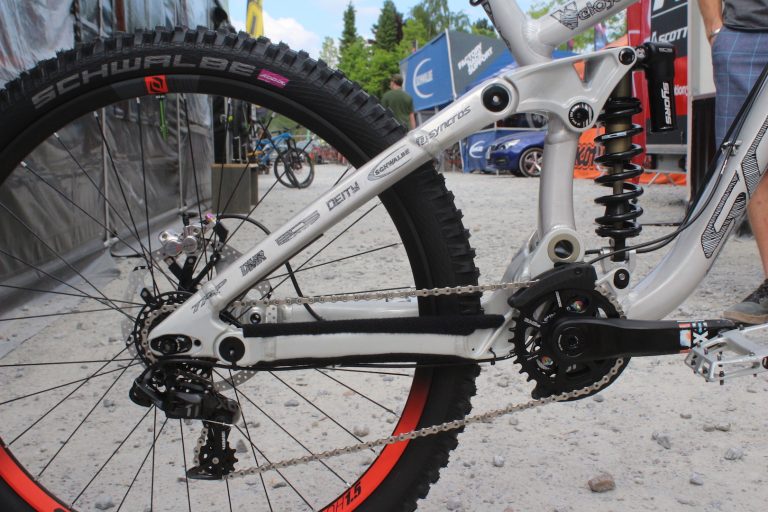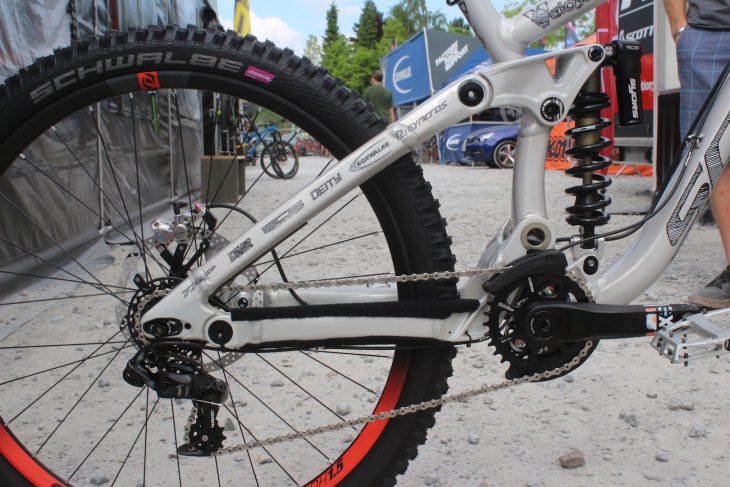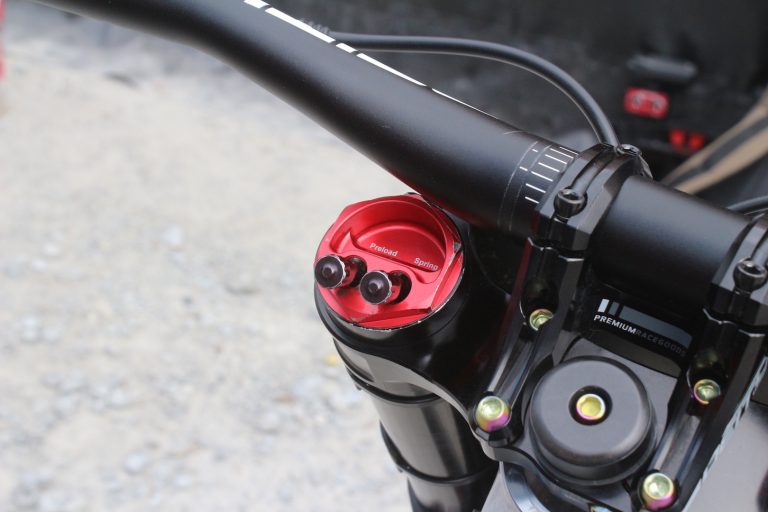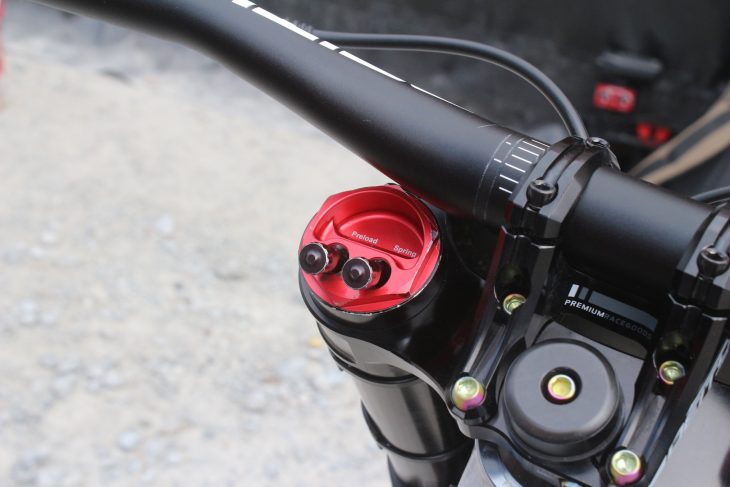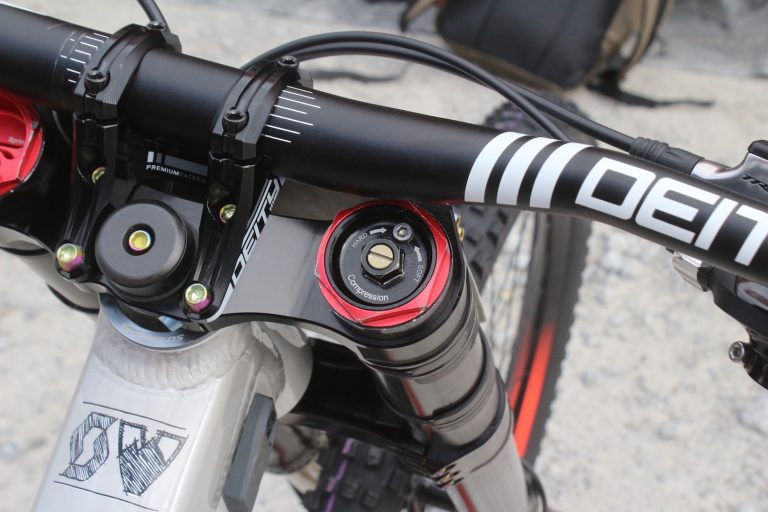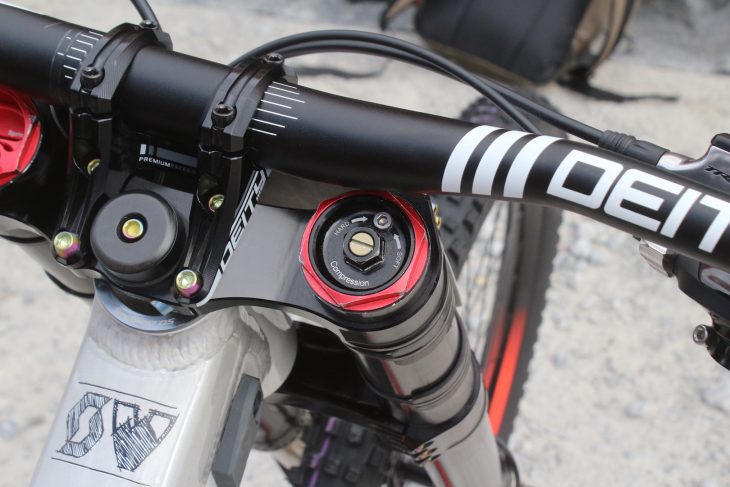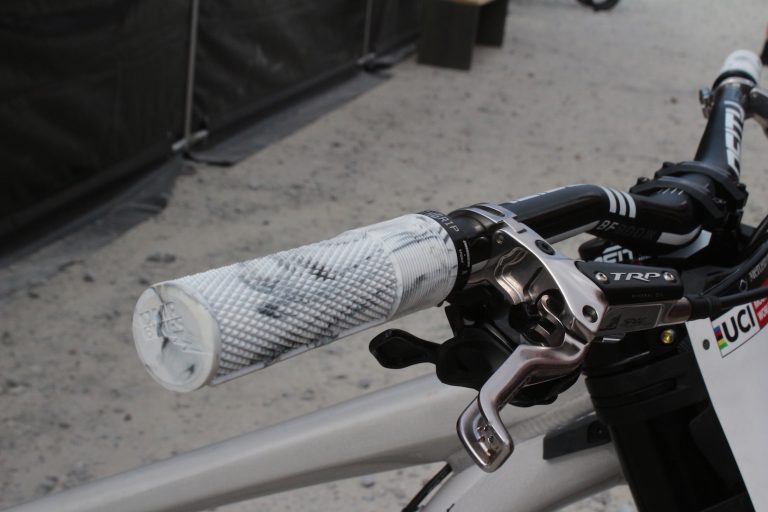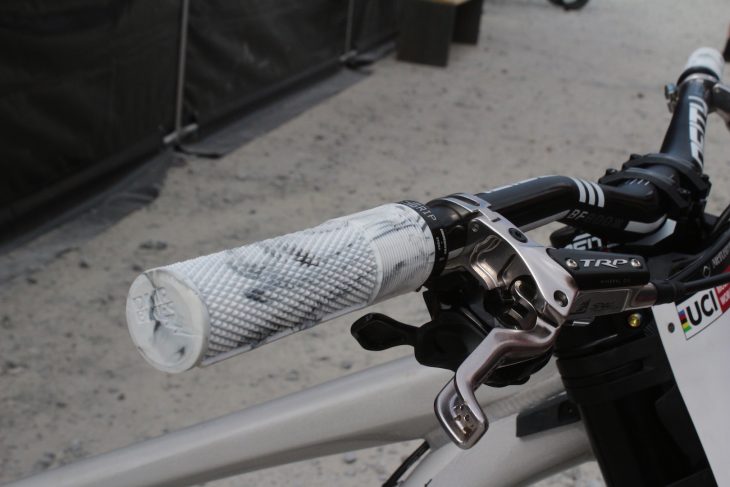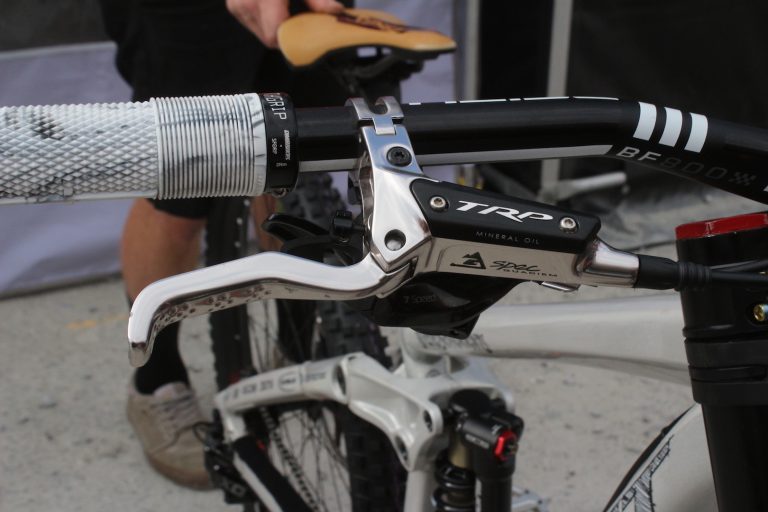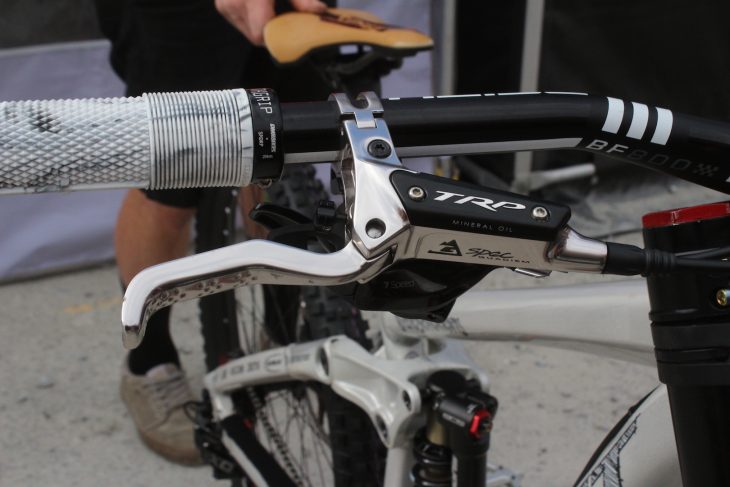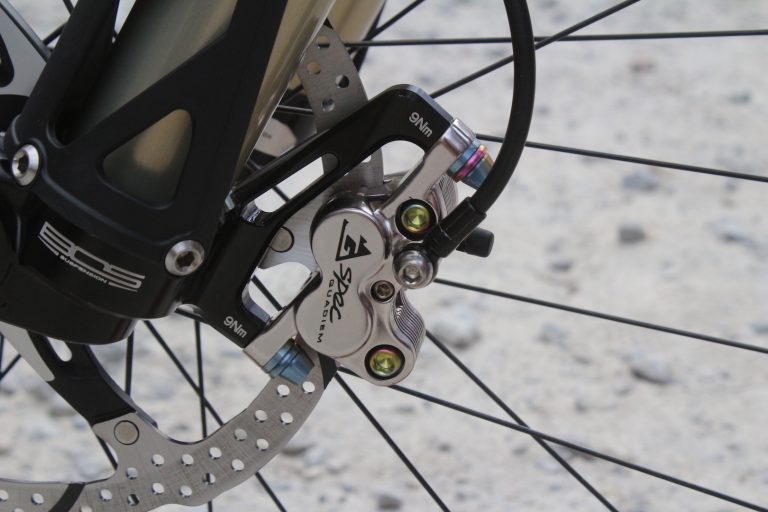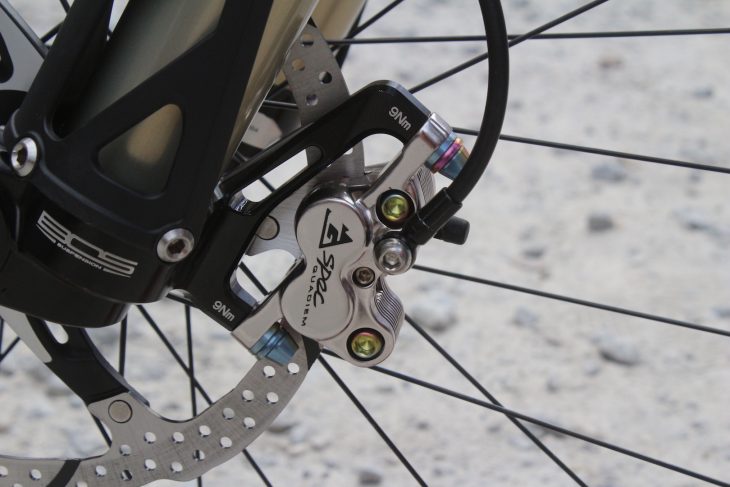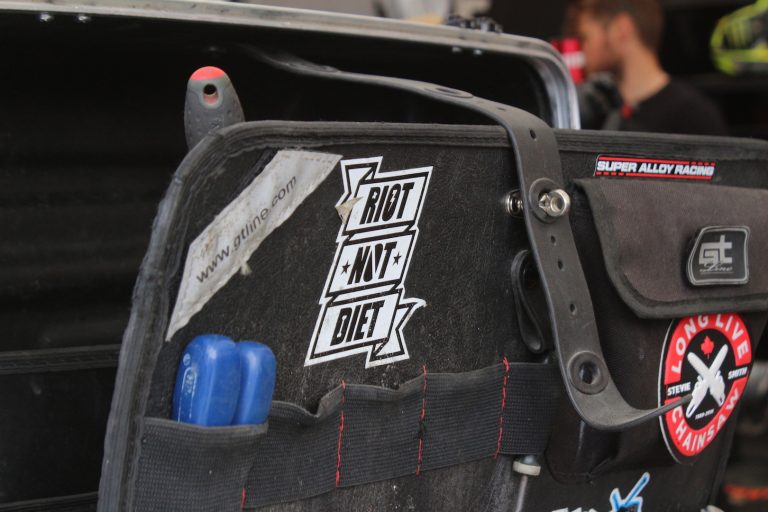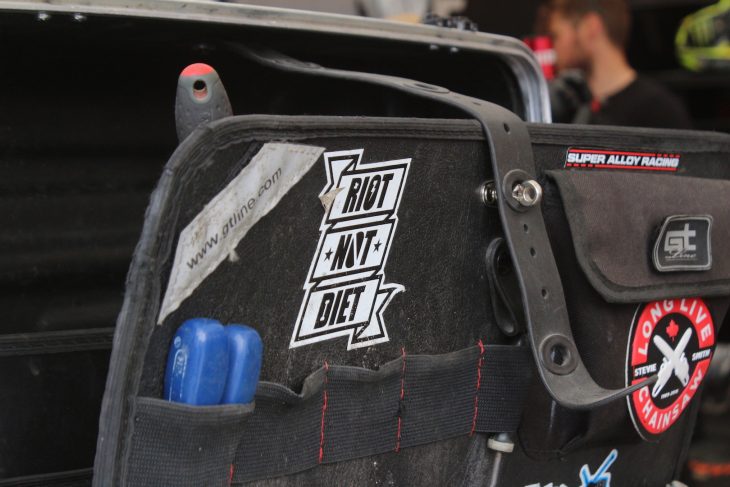 And there you have it – the prototype Scott Gambler. Here's hoping the bike proves to be a winner for the Scott-Velosolutions team this weekend at the 2018 Fort William World Cup!
---