Today marks the first official day of the 2018 Fort William World Cup – the second round of the 2018 World Cup series – with all of the teams, managers, racers, and mechanics descending on the race village to get everything setup in preparation for the next three days of action.
While there isn't any official riding on today, there's plenty of excitement and anticipation building in the race pits as teams get their stands and mobile workshops setup, along with all the athletes' bikes too. For some lucky riders, the bike they'll be riding and racing over the weekend is a little different to what they normally ride.
Rachel Atherton is one such rider, who got her first look of a very special bike that she's hoping will take her to the top step of the podium this weekend.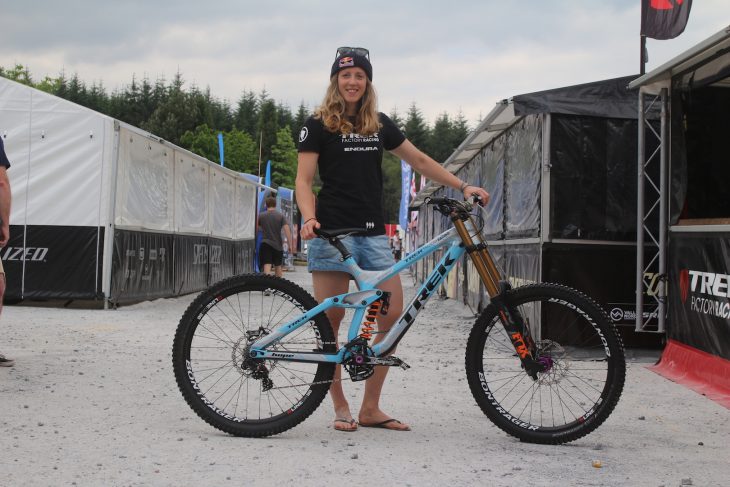 The foundation for this special bike is Trek's flagship carbon fibre downhill frame, the Session 9.9, which has been decked out with a gorgeous custom paint job courtesy of the Trek Race Shop. Fans will note that the base colour is the same as Rachel's existing Session 9.9 race bike, but the difference is that metallic silver pattern which is designed to mimic the wings on a dragonfly. In the sun, that metallic paint job pops!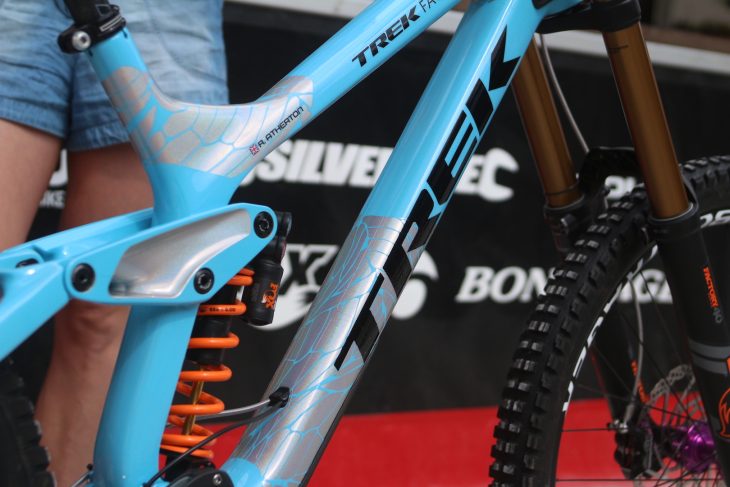 The build kit is made up of a Fox Factory suspension package, with a Kashima-coated 40 fork on the front, and a coil-sprung X2 on the back. Though we're told there's likely some added custom trickery lurking underneath the exterior.
The Athertons' race bikes are decked out with Hope components for 2018, including the powerful quad-piston Tech 3 V4 brakes with matching floating rotors, and Pro4 hubs that are laced to Bontrager Line Pro 30 rims. Shifting duties are carried out by SRAM's dedicated 7-speed X01 DH components, and a Renthal cockpit finishes it all off.
We caught up with Rachel in the race pits today, where she had just got eyes on her new race bike for the first time. We spoke with her about everything from her preferred bike setup for the rough Fort William track, through to what it's like coming back after her horrible crash from last year. Check out the interview here;
As well as chatting with Rachel, we also spoke with her mechanic, Joe, about some of the smaller details found on her race bike, and what sort of mechanical issues he's expecting the demanding race course is likely to inflict on racers' bikes over the weekend.
But while you're here, might as well enjoy a few more photos of that lovely bike eh?