After circling the Fort Will event village for the 100th time we thought we had seen it all, but out of the corner of our eyes, we spotted this British Racing Green beauty.
We'd heard rumors ahead of Fort William that Commencal was planning to release a British Edition bike, but we assumed it would be based on the Meta AM 29er platform that the enduro team is using but that's not the case, and perhaps have a red, white and blue paint scheme.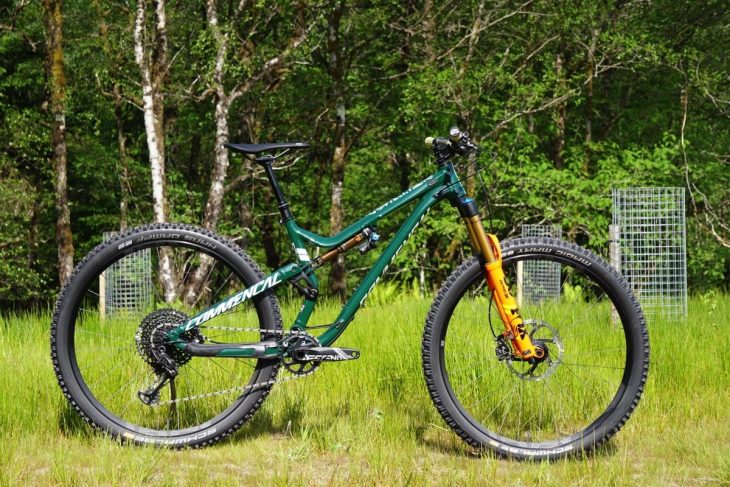 We were a little wrong though,m and Commencal have chosen to use a never before seen Meta TR 29er platform for the British Edition bike, so a slightly shorter travel 29er than the enduro bike we had already seen.
While visually quite similar to the Meta AM 29 and the current 27.5 TR, the new big wheel trail bike has had a complete redesign and features some major hidden changes to give it a stiffer chassis ideal for coping with bigger wheels and faster speeds. The only details to be carried over from the current TR are some of the shock mounts and the chainstay/seatstay pivot mount, every other detail is new.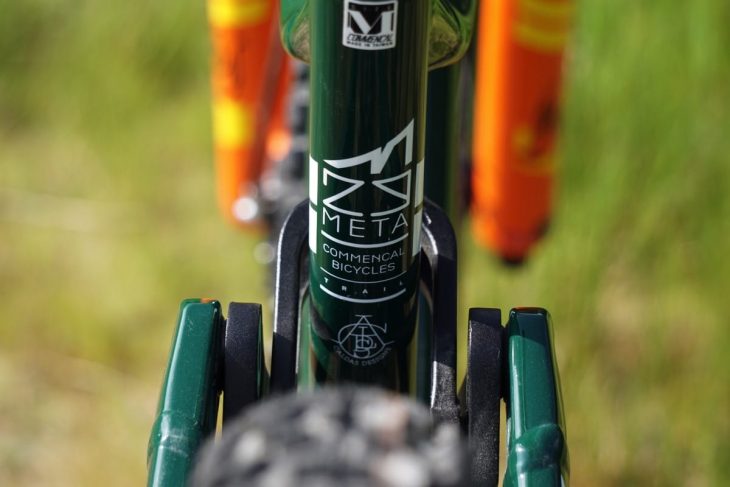 The seatstays on the new bike are wider and are manufactured from a bigger box section than previous versions, and while stiff do still offer a little engineered flex. Looking at the seat tube in the flesh you'll notice that it's a tapered item for added strength with more wall thickness added just after the clamp.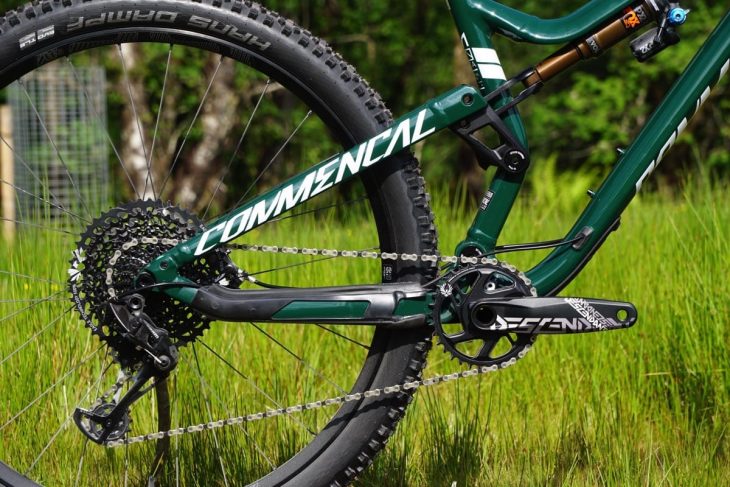 Hidden details include foam in the top tube to prevent water entering the headtube and leaking on the rear shock, an issue some owners of current Meta bikes have reported, and new rubber frame protection on the downtube, chainstay, and seatstays to keep knocks and noise to a minimum.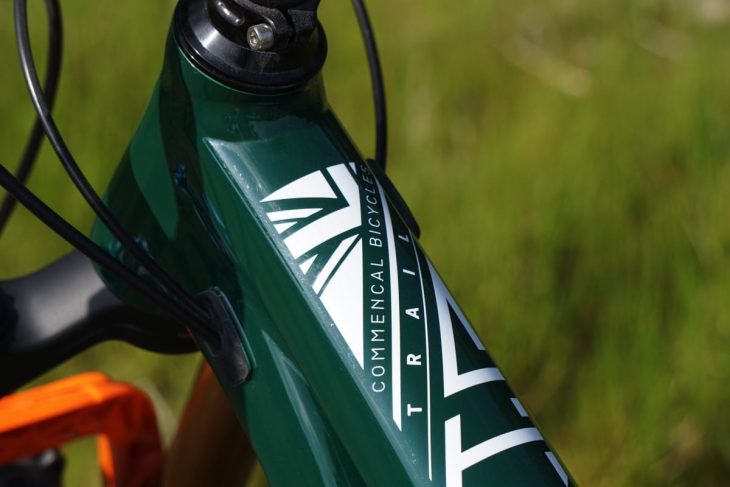 Speaking with Commencal's engineers we've learned that the British Edition Meta TR 29 will run a slightly longer travel 150mm travel Fox Factory 36 upfront whereas the rest of the TR 29er range will have 140mm up front to match the rear end.
Commencal says it has increased its measurements for the TR 29 but these are still conservative numbers when compared to what the likes of Mondraker and Whyte are doing and the head angle isn't super duper steep either. Standard trail models with 140mm forks will have an HA of 66.5° with reach measurements ranging from 435mm on the small to 500mm on the XL, the medium shown here has a reach of 455mm.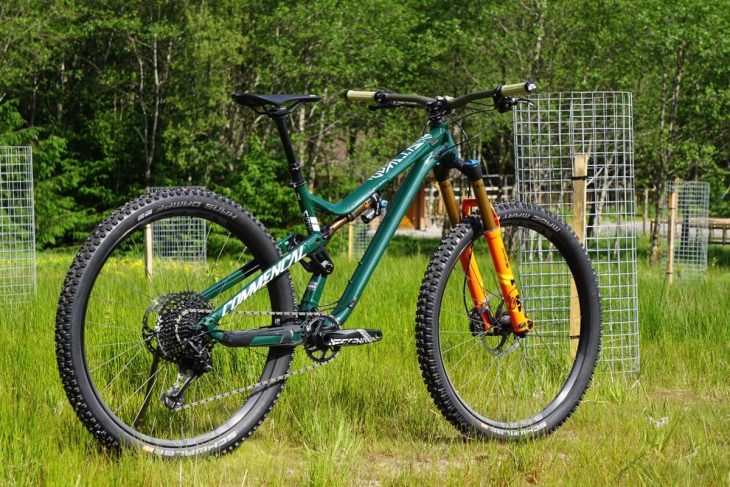 Each bike in the TR 29er line up has a chainstay length of 434mm and all of Commencal's big wheel bikes use a standard 51mm offset fork, again a little different from what we're seeing from some brands.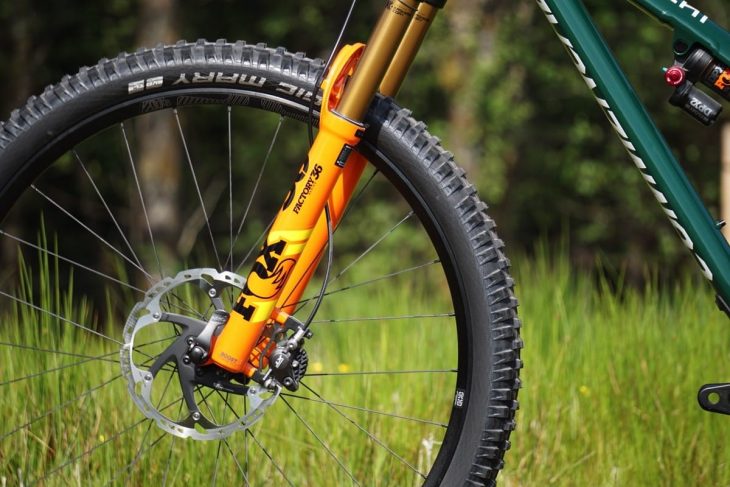 We don't have pricing details for this bike, but we understand that the British Edition TR 29 should be available to order in around 1 month time and that there will be roughly 3 other model variants to choose from at different price levels at a similar time.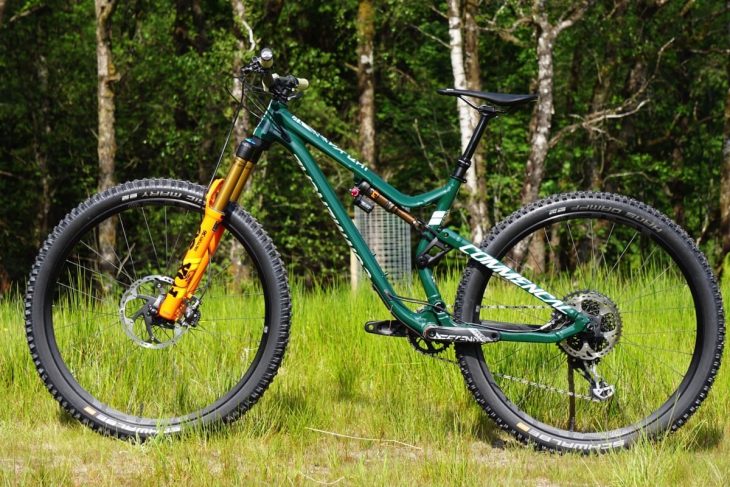 While we haven't ridden this green beauty yet, the progressive suspension, slightly longer reach and short backend suggests that Commencal may be on to a winner. If you like the look of the Meta TR 29er but still enjoy smaller wheels, go and check out our first look article of the current Meta TR production bike here.
Keep posted for more first look articles and Fort William coverage all weekend.