Hutchinson is a well-known brand in the mountain bike tyre world, but in recent years the French rubber manufacturer hasn't exactly been at the forefront of the scene. After nabbing an award in last year's tyre group test however, we decided to see what else Hutchinson had to offer in a more versatile XC/trail bike tread.
Enter, the Taipan! And Daz the tester!
---
I have to admit, when I was given these tyres back in January with instructions to 'put some miles into them', my initial reaction was 'do I have to?'. I know I have a (undeserved) reputation for riding in horrendous conditions, but one month into the darkest, wettest, greyest, and muddiest Calderdale winter I've yet experienced, my enthusiasm for riding was at something of an all time low. But ride them I did, and a couple of short sessions of horizontal sliding around, coupled with furious pedalling for no discernible forward motion, my instincts were confirmed. Riding in mid-winter is bad enough in itself, but doing so with tyres not specifically designed for the job is especially depressing.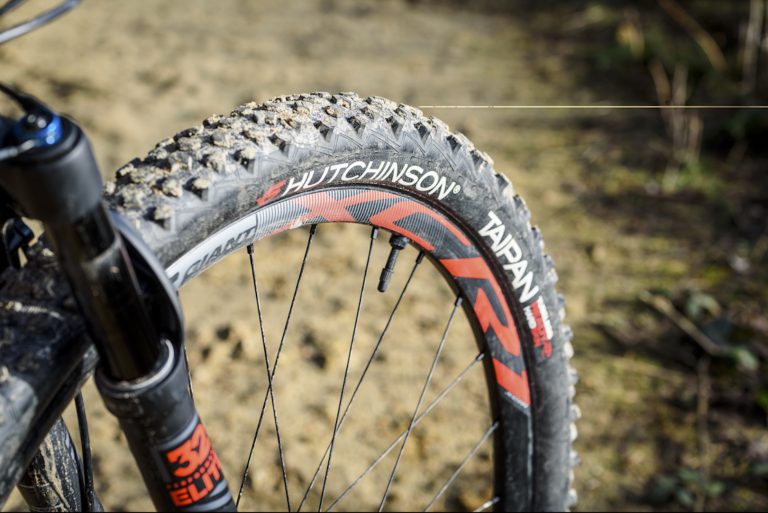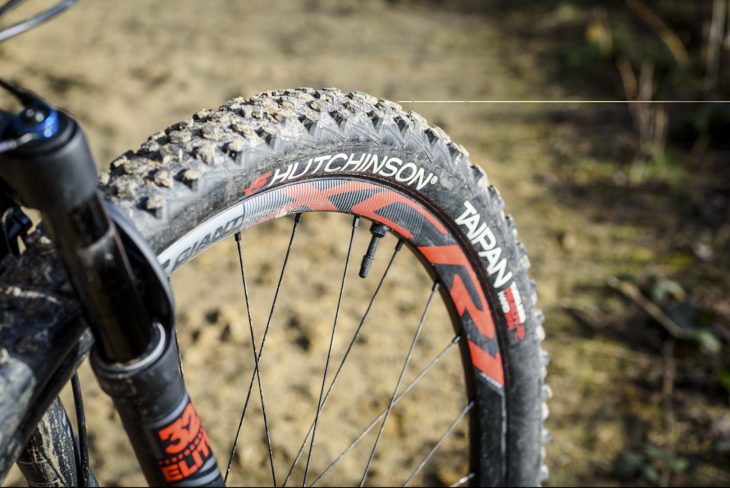 The Hutchinson Taipan may not be designed specifically for mud like some tyres (check out this recent head-to-head review if that's what you're after), but it is designed as an XC tyre for wet/mixed conditions. I can only assume that Hutchinson has a different idea of 'wet' to that provided by Todmorden in December though.
Hutchinson Taipan Tyre Features
Versatile trail tyre for mixed conditions
Size tested: 29×2.25in
Available in 26in and 27.5in diameters, and widths from 2.1-2.25in
Rip Ripost XC triple rubber compound (50/70/94a)
66tpi casing with Hardskin reinforcement
Tubeless Ready bead
Confirmed weight: 804g (average of 6 tyres tested)
RRP: £44.95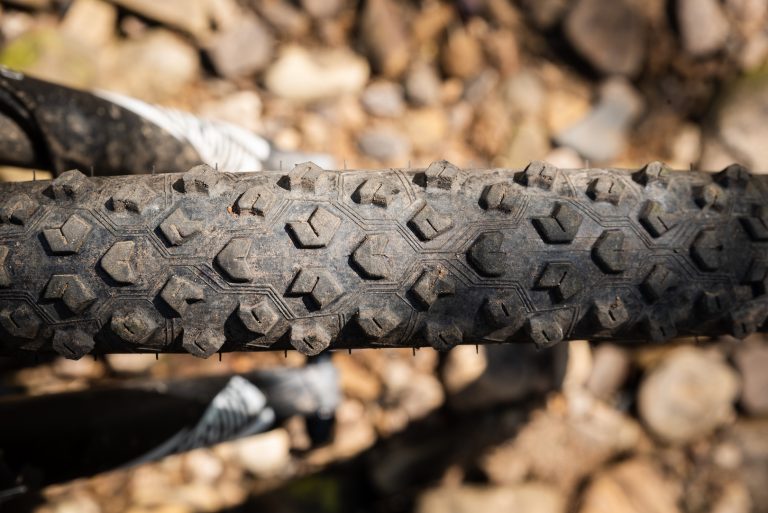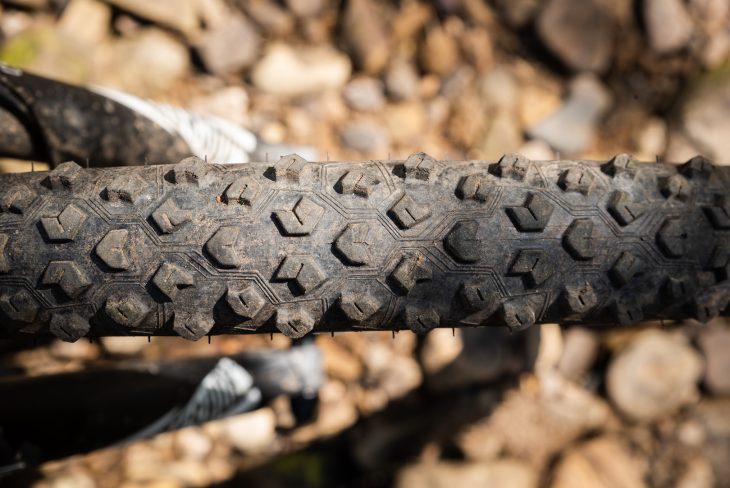 Bolstering it's all-rounder claims, the Taipan comes in at a middling weight of just on 800g (770g claimed). So it's heavier than a dedicated XC race tyre, but a bit lighter than your average enduro tyre. This particular version features Hardskin bead-to-bead protection, with a robust 66tpi casing. The tread consists of attractively tessellated v-shaped knobs which are shallower in the centre of the tyre and higher and more aggressive at the edges, presumably to aid in lower rolling resistance with lateral grip during cornering where it counts. They're also tubeless ready of course, and extremely straightforward to fit on Stan's No Tubes Crest rims with nothing but fingers and a track pump. Actual width is pretty much spot-on the claimed size.
Despite my initial scepticism, testing conditions improved(?) as the winter drew on with the aforementioned swamp-like conditions replaced by six weeks of snow and ice courtesy of a stupidly named gust of wind from Siberia. I like a good snow ride, and normally our wet and warm climate only allows one or two of these per winter. This year however enabled something like a dozen opportunities to ride not just in snow, but many types of snow. I've no idea if Hutchinson tested these tyres in arctic conditions but I'm happy to say they performed brilliantly. In pretty much everything from crusty ice to powdery drifts, they enabled confident cornering and the ability to pedal and maintain forward momentum. Things were looking up and my mind was changing about these tyres.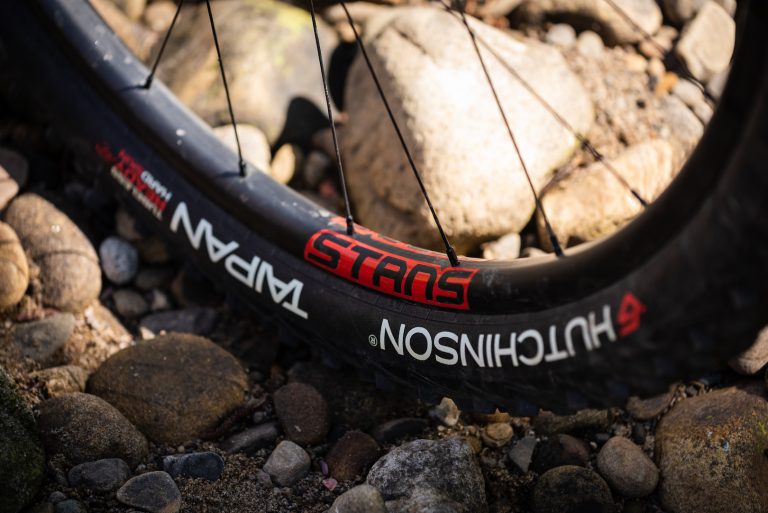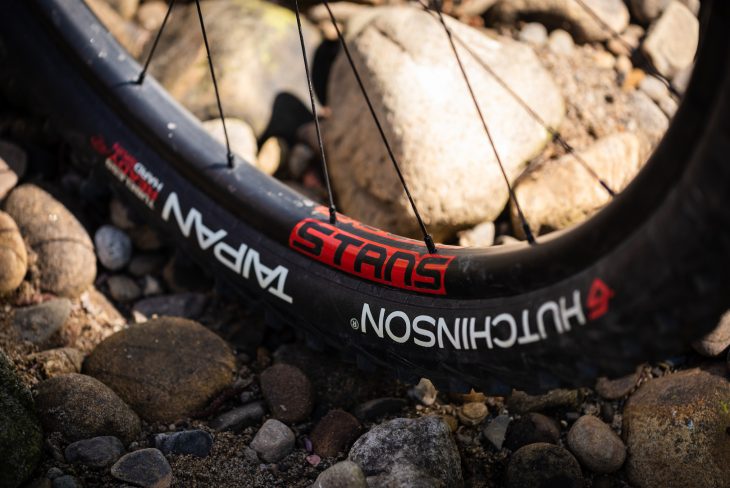 Forward onto spring, when it finally arrived in May, and opportunities for riding in dryer, and potentially even dusty conditions presented themselves. Whilst the marketing blurb says these tyres are adapted for mixed and muddy conditions, I thought they performed much better in drier weather.
On one particularly gruelling weekend they really came into their own. One hundred miles of bike packing round the Lake District on this year's Jennride they were subjected to something like 12,000ft of climbs and descents on everything from loose scree, sharp slate and grassy moorland, all weighed down with luggage. They never missed a beat. Maybe it was the nature of riding with luggage but the bike went where it was intended with hardly a slip. The Hardskin reinforced rubber prevented any punctures despite the razor sharp terrain and didn't bottom out on the rim once despite normal air pressures of around 26-27psi. Is bike packing classed as XC? I don't know but I'd struggle to find a better performing tyre for this type of use.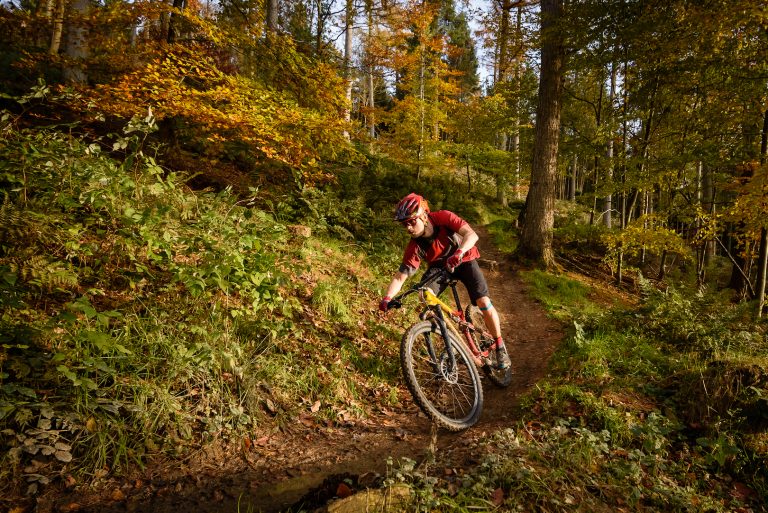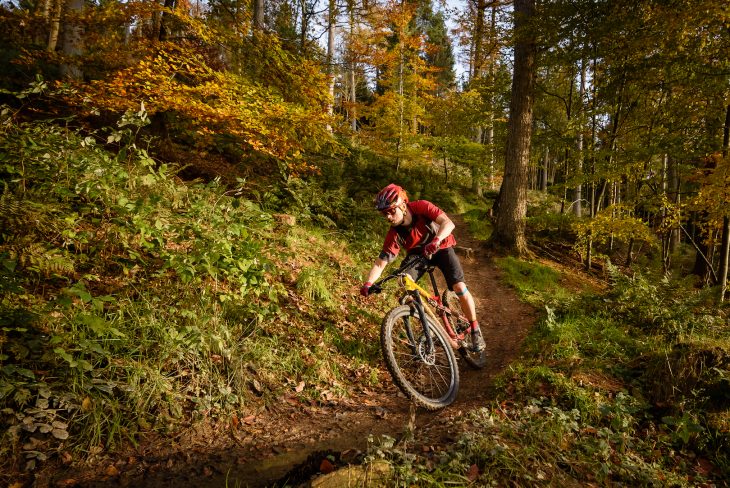 Wil's Take
I've been running these tyres for a bit longer than Daz, having originally sourced three pairs to use for the full suspension XC race bike test in Issue #116 of Singletrack Magazine. I picked the Hutchinson Taipan as the control tyre, as I wanted an all-rounder that would be more suitable for mixed conditions than the much racier rubber that each of those bikes came with.
Over the past six months, I've setup the Taipan tyres on four different sets of wheels, including the Giant XCR1, Syncros XR2.5, Roval Control Carbon, and Stan's Podium SRD. In every case, the Taipan tyres inflated quickly and easily, running tubeless throughout testing without hassle. The casing feels generously thick to the touch, and the Hardskin protection ensured the Taipan remained stable even when run down to about 21-23psi on the front and 23-25psi on the rear. How much do I weigh? That's a little personal, but if you must ask, I'm about 70kg ready to ride.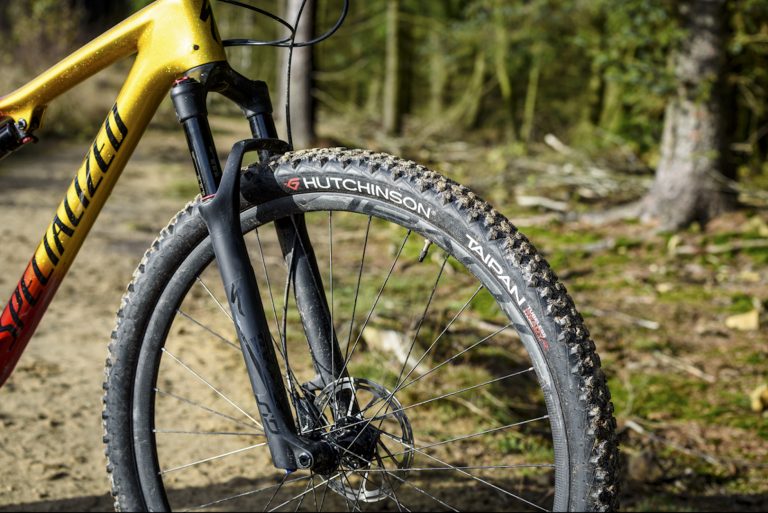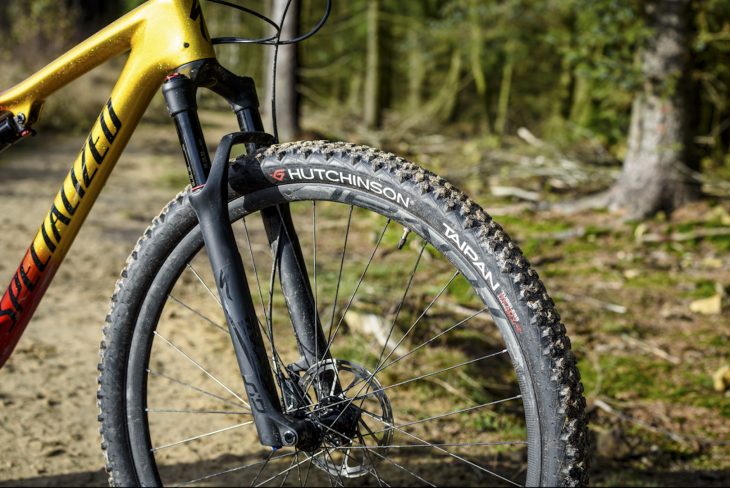 My experience mirrors that of Daz' time with the Taipans. I'd say they're a good all-round tyre, but despite those widely-spaced tread blocks, they're actually not fantastic in mud. I think the tread blocks are a little too broad and shallow for cutting through the slop.
However, they are superb in soft and loose conditions when it's a bit drier, and I'd say they're comparable to the Schwalbe Nobby Nic in that regard. Where they're a lot better than the Schwalbes however, is in their puncture resistance. The Hardskin casing gives excellent stability to the tyre, and despite dinging rims on multiple occasions, I'm yet to slice open a sidewall or put a tear through the tread. This is likely bolstered by the very firm 94a rubber compound that's used as the underlying skeleton for the Taipan's tread.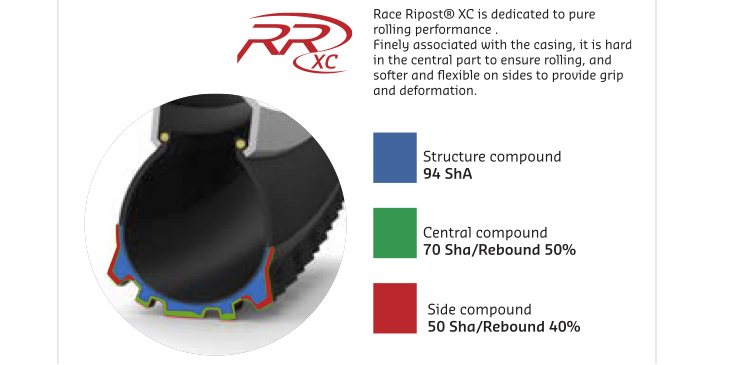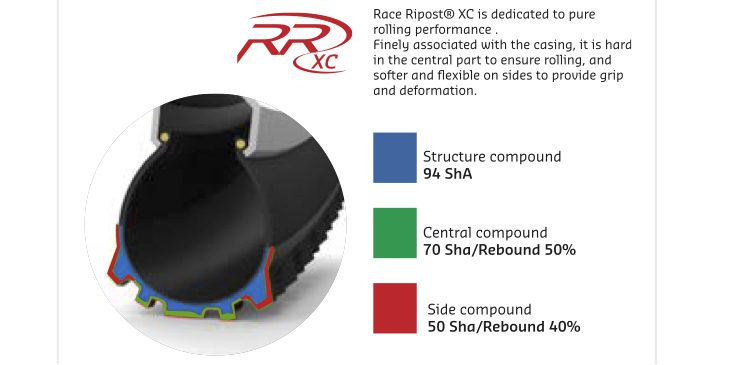 Rolling resistance isn't as good as the Nobby Nic though, with a bit more drag noticeable at slower speeds on the Taipan. The firmer 70a centre tread compound does help, and once you're ticking the wheels over at speed, the resistance drops off and the tyre maintains speed well. The tyre profile is relatively round and sloped towards the edges, so the Taipan leans into corners naturally and without resistance.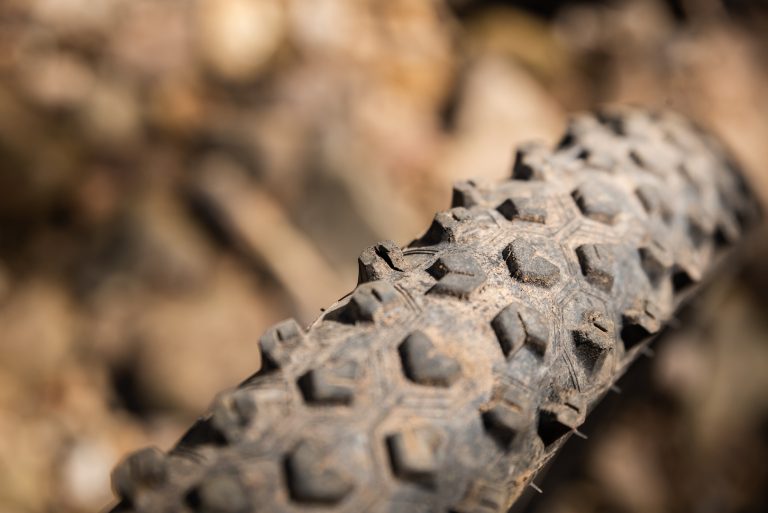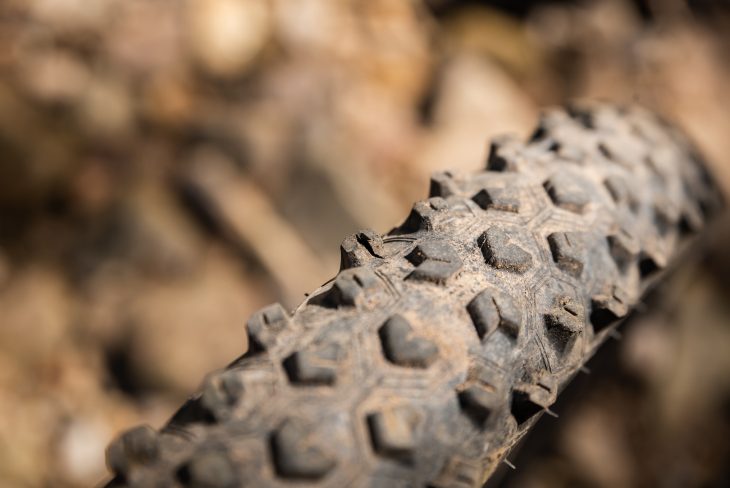 Cornering traction is improved by the softer 50a rubber compound used on the edging blocks, and siping through each tread block allows them to flex more easily. On firmer hardpack though, the Taipan starts to feel a little washy at heavier lean angles, with the flexible tread giving way a little too easily than I'd like. Indicative of the Taipan's cornering limitations is the presence of several torn edging blocks. I'd suggest that either the edging blocks need reinforcing a touch to prevent them from folding over, or repeating more frequently to help spread the load.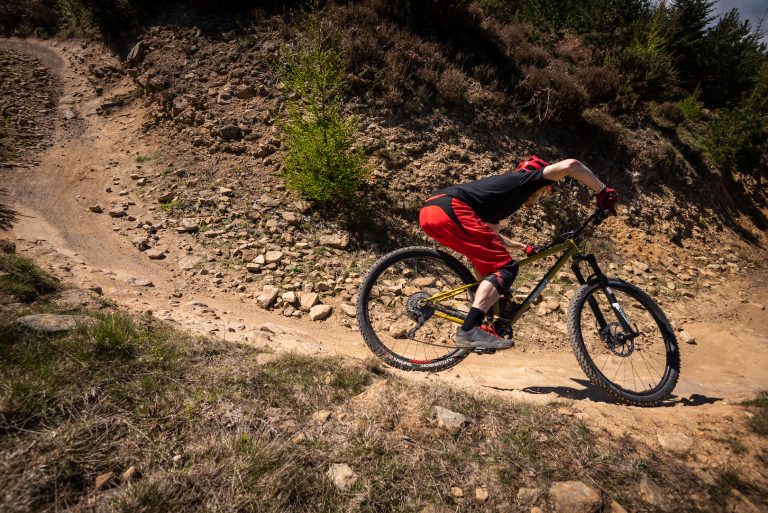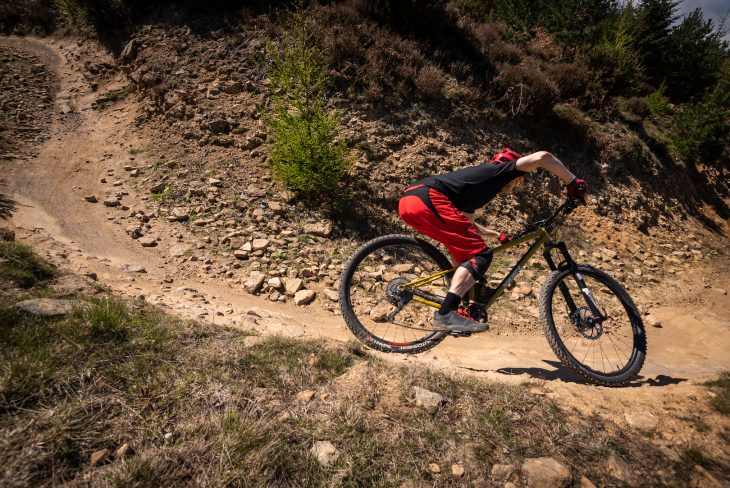 Back onto softer loam and loose rocks, and I have to say that the Taipan exceeded all expectations. I've been hammering these tyres on the Swarf Contour (tested for Issue #119) for the past couple of months, and riding some quite technical terrain. The Taipans have held on well, performing predictably and with very little drama.
At around 800g per tyre, they do strike a bit of a no-man's-land in terms of weight. That said, heavier XC riders will appreciate the tough and stable casing, so they'd make a good race tyre for those who make a habit of slicing up lighter race tyres. And while they're a little skinny for heavier duty enduro-style riding, for taking on chunkier terrain with a short travel trail bike, the Hardskin-reinforced Taipans are a great choice.
Aaaaand back to Daz!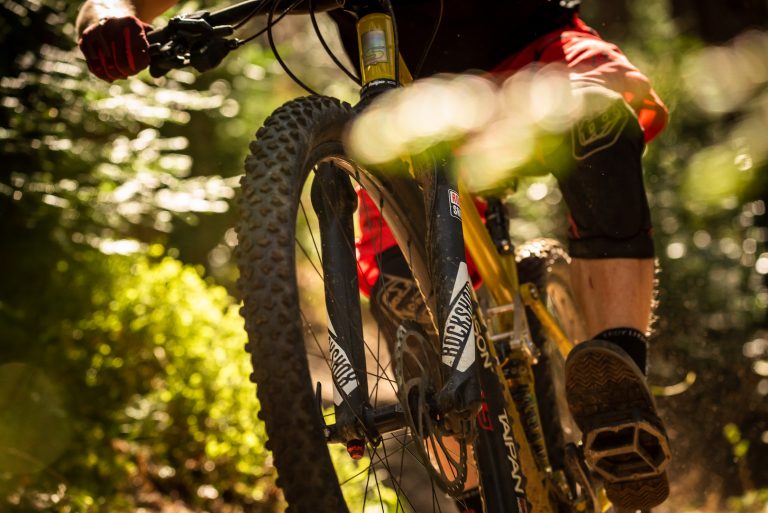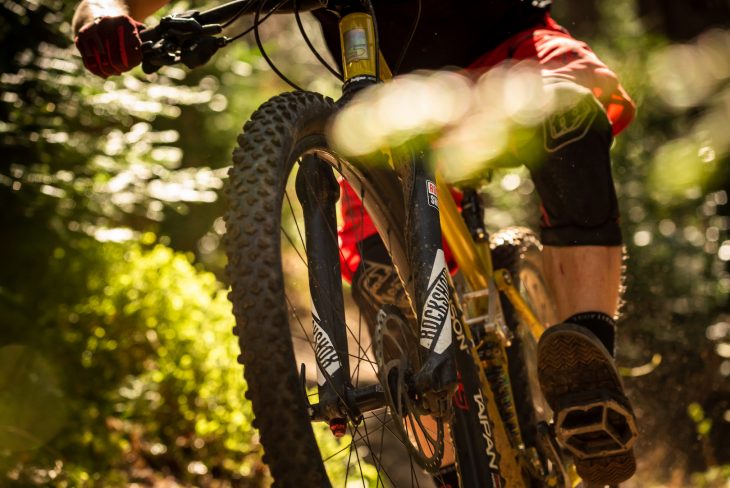 Overall
I'd say these pretty much fit the description of XC all-rounder. It just depends on what you mean by 'mixed' or 'wet' conditions. If you're talking snow, turns out they're very handy in the white stuff, but given this winter is likely to be unrepeated for some time, I'm not sure that's a reason for buying them.
In our collective experience, they're certainly a more useful tyre for the spring, summer and autumn seasons, and they're very useful for long expeditions on varied terrain where a lightweight jack-of-all-trades is required and punctures need to be avoided.
Review Info
| | |
| --- | --- |
| Brand: | Hutchinson |
| Product: | Taipan Hardskin Race Ripost XC 29x2.25in |
| From: | Windwave, windwave.co.uk |
| Price: | £44.95 |
| Tested: | by Darren Hall, Wil Barrett for 6 |
---