Chipps visited Intense Cycles in Southern California back in April 2017  for an in-depth conversation with the founder of Intense, Jeff Steber. This interview was originally published  in Issue #113 of Singletrack Magazine. (And, while much of the business organisation may have changed since then, we reckon it's worth looking at where Intense Cycles was, eighteen months ago.) 
---
Jeff Steber is the first to admit that he's not the best guy to be running a bike business. He'd rather be in his workshop, hot TIG welder in hand, knocking out prototype frames for a crazy idea that might see the light of day two years down the road.
However, that's not the way that small businesses evolve. Jeff started making full suspension bikes in his garage in the early '90s and quickly found himself riding a runaway train of success as riders flocked to buy his wares. By the time the iconic M1 downhill bike appeared a couple of years later, Intense Cycles was most definitely on the map.
The M1 was so far ahead of the game, trouncing other contemporary bikes – elastomer-sprung or shorter travel rivals – that it was still being rebadged by other brands' race teams at the turn of the century. To keep up with demand, Jeff moved his team of Southern California-based aluminum fabricators to a new factory building in Temecula, an hour or so east of Los Angeles.
Over the next decade, Intense continued to innovate, with the co-licensing of the VPP system with Santa Cruz in the early '00s and its first venture into designing carbon frames with the release of the carbon Tracer in 2014.
All that time, Jeff Steber was still running the company, building prototypes, being 'that guy' at the trade shows and World Cup events, liaising with Intense's formidable racing team riders and running the small team of welders in the fabrication shop. In addition, he was starting to travel to Asia to oversee the manufacture of the new carbon bikes. Having been used to nipping across town to visit the heat treaters, or the paint shop, this was quite a departure – and the more international travel he did, the less time he had to do what he enjoyed most (and, arguably, is actually best suited to) and that was tinkering on designs in the prototype shop.
All aboard the runaway train.
Jeff then decided it was time for a change and about three years ago he started casting around for help in managing and financing the company. It took a while, as he says "Knocking on different doors", but eventually he assembled a new management team that would look after the business end of things, and engineers who would look after the endless trips to Taiwan and let him squirrel away in his machine shop, thinking about the future.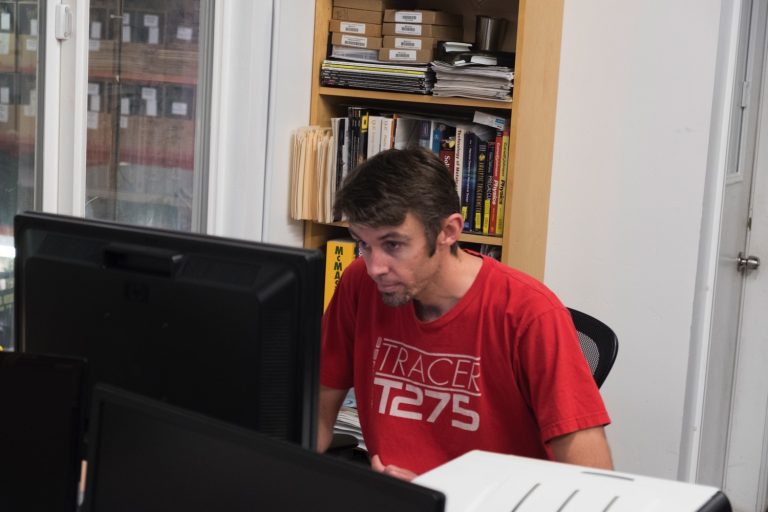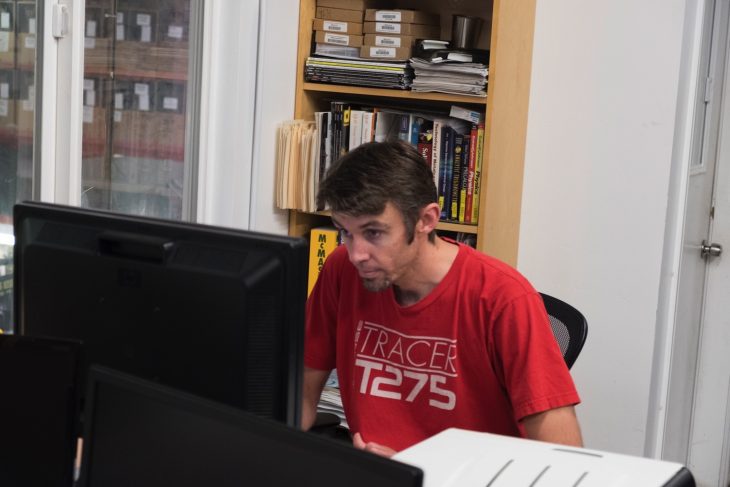 One of those new partners was Andrew Herrick, a well-known character in the bike industry with a CV that includes running Crank Brothers, Selle Royal and Brooks in his time, along with being one-half of the legendary founders of Pedro's. Andrew combines a sharp business sense with a real-world understanding of how Intense bikes are used and viewed by the wider world and by the brand's Tifosi of super-fans.
As Jeff explains: " have our authenticity and don't feel like we sold out [as many critics have suggested]. A lot of the changes were in cleaning up the organisation – and getting help in forecasting, sourcing, scheduling… Basically getting more on a one-to-one playing field with our North America-based competitors."
He shows me around the surprisingly small set of offices in the front of the anonymous building in its anonymous trading estate.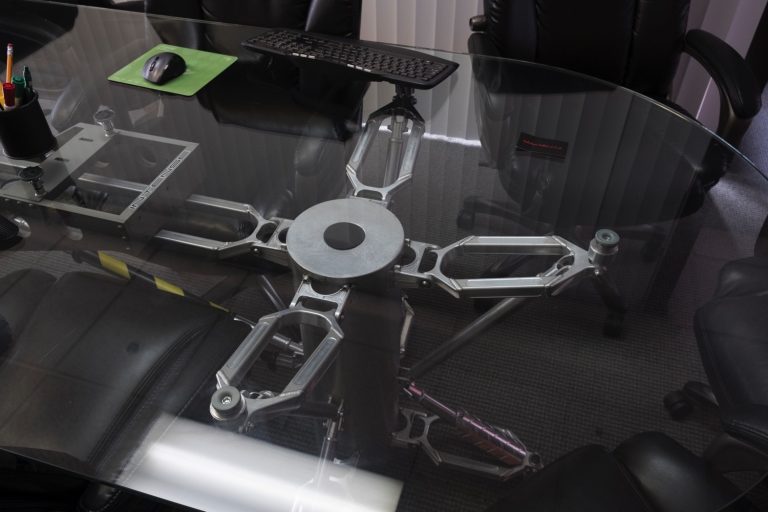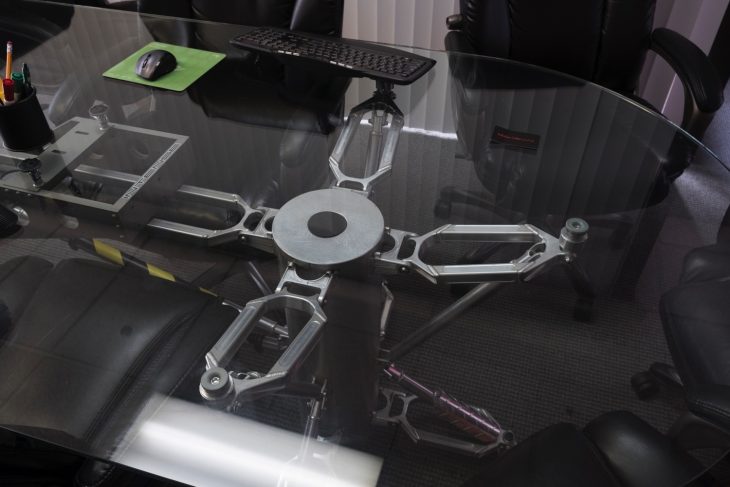 There are a couple of offices for those company execs, with Herrick and the finance director looking at spreadsheets (or at least pretending to for my benefit) and, at the back, there's a meeting room with a glass-topped table built of mountain bike swingarms that Jeff made.
We head through a corridor lined with posters for 'Intense-a-palooza' events. These are events that Intense has organised for those bike-owning fans. Jeff has designed all of these posters in the style of old music festival adverts and album covers. Jeff is also a musician and he builds his own guitars. He draws many parallels between music and bikes while I'm there. There's a parallel too between the Intense-a-palooza events and the company itself.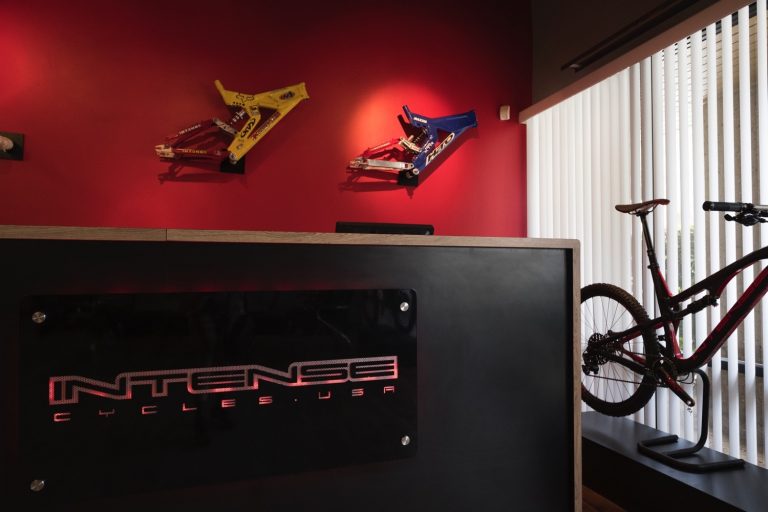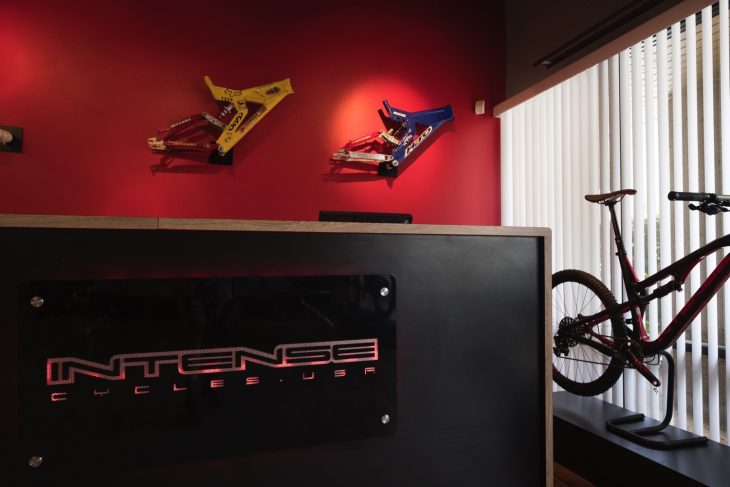 "We're going to do more with this in the future. The problem is, the last time we ran it, there were about 300 people there, so it's become an event, rather than a gathering of Intense owners. And now we're having to talk to event organisers to help put it on. We're not making anything on it, but we need that expertise in putting something on while we keep true to the spirit of the event." That too, seems to be what he's been trying to do with the company. Keep the spirit, while getting the help to keep it working smoothly behind the scenes.
This is where all the fun goes on.
We continue our journey deeper into the building, coming out into a high-ceilinged warehouse stacked floor to ceiling with bike boxes. Ahead of us is a small, neat workshop area with a pair of mechanics assembling bikes to go out that day.
Jeff spots a frame getting ready to be shipped, with what looks like a paint chip in its complicatedly masked gloss paint job. My tour is put on hold while he gets the shipping manager to ask about it. Luckily it was just a stray piece of tape stuck to the frame, but it shows that Jeff is aware that, although there's never been his name on the frames, his reputation lies behind all of them, whether an old alloy Socom, or an up-to-the-minute Carbine 29.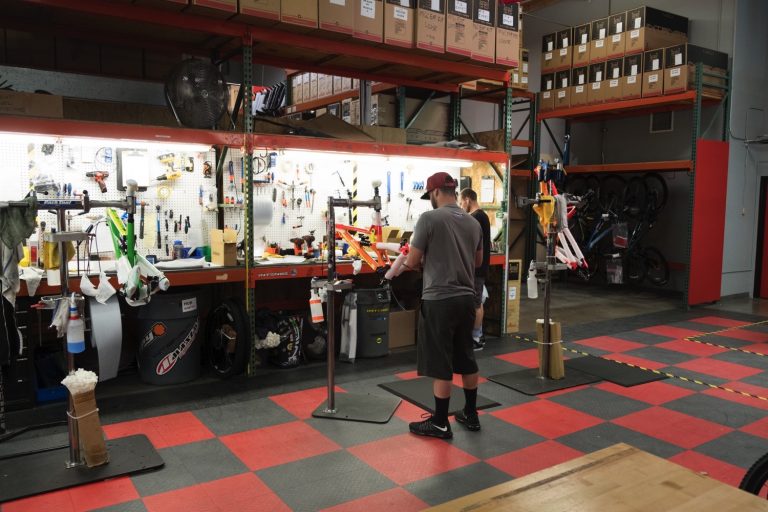 The impressive, ceiling-high shelving of the factory is just for North America and Canada. In the last year, the company has set up Intense Europe in Barcelona. They receive frames, build kits and put them together there. Then there's Saddleback in the UK, set up separately "because the UK is a pretty special market".
Workers only assemble what's going out that day, so it runs as lean as possible and money isn't too tied up in rows and rows of carbon frames and top-end build kits, though there are usually a few 'ready to ship' bikes kept behind for panic orders and fickle bike magazine tests.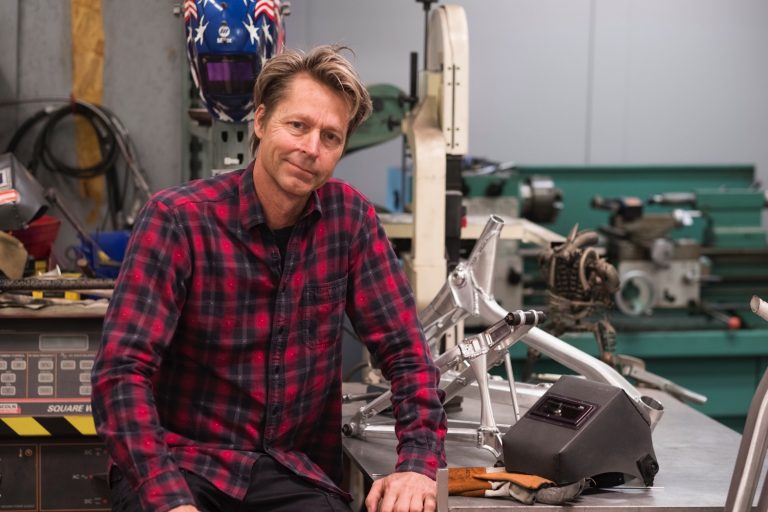 Welding woz 'ere.
This area used to house the fabrication shop, where rows of shiny frames would be racked up, before and after welding. There's no sign of that now as Intense no longer manufactures alloy frames – in the US or anywhere else. The cessation of US manufacture sparked a lot of vitriol and internet hate from riders who felt betrayed by a company that had previously championed its US roots.
As one US commenter posted on Pinkbike: "This sucks. Skilled people lost their jobs. Someone that supported a family and a community. People would rather pay a gazillion dollars for the latest and greatest Asian carbon with disposable and rapidly obsolete components draped over it than pay for something made by their neighbour that supports their own local economy. That's life in the 21st century I guess."
However, Jeff points out that they still have a few alloy frames in stock; it's just that no one was buying them. As David Turner (see issue #109) had also found out, the number of riders who think that US manufacturing is an important thing is a magnitude greater than the riders who are prepared to spend the extra money to actually buy one.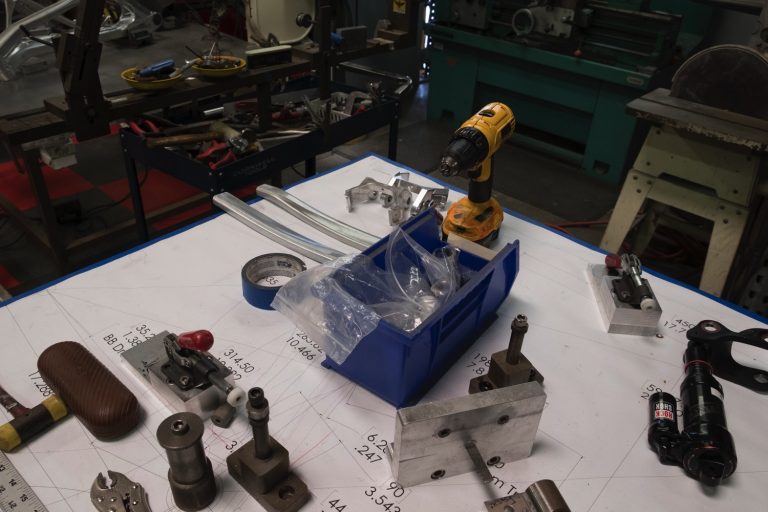 The transition was done as carefully as possible, and Andrew Herrick is visibly upset that anyone has suggested that Intense didn't care for the welfare of its workers. "All of the welders had six months' notice that we were closing the shop. We had a careers counselor on hand for them and not a single employee left here who didn't walk straight into another job."
The machine shop corner.
It's not all gone over to CAD and carbon at Intense, though. Jeff still maintains his very analogue frame prototype shop in the back of the building. There's a CNC machine, racks of past, current (and, ahem, future) alloy test mules, tyres, wheels, components and there, his welding table.
Currently on the table is what looks like a prototype downhill bike. At the time of my visit, the first of the new crop of 29in downhill bikes hadn't appeared at the first World Cup, though it was an open secret that many teams had been experimenting with them, and Intense was no different. The race team had spent the winter trialling new aluminium prototype 29ers back to back with equally prototype 27.5in versions. Jeff is able to weld these up in his workshop and get riders on them within days, a far cry from the months it takes to get a carbon bike to a rideable state.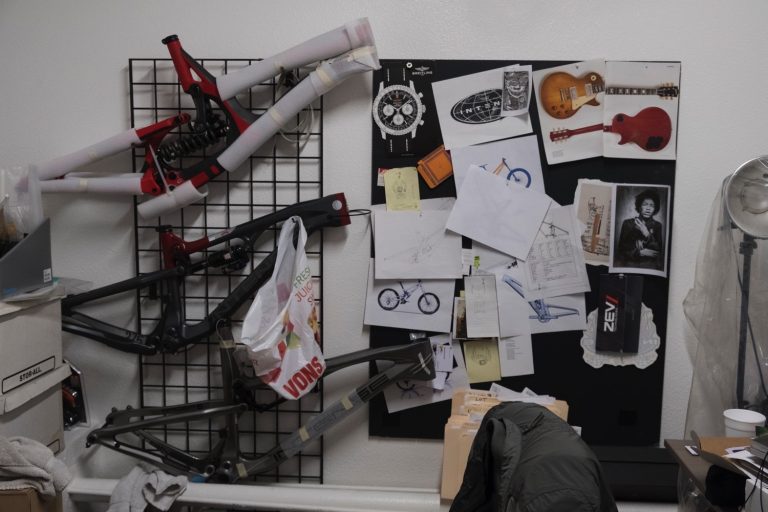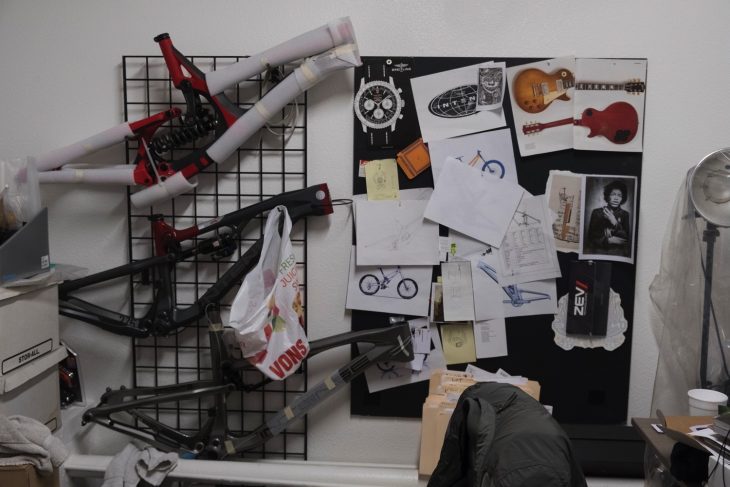 Test mules and carbon waterfalls.
Jeff will start with a selection of tubes, both round and hydroformed depending on where they're going. This won't affect the shape of any finished carbon frame – both materials have their own advantages and Intense will build each to those strengths. Jeff's test mules are used more to check suspension action and component fit than for aesthetic delight. Several of these prototypes can be built up, perhaps with slightly different reaches or angles.
If the general principle is approved, then Jeff will make a full-size sketch of what a final carbon version of that bike might look like. He does this in a very analogue way – 1:1 on huge bits of paper, in pencil. Once everyone likes the look of that, then his CAD designers in the upstairs office will work on turning it into a fully fledged 3D model, liaising with the carbon factories to make sure the frame makes material and production sense in carbon and then, just before it's committed to a mould, a rapid prototype is made – machining it from solid plastic to create a heavy, but lifesize frame on which component fit can be double-checked before it's turned into a permanent mould.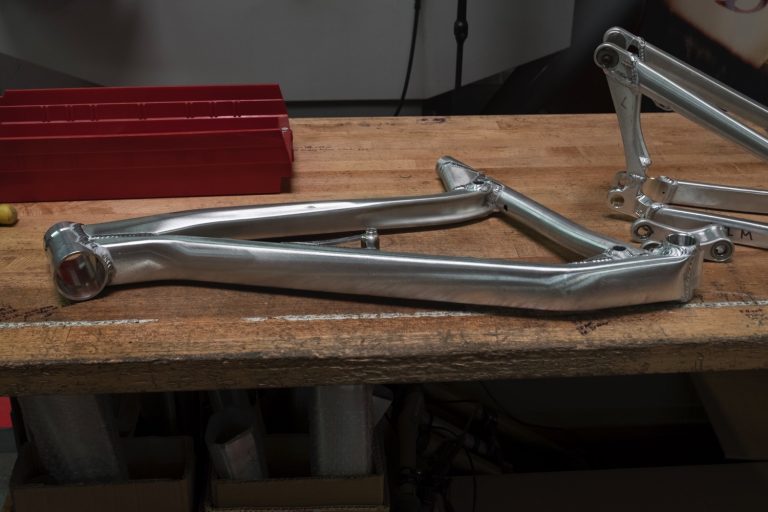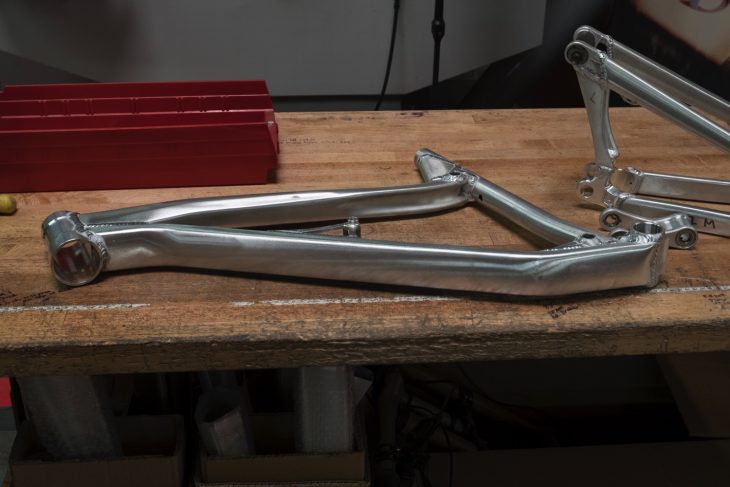 There's a long wait of a couple of months before the first samples appear from that mould, then still more test layups are tested. Carbon is variable enough that you can end up with a frame that's either too stiff, or too light and compliant for its purpose. And then, when everything is approved, Intense can move on with creating the buzz behind its new frame and launching it to the world. And recently, there's been a lot of that.
Last year was busy
Jeff: "Last year was a big year with five product launches, which is really hard to manage. That was an accumulation of that reorganisation with the influence of these new people. Everything is new. There's not an old bike in the line. That was that transition period when we had something new every couple of months. We had the Spider 275 in early 2016, the Primer 29, the ACV, the Recluse, and the Tracer 27.5. (And by the time you read this, there'll be another new bike waiting in the wings…)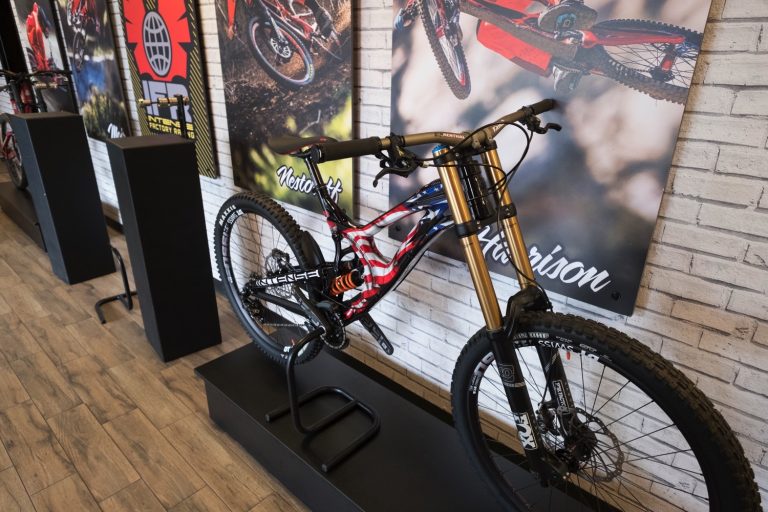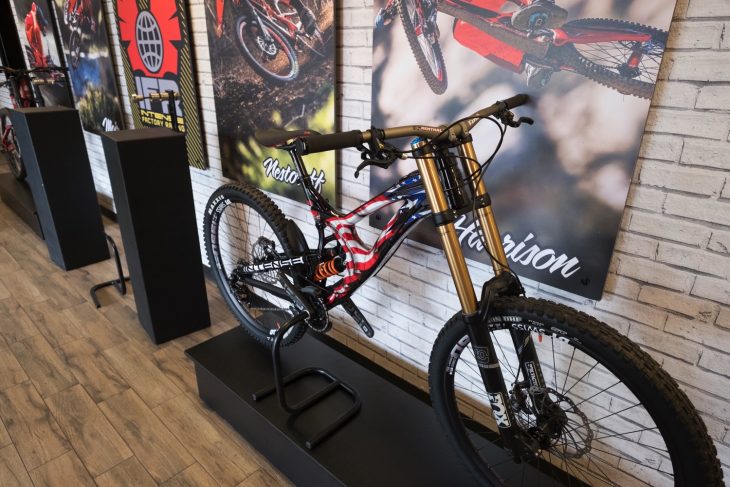 "It kind of happened organically, but that's why there was such a proliferation of models. It took a year and a half but [with the new investment] instead of having all our eggs in one basket, we could have simultaneous projects with different factories."
The result was a gush of new carbon frames last year. Despite looking like Intense was rushing them out, in reality, it was the company refreshing its entire line and bringing it into line with the carbon-only line-ups of many of its peers. Jeff promises a little more model stability from now on.
"So this year, we're looking at the one new model in June and possibly one at the end of 2017…"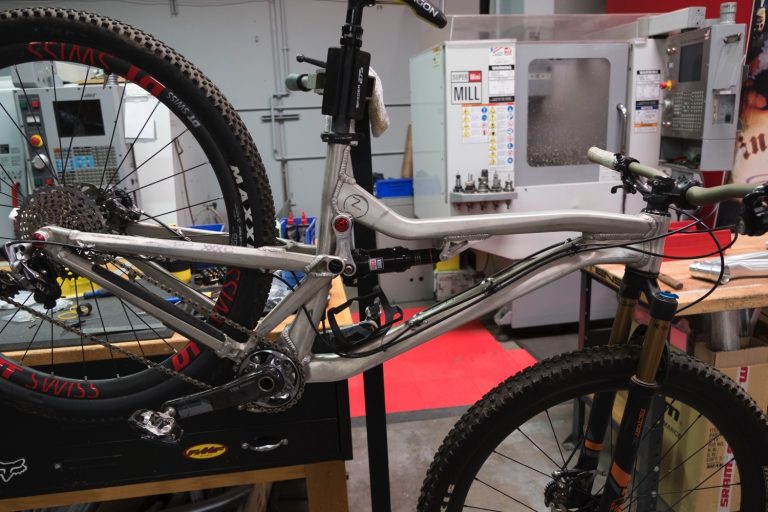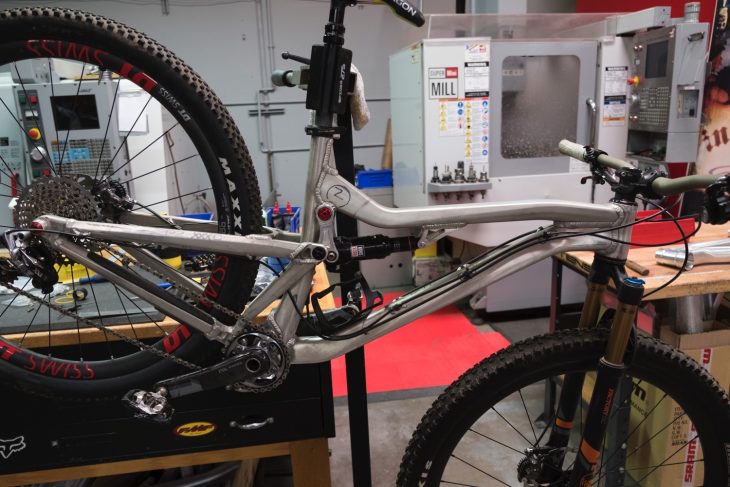 That future bike in question is sitting on a workstand in front of us. It's an ugly (or 'fiercely beautiful', depending on your aesthetic) aluminium mule. Jeff's neat welds are very much present and the bike has a brooding sense of purpose. It's not a style of bike that Intense has particularly had in the range before and it's this bike's job to show whether or not it's going to be worth taking on to that next step of 3D design and carbon moulding. Every mould is a big investment so every model needs to earn its keep, which is why these mules are so important. Unless riders are coming back smiling, then that bike isn't going to get made.
Judging by the scuffs and dust on the bike in front of us, I'd reckon that those riders have been smiling.
---
Love what you read? You can check out loads of other inspiring stories in the beautifully curated Issue #113 of Singletrack Magazine.
---