You may have seen 'Andy's Hardtail' by Mercredi in Wil's round up of mountain bikes from Bespoked this year. You may also have dribbled a little bit when you saw it. And that's OK, because, as Andy explains below, he wanted it to be a bike that would be like the bikes of the early '90s that he could never afford – something lusted after but not had.
And now, thanks to Adeline of Mercredi Andy has an entirely unique version of that thing he was lusting after, and we're left lusting after what he now has. But what was the inspiration, and how did Adeline turn that into reality? Over to them…
---
Andy's Dream
This is my first ever custom bike. I wanted something that could do trails, winter riding, gravelly type rides and do everything really. I have a full suss and sold a CX / gravel bike but still have a disc braked road bike that will take 35s. I'd built a SS hack bike this winter and loved it and wanted some of that but with a few other finishes – minus the PF30 EBB.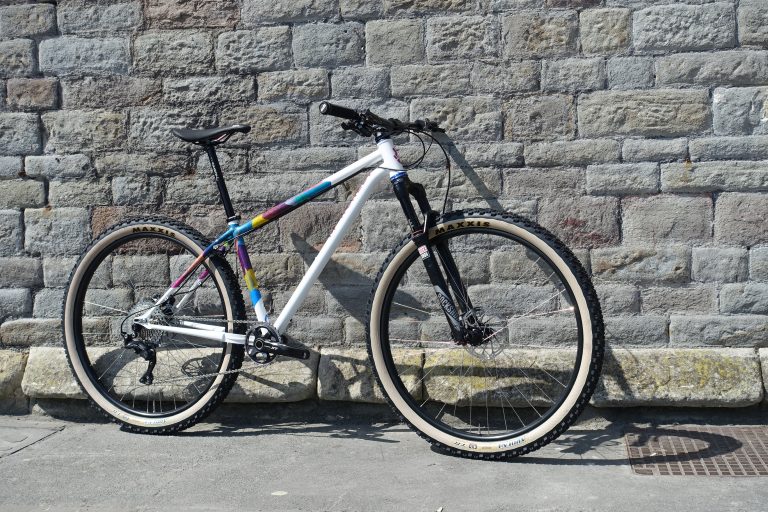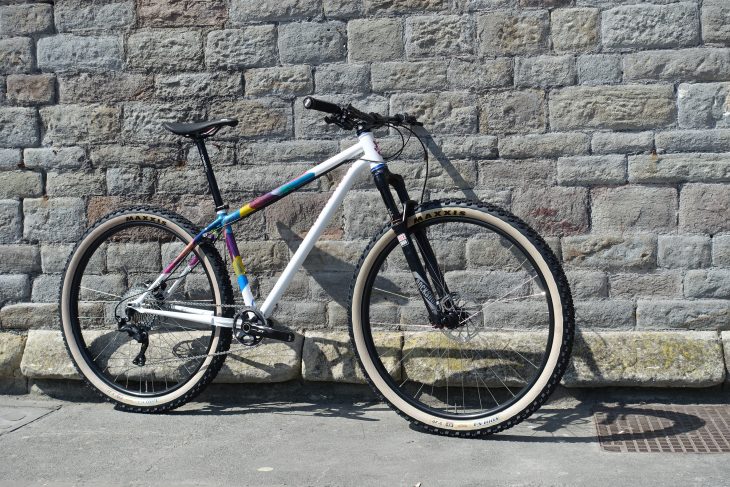 I wanted a 29er that would take 2.4 tyres, work as a single speed in the winter and 1×11 in the summer. It would be able to take a 27.2 post but also a wider diameter dropper if needed if I did want to use one in the future. It would have three bottle mounts and also be able to work with a rigid or suspension fork. Had such specific requirements and all were met. The rear is built around boost spacing and chain tension dealt with by Paragon dropouts with a 12mm thru axle.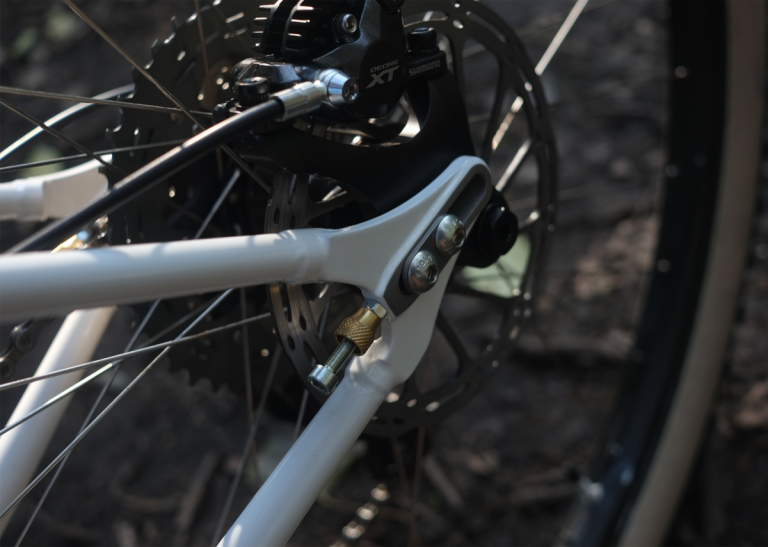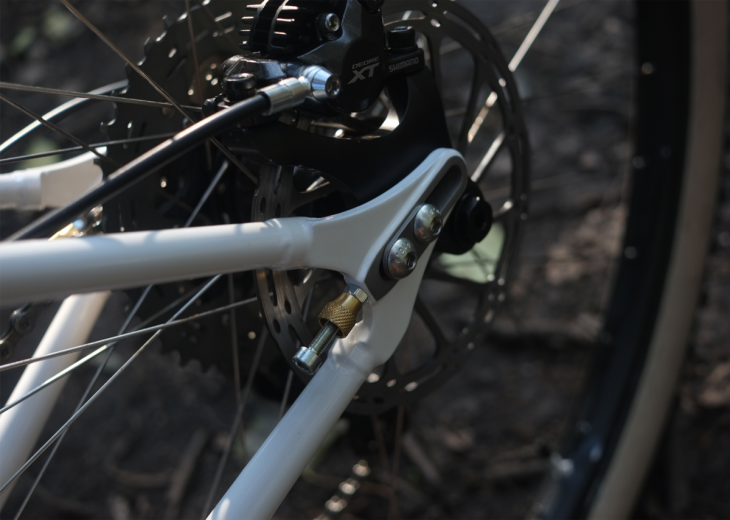 The brief was based on my love of early 90s MTBs that I could never afford at the time: Kona (Joe Murray era) with skinny tubes, dropped top tube and clean lines. Alpinestars, Klein, Zinn, GT and lots of other bikes of the time. It was a brief based on style – thin tubes etc but also the wacky paint jobs and so on. I described a few of these and other influences in a Pinterest board. Some nice little trips down memory lane if you fancy it.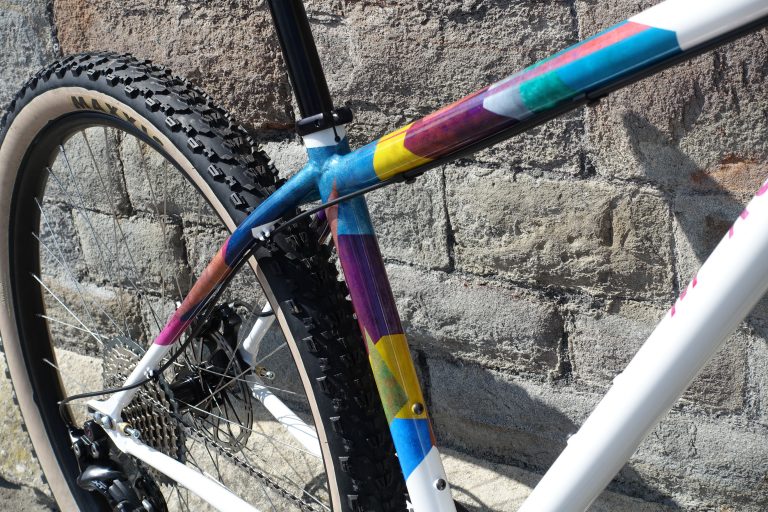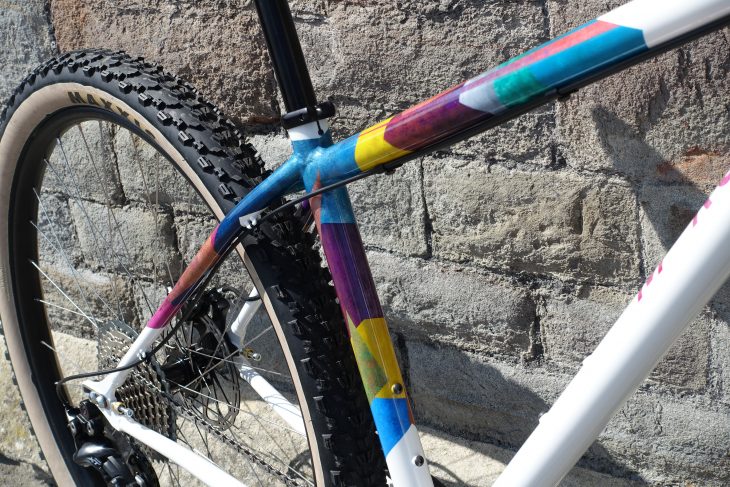 The paint is based on a Remi Rough painting as well as my love of angles and the 90s colour schemes. Paint was designed by Adeline and developed with Colourburn Studio in Bristol.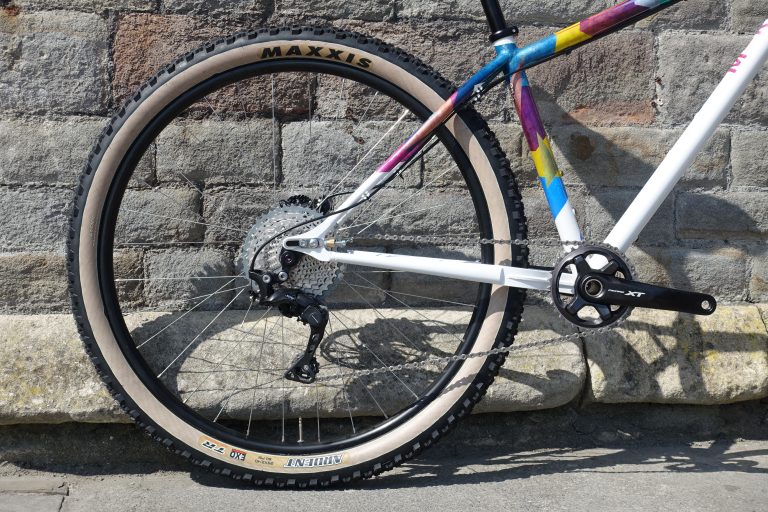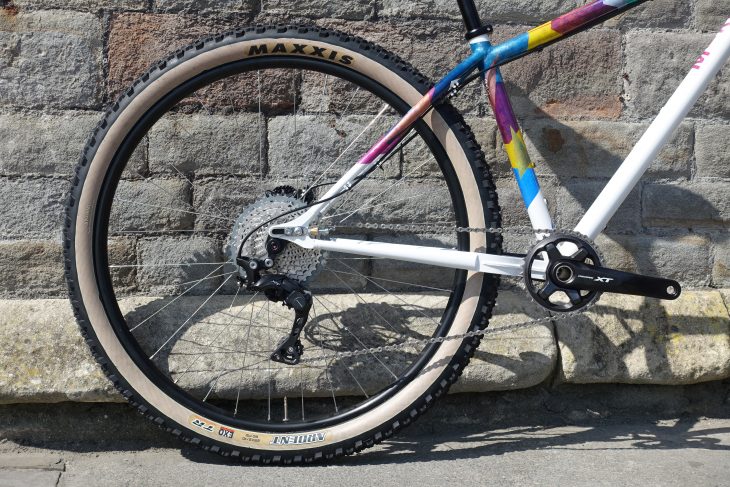 Build is of all the kit I've grown to love and trust over the years. Hope B.B., headset, hubs etc. Thomson carbon bars, stem and post. Fabric saddle. XT groupset. Maxxis Ardent tyres which are also a throw back to the Onza tyres I longed for when younger.
Have only done the quick car park test so far but feels amazing. Fit was based around a 3D jig fit by Ben Hallam at Primo Cycles in Cambridge.
Adeline's Reality
Andy is a seasoned rider who knows what he is after. But when it came to translating it in the metal, he also trusted my expertise fully. The collaboration was flawless. We knew the bike was going to be put together with a mixture of new and pre-loved parts – but it was key to future proof it. The bike was to be a flexible platform without sacrificing ride quality.
The boost rear end is an example of future proofing – where the bolt on cable guides and shimmed down seat tube allow Andy to run an externally routed dropper when he isn't bike packing. On top of making single speed conversion straight and easy, the sliding dropouts allow Andy to lengthen the wheelbase when the bike is loaded too.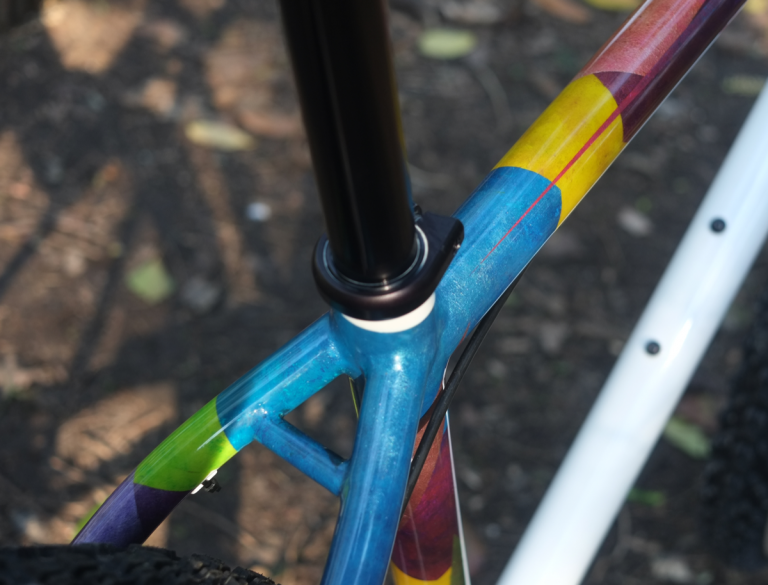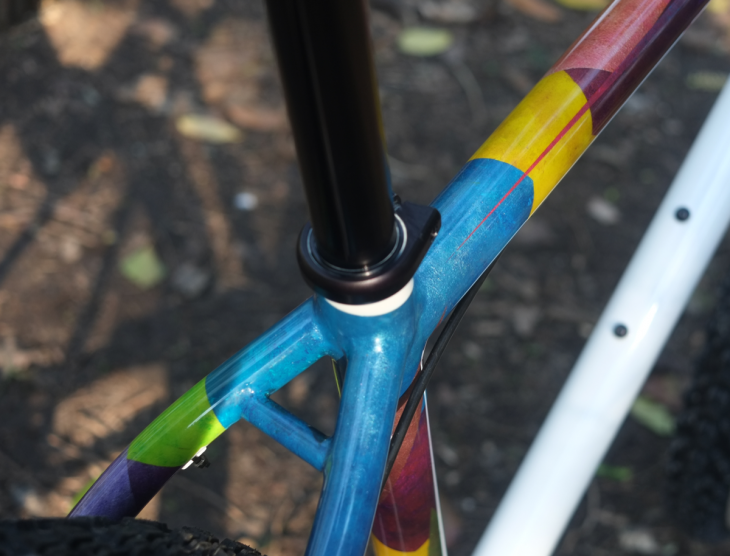 After getting his position dialed by Ben Hallam, I got to grips with the design: at the base of it is a selection of Columbus Zona and Deda steel. To make room for the tyre and the chainset, I used a yoke manufactured by Konga in Finland – it's a really clever design made of laser cut and shaped plate.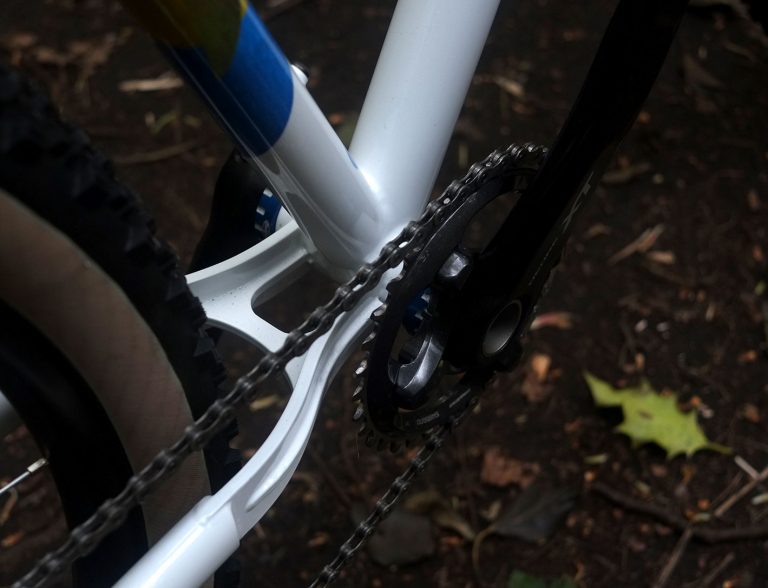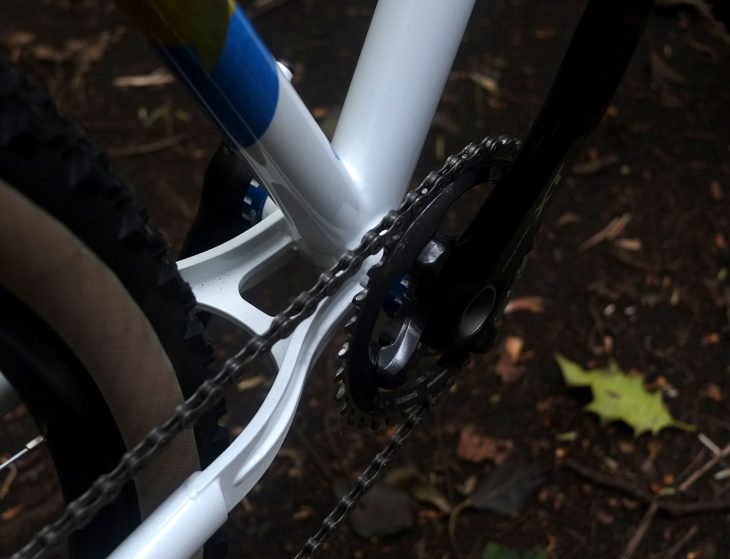 When it comes to construction, the front triangle is filet brazed (and left un-filed, like all the other Mercredi!) but the rear end is mostly TIG welded. That ensures of the solidity of the rear end, especially around the stainless sliding dropout.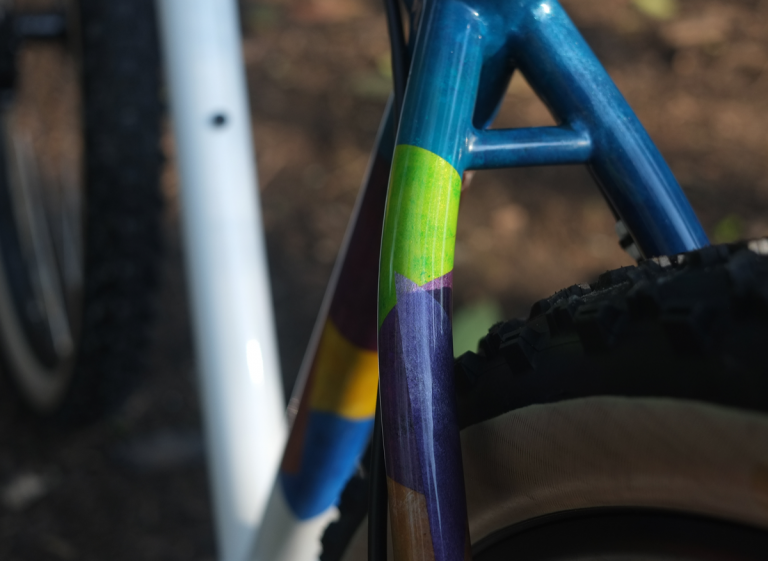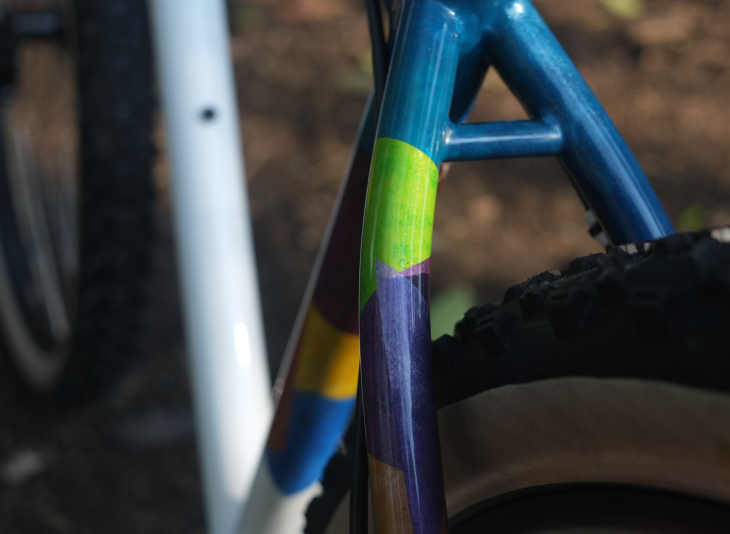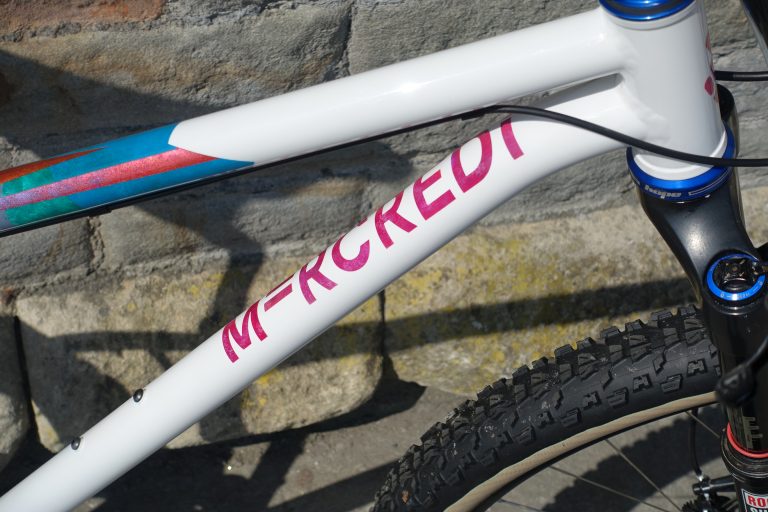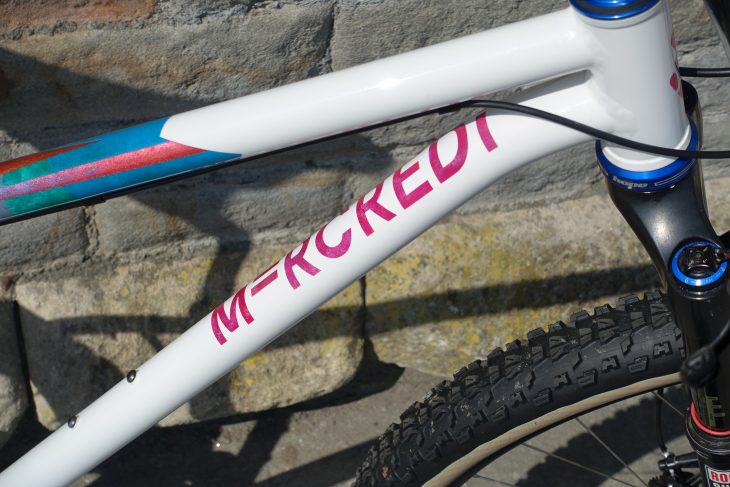 Andy's references for paint were wonderful. Rob from Colourburn Studio and I were both taken by the Remi Rough paintings. It worked very well with the Mercredi vibe and would also be a great opportunity for Rob to use the hand painted technique he specialises in.
One of the best parts about making bikes is the face the riders make when they see their new machine ready for the first time. Andy saw his a little bit before it was all done, but his expression really didn't disappoint.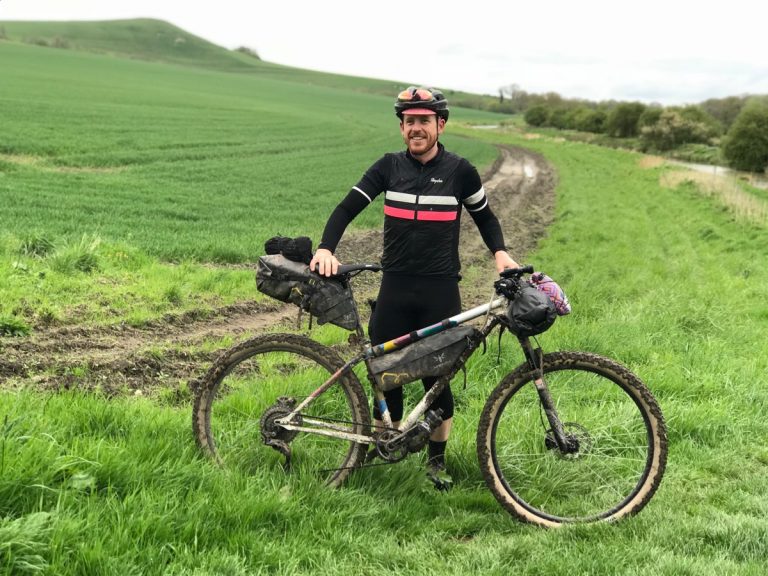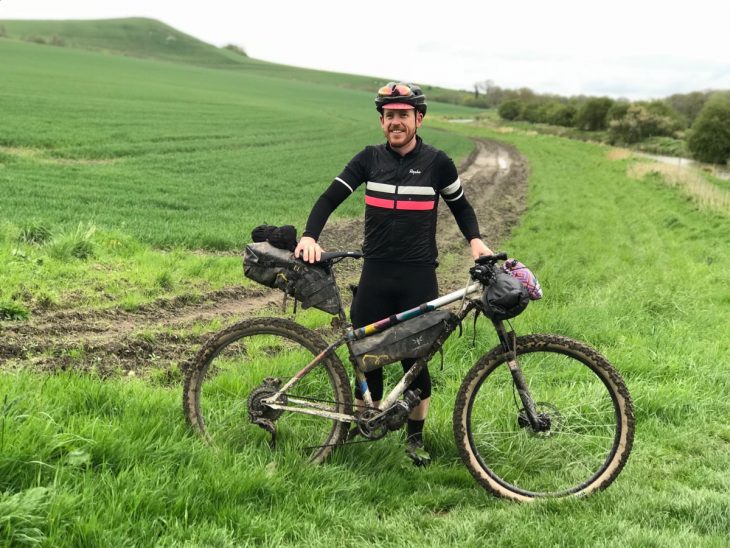 ---
See mercredi.co.uk and Instagram for more lovely bike things, and Rob the painter  and his Instagram for paint wonders.
---