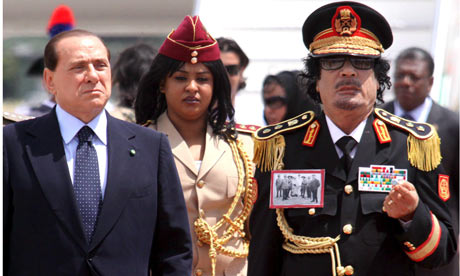 The Libyan leader was accompanied by his all-female, 40-strong bodyguard squad, its members dressed in khaki uniforms and red berets. And the schedule for his controversial first visit to Italy included, at his own request, a meeting tomorrow with large numbers of Italian women. Very large numbers.
The plan was for "only" 700. But officials said yesterday that such was the colonel's drawing power the event had had to be moved to a concert hall with a capacity for 1,000.
...
The photograph Gaddafi wore to several of the ceremonies on the opening day of his visit ... showed the Libyan resistance leader, Omar Mukhtar, the "Lion of the Desert", on the day before he was hanged by ­Italian colonialists in 1931.
That kind of flair just doesnt come democratically
http://www.guardian.co.uk/world/2009/jun/10/gaddafi-visit-italy-berlusconi