I just built this for my girlfriend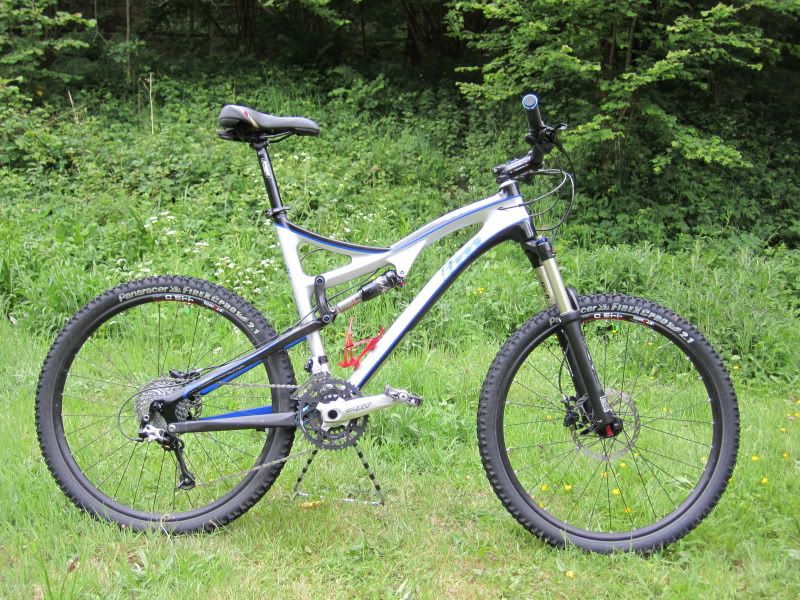 Her last bike was a Rockhopper that had been steadily upgraded over the last year or so and this became the donor bike for much of the parts. The drivetrain is mostly 9 speed XT with a SRAM PG980 cassette, brakes are Avid Elixir 5 and the rest is a mixture of Easton, FSA and Specialized. The fork is a 1 1/8" steerered Revelation U-Turn Dual Air so there was a bit of a search for a Cane Creek IS52 reducer lower headset, which ended up coming from Germany. The wheels are DT 445D on Specialized Stout thru bolt front/DT 370 rear hubs. They're going to be upgraded or re-rimmed at some point.
The build was mostly straight forward apart from the rear brake, which has to be emptied and split to run the hose through the frame. There are a couple of oddities with the frame - it's rear brake hose routing was clearly designed to put the lever on the right bar and the seat collar is a non-QR thing that's sculpted into the carbon. Replacing the collar with a QR one leaves a wedge of unfinished carbon on view but it suggests the frame was designed to run a gravity dropper post.
She's ridden it for the first time today and loves it. I followed her for some of the ride just to see her taking different lines where there were tree roots and rocks just to test her new bouncy bike.