This video is of a 70-hairpin 1000 vertical metres (1200 m amsl to 200 m amsl) an hour by car from where we live in Sardinia. The singletrack is just having its annual spruce-up from the Ente Foreste and so the switchbacks are much easier to ride than usual, when they are "alpine" - rocky and washed-out -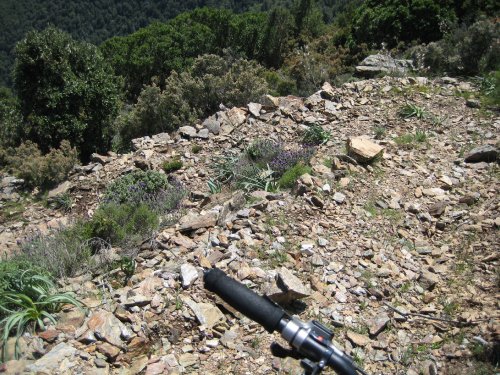 and you can't use the skid-your-back-wheel-round technique. Some of them though, where the path hasn't been cleaned and the really tight ones, remain pretty hard, as are the steps in the lower section. After it rains the rocks will be exposed again.
This is the descent described in my mate Dave's blog which (finally) marked my deciding I had learnt to ride a mountain bike, though there are 5-6 obstacles + the steps that I still have to ride. For the first time, though, I did all the switchbacks above the half-way road first-time.
We do this leaving one car at the bottom and driving up to the top, then descent takes 2 hours. Or I just do half, pedalling up. The climb up on the asphalt is a very nice climb on a road bike, often used in local road races.
Peter (sorry for typos in subtitles, but can't be arsed to redo it all)