Garmin have just released the new Garmin 520 GPS ( https://buy.garmin.com/en-GB/GB/sports-recreation/cycling/edge-520/prod166370.html ) and I thought it might be helpful to other STW's to post some of my findings regarding mapping on this unit (via web research piecing together how-to's and the best options I could find).
First thing to note is that the Garmin 520 won't search and plan a route for you by finding the best route along roads like a car SatNav would and like the Garmin 810/1000 will. If you are a roady and specifically want road navigation the 810/1000 are probably better choices for you.
However, as a Mountain Biker I don't need that functionality, as I typically want to load a prewritten course (eg a .GPX file) and then follow that off-road course on the GPS screen. You don't absolutely need a map on screen, to be able to follow a GPS course in this way. But it makes for far easier navigation if you can see your GPX course superimposed on a decent map, which gives some context to your route…this is where this post comes into play.
The Garmin 520 doesn't have a micro-SD card slot for storing map data like the 800/810/1000 units, which at first glance may make it seem a bit of a non-starter for the 520 displaying decent maps or sensible map coverage. However it does have some internal memory, which can be used to store map data and it does have a good colour display screen.
By removing the standard (and totally useless) world basemap from the 520, this then frees up approx. 110MB of internal memory space, which can be used to store a far better and more useful map of a smaller area.
I've always liked OS Discoverer maps, but the GPS versions are very expensive, large in terms of file size and also they tend to look blurry as you zoom in. A better choice I found was to use a map from http://talkytoaster.co.uk which gives a similar look and feel to a OS map, complete with contour lines and features, but at a fraction of the size and cost, as well as being raster-based, so very clear when zooming in. This site provides some free UK mapping, but I recommend paying £20 for the subscription service, which gives really nice maps that are up to date and look great.
Now you can't just load the whole UK mapping on a 520 due to the 110MB memory limit, but I found I could easily load a Talkytoaster map of the whole of North of England, from the Scottish borders south-wards, including the Peak district and that would use about 85MB memory (you also need to leave some room for other garmin route/activity/segment files, so best limit the map data to around 90MB). For my MTB purposes that is a big enough map area for me and since I can swap the map file out for another area (say the whole of Scotland) in circa 10 minutes with my computer, this isn't really a limitation.
How do you do this?
Step 1 – Once you have a 520, buy and download the map you need from Talkytoaster.co.uk onto your PC or Mac (make sure you get the Basecamp version of the map, for PC or for Mac depending on what type of computer you are using).
Step 2 - Download and install Garmin Basecamp for PC or Mac. This will load several programs onto your computer.
Step 3 - Double click on the map file you downloaded in step 1 and it will run the Garmin Mapmanager program and install the map file you downloaded from talkytoaster onto your computer.
Step 4 – Now plug your 520 into the USB port on your computer and using file explorer or finder, look at the GARMIN folder on the 520. You will see a file called gmapbmap.img this is the (useless) basemap that comes as standard with the 520. Copy this file and make a backup of it on your computer for future safekeeping and then delete it from the 520. This will now give you approx. 110MB free memory.
Step 5 – Make sure your 520 is still plugged in to your computer and and then run the Garmin Mapinstall program. Select the talkytoaster map in the mapinstall pulldown menu on the first page and click continue. On the next page you will see the various map tiles that the overall UK map is made up from. If you can't see them fully, use the zoom in control until you can. Select the map tiles that represent the map area that you want to have on your 520, bearing in mind that you want to select no more than approx. 90MB of mapping (helpfully it shows the amount of map data you are selecting at the bottom of the screen). When you have finished choosing the map tiles you want select 'send maps' then 'continue' on the next page and the program will then install a file onto your Garmin. This may take some time, be patient.
Step 5 – use windows explorer or finder to look at the GARMIN folder on your 520 again. You will now see a new file called gmapsupp.img we now need to rename that file to gmapbmap.img
Step 6 – Disconnect your 520 from your computer, turn the 520 off and back on again and you should now have good quality UK mapping!
Example screenshot of 520 with talky toaster UK map (the purple line is a course I had loaded)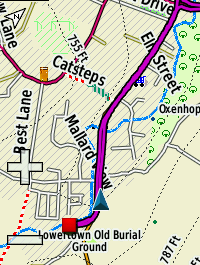 Enjoy!