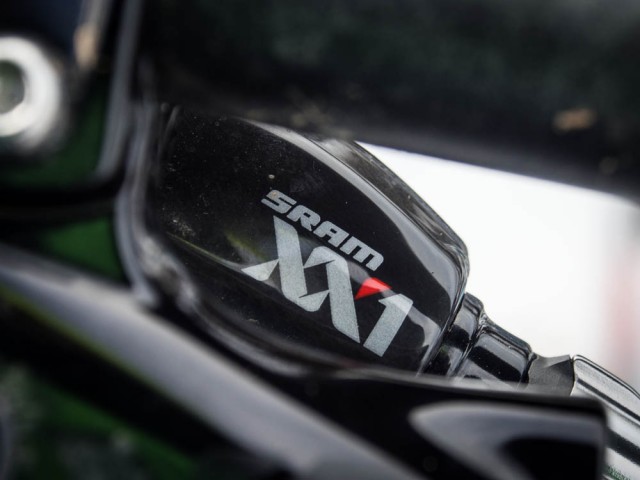 In case you've been in the wilderness for the last few months (presumably on a singlespeed fat bike) and missed the whole XX1 arrival, here's the story so far:
http://singletrackworld.com/2012/07/sram-unleashes-xx-1/
http://singletrackworld.com/2012/11/sram-xx1-the-video-story/
When Jon got back to the UK I was first in line with a piece of scaffolding pipe to 'relieve' him of the Spicy.
My two initial questions of XX1 were; would the chain stay on and would the gearing allow me to pedal up everything I normally would with a 2×10 system?
A no to either of those would mean that XX1 wasn't for me, they are both pretty high on my 'must-do list.
The answer to the chain retention would be pretty binary, it either derailed or it didn't.
It's still early days but so far I haven't had even a whiff of the chain coming off the chainring, the combination of the clutch in the rear mech and the deep chainring teeth seem to be keeping everything where it should be. Admittedly the bike has been set up by a SRAM mechanic who knew what they were doing, it'd be interesting to see if a user-fitted version was quite so flawless.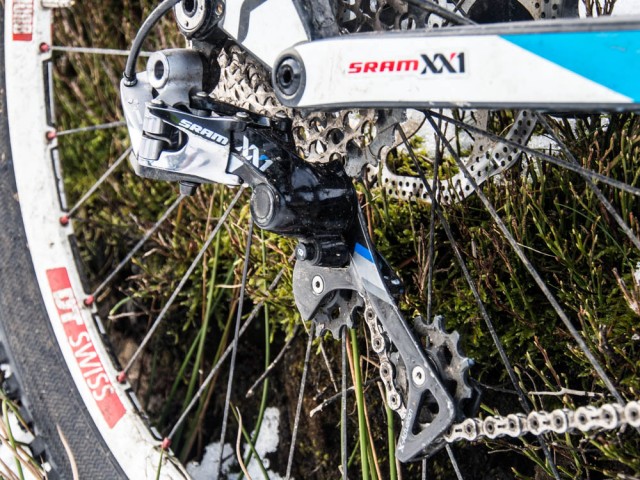 Regarding the ability to get up everything a 2×10 system would let me get up, it was another thumbs up. Riding up a climb that usually has me in the granny ring and large cog in the back I looked down and saw I still had a cog left with XX1. If I could get up that hill with a gear to spare I'm confident that for the majority of the riding I do the gear range is just fine, although I probably need to find some even steeper hills to find its limits with this particular rider.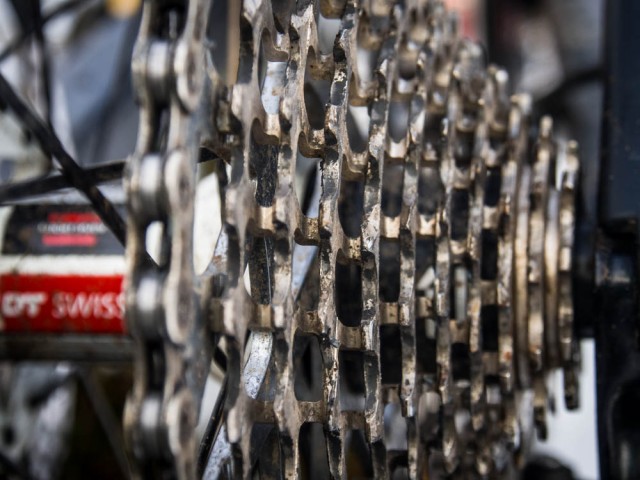 Other initial impressions are how quiet it is. It was probably deliberate but the silent freewheeling DT hubs SRAM fitted to the Spicy mean you can hear, or rather not hear, how little noise the drivetrain makes. No chainslap, no grinding, rubbing or clatter, just a dull click when you change gear. It's quieter than most people's singlespeeds.
To complement the lack of noise is the lack of effort required to change gear, the shifts are light and, while they still have the trademark SRAM bullet-from-a-gun feel, it's not as pronounced as normal.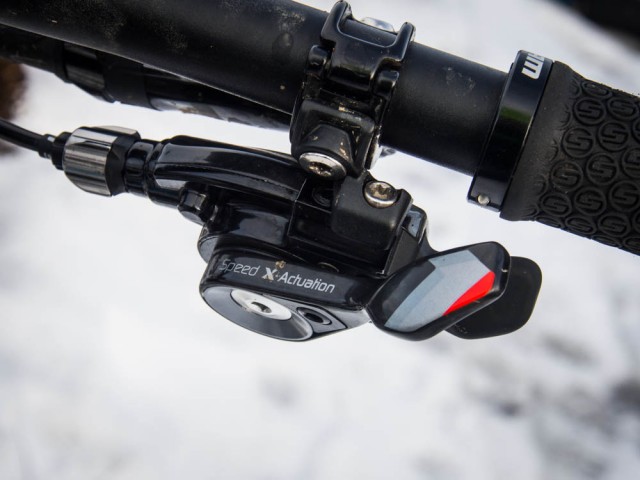 Riding predominantly in a steep-sided valley means that sometimes I get a distorted view on things. Sure, XX1 has proved to me it can allow me to winch from one side of the valley to the next, but what's it like on more contouring terrain? Will I run out of gears at the smaller end of the cassette? How will it cope in deep mud? How long will it last? All questions I'm hoping to find answers to very soon.
Spec Chart:
Frame: Lapierre Spicy 916. Carbon. Large.
Shock: RockShox Monarch RT3
Fork: RockShox Lyrik Dual Position
Wheels: DT Swiss EX 1750
Tyres: Schwalbe Dirty Dan, Maxxis Minion (currently)
Chainset: SRAM XX1, 34t
Rear Mech: SRAM XX1
Cassette: SRAM XX1 10-42t
Brakes: Avid X0 Trail
Stem: Truvativ 50mm
Bars: Truvativ BooBar 740mm
Grips: SRAM
Seatpost: RockShox Reverb Stealth
Saddle: Fizik Tundra
Price:
SRAM XX1 Trigger Shifter: £139.99
SRAM XX1 Rear Mech: £239.99
SRAM XX1 XG-1199 Cassette: £329.99
SRAM XX1 Chain: £49.99
SRAM XX1 Crankset (BB30, no bearings): £289.99
From: Fisher Outdoor
www.sram.com/sram/mountain/1×11