Not so long ago, wide-range cassettes were an Exciting New Thing. Actually, we still think they're pretty exciting, and we're seeing more brands outside the two Big S brands – Shimano and SRAM – bringing out their own versions.
That got us wondering: how many wide-range mountain bike cassettes are there out there? You know, from brands other than Shimano and SRAM?
After a little bit of digging, it turns out there are actually quite a few. So here for your tooth-ogling pleasure, are eight different wide-range cassettes for 1×11 and 1×12 drivetrains, listed in order of their gearing range.
1. KCNC MTB 12-Speed Cassette
No, that is not a typo. This cassette, from the Taiwanese manufacturer of all things CNC machined and lightweight, KCNC, has a preposterously ostentatious range of 578%. Eagle what?
Information is a bit limited on this cassette – the official KCNC website makes no mention of it – but we did find it on the r2-bike.com webshop, where it appears to be available for a reasonable €247.50. Unbelievably, even with that huge gearing range, this cassette is purported to weigh just 325g, which is lighter than XTR 9100 (363g) and XX1 Eagle (360g).
2. e*thirteen TRS+ 12-Speed Cassette
The TRS+ cassette from e*thirteen is a wholesale update over the brand's previous offering. The construction is all new, with a new system for interlocking the two halves together, and we're told both the shifting and overall durability has been improved too.
The headline grabber is the mahoosif 9-50t option, but e*thirteen is also offering the new TRS+ cassette in a tighter 9-46t block, and an 11-speed 9-46t block too.
3. Leonardi Racing General Lee 9-48t 12-Speed Cassette
We won't blame you if you haven't heard of this crew. Leonardi Racing is a boutique Italian manufacturer that produces just a handful of niche components, including Cannondale Lefty-compatible stems, and 450mm long alloy seatposts for the leggiest of legs.
Leonardi Racing also manufactures drivetrain bits, as well as this humongous 12-speed General Lee cassette with an XTR/Eagle-beating range of 533%. If you want a tighter block, you can also get a 9-46t option, and for 1×11 users, there's a 9-45t option for you too.
4. SEQlite 9-48t 12-Speed Cassette
Sharing the same range as Leonardi's General Lee cassette is this 9-48t cassette from SEQlite. We've seen this fella pop up in various news stories from the Taipei Bike Show, but aside from that, details are pretty limited on the internets.
What we do know is that it's designed to fit a SRAM XD freehub body, with the cassette splitting into two halves; one made from alloy and one made from steel. SEQlite offers a pretty comprehensive range of other cassettes, which include super light all-alloy and all-titanium blocks for the roadie set.
5. Rotor 1×13 MTB 13-Speed Cassette
We reported on Rotor's prototype 1×13 drivetrain from Eurobike, where the Spanish brand stunned the crowd by unveiling a cassette with 13 sprockets and a vast 10-52t range. Additionally, Rotor showed off a new hydraulic trigger shifter and clutched derailleur, just to make sure everyone was paying attention.
Rotor's 13-speed cassette varies from others in this list in that it's made specifically for the 1×13 groupset. Part of this is due to the wider cassette spacing – you'll need a Rotor freehub to fit all 13 cogs onto your rear wheel.
While Rotor has made the road & gravel variant of its 1×13 drivetrain available to the public, they're still yet to bring the off-road version beyond the prototyping phase.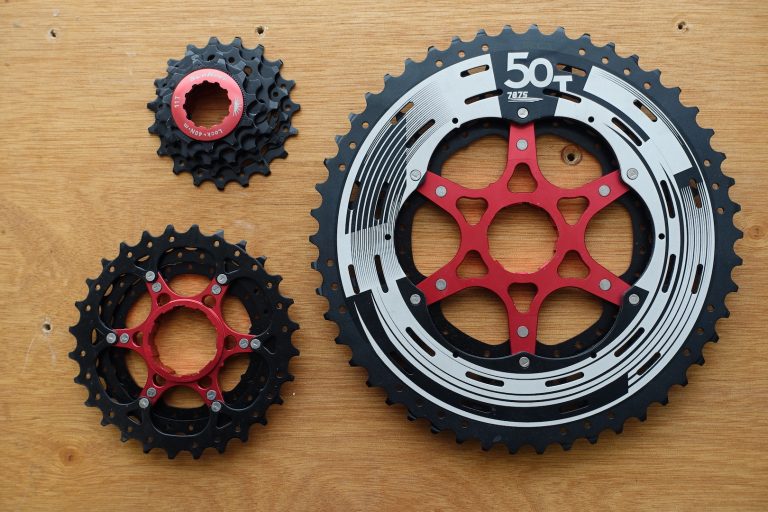 6. SunRace CS-MZ91 12-Speed Cassette
One of the bigger names to tackle SRAM & Shimano head-on in the drivetrain world is SunRace. The brand already has a comprehensive range of 8/9/10/11-speed cassettes, but it more recently debuted a full 1×12 drivetrain, including its own shifter and derailleur.
A key part of the 1×12 drivetrain is the MZ90 & MZ91 wide-range cassette. The former is a Shimano HG freehub-compatible 11-50t cassette, while the latter is a SRAM XD-compatible 10-50t cassette. Aside from the extra cog, the overall construction is very similar to the 11-speed SunRace MX80 11-50t cassette we reviewed, so it ain't no featherweight.
7. Garbaruk 12-Speed Cassette
Ukranian brand, Garbaruk, is also on the Eagle-range-but-not-Eagle cassette bandwagon. Compared to SunRace though, Garbaruk has gone a lot harder with the machining work to produce a 12-speed 10-50t cassette that is claimed to weigh just 342g. That's light.
So why would you buy it over an XX1 cassette then? Well it's lighter, cheaper, and you can get that 50t sprocket in eight different colour options, which is sweet. There's also a 10-48t spread that tightens the range just a touch, while dropping a couple more grams.
8. Ingrid 12-Speed Cassette
Another European entrant on our list, this time courtesy of Singletrack reader @irollones, who pointed us in the direction of Ingrid – an Italian manufacturer based just outside of San Marino. In addition to alloy cranks and 1x chainrings, Ingrid also produces two beautifully machined cassettes; an 11-speed 10-46t cassette, and this fella; a 12-speed 10-48t cassette.
Designed to thread onto a SRAM XD freehub body, this cassette is made from two halves; an alloy block that forms the top three sprockets, and a steel billet that makes up the remaining 9 smaller sprockets. Both halves have been CNC machined within an inch of their life, hence the impressive 318g weight.
9. Hope 11-Speed Cassette
Manufactured in Barnoldswick alongside Pro4 hubs, Tech 3 E4 disc brakes and the HB160 carbon enduro bike, Hope's cassettes are built in two halves. The top four sprockets are CNC machined from a single billet of alloy, while the seven smallest sprockets begin life as a single billet of steel. It is very light at less than 300g, but it is also designed specifically to fit on Hope's own freehub design though, so you need a Hope rear hub to run this cassette.
The 11-speed cassette is available in a 10-40t ratio, a 10-44t ratio, and then this banger; the 10-48t ratio. The 480% range is just shy of Eagle's 500% range, but there is one less cog here. That makes it a solid option for existing 1×11 users who are looking for more range without having to dump a load of cash on a whole new 12-speed drivetrain.
10. TRW Active TRW2 Hybrid 11-Speed Cassette
Alongside SunRace, Box Components, Microshift, and Rotor, TRW Active is another brand having a crack at the drivetrain market, with a range that includes shifters, derailleurs, cranksets, chains and cassettes.
Based out of New Mexico, TRW Active currently has four 11-speed cassettes on offer, including an 11-50t ratio and this huge 11-52t ratio. Both ratios are available in two levels; one with that features all-steel sprockets, and this 'Hybrid' that drops some grams by making the biggest two sprockets out of alloy.
Out of this list of cassettes, the TRW Active is one of the few that will fit a Shimano HG freehub body, rather than a SRAM XD freehub body. That's why it only goes down to an 11t cog.
11. ZTTO SLR2 12-Speed Cassette
As helpfully pointed out by Singletrack reader @IvanMTB, there are a bunch of Far East wide-range cassettes popping up on webshops like Aliexpress and eBay. Once I started looking, I found myself in something of a rabbit hole populated by brands like 'Z-Race', 'Robesbon', 'Wuzei', and 'Sunshine' (great ripoff of the Shimano logo too). If you want to go down this rabbit hole of misleading keywords and dubious imagery, strap yourself in.
One of the cassettes that caught my attention was this ZTTO SLR2 cassette, which like the TRW Active model above, gets a humongous 11-52t spread. However, with the four largest sprockets being made from CNC'd alloy, the weight is a surprisingly competitive 418g. As to shift quality and durability? That's for us to ponder and for willing guinea pigs to discover.
12. Box Components Two-E 9-Speed Cassette
So this cassette doesn't have the most impressive range amongst all these 11 & 12-speed cassettes, but the 11-50t spread becomes a whole lot more interesting when you realise this is actually a 9-speed cassette.
As part of Box Components Box Two-E 1×9 drivetrain, this cassette brings a huge 454% range to a good ol' 9-speed platform that has only dreamed of such a range up until now. Box' theory is that e-MTBs don't need to have really small gaps between each gear, and less shifting is actually a good thing for a chain that's being driven by both your legs and a 250W motor.
The Two-E cassette will slide onto a regular Shimano freehub body, but given the huge 50t sprocket (and the clearance it requires) this is a cassette that you'll want to be running with the specific Box Two-E derailleur.
---
So there you go – 12 different cassettes for 1x drivetrains from 12 brands that are neither Shimano or SRAM. It would certainly appear that if you're after a wide-range cassette for a 1×12, 1×11, or even a 1×9 mountain bike drivetrain, there has never been more choice than right now.
But we're sure there are more. What else did we miss? Let us know in the comments section below!
Singletrack Full Membership
Join us
If you like what we do - if you like our independence then the best way to support us is by joining us. Every penny of your membership goes back into Singletrack to pay the bills and the wages of the people who work here. No shareholders to pay, just the people who create the content you love to read and watch.
---