It's the fourth and final day of the 2018 Fort William World Cup, and you know exactly what that means – it's FINALS TIME!
Reaching a thundering crescendo after several days of growing excitement, anticipation and anxiety for many, Sunday stood as the opportunity for the world's fastest downhill racers to lay everything they had on the brutal Fort William race course.
The Elite Women have just finished coming down Aonach Mor, covering 2.8km of distance and dropping 555m of elevation in the process. Reaching speeds in excess of 50 km/h, there was certainly no hanging about for any of them, as they aimed to hold their pre-rehearsed race lines to stick their fastest time possible.
Having qualified 14th, Canadian racer and reigning World Champion, Miranda Miller, couldn't find find her form from the 2017 race season, finishing with a time of 5:38 that saw her stay in 14th.
Sian A'Hern, the 20-year old elite racer from Australia, was looking fast early on, but a flat rear tyre put a halt to any chances of finishing on the podium. British rider Katy Curd had no such mechanical problems as she came down the mountain, posting a very quick time that saw her find six seconds to put herself in the hot seat. Emilie Siegenthaler, the Swiss rider from the Pivot Factory Racing Team came down afterwards, but couldn't quite match Curd's speed.
French racer Marine Cabirou had a blinding run, eventually pushing Curd off the hot seat with a spare 3.67 seconds in the bag. While there were high hopes for Enduro World Series dominator, Cecile Ravanel, but despite her promising 5th place performance at the opening World Cup round in Croatia, Ravanel couldn't quite put it together for Fort William, coming in 2.5 seconds off Cabirou's time.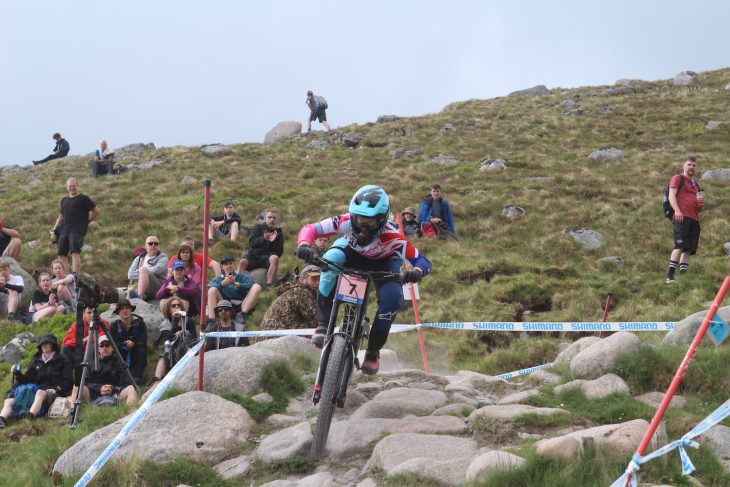 Tracey Hannah came down next, and while she was down on Cabirou's time in the early splits, she made up a lot on the lower half of the race track, hitting a peak speed of 53 km/h on the motorway section. Unfortunately she wasn't able to make it all up though, and crossed the line just under a second down in second position.
Then Tahnee Seagrave went out the start gate. And holy moley was she quick! Her time was four seconds up at the first split, then 7.8 seconds up on the second split, then 9.2 seconds, then 10 seconds on the motorway. Her run was an absolute blinder, and she crossed the line in first position with almost 11 seconds up on Cabirou.
Myriam Nicole was the second last rider to come down the mountain, but while she was nipping at the heels of Seagrave's race time, a crash on the new rock-laden section in the woods dashed any hopes she had of pushing Seagrave off the hot seat. Even still, she somehow still managed to come in second!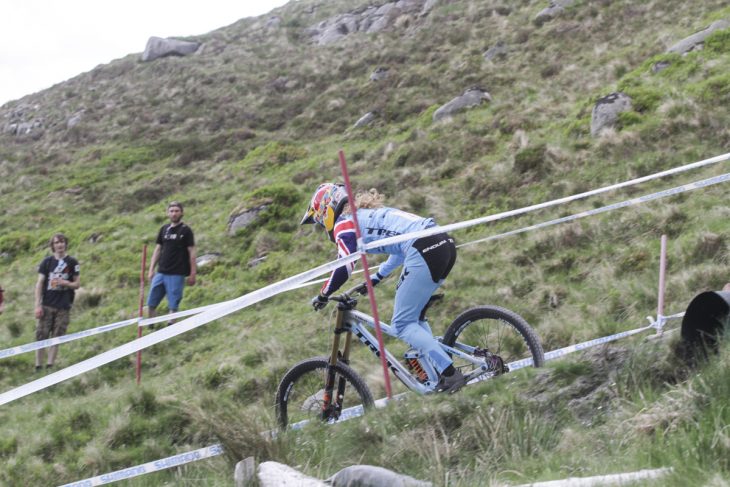 That left just one rider on the mountain – Rachel Atherton. Having posted the fastest qualifying time just the day before, Atherton only needed to repeat her original qualifying time of 5:07, and she would be a shoe-in for the win. Disaster struck however, with Atherton breaking her chain right out of the start gate – dang! She was still looking quick up top despite the broken chain, but then just over halfway through her run, a nasty over-the-bars crash in the woods section left her scrambling to get back on her bike. Even with a crash and a bike with a broken chain, somehow Atherton was just seven seconds down on Seagrave. Atherton engaged an impressive aero tuck on the lower motorway section of the course to make up some time, and she managed to cross the line to a roaring reception from the Fort William crowd, finishing up in third position behind Seagrave and Cabirou.
Elite Women's Results
Tahnee Seagrave – 5:10
Myriam Nicole – 5:19
Rachel Atherton – 5:20
Marine Cabirou – 5:21
Tracey Hannah – 5:22
Click image below to expand for full results;