"Rachel"
"Rachel"
She can't hear me can she? I'm locked in the bloody garage.
"Oh ******* hell".
It's 6:15 on Saturday morning. The van's outside with the doors wide open, my wallet's on the dashboard, phone's in its cradle, the bike's in the back and the keys are on the driver's seat. I was outside when I heard the garage door start closing behind me and I panicked and dived back inside at the last minute but I've already locked the internal door to the house and now I'm stuck in here. [swear]ing hell. [swear], [swear]ity, [SWEAR]! (Ed – you're a Dad now, George, you're going to have to learn to contain that.)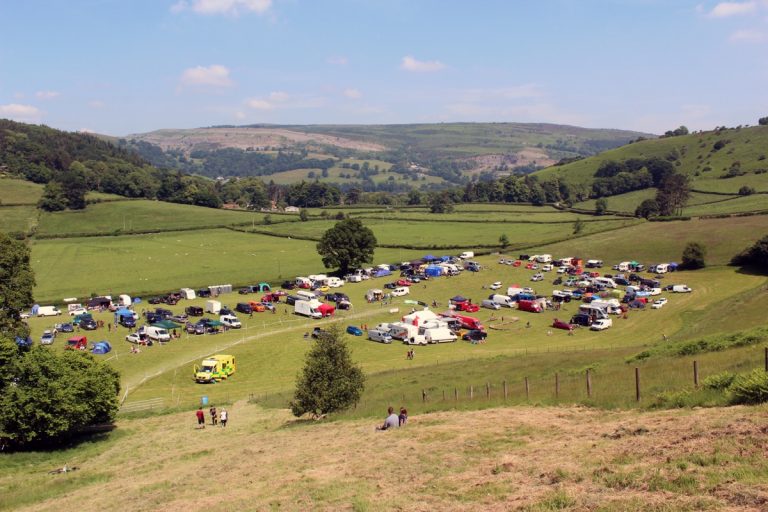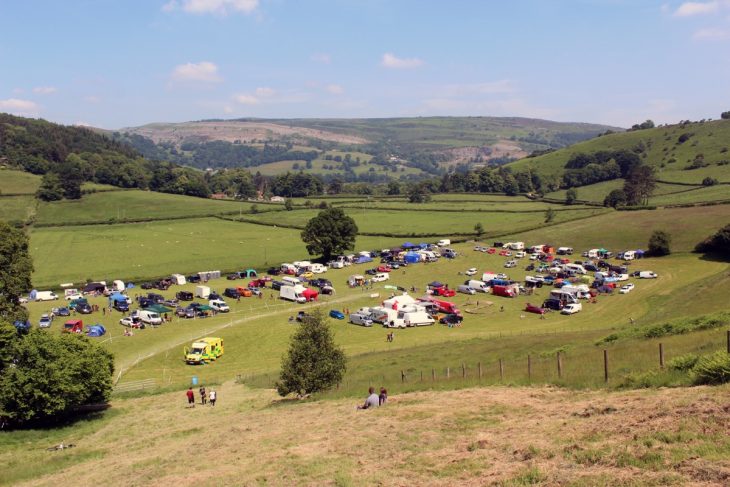 My shouts are more of a whimper really. I don't think I actually want her to hear me. It might just be preferable for them to take the whole lot and I'll just wait until she gets up. Ottie, our 10-month old daughter hasn't been sleeping great and I've been away all week. She'll go mental. 'Ah, hold on a minute, for the garage door to start closing I must've pressed the button which means, yes, there they are, the keys are in my pocket.' Large sigh.
With hindsight, I should've probably just taken the stuff out of the van and put it all back where it lives because this was just the start of things to come. Fast forward some 30 or so minutes and a smack head with teeth like a burnt fence is banging on the van window. "Did you think I was tipping? I wasn't, I was just thinking of taking it for my allotment".
Said 'gentleman' has followed me for four miles having tried to run me off the road before bottling it at the last minute (he was in a Yaris, I was travelling downhill in a Transporter; it wouldn't have ended well for him). Perhaps I should've just ignored what looked suspiciously like someone fly tipping; perhaps I shouldn't have turned the van around and photographed him but we are where we are (some traffic lights in Oldham town centre as it happens) and luckily, as I wind my window down to confirm that I did indeed think he was 'tipping' (if trying to ram me off the road and following me for four miles flashing his lights wasn't enough for me to make think he was guilty, the colloquialism of 'tipping' just pushed it over the line) my phone finally connects and a woman's voice says "Greater Manchester Police" at which point he scarpers back to his vehicle and goes back from whence he came. As an aside, when they say 101 is a non-emergency number they mean it, I'd been waiting for it to connect for the five or so minutes since he'd thought better of a collision. Anyway, as we pull on to the field at Llangollen for Round 3 of the Gravity Events DH Series the passenger side rear tyre on the van hits four psi and the triumvirate is complete.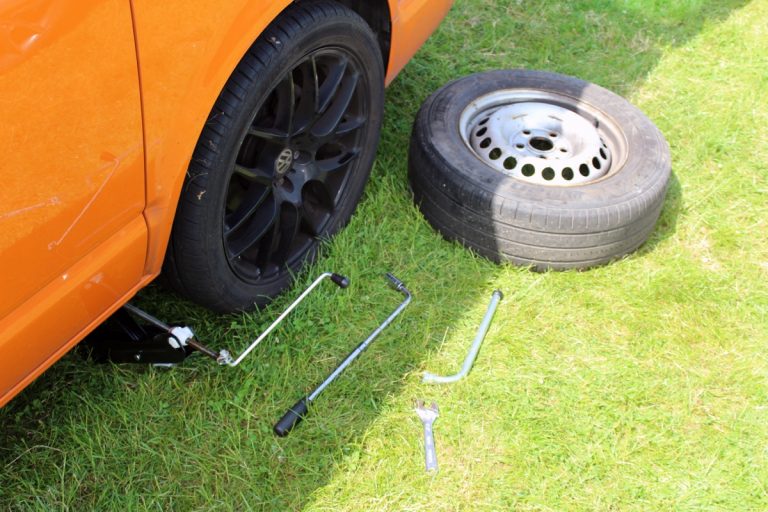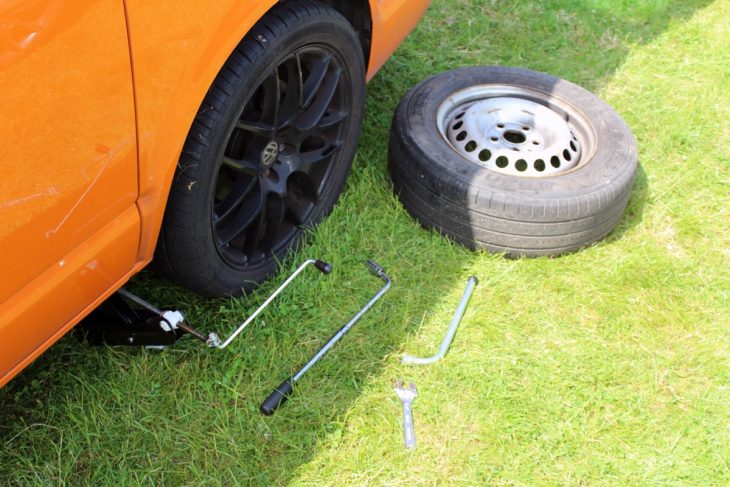 "Can you give us a hand putting the awning up Binnsy?" After putting his back out at the National at Fort William before he'd even connected shoe to pedal the sarcasm is not lost on Binnsy but the craic's on, the sun's out and the distractions of the morning are soon forgotten. Well, until I catch a glimpse of the tyre.
"Someone took a photo of me at Fort William, it was just penis. It was such a good photo." Jason Holland's here. I'm not 100% sure what he's talking about but I think it has something to do with his rather phallic looking Peaty's Push On Valve Caps and not him posing naked in the Scottish Highlands. This is the first time any of us have got up close and personal with Jason's Doner Van (80's reference… say it again), sorry I mean "Exhibition Trailer" and it's quite impressive. A little clinical but it's a great conversation starter, so long as you like answering questions about the location of the onsite catering.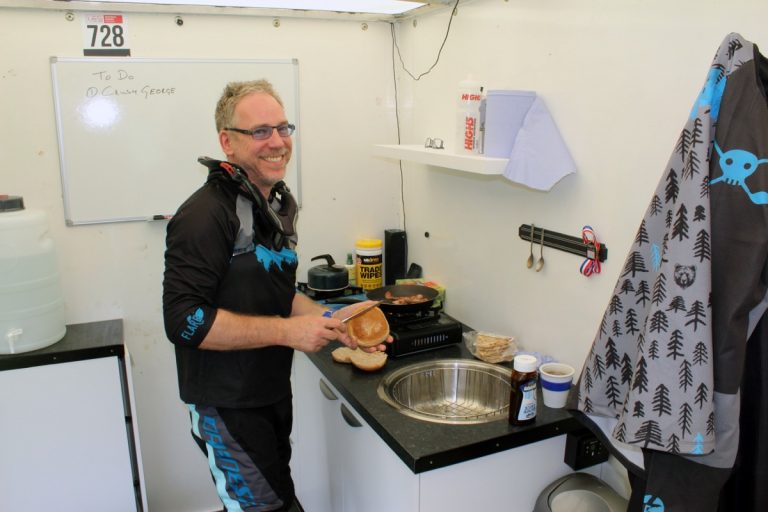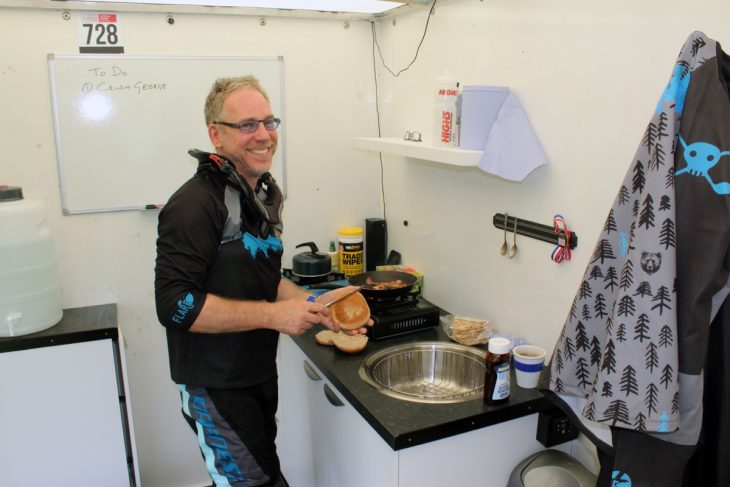 This weekend is very different to that Fort William race just four weeks ago. There's the track for starters. Fort William is long, wide and rocky; we're racing down the Squirrel track at Llangollen which is short, tight and soft; very soft in the dry conditions, with berms crumbling. It's my favourite place to race, I usually do quite well here (I've nearly even finished in the top half on a couple of occasions). It's just so much fun and when the inevitable crash occurs, it's usually a nice soft landing in bracken and you get up laughing. Please note use of the word 'usually'.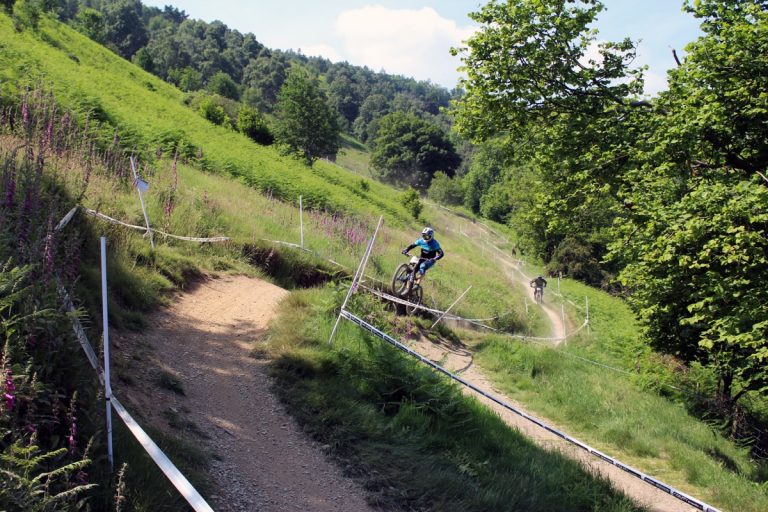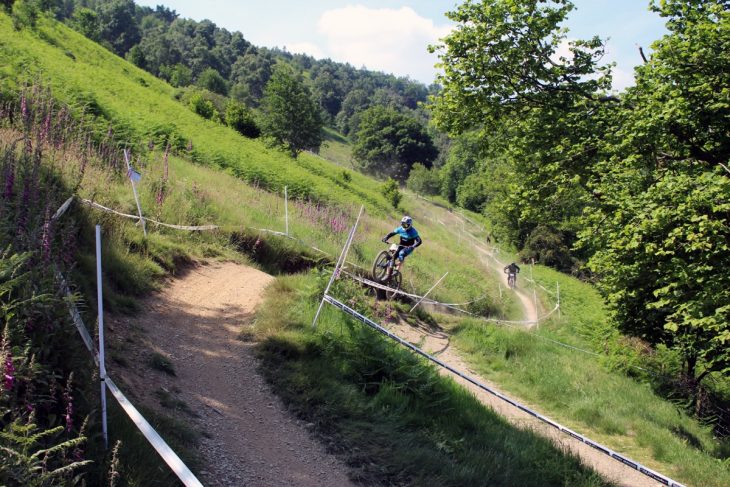 You might've also heard that there was another DH race taking place this weekend out in Leogang, Austria. It's a World Cup or something so the vast majority of the Elite riders are out there. That means no pro teams, no big trailers, no Pierron, Hart or Seagrave but there are still 17 Vets and 10 Grand Vets. Cocky's here, Dave Ingelby's here on his Hightower LT after a series of suspension related issues with the Canyon Sender, Mark Weightman, Steve Felstead, the aforementioned Jason Holland, Paul Le Maitre, Dean Jones, Joe Killner; there's a full squad of familiar faces.
By lunch time I'm having a whale of a time. Jason's struggling though; he's lost his mojo. After being carried out of Fort William on a body board on the Thursday afternoon, nearly 48 hours before official practice even started, his confidence is shot. I get the feeling he might be about to start talking about taking up golf again so I hurriedly usher him up for another run. "Let's forget about the racing and just have some fun". We do a couple of 'just for fun' runs, which, if anyone's seen the Bryceland and Fairclough Schladming scene in Deathgrip… very, very similar* and then he drops me on the next run. So much for helping a mate out eh?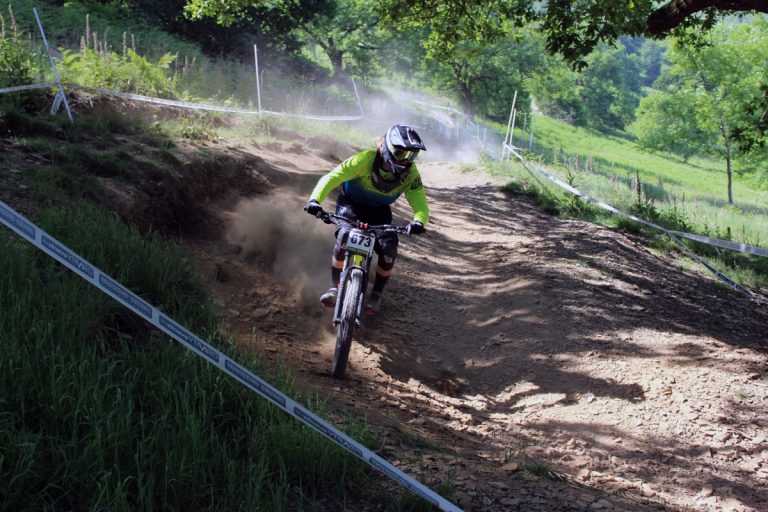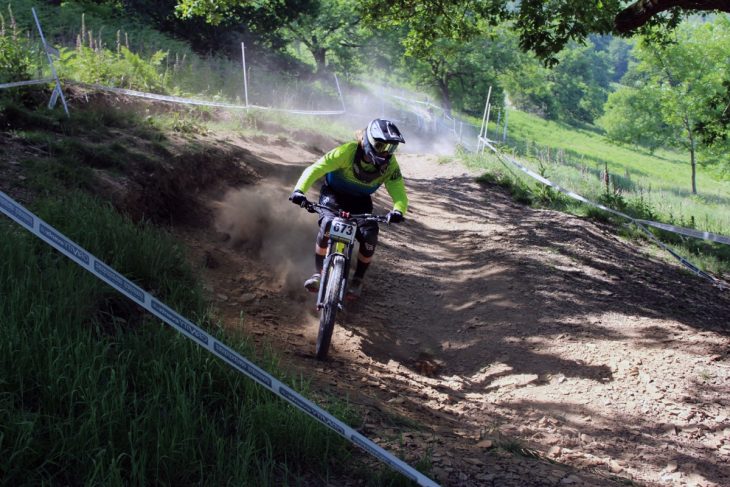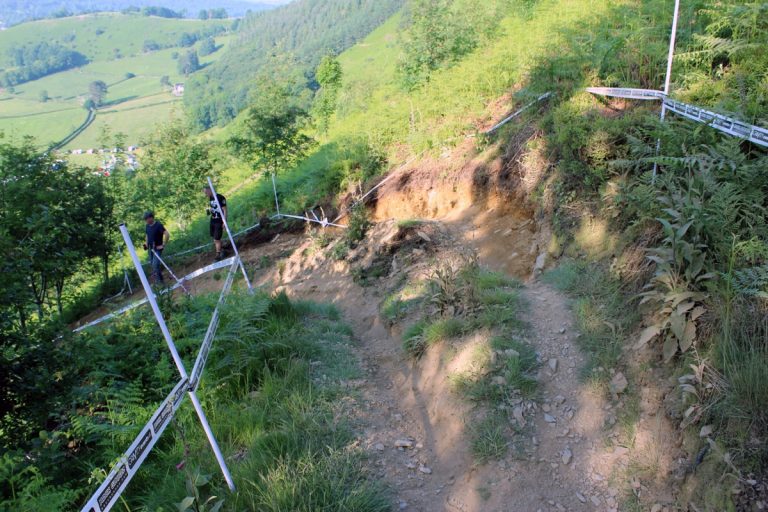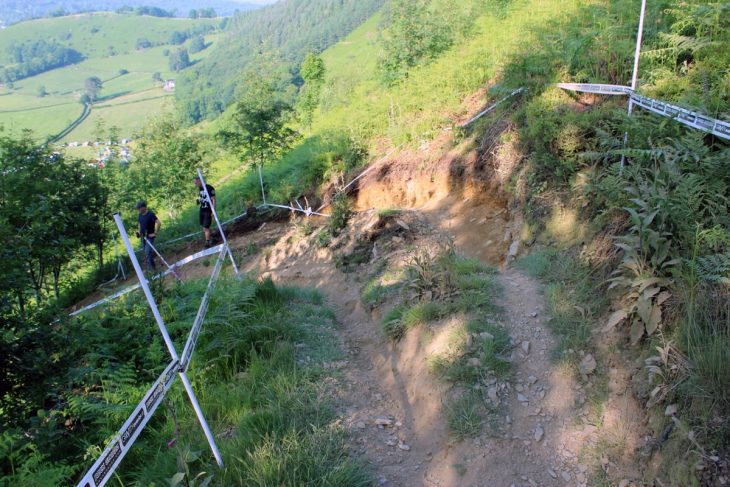 As Saturday comes to a close we're drinking lager in the sunshine having managed seven dusty runs. 'Just can't beat it' I post on Instagram. Well, apparently you can if you've got a wife and daughter at home, as I'm pertinently reminded by MrsMakingUpTheNumbers. Anyway, after a terrible start to the season Binnsy has bought himself a new bike. He's bought a Commie which is attracting lots of attention after Pierron's win at the Fort William World Cup last weekend. He's also reverted to the pre-race rituals that served him so well in the 2016 season when he won the National Series. So, it's four beers, a bottle of red wine and a few Whiskeys the night before the race. I can't help but think that if it was a battle against father time and another off season of broken promises the booze might come up a little short but it's worked before and he's clutching at straws so…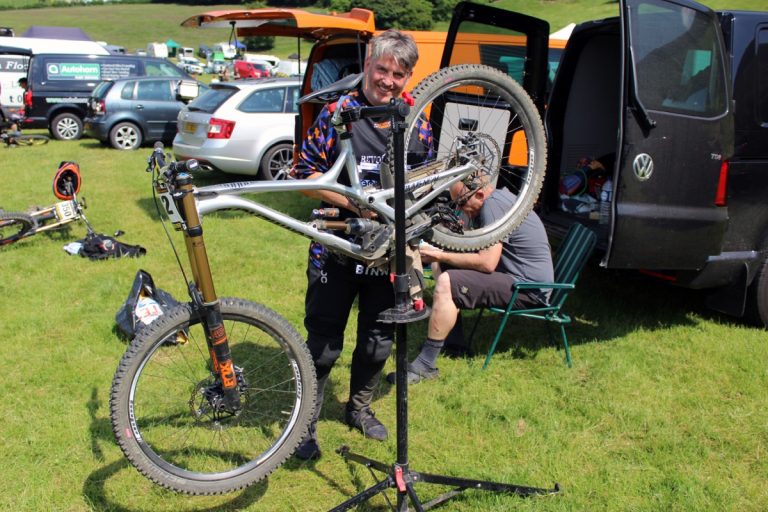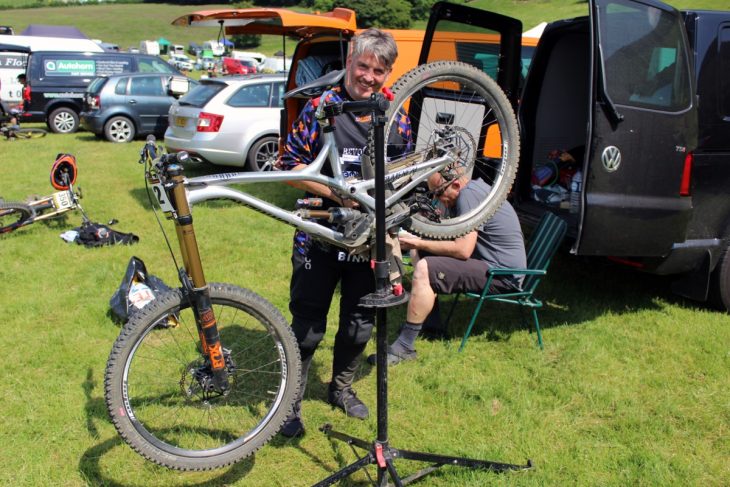 After a blissful 10 hours of uninterrupted sleep in the van (can't beat that can you MrsMakingUpTheNumbers?), Sunday doesn't start well. The uplift is a combination of tractors and trailers for the bikes and 30 seater coaches for the riders. Pat's Coaches are struggling getting up the hill though. One broke down on Saturday and at least one other seemed to have had a prang on the narrow roads. We're dubious as to their return on Sunday and as sure as the smell of burnt out clutches we're right. Conveniently, several of the drivers have rung in sick and so there's only one coach and a couple of Delicas for practice.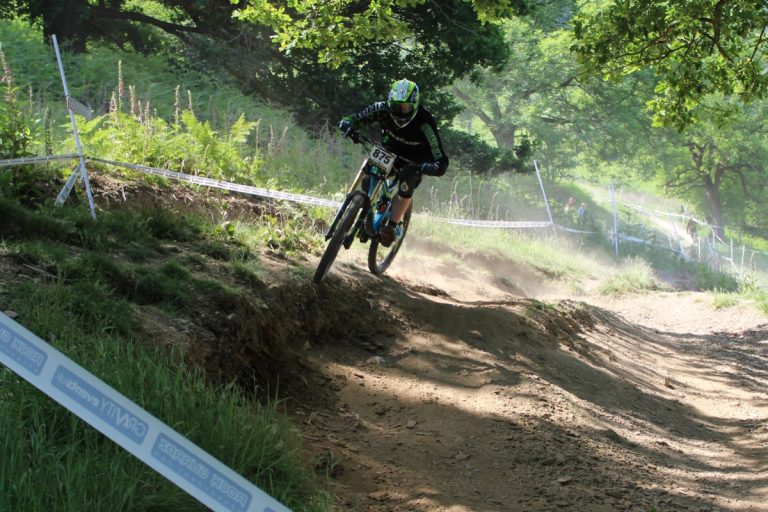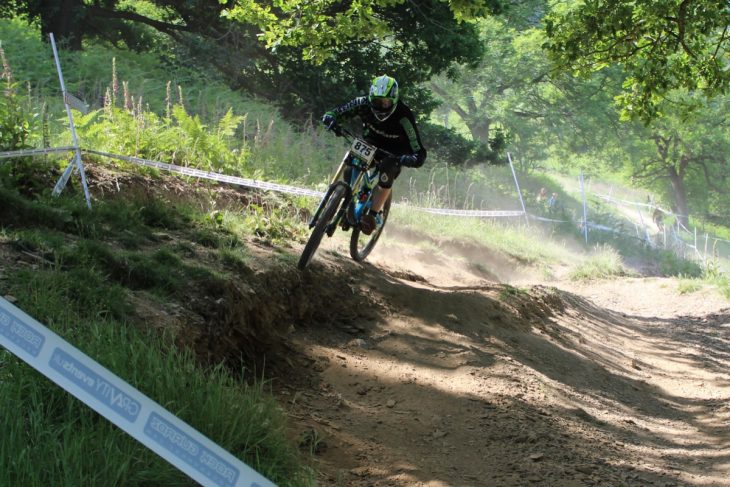 If I thought I was having a bad time on Saturday morning, I've got nothing on race organiser Malc Dunn who's fighting more fires than Red Adair. The uplift's not working, there's issues with the timing, even the printer that prints out start times isn't working. Poor bugger, he's battling on though and the show will go on.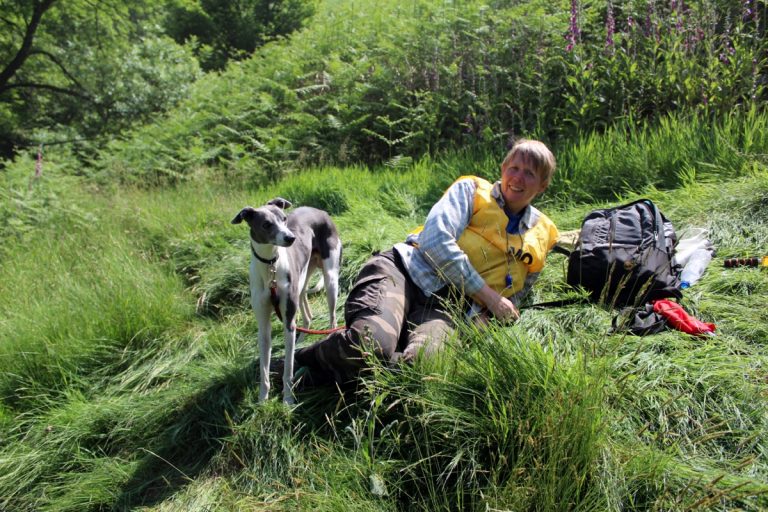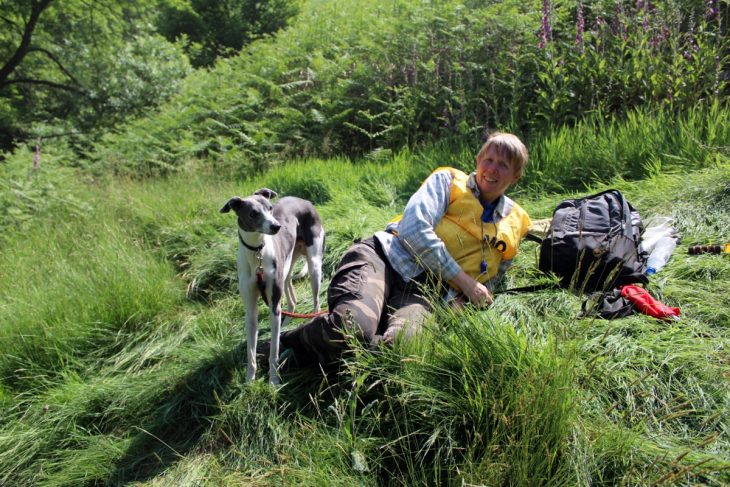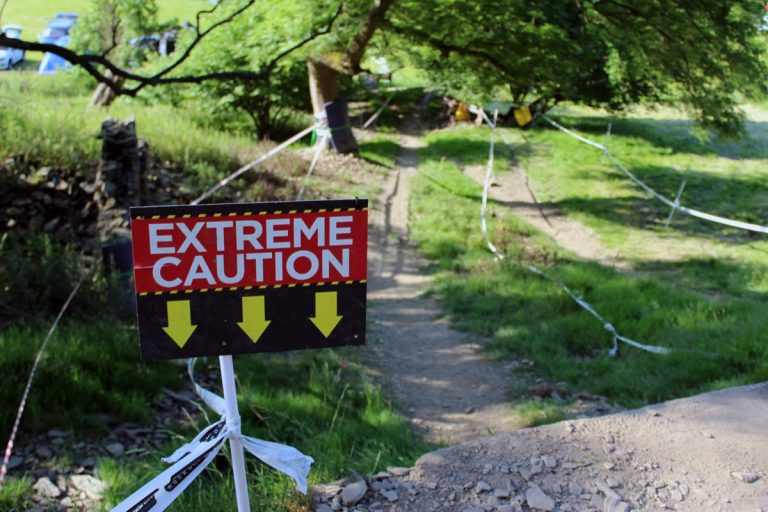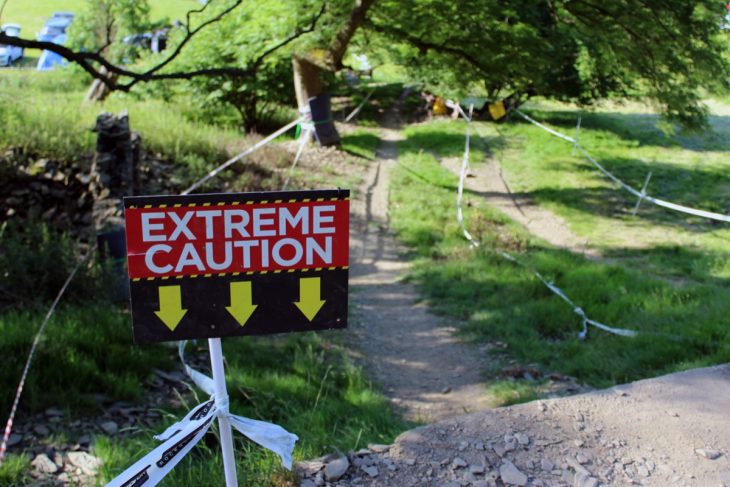 We manage to get a couple of practice runs in before it's time to go racing. It's a 'best of two runs' race and the strategy is always the same: put a safe one in first and then go for it on the second run. Somewhere between the start line and the first jump that strategy goes out of the window though and I appear to be going for it. There's a big mistake on the third jump at the top and then a ledge I'd been using all weekend to put my front wheel on at the top of a drop has completely disappeared. I don't spot that until it's too late and my chest is saying "well hello" to an L shaped root several feet below though. This is the first time I've ever raced without a chest protector and well, you'll see in the photos.
The marshal asks if I'm OK?
"Don't red flag it" I scream back knowing that Mark and Co are behind me and the last thing anyone wants is a re-run. We could be here until Tuesday. I cross the line with a 2:50 but surprisingly I'm not last. Jay Ellis has had a big one, someone else hasn't got a time at all and there's someone slower anyway. Cocky's gone off the infamous three drops with only three quarters of a back wheel after a stone got jammed between the wheel and the frame; Dave Ingelby's put one in but he isn't really feeling it after a big crash on his last practice run so he's going home, the Hightower's done it's bit; Mark's in first and Jason's snuck into 9th with a 2:32. It's absolute carnage.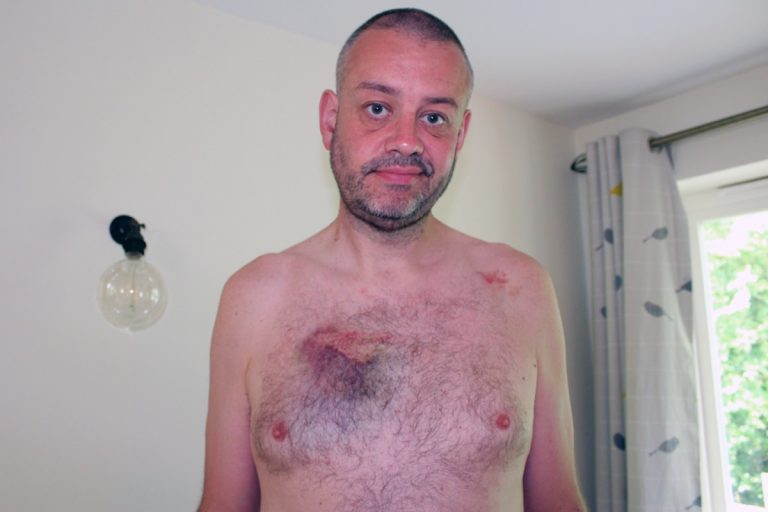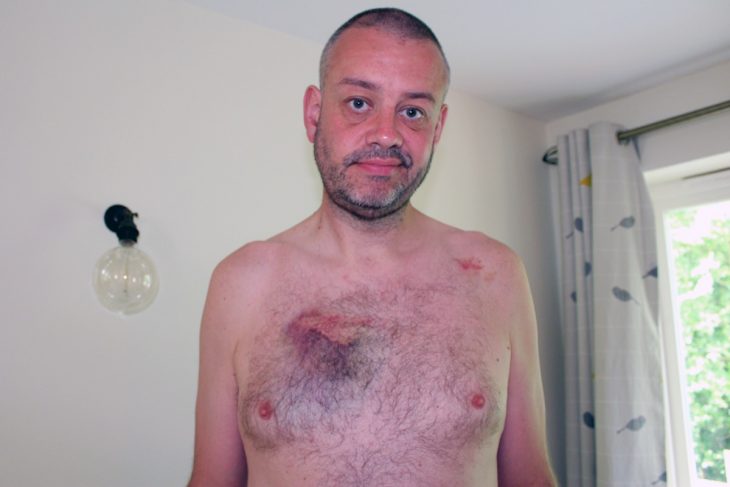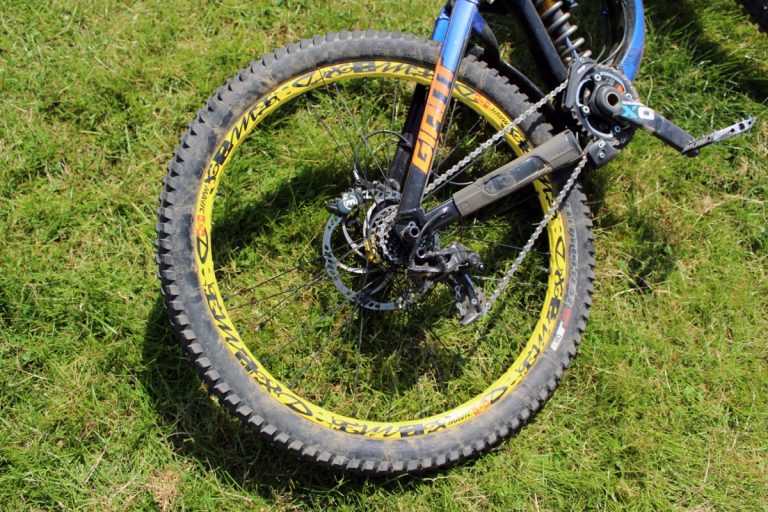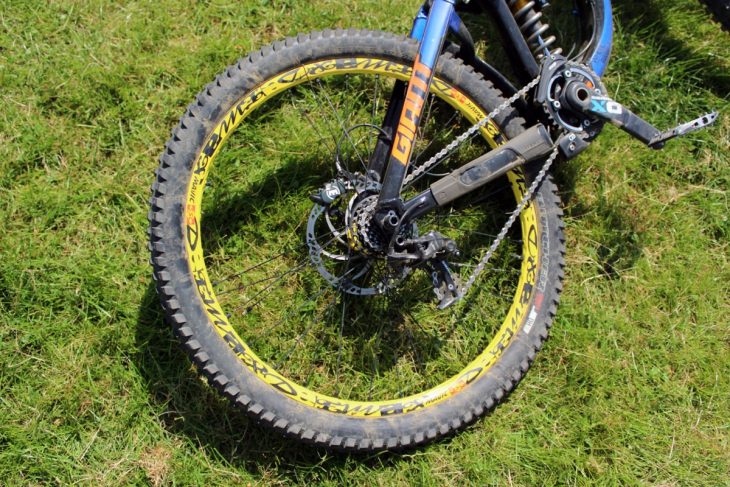 Binnsy thought he'd done a good one but a 2:37 only puts him in 6th in the Grand Vets so he's not happy. He's going for it on the second run. I'm going to have to be conservative to get a time. In between practice and race runs I'm taking photos and changing the wheel on the van (to be fair Binnsy did most of this but he used to be a car mechanic, so it's only right) but by the time we get to second race runs it's all sorted so I'm pretty calm. Steady as she goes I put in a 2:37 which puts me in 11th, one place behind Jason. Mark takes the win, Matt Dean has a stormer to finish second, five seconds back with Andy Williamson in third.
In the Grand Vets Binnsy goes seven seconds quicker with a 2:30 which puts him up to 5th. Rich Simpson takes the win with Joe Killner in second and Matthew Patrickson in third.
Fastest time of the day went to Berty Smith who was just .72 over two minutes. The top eight in a strong Expert category would have then slotted in behind him if they were in Elite with Kyle Hall taking the win from Josh Gleave in second and Jay Teague in third.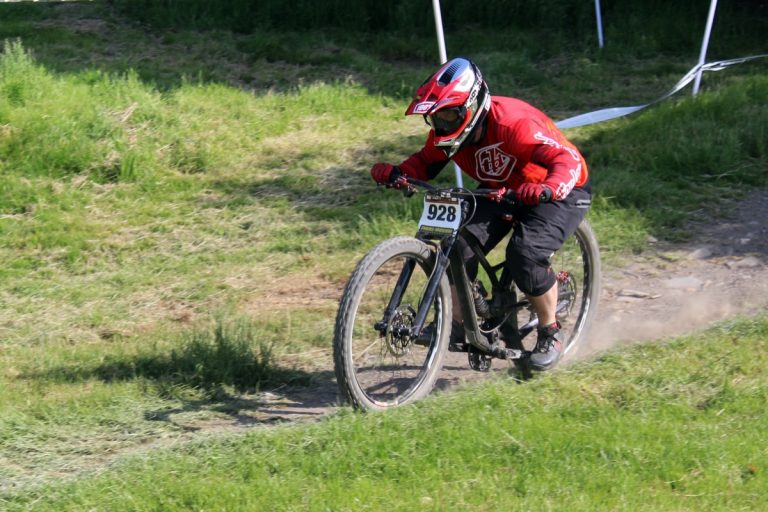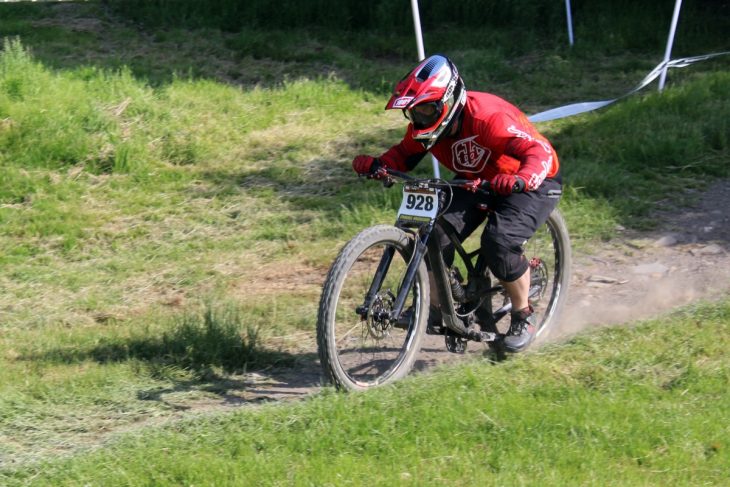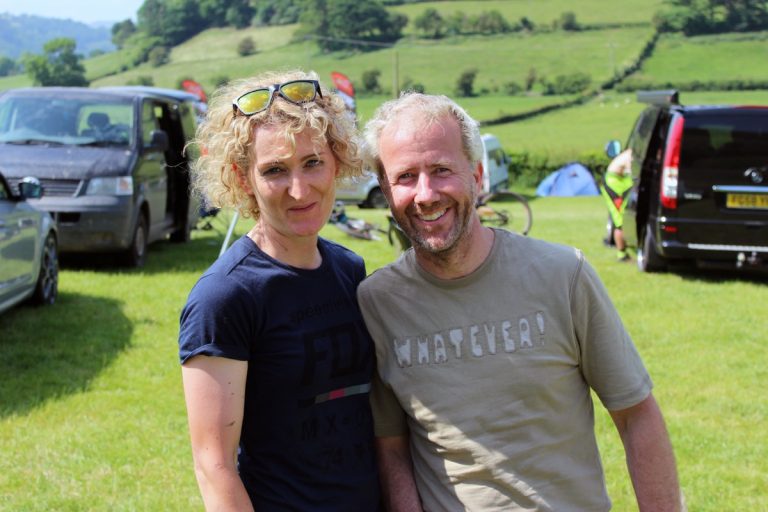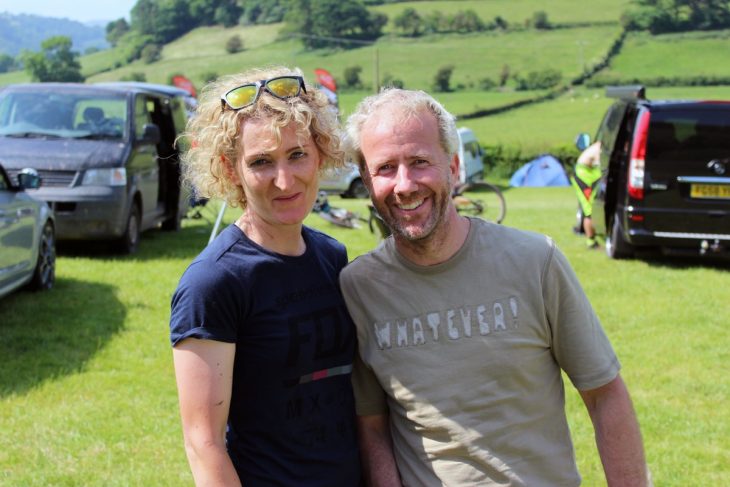 Shout out to Harvey Mosely who won Juvenile by over five seconds, Harry Barrett who won Youth with a 2:05 and Damon Jones who won Senior by the same margin with a 2:04.
Aside from the disastrous start I had an amazing weekend. Despite the issues the Gravity Events team faced I still got seven runs in on Saturday and four on Sunday which is perfect. I don't think I've ever done more than that at Llangollen on a race weekend. With the tractor and trailer uplift for riders and bikes being kyboshed by the council they need to test new solutions and "coaches are not the answer" farmer Martin tells me on Sunday afternoon. The next round of the Gravity Series is on home soil for Malc and his team at Caersws on 18th and 19th August. I know the uplift will be great, and the track will be fantastic, so as long as the timing plays ball it will be a great weekend. If you're new to DH this is the perfect series to start with and Caersws is a fun track.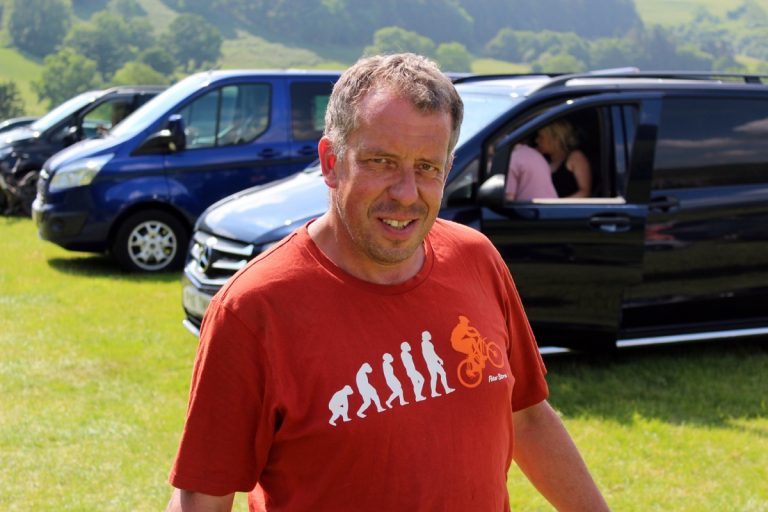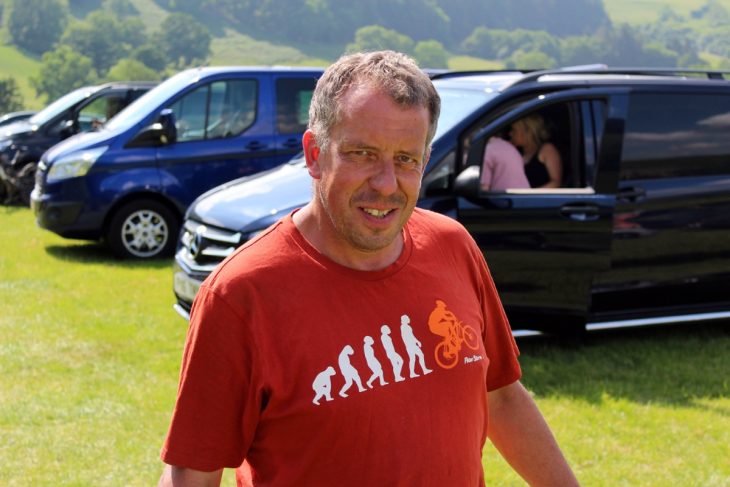 Right, I think that's it. I best get on to the council about some fly tipping. Big shout out to #makingupthenumbers team rider Sean Butler who placed 17/64 in the E2 40-49 category at Tweedlove this weekend. Hopefully we can get him along to a DH race later in the season. We'll be back in a fortnight with a report from the Pearce Round at Bala with a new team member, but who will it be?
Don't forget to follow @makingupthenumbersracing on Instagram for additional content. Thanks to all our sponsors: Singletrack, Revolution Bike Park, Geometron Bikes, Sick Bicycles and WeRide for helping us out this season.
*it's not
---