If you're an e-bike user, or you're thinking of getting one, you might soon need an expensive insurance policy to ride it legally. That's because the European Commission (EC) has proposed updated laws which will require users of e-bikes to have the same level of insurance cover as motor vehicles.
The Motor Insurance Directive is designed to make sure that victims of road traffic collisions get the highest possible level of compensation across the EU. But it's sparked concerns among cycling organisations after the EC issued a statement yesterday, including a paragraph which clarified that e-bikes – even road-legal pedelecs – are categorised as motor vehicles, and need to be treated as such for insurance purposes.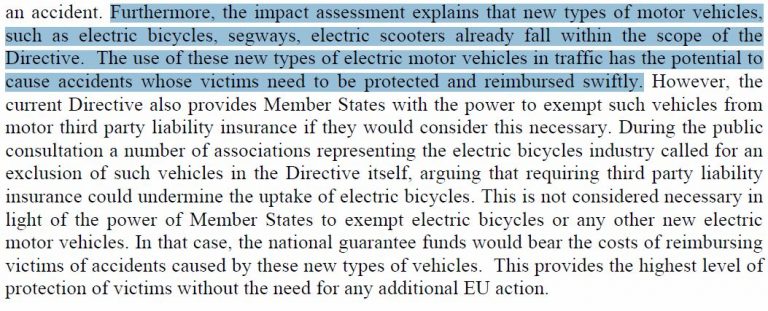 The prospect of the UK leaving the EU is unlikely to make any difference, given that all the EC's laws will still apply here during a transition period (expected to last until the end of 2020, and possibly much longer). However there's the option for individual states to exempt e-bikes from having insurance, which might be an option here in the UK – as long as civil servants and MPs aren't too busy getting ready for Brexit.
The proposal has already been strongly opposed by cycling organisations. The European Cyclists' Federation (which is, somewhat ironically, an EU-funded organisation) has already replied to the proposals with a position statement, which points out that e-bikes are treated differently to motor vehicles under licencing and type approval regulations, and raises concerns that more regulation will suppress e-bike use. While the e-bikes we feature on these pages might not be someone's daily transport, a huge number of them are. One recent study found a third of e-bike users bought them with the aim of replacing car trips.  The news will also come as a blow to the bike industry in general. E-bikes are a huge growth area, particularly in countries like Germany, where one in five new bikes sold last year was an e-bike.
It also appears that e-MTBs won't be excluded from the updated legislation, even if they're exclusively used off-road, as the Directive will apply "irrespective of the terrain on which the vehicle is used". E-bikes are starting to get greater acceptance on the trails, and the International Mountain Biking Association (IMBA) recently changed its stance to support their use, following a field study which found that "Soil displacement and tread disturbance from Class 1 eMTBs and traditional mountain bikes were not significantly different, and both were much less than those associated with a gasoline-powered motorcycle".
We've previously reported on the unfortunate situation in Northern Ireland, where a combination of political deadlock and legislative oversight mean you actually need a motorbike licence to ride an e-bike. Could the same thing happen here? A UK government consultation on the proposals sadly slipped under the radar of our cycling organisations, and closed last month, but you can still contact your MEPs and ask them to lobby to exclude e-bikes from the legislation.
---