I pushed the button on the parts required to build up a Kinesis FF29 yesterday, so I thought I'd start a thread to post my impressions of the bike. So far all I've got is the frame and some Hope X2 brakes (ordered from Winstanleys yesterday morning and arrived this lunchtime).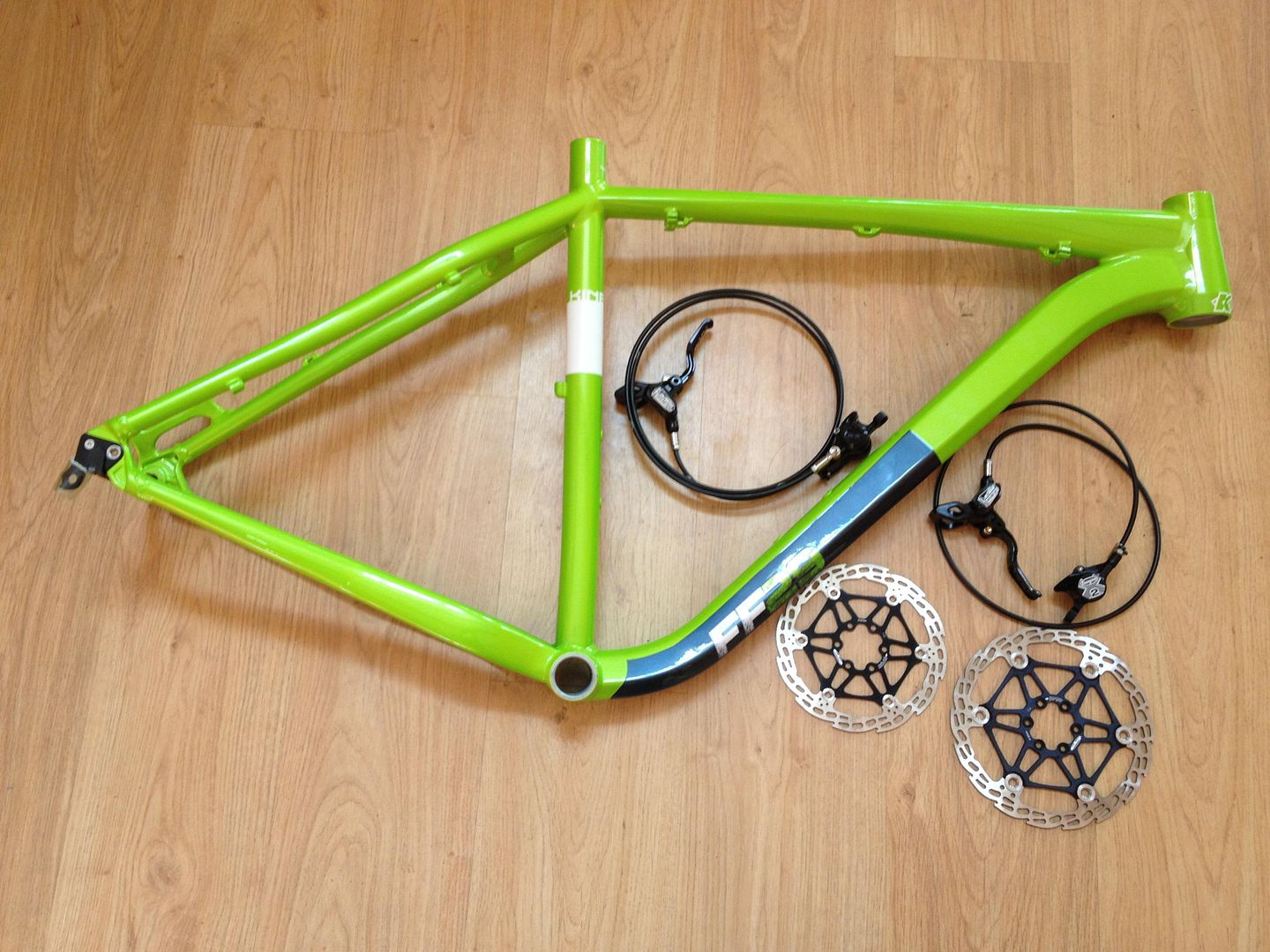 So, while I wait for the rest to arrive, a bit of background on why I chose this bike.
After 15 odd years of pure road riding I got back into riding off-road last year and went from my 20 year old fully rigid steel Rockhopper straight to a Trance full suss. So, apart from a couple of test rides I've never spent any real time on a hardtail and I thought I should rectify that.
I'm also down to do the Corrieyairack challenge in a few weeks (a 14 mile off-road ride followed by a 38 mile road ride, all to be done on the same bike). Even with high pressure slick tyres the Trance is a pain on the road and even with big fat knobblies the Rockhopper is still a bit scary on rocky descents. While I couldn't justify getting a hardtail just for this event (the Rockhopper would be fine really), since I wanted to get one anyway it was a good excuse to get one now
Finally, I'm 29er curious. I had a four-day demo on an Orange Gyro, which I really liked. But there were still a few things that bothered me about it. It was hard work up long slow draggy climbs. Was that just the heavy wheels/tyres, or are all 29ers just like that. Then there was the issue of moving it round (wheelies, manuals etc). The Gyro felt fine, but I'm still very much a learner off-road and everyone says that 29ers are harder to move around in technical situations. Would that start to annoy me after a while?
So, I figured that a Trail/XC 29er hardtail would be a fun thing to try. Especially if I could get one where all the parts could be moved onto a modern full suss 29er (maybe even a longer travel one) in future.
So, I decided to build it around the Rockshox Rev RCT3 dual air forks that CRC are still knocking out at half-price. They will run at anywhere from 120-140mm travel, so are nice and versatile for any future options. That meant I needed a 29er hardtail frame that would take a 120mm fork, but still be a decent XC machine and the FF29 seemed to fit the bill. Plus, I've quite liked Kinesis frames ever since I first saw their T2 winter training frame, many years ago now, but I'd never owned one.
First impressions are quite positive. It's a fun colour (a big factor in my book), seems to be well put together and the use of a mixture of black and white decals means that it should look OK with black or white forks.
Just a couple of minor concerns. This is the first frame I've owned where the headset bearings just push (fairly easily by the look of it) into the frame and it still seems like a dumb idea to me. There are also no dedicated cable guides for a dropper. Both gear cables and the rear brake run under the top tube though, so it should be easy enough to run the cable for my GD Turbo post under there too with some zip ties.