It's p***ing down outside so I thought I'd start another LED light thread
Just got myself one of the single LED Fluxient XM-L2 light kits from Bike Lights UK. £70 delivered with 4400mAh battery. Claimed output is 1000 lumens.
I wanted something with a decent log distance throw to compliment a twin U2 on the bars. I also wanted something reliable, with a decent battery and charger to use alongside the cheap chinese ones I've been messing about with.
As soon as it arrived it was obvious that this is a quality product.
Very nicely packaged: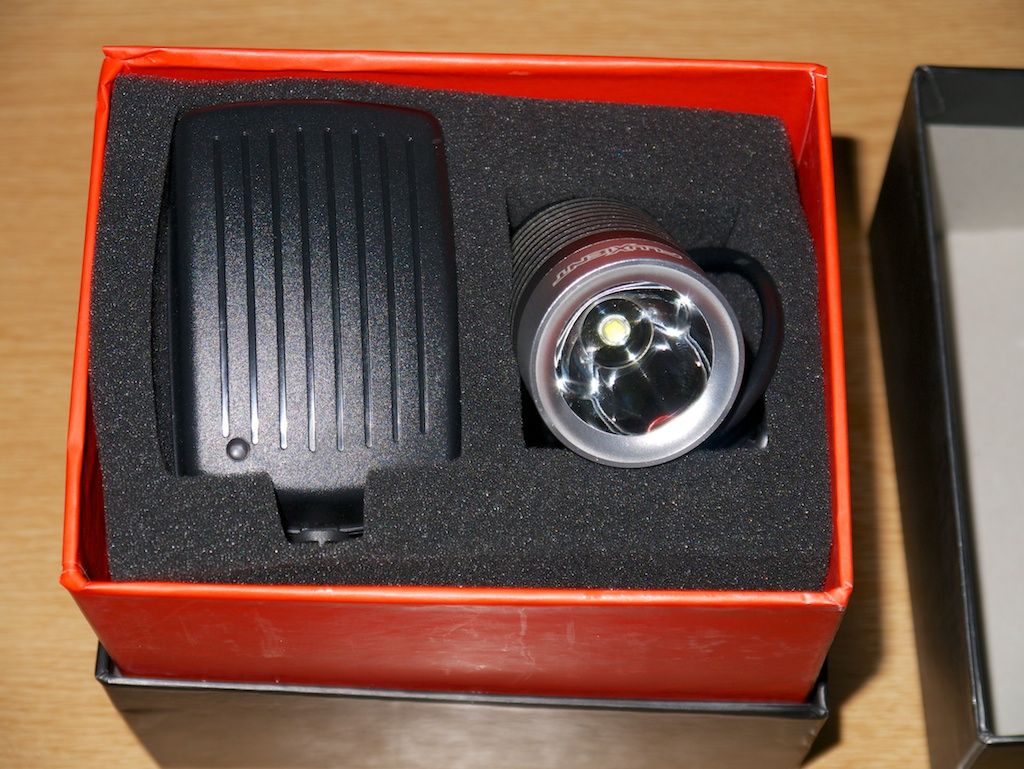 Comes with fully waterproof 4400mAh battery pack, extension cable, charger, a couple of rubber attachment rings, head strap and even a little bag to store it all in: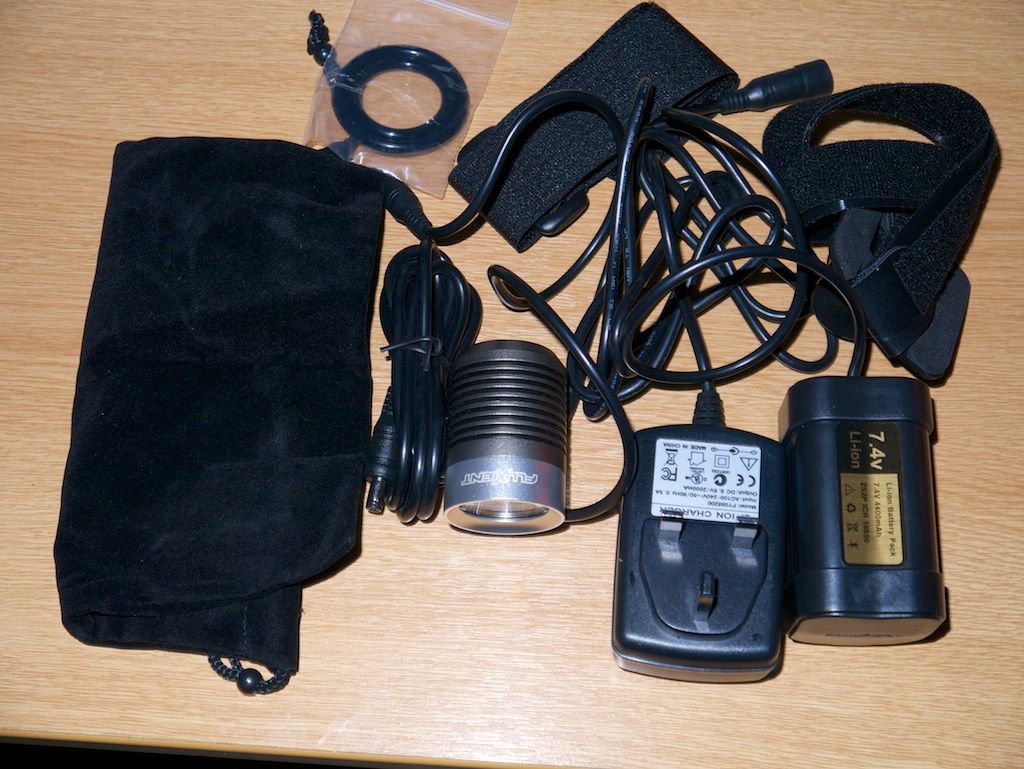 Size comparison with old XML-T6 head unit:

Mounted and ready to go:

The first thing I did was connect it unto my meter and measure the current drain to get an idea of run time I can expect. It's pulling around 1.4 Amp on full, which is about 50% more than the single T6. It should be good for about 2 hours on my little 2 cell 3.2Ah homemade battery, or nearly 3 hours with the supplied pack.
The build quality is excellent - well finished with deep cooling fins on the body. Running it on full power indoors it gets warm, but not to the same extent as the T6 and nothing like the SS-X2. Powering down due to overheating shouldn't be a problem in normal use.
Out on the trail this thing throws out a serious amount of light for a single LED unit. It's definitely a mid to long throw spot - for looking down the trail to choose a line it's great. For fast descents where you're more concerned about what's in the mid distance rather then what's directly in front of your wheel it's great. For slower stuff you might need a bar mounted flood to fill in in the near distance with a bit more light.
I found I just left it on full most of the time and just switched on the X2 as needed, rather than the other way around.
This is advertised as being designed for fast road use, or as a compliment to a bar mounted light for MTB use, which I reckon is pretty accurate.
Definitely recommended, and definitely worth the price premium over the chinese stuff. If you're looking at getting one of the cheap chinese units and buying a decent quality battery and charger to go with it I'd say don't bother. Just get yourself one of these or the 4xR5 version instead.
I'll try and get some beam shots up at some point, but there are some on Torchy's website.