Fire up the pitchforks.
I spotted this doing the rounds.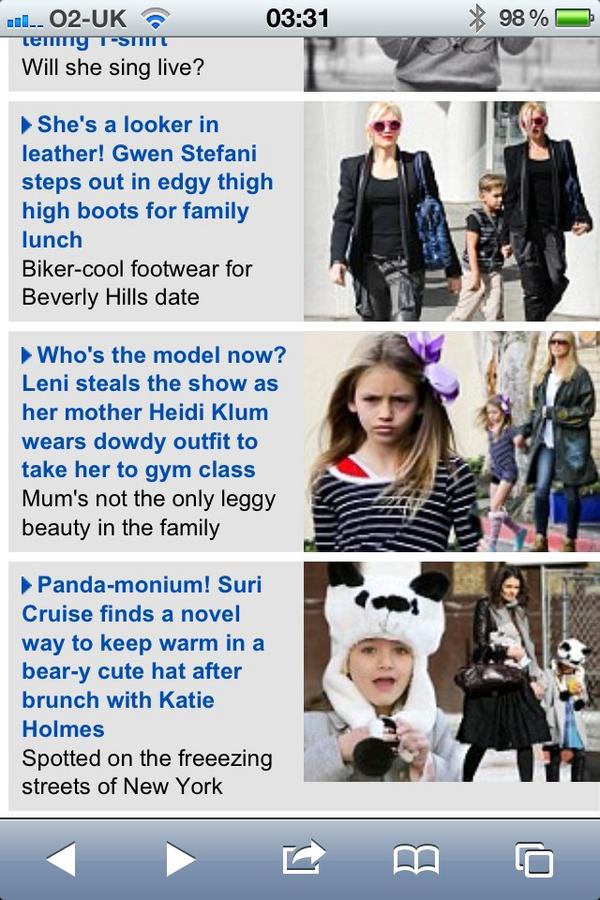 Wasn't sure of it's validity so I dug back to find the original article, which is here. If you don't want to feed the DM's links, it's basically a typical tabloid photo-heavy "celebrity ventures outside with family" non-story. Pictured is Heidi Klum, her boyfriend, and her two kids (8 and 3).
The crux of the story seems to revolve around how Heidi's clothes are "dowdy" (because she's dressed to pick her kids up from class rather than to strut down a catwalk) and devotes paragraphs to what the kids are wearing. A typical photo caption reads: "All eyes on me: The eight-year-old showed off her best model walk through the parking lot."
The icing on the cake though is the tagline in the article's advert. "Mum's not the only leggy beauty in the family." This text doesn't seem to appear in the main article but, helpfully, the DM are still advertising the article in their sidebar exactly as it appears in the picture above. Ie, it's genuine.
They'll no doubt be running a story tomorrow about how outraged they are about Jimmy Savile.