Little known fact, FGF fans. The words of this little post are often spewed into the sprawling cloud of the world wide web in the dark hours… late at night or early in the morning. While the majority of you are tucked up in bed, dreaming of 'cross podiums and perfect trails, or simply counting Mint Sauces we are up with just the radio to keep us company.
Our all time favourite aural background to our frenzied keyboard punching is the Shipping Forecast. Broadcast on BBC Radio 4 on behalf of the Coastguard and Maritime Agency, its gentle repetitive lullabies are perfect for typing to. Incredibly, it hit 150 years old this week, making it the longest running weather forecast anywhere in the world. Happy Birthday Shipping Forecast.
To celebrate, lets have a bit of a bit of Public Service Broadcasting to kick off the Fresh Grit Friday festivities…

Sad times, though readers. FGF is back to being a solo affair this week. Our American correspondent, Karen hasn't been seen since the eclipse. We are just hoping she didn't do a Donald Trump and stare directly into the sun.

So, it is left to just Tom (and our trusty butler, Dugast) to deliver the sweet, sweet goods this week, all from the grit.cx underground lair.
Hope RX4 Brake Calipers and Road Rotors

Hope Technology has been doing hydraulic disc brakes for bikes for as long as anyone else. If you wanted its products for anything other than flat bars though, you were in a bit of a pickle until recently. Sure, the V-Twin converted drop-bar cable braking to hydraulic calipers, but as full hydraulic units have become more commonly spec'd it seemed to leave Hope out in the cold. The RX4 calipers correct that. Available in Shimano and SRAM compatible units, they are intended to replace the business end of the stock brakes. The calipers have a four piston design, and according to Hope, the monobloc design creates a stiffer caliper reducing the fuzzy lever feel and brake pad rub. So there. The brakes are also available in post and flat mount options. Our test set are flat mount, SRAM replacements.


It seemed rude not to pair the RX4s with some shiny new rotors from the Lancastrian engineers. The Road Rotor has the same floating design as their other rotors, but comes with a rounded inner and outer edge. Designed to keep the pro-peloton safe, we can imagine it could be a bonus for 'cross as well.

Hope 20Five Pro4 Wheelset

"Rounding out" (get it?) our current threesome of wheelsets to test is this offering from Hope. After the shiny goodness of carbon and the out-there design of the Crank Brothers wheelset, it's quite nice to see a good old fashioned 32 j-bended spoked wheelset. These come with Hope's Pro4 hubs and own 20Five rims. Once again, keep your eyes peeled for a full first look.

Storck T.I.X Platinum G1

This Is Xross. Hang on, This is Cross. Storck is a German brand, headed by Markus Storck. It specialises in high-end carbon and invests hours into perfecting the lay-up process to maximise stiffness and comfort. We'll let Storck explain:
Directional dependant stiffness is the ability of a frame or component to optimally respond with high stiffness to the forces acting in the load direction while ensuring high comfort. In other words, it is the synergy between intended stiffness and desired comfort. In the case of frames, this is achieved by designing transverse-oval tube shapes, the targeted selection of materials (e.g. carbon fibres) and their application (e.g. special layups for carbon fibre reinforced plastics).
That's much clearer now, isn't it? No? Well in basic terms, a bit of flex up-and-down is a good thing and makes a bike more comfortable. Ideally, a bike should resist the twisting forces of pedalling, braking and riding. Think we are ready to be let loose in Storck's laboratories.


The This is Cross is, unsurprisingly, Storck's cyclocross frame. It comes in three grades of carbon and one aluminium model. The Platinum G1 is the top-of-the-range carbon model (as you would hope for nigh on £3000 for a frameset). There is tonnes and tonnes to talk about this bike, so we'll save that for a first look post. Suffice to say, Tech Ed Tom is absolutely gutted that this 59cm test bike is just a little bit too big for him.

Ribble Nuovo Clothing

Many readers will be familiar with Ribble Cycles. With a large online presence supplementing their bricks and mortar shop in the North West, it's probably bookmarked in many a bargain hunter's 'favourites' folder. Who knew that Ribble also has its own line of clothing though? Well, until now, not us. Fortunately our ignorance has been corrected with this bundle of smart looking 'Nuovo' kit. Ribble has sent us a pair of bib shorts, short-sleeve jersey and a long-sleeve light softshell affair (yes, it's like a Castelli Gabba, but not a Gabba). The cut of all the items leans towards 'race fit'  and on first wear it feels more expensive than its mid-range price. Fingers crossed the Nuovo softshell won't get a wear for a few weeks yet, but we aren't holding our breath.

Hiplok Z-lok

Leaving your bike unattended for any length of time? You'll want a lock, and in most cases want a Sold Secure Gold-rated one to keep the thieves at bay. The downside to a hefty D-lock is, of course, its weight. It's not an ideal choice for taking on a typical weekend ride that might involve a cafe stop or quick dive into a shop for 'supplies'/bonk-prevention measures. The Hiplok Z-lok is a lightweight solution for when you will only be away from the bike for a minute in a fairly safe area, or it is still in sight, or maybe to bolster a sturdier lock. Perhaps it is best not to think of it as a not-very-strong lock, but rather better than using nothing. As the name suggests, the Z-lok is based on an oversized zip tie, with a metal core. A small two-pronged key releases the zip-tie mechanism. Each pack comes with two Z-loks and they come in a variety of colours.
Tom's week night pub ride high intensity training session finishes at a local pub with railings outside that are overlooked by big windows. We reckon the Ziplock is perfect for a jersey pocket in those kind of circumstances. Only one thing for it… to the pub.
Wahoo Elemnt Mini and accessories

Remember before the days of GPS? A bike computer would tell us our speed, distance and a few other stats. The geekier amongst us might write down those stats in a ride journal or spreadsheet. Changing the battery in the bike computer might be something that was done on an annual basis, rather than charging every other ride.
At its heart, this is what the Elemnt Mini does. The tiny computer comes with a Wahoo RPM Speed Sensor, which will attach anywhere on the bike with silicone straps. Gone are the days of fitting magnets to forks and wheels. Should you wish, the Mini will do nothing more than feed out those basic stats. It will also pair to a Wahoo heart rate monitor and cadence sensor.


What sets it apart, however, is the ability to also pair with a smartphone, via the Wahoo Fitness app. As well as allowing some tailoring of the Mini screen, it also turns the diminutive bike computer into a pseudo GPS. It is possible to leave the Speed Sensor of the bike now if you wish, and as well as the usual ride tracking (and uploading to Strava etc), the app will also beam text and call notifications to the device should you wish.
To get full use out of the Elemnt Mini's functions, Wahoo has also sent us a heart rate monitor and cadence sensor. The TICKRx is Wahoo's full featured heart rate monitor, providing heart rate zone training analytics and additional running analytics should you like that type of thing. A simpler version, the TICKR is available for £39.99. Meanwhile, the RPM Cadence sensor does what the name suggests. It comes with a crank mount and a shoe mount.
All this talk of cadence and heart rate is great, but, for now? It's Friday. Friday means #drinkbeeratyourdesk. Friday means pizza. Have a greater 3-dayer, y'all.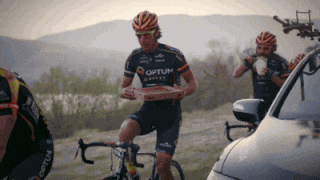 Grit out x