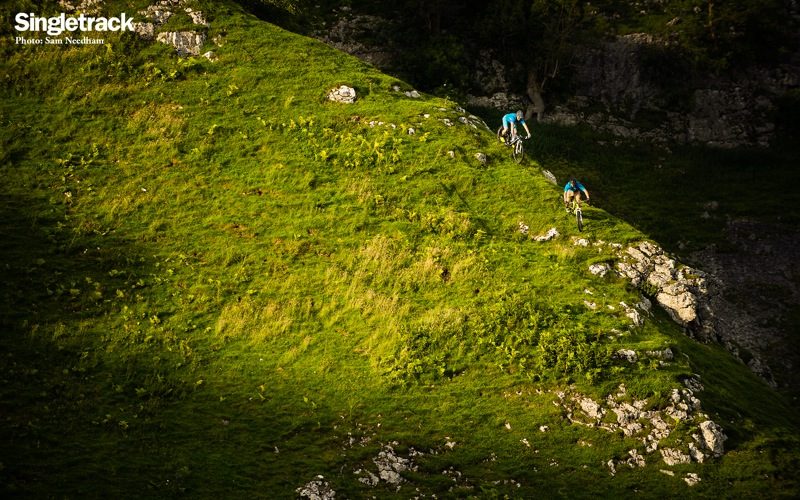 Version
Download
File Size

2.33 MB

File Count
Create Date

September 7, 2012

Last Updated

June 7, 2018
Singletrack Issue 76 ePub
Here's what's in issue 76 of Singletrack Magazine:
Cover:
"Despite the Yorkshire Dales being on my doorstep, I have rarely spun two wheels over its rolling, limestone-scattered hillocks. So in light of Yorkshire (I mean Team GB's) success at the London Olympics and the prospect of Yorkshire turning yellow for a future Tour stage, Jon Hopkinson, Sam Flannigan and myself took to the Dales on a mission of discovery. You may note that this photo proves a few old wives tales wrong. One, that the UK has got some sunshine in 2012; two, that XC racer Jon Hopkinson isn't allergic to baggy cycling attire and three, that the Yorkshire Dales is a great place to turn a wheel or two over."
Photo by Sam Needham.
"Like this bike, our editor Chipps is race-proven. He's done his fair amount of competitions over the years but he'd not done anything quite like the No Fuss Endurance Downhill. Six hours of descending the Fort William World Cup track is a real test for any rider or bike's stamina. Orange loaned him some Halifax metal to test his mettle on and Sweet Protection kitted him out with a body's worth of padding; so, with no excuses left, it was all down to him..."
Photo by Sim.
Contents.
9/ Editorial: The Trying Hard Club.
Chipps went to London and came back with ideas.
10/ UK Riding: Quantocks All-In.
What makes a hard ride even harder? Simple – getting an Olympian to guide you. Benji and Oli Beckingsale go south-west.
20/ Steve Worland: Hanging Up The Wheels.
Don't panic – he doesn't mean it like that…
22/ Stat Of The Art: Pie Or Cake?
…or both? The readers of Singletrackworld.com decide.
24/ Column: Why I Love My Bike.
Alec Connon is really quite fond of his two-wheeled travel machine.
26/ Jewel Of The Isle: Tyndrum.
The Green Welly Stop and the Real Food Café duke it out for Tom Hill's affections.
30/ Bike Tech Corner: Are Coil Springs Dead?
We ask some of the industry for their opinions.
36/ International Travel: Tenquille Lake.
Reuben Krabbe is packing up and shipping out.
48/ UK Adventure: Fort Bill Endurance Downhill.
Chipps isn't a downhiller, but he dressed up as one anyway.
62/ Classic Ride: The South Downs Way.
David Arthur and friends kick back on the South Downs.
74/ The Big Feature: Trail Centres.
Love 'em or hate 'em, they're here to stay. Jenn takes a closer look at why you should try hard to come down on the side of love…

86/ A Question Of Fitness.
Dr. Jon and Ali Mills cover sore shoulders and wheezy lungs.
92/ We Work Here: Alpkit.
Jenn talks bikepacking, cheap kit and British manufacturing with the Notts. gear purveyors.
102/ Bike Test: Brit Bikes.
Benji takes a look at what makes bikes designed by Brits special. Cotic, Nukeproof and Orange fight it out.
Nukeproof Mega AM Comp
Orange Gyro Pro
Cotic Rocket
112/ Through The Grinder.
We've been at it with the grit and the spanners again.
Fox D.O.S.S. seatpost
Continental Revo Tyre Sealant
Fox Sergeant Baggy Shorts
Sweet Protection Bearsuit knee and elbow pads.
Kali Chakra Plus Helmet
Hope Race EVO X2 brakes
Fox Factory Float CTD Boost Valve rear shock
Howies Vail merino t-shirt
Knog Blinder 4V Pulse USB-charged rear light
Bontrager Specter XR helmet
DHB Aeron Pro V2 bib shorts
POC Joint VPD 2.0 knee and elbow pads
Dark Star Espresso beer
Gore Bike Wear Xenon GT AS short sleeve jacket
126/ Grinder Bike: Salsa Horsethief.
Burly, big-wheel niceness from the purveyors of the pepper.
130/ Grouptest: Trail Packs.
Chipps has a go at riding with eleven trail packs. Not all at once though, that would be silly.
Camelbak MULE NV
Camelbak L.U.X.E.
Crank Bros Descender
Dakine Apex
Dakine Drafter
Deuter Cross Bike 18
Evoc CC16L
Fox Oasis
Geigerrig Rig 700
Hydrapak Laguna
Osprey Zealot 10
140/ Premier Club.
Proud owner of a Singletrack Premier Card? This is what it gets you. Not got a Premier Card yet? Find out how to get one!
146/ We Just Work Here.
Who does what, how to get in touch, what helped this issue on its way and who we'd like to thank.
Subscribers also get the Singletrack Shimano Classic Weekender supplement, which comes included with the PageFlip and PDF editions.
Not got your subscription yet and worried you're going to miss out?
If you'd like a print subscription then get yourself over to singletrackworld.com/subscribe to make sure that Singletrack lands in a timely fashion on your doormap eight times a year. Your sub will start from issue 77, so if you want a print copy of 76 please visit your local Premier Dealer or our online shop.
If you'd like a digital subscription which gives you access to all 76 issues in the MagArchive as well as exclusive Premier content on singletrackworld.com, then there's no time limit – the wonder of the internet is that it's all there as soon as we've activated your subscriber number and digital subs start from just £2 a month.
Singletrack Full Membership
Join us
If you like what we do - if you like our independence then the best way to support us is by joining us. Every penny of your membership goes back into Singletrack to pay the bills and the wages of the people who work here. No shareholders to pay, just the people who create the content you love to read and watch.
---