In June 2018, the German direct-to-consumer giant, Canyon Bicycles, invited me out to Girona in Spain to test out the all-new Lux full suspension race bike. Featuring a full carbon fibre frame, 29in wheels, 100mm of travel, and thoroughbred race geometry, the Lux is Canyon's flagship full suspension race bike designed for World Cup XCO competition and marathon racing.
The new Lux replaces the outgoing model of the same name, which was coming up to its 5th year in production. There are the usual mod-cons you'd expect of a mountain bike in 2018. The new Lux has updated to Boost hub spacing, guided internal cable routing, and – perhaps unusually for a German brand – the frame is now 1x specific. More significantly, the Lux features a brand new carbon frameset that smashes through the 2kg barrier, along with a revised suspension platform that affords more room within the front triangle. Now you can fit two 800ml water bottles inside the Lux's frame, and that goes for all four sizes – even the Small.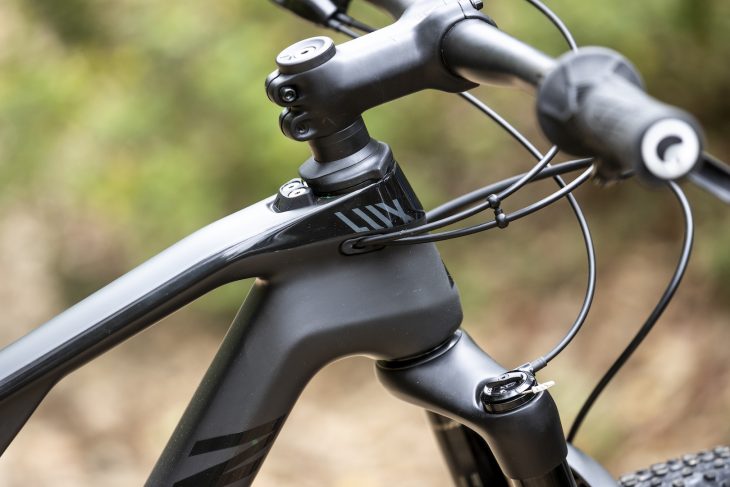 Though the German direct-to-consumer brand has only just launched the 2019 Lux to the public as of today, this is a bike that has already been raced at the highest levels of our sport, having been piloted in stealth prototype-mode by the likes of Pauline Ferrand-Prévot, Mathieu van der Poel, and Alban Lakata at various World Cup rounds and the Absa Cape Epic. That should give you a bit of an idea of what this bike's purpose in life is.
Though it may have been one of the worst-kept secrets of 2018, I was still very eager to see how all the changes to the Lux would pan out on the trail. Plus, how would a punter like me get along with the Lux's go-fast geometry and short-travel design?
2019 Canyon Lux Features
Lightweight full suspension XC race bike
Full carbon fibre mainframe & swingarm
29in wheels only, with clearance for a 2.3in rear tyre
Available in SL and SLX carbon frame options
Triple Phase suspension design
100mm rear travel
Designed for 100-110mm travel forks
70° head angle
74.5° seat angle
435mm chainstay length
1x specific frame design
PF92 bottom bracket
148x12mm rear spacing w/Quixle tool-free thru-axle
Internal cable routing
Room for two x 800ml water bottles inside the mainframe
Impact Protection Unit (IPU)
CF SLX claimed frame weight: 1662g (bare frame without shock)
Available sizes: Small, Medium, Large, & X-Large
Complete bike RRP: £2,349 – £5,499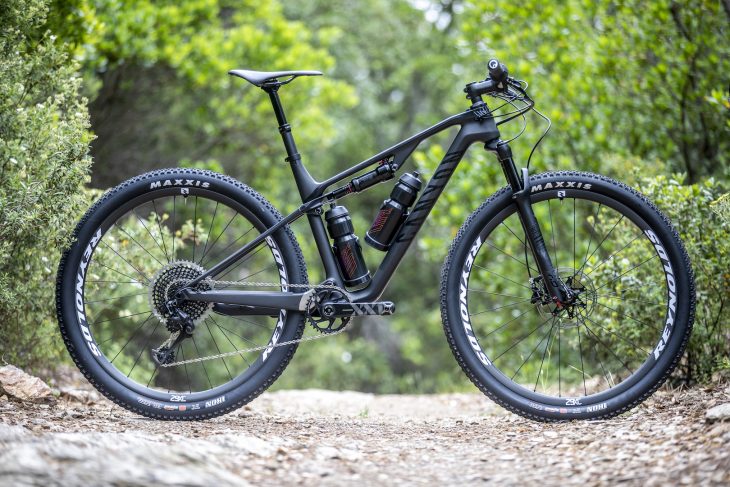 The bike that I'd be riding at the Canyon launch was the second-from-the-top Lux CF SLX 9.0 Pro Race. Fitted with a RockShox SID World Cup fork, Reynolds XC259 carbon wheels and a SRAM XX1 Eagle drivetrain, it's unashamedly top-shelf stuff.
Of note is that Canyon will be offering two different frames in the Lux platform for 2019; the SL and the SLX. Save for a small alloy link, both frames are fully carbon, with a rigid mainframe and a one-piece swingarm and carbon flex-stays. The SLX is the higher-end option of the two, with higher modulus carbon fibres employed to help lower the weight by nearly 200 grams while maintaining similar strength and stiffness characteristics. Though the frames are identical in terms of the moulds used, the SL models have slightly different geometry since they come fitted with a 110mm travel fork, compared to 100mm on the SLX models.
I won't be going into all the nitty gritty details of the new Lux frame here. If you're looking for the full tech rundown, then make sure you check out the Canyon Lux feature article, which also contains information on pricing and spec for the entire Lux range.
Otherwise read on for my first impressions of riding the new Canyon Lux.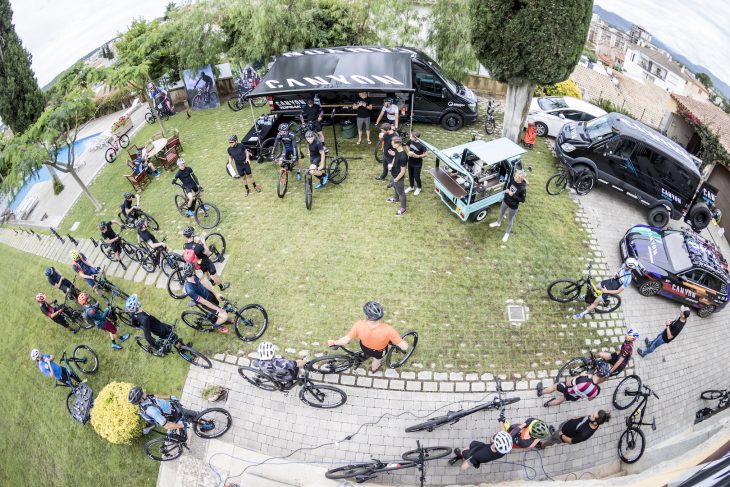 Canyon Lux – German Bike, Spanish Trails
Girona may be a cycling destination better known for its roadie culture and endless backdrop of mountainous tarmac climbs, but it's also home to a tonne of fireroads and a sprawling network of natural, rocky singletrack. The gravel scene is growing rapidly here, and with mountains stretching upwards from the city centre, there's plenty of elevation and rolling terrain for one to flex their XC muscles on too.
Canyon had chosen Girona for the Lux launch for the above reasons, but also, because Spain. It was perhaps with some irony then that almost everyone's flight into Barcelona wad delayed due to summer thunderstorms. Thankfully the storms held off for the launch though, and aside from a few puddles and a little bit of mud here and there, we managed to dodge any torrential downpours.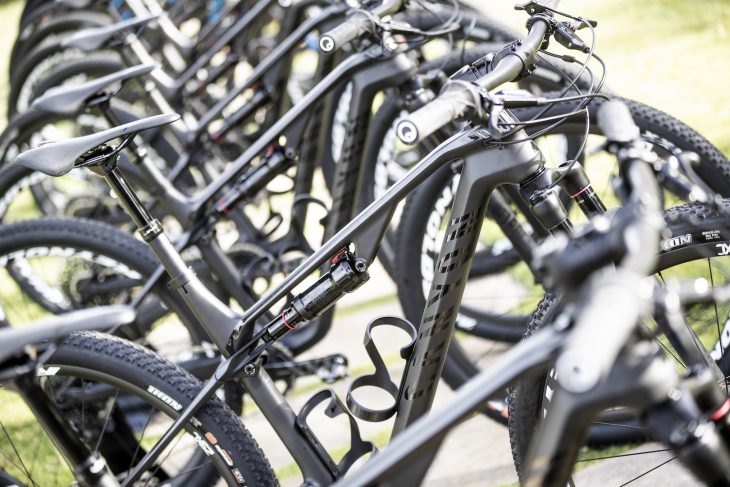 While I was looking forward to exploring the rocky terrain in the region, we were only able to squeeze in a single day of riding. This is pretty standard for most bike launches, even though I'd always prefer more than saddle time than that that. The main issue for the Lux launch though was that we had quite a large group of journalists, which resulted in a logistically challenging day on the bikes. More journos = more faffing + stop-start riding. That can be frustrating when you're trying to assess a bike's performance. At the halfway point during lunch, I hadn't felt like I'd done a whole lot of continuous descending – a lot of riders were struggling with the technicality of the trails, and we were constantly bunching up.
At the end of the group ride, we thankfully had a few hours of free time up our sleeve, so myself and Jack (my arch nemesis from a competing media outlet) went out for another spin to get some more saddle time on the bikes. By the time we rolled back in at 7pm, we'd notched up a total of 45km of riding and 1200m of vertical gain for the day. More importantly, we'd had the chance to let the bike properly loose on the descents, and I was feeling much more confident in both the bike's setup and its capabilities.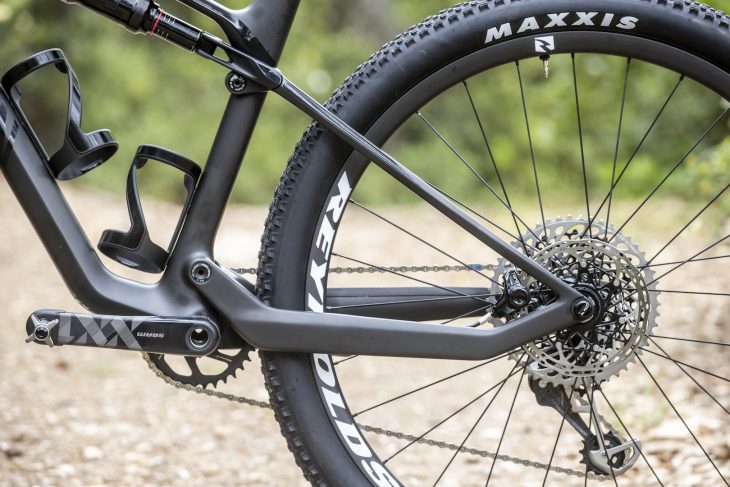 Setting Up The Canyon Lux
So there are a lot of changes to the new Lux over the old one, but one of the key differences is the revised suspension design. The Lux remains as a single pivot platform, but the rocker and vertically-mounted rear shock are gone in favour of a more compact link-driven setup that flips the rear shock up to the top tube. Aside from keeping the styling (dare I say, 'design language?') in check with the latest Spectral and Torque models, this reorientation creates a load of space inside the main frame for fitting two water bottles – a key consideration for long distance riders and marathon racers.
The suspension curve has changed dramatically too. The new Lux has more progression built into its suspension design to provide more support to the travel – particularly towards the end. Canyon has specced the new Lux with a metric-sized, 55mm stroke shock, which is quite a bit bigger than what you'll find on other XC bikes. This delivers a very low average leverage ratio of 1.81:1 (down from 1.96:1 from the old bike), the result of which is lower operating pressures, and more shock movement per mm of rear wheel travel.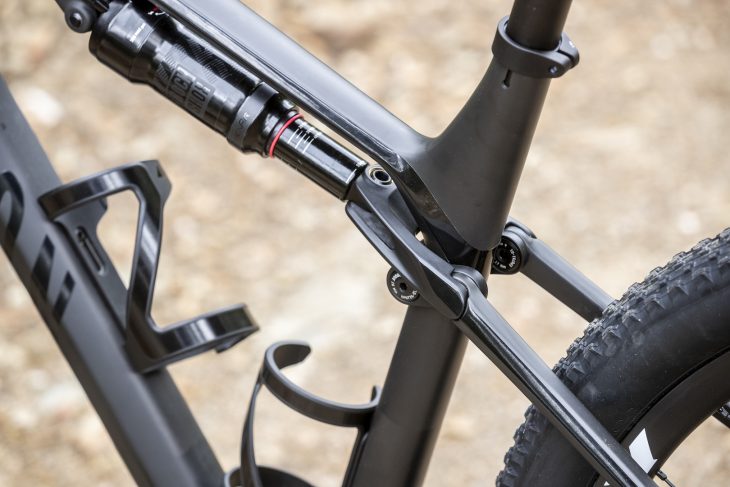 The new Lux is also designed to run more sag, with 20-25% recommended. In search of a plusher ride, I went with 25% sag, and inflated the air spring to just 110psi to support my 70kg riding weight. Canyon explained that because of the big volume shock, the designers have been able to run a lighter damping tune for the Fox and RockShox shocks being spec'd on each model. Whether it was the lighter tune or the added 'springiness' from the carbon flex-stays, I ended up running the rebound damping a touch slower than halfway. The RockShox Deluxe shock comes fitted with one of three Bottomless Tokens fitted inside the air spring, and for all intents and purposes, it felt spot-on.
As for the RockShox SID World Cup fork, I needed quite a bit more pressure than the 95psi recommended for my weight. I ended up at 115psi to sit me at 25% sag (measured stationary, while standing up on the pedals), which meant I didn't bottom-out too regularly. Turns out there were no Bottomless Tokens fitted inside the SID's air spring from the factory, so I would have liked to have tried one or two Tokens to increase progression and decrease the starting air pressure. It certainly would have added a more balanced feel with the excellent rear suspension. Rebound damping was set at the halfway mark with 13 out of 26 clicks, and to minimise brake dive and to hold the fork in its travel, I wound the low-speed compression dial six clicks in.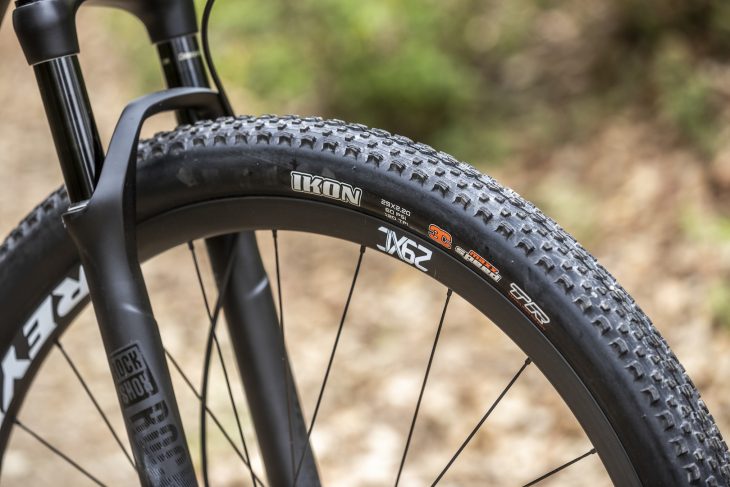 The high volume Maxxis Ikon tyres were set up tubeless on the 25mm wide (internal) Reynolds carbon rims, so I was happy dropping the pressure down to just 20psi on the front, and 23psi on the rear. Aside from setting the saddle height and tilting the nose down a smidge, I was otherwise ready to ride on the Lux. The only minor setup annoyance is the tooled reach adjustment for the SRAM Level Ultimate brakes, which require a tiny 2mm hex key placed on a really awkward angle behind the carbon lever blade to adjust the reach.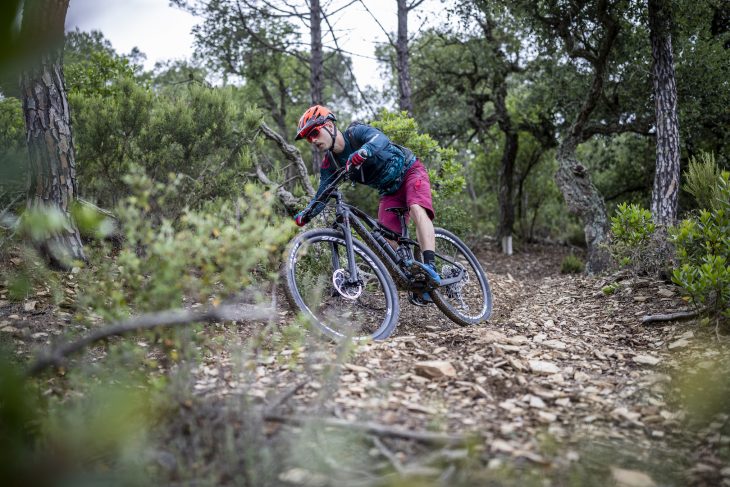 On The Trail
Enough faffing though (I wasn't the worst – honest!): how does the thing ride?
Well, as you'd expect for a sub-10kg carbon fibre full susser, it moves with the same kind of urgency as a cat that's just been dumped into a bathtub. It doesn't hang about.
Our group ride had loads of climbing to begin with, with a mixture of tarmac, meandering singletrack and steep fireroad ascents taking us out of Girona and up into the hills. The Lux put on an impressive show with its efficient suspension design and more than respectable pedalling manners. There is visible shock movement when you're pedaling, but remember that because of that low leverage ratio, you're always going to see more shock activity compared to XC bikes with smaller shocks.
The Lux comes fitted with a dual remote lockout for the RockShox fork and shock that flicks between Open and Locked settings but it doesn't need it – this bike pedals very well. Which is good, because there is a load of friction in the lockout cables, making the lever quite difficult to actuate. Racers will likely still want the fully rigid platform at the flick of a button, but I'd personally prefer to have a cleaner cockpit without the lockout cables.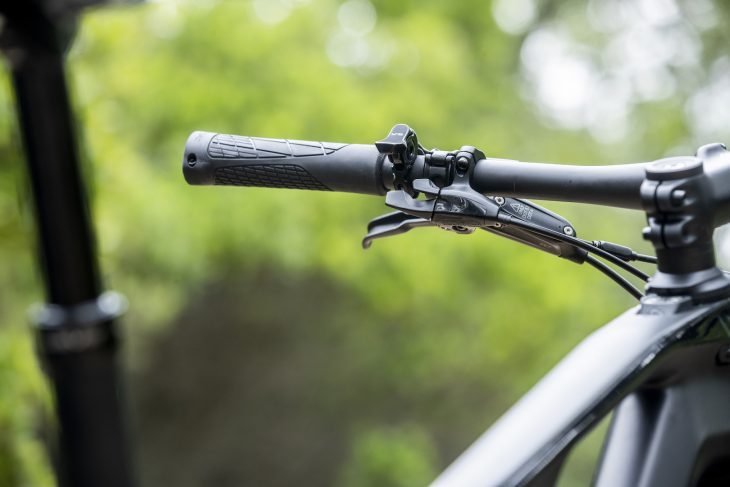 The incredibly lightweight (1380g claimed) Reynolds XC259 wheels give the Lux a considerable boost in the acceleration department, while the buzzy Industry Nine freehub mechanism produces very little lag at the pedals. Along with that stable suspension platform, the Lux is the sort of bike that encourages you to put just a little more effort in, goading you to leap out of the saddle, yank at the grips and crank the pedals as hard as you can. I can see this bike being exhausting to own – in a good way.
I'd been somewhat skeptical of Canyon's claims of "modern race geometry" during the morning's presentation on the Lux, and I'll admit that the initial sensation of jumping aboard the bike was that I'd just stepped back a few years in time. Coming from testing longer travel full sussers and trail hardtails lately, the 720mm bars felt narrow, and the 80mm stem felt long.
This is an XC whip though, and one that's designed to be comfortable on long climbs and through multi-day marathon stage races. I eventually settled into the narrow bars, which do reduce strain on your shoulders and upper back by placing your hands at a more neutral width. The stretched cockpit puts you in an excellent position for getting over the pedals to put the power down, and it all feels entirely comfortable for chugging away in a pace line.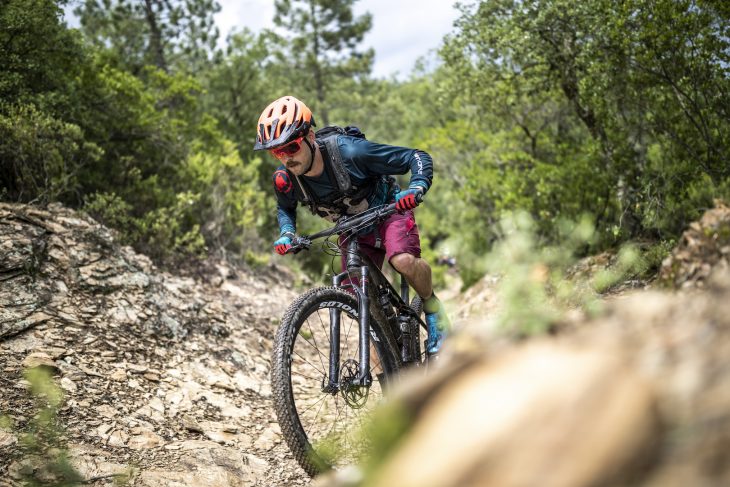 Personally though, I'd still prefer wider bars for more control on the descents. A lot of other brands are starting to spec their XC race bikes with 740-750mm wide bars, because after all, you can always cut them down. However, Canyon's other reason for not speccing wider bars is due to its direct-to-consumer model, which means that its customers aren't always going to be comfortable taking to their expensive new carbon bike with a hacksaw. The bike has to be as dialled as possible when it arrives on the doorstep of its new owner.
One thing I noted about the Lux's cockpit is that it is identical to the Exceed hardtail I tested last year. This is no coincidence. Canyon developed the Lux's geometry and fit to be as similar to the Exceed as possible, so that its World Cup athletes and marathon racers can easily swap between the two bikes.
On paper, the geometry is slightly different. The Lux has a 70° head angle, a 74.5° seat angle and a 435mm reach, whereas the Exceed is 69.5°, 74° and 425mm respectively. Once you factor in suspension sag however, the dynamic geometry of the two bikes is the same. This leads to similar handling between the two bikes, leaving fewer surprises for those who are switching between them.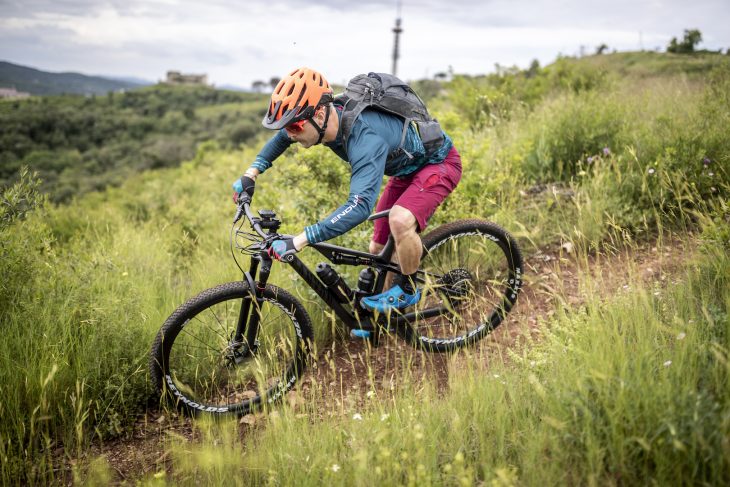 What I did find different was the Lux's speedier steering, which took a little time to track down the root cause of. Turns out the RockShox SID fork has a 51mm offset, whereas the Fox 32 Step-Cast fork on the Exceed I tested last year had a 44mm offset. The shorter offset (and therefore longer trail) was one of the aspects I really liked about the Exceed, since it calmed down the steering and gave the bike a very predictable track through banked turns and on steeper descents.
I spoke with the Canyon team about the different offset, and it turns out this is purely a spec issue. RockShox only offers a 51mm offset for the SID forks, whereas Fox offers both 51mm and 44mm offsets. That means the offset changes depending on the model you buy – if you get a Lux with a Fox fork, it'll have the shorter 44mm offset. If you get a RockShox-equipped model, it'll have a 51mm offset.
I should point out that the different isn't huge, and I'm only really able to tell that difference as I've spent considerable time on both offsets. Unless you're back-to-back testing, you're unlikely to notice it.
What you will notice on the Lux is that with its 70° head angle and stretched cockpit, the steering is razor-sharp. For the technical descents we rode, I was able to thread a very tight line in and around jagged embedded rocks, performing last-minute steering corrections on-the-fly with very little mental effort expended. The tight head angle is another reason for keeping those narrow bars. Put wide bars and a short stem on a bike with a 70° head angle, and you've got a one-way ticket to oversteerville. With the stock setup, the Lux is still twitchy, but steadier than expected.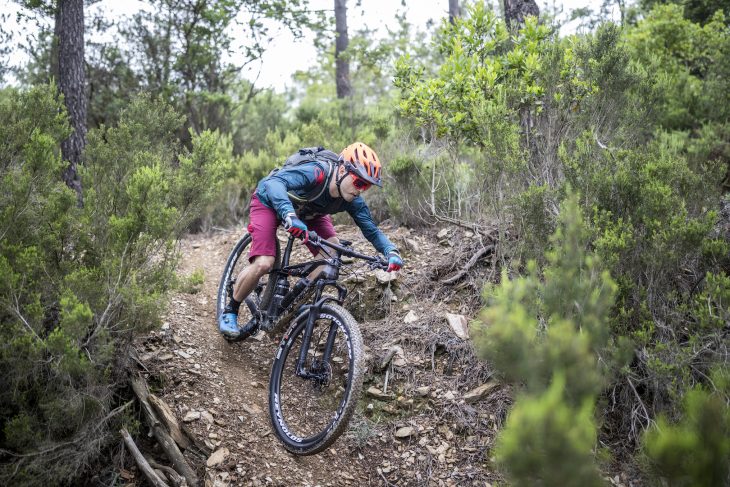 Though the geometry looks angrier than comparable XC race bikes such as the Scott Spark and Giant Anthem, the Lux is surprisingly stable at speed and on rough, rocky singletrack. This is because the rear suspension is so good. It has great sensitivity for maintaining consistent contact between the rear tyre and the trail surface, so traction is a useful performance enhancer. The supportive mid-stroke means it also doesn't blow through the travel, retaining a level-headed feel when both wheels are bouncing all over the place. Even when I chucked the bike off some bigger drops, the balanced suspension feel and taut chassis did well to keep the Lux from squirrelling about on the landings.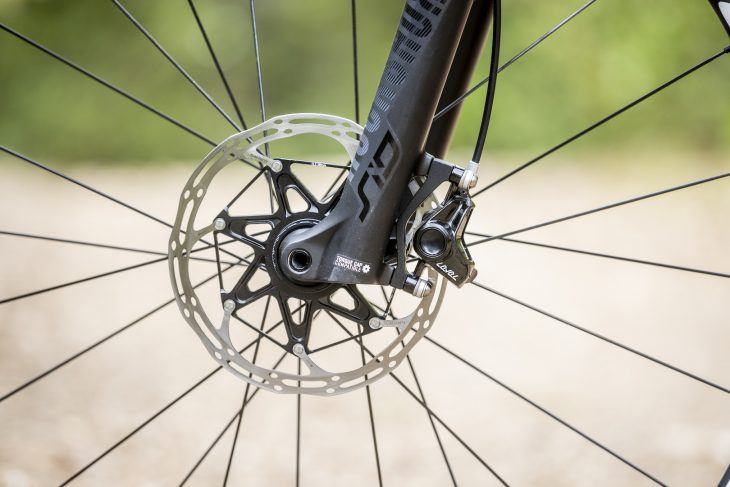 As for the Lux's equipment, I must say I had a right old laugh using the 12-speed Grip Shift throttle, with a satisfying "CLACK-CLACK" noise as you rattle through the gears. I haven't used Grip Shift for a while, and though I didn't really enjoy releasing my right-hand grip to shift gears on technical descents, I can see the reduced muscular effort being beneficial for the long distance riders and marathon racers. It is also just satisfyingly tactile to use.
The Level brakes were superb with excellent modulation and power delivery. They did develop that annoying watery-pulsing sound after the first hour of riding, which could have simply been because they were brand new and I was basically having to bed them in on the trail. Oh, and kudos to Canyon for spec'ing a dropper post on the Lux, since they're still not commonplace on XC race bikes. If I was being picky, I'd say the 100mm travel is a bit on the short side, but it's a zillion times better than a rigid post, so thumbs up for putting one on here.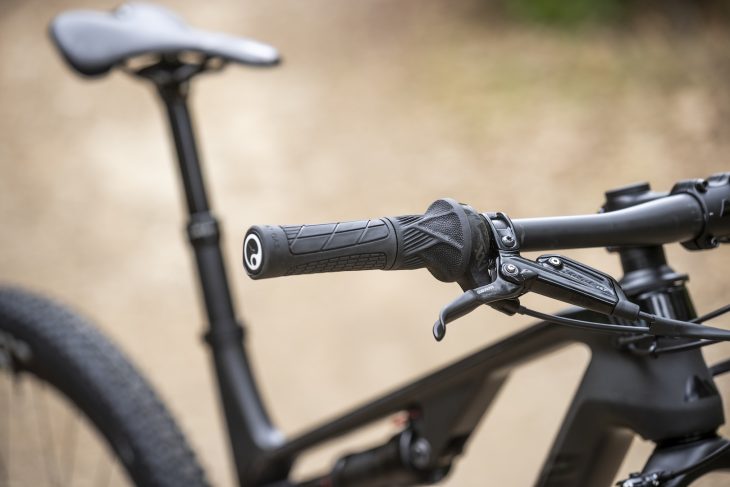 Overall
Early impressions of Canyon's new Lux are promising. This bike is light, fast and highly efficient, but its superb suspension design gives it a much more steady feel on technical terrain than the geometry would lead you to believe.
I'm still keen to test one out with a shorter 44mm fork offset, since the bike I rode was pretty sharp. I'd also be interested in seeing what the 110mm travel fork feels like on the SL models. One bike in the Lux range that stands out to me is the CF SL 8.0 Race Team model, which is specced with a Fox 34 Step-Cast fork that has both of the above, which would likely give the Lux a little more oomph on the descents, without too much sacrifice in climbing speed.
As it stands though, the Lux that I rode offers impressive speed and razor-sharp handling that is likely to appeal to the go-fast XC racers and long distance marathon riders out there.
Wanna know more about the new Lux range? Then mosey on over to the Canyon Bikes website.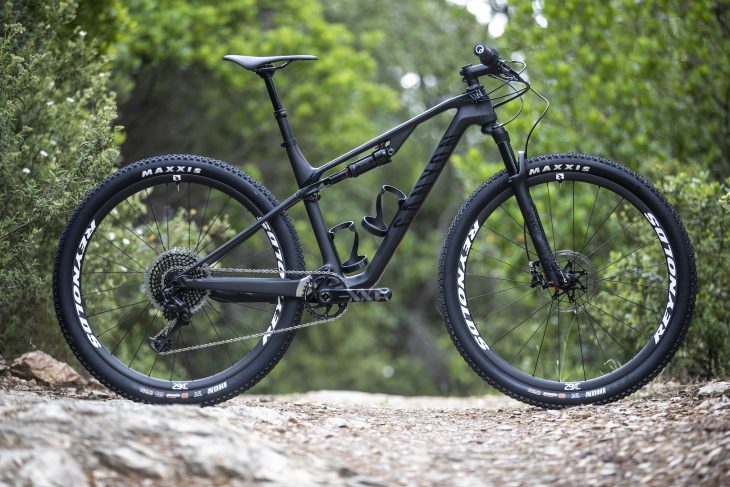 2019 Canyon Lux CF SLX 9.0 Pro Race
Frame // SLX Carbon Fibre, 100mm Travel
Fork // RockShox SID World Cup, Remote Lockout, 51mm Offset, 100mm Travel
Shock // RockShox Deluxe RLR, 210x55mm
Hubs // Reynolds Black Label, 110x15mm Front & 148x12mm Rear
Rims // Reynolds Black Label XC259 Carbon, 24h Front & 28h Rear, 25mm Internal
Tyres // Maxxis Ikon 2.2in Front & Ikon EXO 2.2in Rear
Chainset // SRAM XX1 Eagle DUB, 34t Chainring
Rear Mech // SRAM XX1 Eagle, 12-Speed
Shifter // SRAM XX1 Eagle Grip Shift, 12-Speed
Cassette // SRAM XG-1295, 10-50t, 12-Speed
Brakes // SRAM Level Ultimate, 180mm Front & 160m Rear Centrelock Rotors
Bar // Canyon H20 Carbon Flatbar, 720mm Wide
Stem // Canyon V14 Alloy, 80mm Long
Grips // Ergon GA20
Seatpost // KS LEV Si, 100mm Travel
Saddle // Selle Italia SLR Lite
Size Tested // Medium
Sizes available // Small, Medium, Large & Extra Large
Weight // 9.98 kg (21.95 lbs)
RRP // £4,999
---
Disclosure
Accommodation and flights for this trip were covered by Canyon.
---