Since Andi put together a list of hardtails for winter riding – on the basis that they've less to maintain – I thought I'd make a list of rigid mountain bikes. Less to faff about with in the car park, less to fix and maintain, at the expense of a little more work for your knees and elbows. Plus you get the added bonus of riding a conversation starting niche bike, and if that bit of trail looks a little too scary you can invoke the 'you lot have all got suspension' clause. And, you won't be needing to carry a shock pump, which leaves room in your pack for an extra three or four curly-wurlies.
I've narrowed the list down to rigid mountain bikes that are available as complete bikes, and I've excluded fat bikes. Complete bikes is an act of simplicity – there are lots more 'build it yourself' options, and bespoke frame builders that will conjure up whatever your heart desires. Fat bikes is just a whole other listicle, so what you've got here is off the peg knobbly tyred bikes with no suspension. Plus a bit of creative licence when it comes to intended use.
1. Kona Unit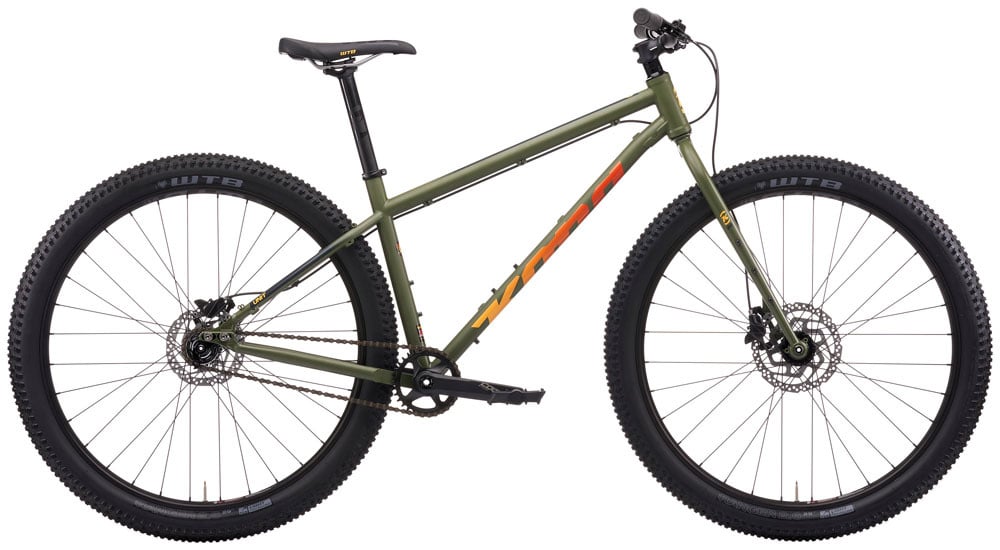 It's steel, it's a singlespeed, and it's the kind of thing you can imagine loading up and rolling through desert ghost towns in Arizona. Or through the sticky winters of the South Downs? There's also the Unit X, which comes with gears which would certainly help with sit and spin rock crawling duties, though the 29×2.6in tyres should help with traction too.
2. Surly Lowside
Surly has such a choice of rigid bikes that this could have been a Surly listicle, but that hardly seems fair. So, I've picked the one that has a BMX aesthetic, 26in tyres, and no gears. Because it's my list and I'll freak if I want to. And, I'm more likely to be riding to the pub than the ends of the earth.
3. Genesis Longitude

Gears at last! And, a UK brand. With all the bosses you want for an optimistic bike packing adventure, the steel Longitude is one for putting the miles in. It's practically begging you to take it out in the rain until your sleeping bag is sodden and your toes wrinkled. Yay, UK bikepacking!
4. Brother Big Bro
Gears, steel, 29er, sliding drop outs, oodles of bottle/rack mounts… if you find yourself short of money on your round the world adventure, you could probably play this like a flute to earn a spot of cash. This is a designed in the UK bike built in Taiwan.
5. Bombtrack Beyond+
With its seat tube brace and curved down tube, this 27.5+ has a slightly different appearance to the other steel-with-lots-of-mounts bike packing machines we have here. This one is a bike that's designed to have gears: no sliding drop outs or eccentric bottom brackets here. Look at that teeny weeny chainring. Wherever you're going with this, there are probably huge climbs. So, I'll pick you up in a couple of days then, OK? Have fun.
6. Jones Bike Plus SWB
This is the short wheelbase version of the Jones Bike Plus, for nimbler handling. For longer hauling and stability you could go for the LWB long wheelbase option, but I'm going to imagine that I have some fine giant redwoods to be weaving in and out of on my way back from a fishing and camping overnighter by a glacial lake. Definitely not a Forestry Commission plantation with a stocked carp pond nearby…
7. Trek 1120
It's not steel! An alloy frame with carbon fork make this stand out from the rigid mountain bike crowd before you've even got on to those racks. When we tested it, we found those racks aren't just eye-catching, they're effective too. Something of a freak bike from a mainstream company. But freaks are good. Apart from the sort of axe wielding ones that chase you in the woods. Luckily, with this bike you'll probably have your own axe with you when you head out to the woods on this to gather wood for your pizza oven/post-apocalypse cave hideout.
8. Sonder Frontier
With 27.5+ wheels on an alloy frame and fork, this opens up the rigid mountain bike with all the flute holes/cage mounts to the budget market. Which is a good thing, because if you've got the money to spend on a fancy bike, why are you sleeping in a bush? If ever there was proof that marketing works, the selling of 'bikepacking' as something more than uncomfortable touring when you can't afford better is it. With this bike though, you'll have money left over for a nice B&B.
9. Shand Tam
Well, it was about time we had a Rohloff and belt drive. There'll be no B&Bs where you're taking this – instead you'll be drinking the fermented milk of hairy animals and sleeping on a mat of animal skins on an earthen floor. Two days later, as you struggle to bivvy behind a rock while hail whips your blistered lips, you'll look back on that as the lap of luxury. Or, you could just ride it up and down your local canal towpath, safe in the knowledge that you probably don't need to worry too much about cleaning it until spring.
10. On One Boot Zipper
This budget steel option has a marketing blurb that says it's the pub bike that doesn't care how far away the pub is. In my experience it's not so much how far away the pub is, it's how far away home is from the pub. To make matters all the more dangerous, the blurb also says it's been created 'to appeal to the older rider'. Let's hope they're not so old that they've not noticed that beer these days is really strong.
There we are: ten off the peg bikes with no suspension at all. Being available as a complete bike means they're available to the masses, not just the long in the tooth adventurer prepared to do a bespoke build so that every bolt can be done up with a spork.
Now, the traditional next step is to head to the comments and tell me all the bikes I've missed, or let everyone know how much fun you're having with your rigid set up.
Thanks for popping by - why not stay a while?
IT'S FREE
Sign up as a Singletrack Member and you can leave comments on stories, use the classified ads, and post in our forums, do quizzes and more.
Join us, join in, it's free, and fun.
---