Yep, that's right, it's back
A little twist today, it's an international edition. That means no UK athletes, so you can scour the world to see what else there is. Sadly, it means no Queen Victoria, Kelly S or Denise L but we can cope, can't we?
As ever, please keep the pics clean and make sure you namecheck the athlete and the sport!
(For those who are new, this is all about those that are BOTH athletic and aesthetic, and is (always has been!) open to all, chaps, ladies, ladies who like ladies, chaps who like chaps!)
To kick off, Carolina Kluft, heptathlist;

Donna Snow, American BMXist

Tanith Belbin, Canadian figure skatist;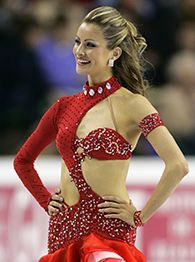 Alisa Camplin, Australian skiist;

And, of course, La Gudex, Aussie mountain bikist (OK, so she was born in Surrey, but I can bend that rule a little!)
Over to you, ladies and gentlemen!