I had to do this today. I thought I might be of interest to someone ?
All of the plastic bits can be removed by hand except the Arm.
The Arm is removed with the use of a 5mm Hex key the bolts will be holes marked 1 and 2.
You can then spin the base of the arm so that the arm is on the other side.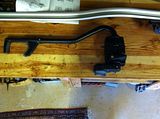 Then swap the 5 mm bolts from holes marked 1 and 2 to holes marked 3 and 4.
Then slide the arm back on to the Aluminium bar, tighten up, then replace all the other bits.
That's it, you can have your bikes facing whichever way you want