Clearout time. Top-quality kit.
No offers please. Prices are firm. Postage is extra.
Cash on collection from London E9 (near Homerton High Street), or postage extra and pay via Paypal (as a Gift or you pay the fee) or bank transfer. No swaps or dibs please. Just say if you want something then email me to confirm (email is in my profile). First come first served. Everything is in excellent condition unless described as otherwise. Thanks.
Surly Cross Check frame & forks - 60cm
Red, sprayed by Armourtex when the frame was brand new, with lacquer.
Hardly used and in perfect condition. Basically brand new with a new paint job. Includes brand new set of genuine unused Surly Cross Check decals for both frame & fork (including head badge). Apply them if you want or leave the frame stealth. Reason for sale is I haven't used it. Was a replacement for another Cross Check frame which I crashed. Bought this one brand new, got it re-sprayed to match the old one's colour, and then never used it. Spent most of it's life just sat in the spare room. Sad to see it go, brilliant bike, but trying to size-down and get rid of the frames I don't use. £314 at Charlie The Bike Monger (not including custom Armourtex paint job, lacquer, and Surly decals, which are about £100 extra). Cost about £420 new all together.
Asking £260 collected / £275 delivered.
Ellis Brigham credit note for the value of £121.13 - £100 posted
Doesn't have to be used all at once. Valid until 21st August 2014 (resets to a new 1 year start each time you use it and get a new one though I think). They had a great sale on recently.
Rudy Project Sterling helmet - Large/XL / Red - £75
Brand new in the box. Perfect condition. Never used.
L/XL size for 58-62cm heads. Rave reviews on Wiggle. Costs £100 normally.
Comes boxed with all the extras (peak, spare padding, instructions, etc).
2 x Goldtec front track hubs
Both 36h. Bearings are good on the pewter one, and a bit rough on the dark one.
Pewter one is in worse cosmetic condition, but structurally sound. Just a bit scratched.
Asking £40 each. They're £87 each new.
Zipp Service Course Short / Shallow drop bars
Size 46cm (outside to outside, 44cm centre to centre). OS clamp. Lovely bars. Bought new for use with the Cross Check above, and hardly used. Great condition.
£30
(PHOTO ABOVE)
Continental Grand Prix 4000 S (GP4000s) 700 x 23 road tyre & Continental inner tube
Rough patch from accidentally skidding. Doesn't affect performance. Still perfectly safe & usable.
£20 posted
Rear wheel: Mavic Module E rim (700c) / Shimano 600 hubs / DT Swiss spokes (36) - £20
Has a broken spoke and rim is pretty bent. Probably not reparable. Hub is fine for a rebuild. Cassette is included, is in excellent condition, and size 14-28 (6-speed). Front has been sold.
Dirt magazines - £10
Lots of issues of the MTB mag. All in great condition. Some with free stickers IIRC.
SDG Bel Air (might be Ti-railed, not sure) - £10
Holes at the back edges. Still perfectly functional. Great saddle.
Avid aluminium V Brake Lever (Right Hand) Silver - £15
Good condition. Will work with V-brakes or cable disc brakes. Similar to the Ultimate lever.
Primo "Mid 19mm" bearings / bottom bracket - £12
Brand new in packet.
Endura Full Monty Gloves - £3
Size XL. Well used with hole at the tip of one index finger. Nice for cooler weather.
MKS toe clips with leather - £8
Size LL (XL). As new. Too small for me.
CatEye HL-EL530 front light
Stopped working one day. Not sure what the problem is. Might be simple to fix.
£10 (about £50 new)

(Anything without a written entry has been sold)
Maxxis Minion DH F - 26 x 2.5 - £5
Well worn. Good for beater.
Chrosziel DV Follow Focus 206-01S - BRAND NEW
The best follow focus money can buy. Perfect for shooting video with DSLR cameras (works with video cameras too). Essential bit of kit. Costs over £1200 normally. Asking only £500.
Chrosziel DV Follow Focus 206-01S
As above, but lightly used and labelled as 206-05S. Looks and feels identical to the one above.
Over £1200 new. Asking £400.
Edward Green men's leather Tassel Loafer shoes Size 13 EE (slightly wider than normal)
Superb condition. Some of the nicest shoes money can buy. Rare large size. Cost £640 new.
£250
John Lobb (by Hermes) men's Black Leather Boots Size 12.5 Rubber commando soles
Excellent condition. Beautifully soft leather. Cost around £800 new.
£250
Vanson Flag / Stallion mens Leather Motorcycle Biker Jacket Size 44 Medium/Large
Fantastic condition. No damage. Made in the USA. The real deal. Around £600 new. Very rare.
£250
Rab Microlight Alpine eVent jacket
Men's XL Black - Waterproof & 750 down fill
Superb condition. Worn a handful of times.
£180 (£290 new)
Christopher Kane Blue Flock panel T-shirt - BRAND NEW with tag - Size Large
Rare Christopher Kane shirt. Brand new with tag. Cost £220 new.
£100
Also have this: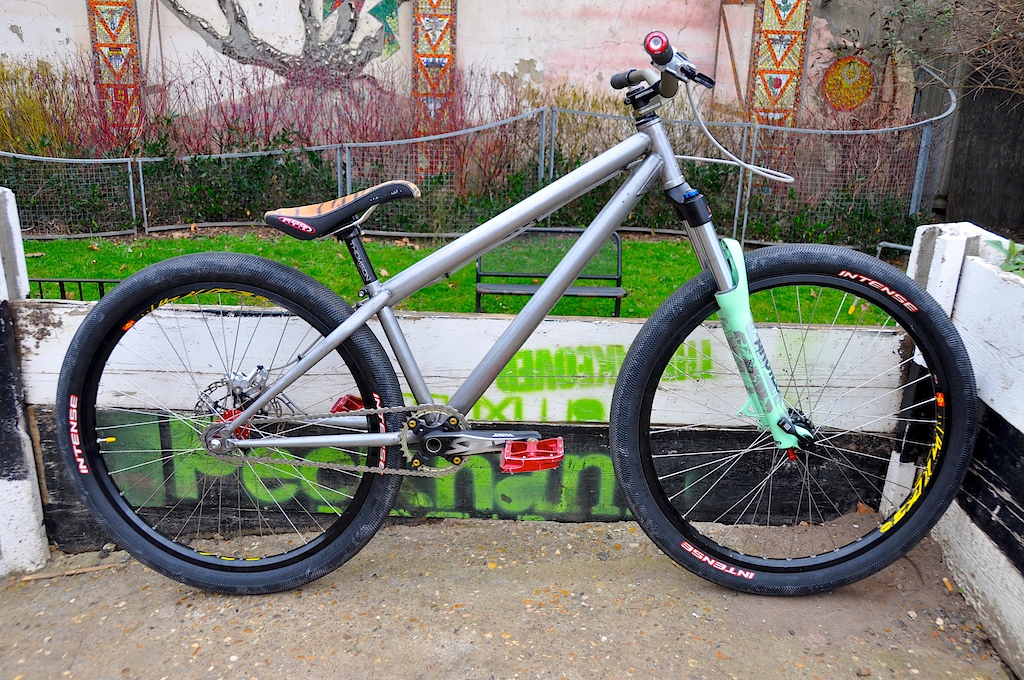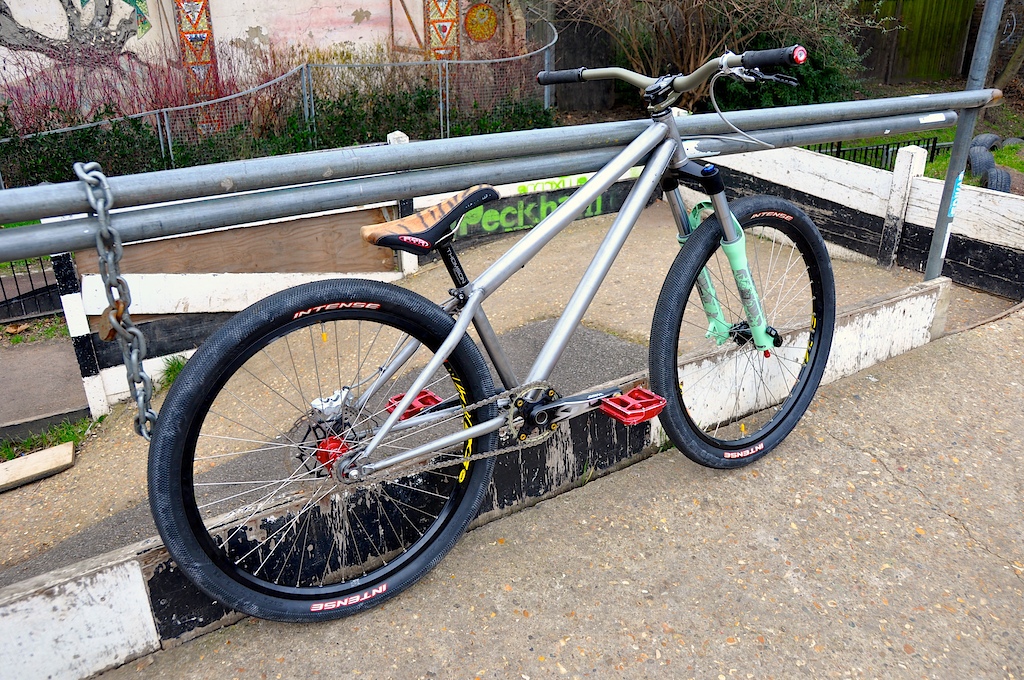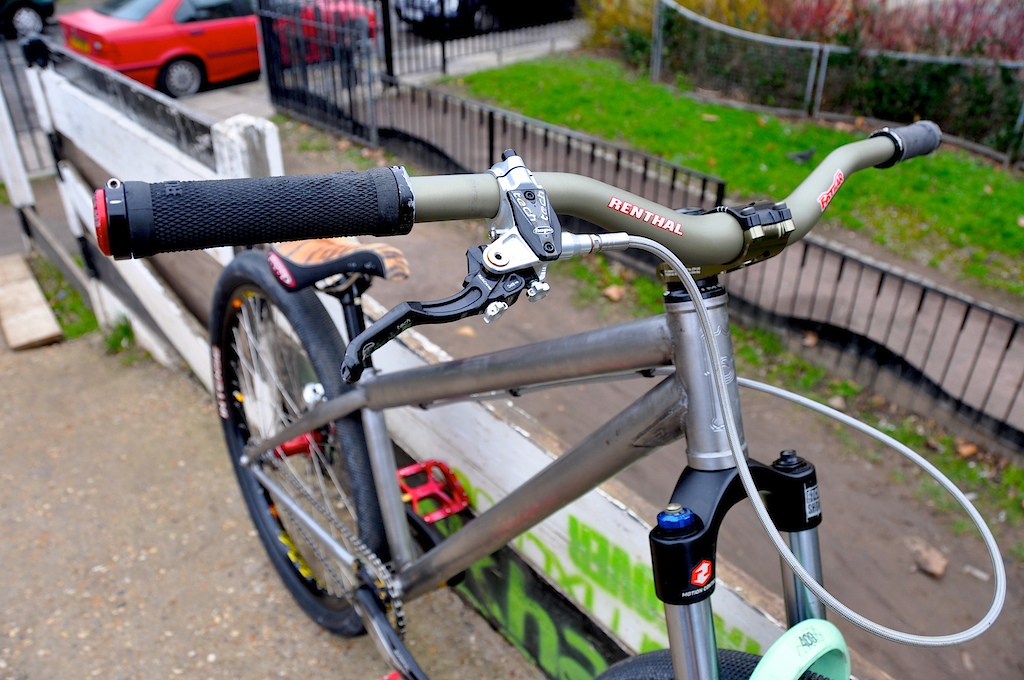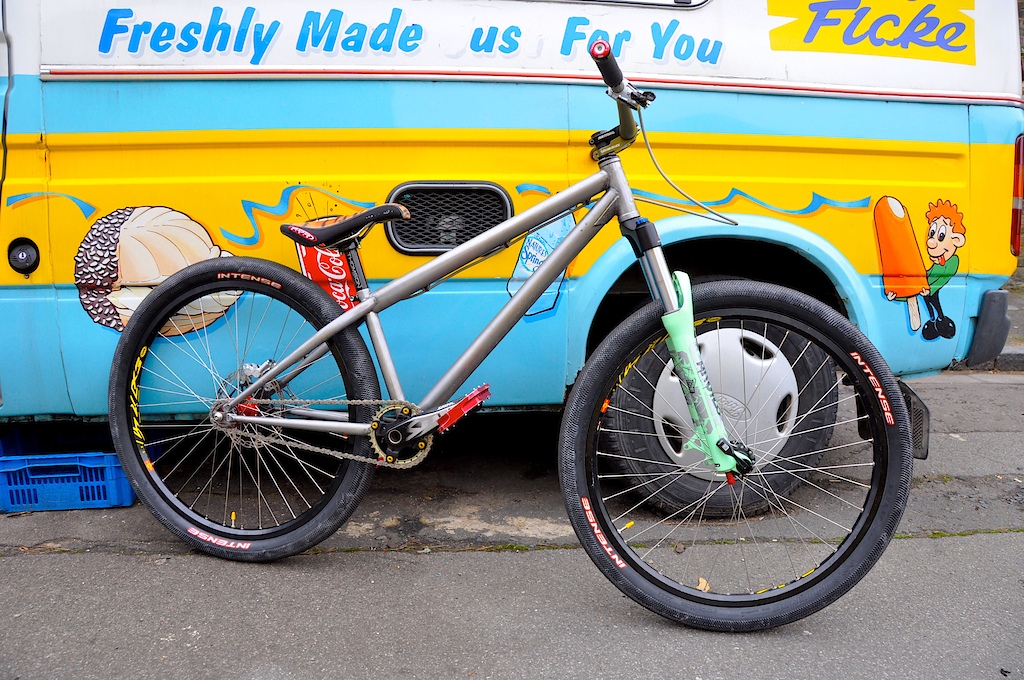 BLACK MARKET MOB - Size 22.25 (Used but in perfect condition. Rawed and treated with diesel oil)
Rock Shox Argyle 409 - 100mm (Used but in excellent condition)
FSA Impact headset (New)
Hope ceramic bottom bracket (Used but in perfect condition)
Renthal Duo stem (New)
Renthal Fatbar bars (New)
ODI Ruffian grips (Used but in excellent condition. Some scuffing on clamps)
Hope Grip Doctors (Used)
Thomson Masterpiece seatpost - 27.2 x 240mm (Some marks from insertion. Not visible once fitted)
SDG Bel Air Ti saddle (Swapped for a black SDG Bel Air)
Hope Tech M4 rear disc brake - 183mm floating saw rotor / Goodridge braided hose ("As new")
Hope Pro 2 Single Speed rear hub / DT Swiss Alpine III spokes / Mavic EX 721 rim 36h (New. Custom-built)
Hope Pro 2 20mm front hub / DT Swiss Competition spokes / Mavic EX 721 rim 36h (Used)
Continental MTB Presta inner tubes - 26 x 1.75-2.5 (New)
Intense Micro Knobby tyres - 26 x 2.25 (New)
Saint cranks M810-1 - 175mm (Used with some light heel rub)
Renthal SR4 chainring - 32t (New)
Burgtec Penthouse Flat MK3 pedals (Light use)
Shimano DX cog - 15t (New)
KMC Z610HX chain - 1/2" × 3/32" (New)
Currently fitted with a Thomson BMX stem and Renthal jump bars with a higher rise (both black and in excellent condition).
Top spec. Condition is absolutely fantastic. I built this up and never used it for what it's meant to be used for. Many parts are new or "as new". Only visible wear being some normal heel rub on the cranks. Really spectacular bike in stunning condition. Frame has been "rawed" and rubbed with diesel oil (twice) before being built up, to help prevent rust. Frame was made by the legendary S&M BMX company in the USA.
Looking for £900. This would cost about £2300-2500 to build new.
Message me if you're interested. No silly offers please.
Could always split and move the parts onto another frame if it doesn't sell as a whole.
Considering selling this too:
Specialized Stumpjumper Pro 1999 - Large (19")
Marzocchi Z1 Bam forks
Cane Creek S-3 headset
Goldtec hubs on Mavic 721 rims with DT Swiss spokes (36, F&R)
Michelin Wildgripper City 26 x 1.5 tyres & 8-speed cassette
(Skewers, bars, stem and grips not included)
Looking for £250 I reckon. Killer set-up. Collection only from London E9.