56cm 2010 frame. Aluminium with the carbon Zertz fork.
Fitted with all the bits from a Voodoo 'cross bike I bought last year but found a little too short.
Running gear has done less than 300 miles, frame I bought second hand so not sure but it looks to be in good condition with nothing but the odd mark on the paint - I've done 60 miles on it and it's been fine.
I managed to bend the outer chainring on a log and that broke the mech too. I've just fitted new mech, chainring and chain and replaced the brake and gear cables.
So spec is;
Shimano 105 shifters, rear mech, cassette and chain(new). Ultegra front mech (new).
Avid Shorty 4 brakes
Truvatic Elita Chainset (fitted with brand new FSA big ring)
No name hubs and Mavic Open sport rims, Vittoria Cross XG Pro folding tyres.
Race Face post, stem and bars. Voodoo saddle.
New cables throughout.
Cane creek headset fitted 60 miles ago.
No pedals.
Lots of Pics here:
http://s239.photobucket.com/user/LukeBurstow/library/Tricross?sort=3&page=1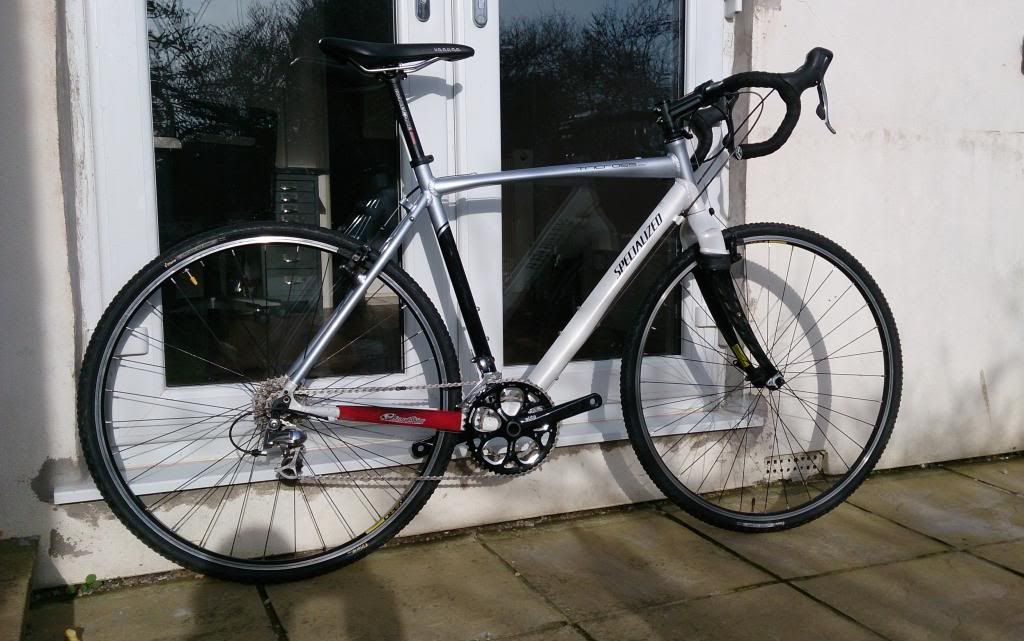 Looking for £325 posted, £300 collected.
I'm really not sure about selling this but I have a fat bike on the way and need to pay for the wheels. This bike is the one I use least of the bikes I own so it's got to go. Great fun for mixed surface riding and it's been surprisingly good on the local woody singletrack in dry weather (tyres are a bit too thin/hard for wet roots, imo).
email in profile.