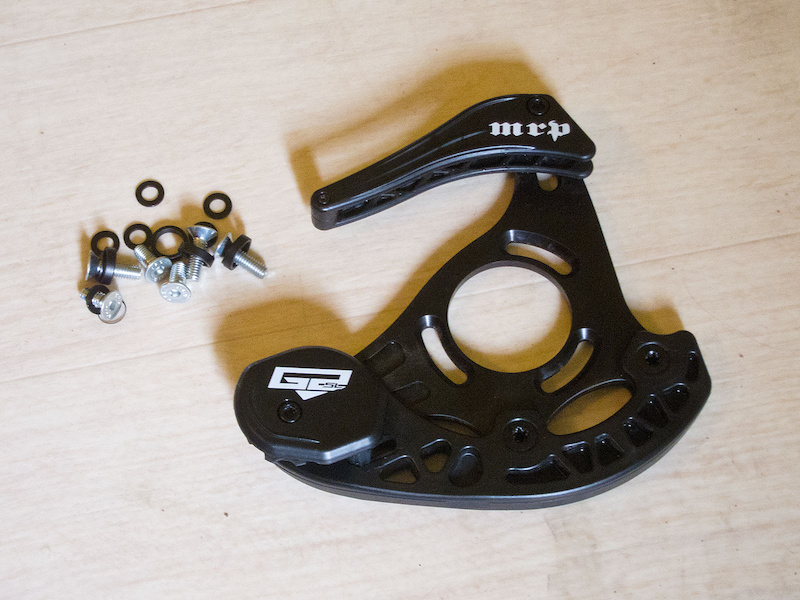 MRP G2 SL Micro. Fits 28-32t chainrings and ISCG (old) mounts.
Only ridden a few times. Mint condition except for one small scrape on the underside of the taco that will not be visible when mounted on your bike. Comes with a full set washers and long bolts only (not the short bolts pictured, but long ones will work with any setup).
Easily converted to be essentially the same as the new AMG guide (no lower roller) - ideal for use with clutch mechs if you just need a top guide and bash. This was my plan but I ended up with a new frame which is ISCG-05. You could simply unbolt the roller really quickly and easily to try this before committing, or file off the metal plate where the roller would mount to remove it permanently and give a really clean look - this is what I was going to do myself, and could make this modification for you if you want.
MRP states that this guide will not work with standard 4-arm 104 BCD cranks but I am positive that it will be fine with a 32t chainring with the lower roller's housing filed down a little to clear the crank spider (possibly with smaller chainrings also, maybe with reduced tension on the lower roller), and definitely fine to use with 28-32t chainrings with the lower roller removed completely (as described above).
£45 posted.