I've bought and sold a number of parts on here before (check my history), pick up in Brighton welcome, PP goods and postage otherwise. Leave a reply on here and email me: shameer AT gmx.co.uk
Full album HERE.
1. Marin Attack Trail 140 frame. Medium, Fox RP23 high volume shock. £300 posted. The pearlescent paint is a bit hard to capture on a digital camera and just looks very shiny!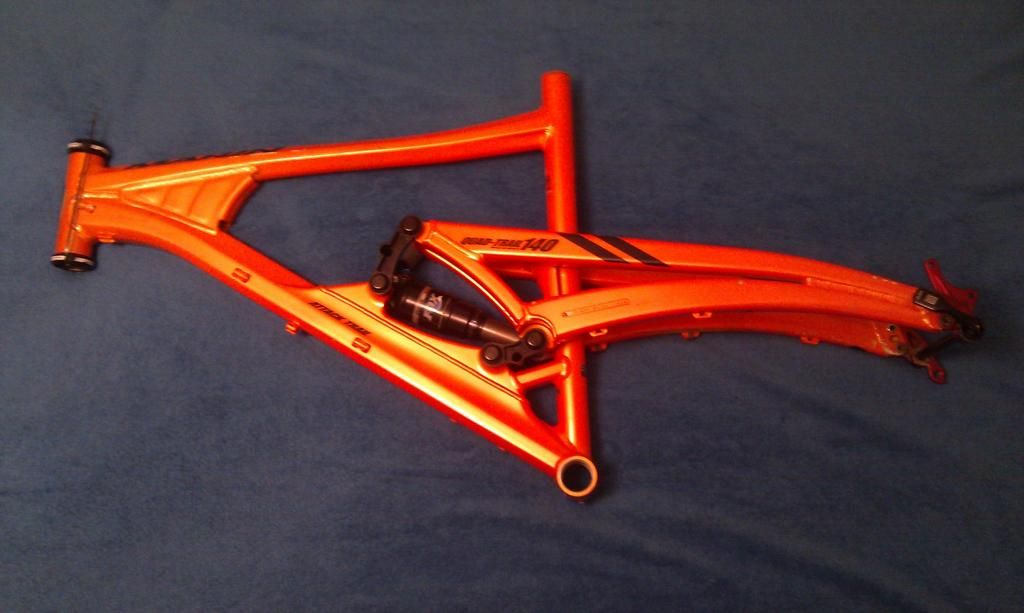 Shock air sleeve service, bushes, bearings and hardware replaced in October of this year at Mr Cycles in Seaford, a registered Marin LBS. Will come with a spare set of polymer bushes and a bush tool. I'm 5'11" and used 711 bars, 60mm stem and a KS uppydowny seatpost with a smidge of layback. I ran it with a U-turn Pike, 2x9 with a stinger and bash.
30.9 seat tube for droppers (34.9 clamp), 135 Maxle rear, conventional headset (FSA Orbit MX ACB fitted), clearance for muddy 2.5 tyres. The quad link is very active which is remedied by the ProPedal switch when in the granny, however, when in rougher stuff it is excellent and eats up bumps, chatter and landings like it ain't no thing. It's more of a downer than an upper for sure and has really enhanced my confidence to try bigger jumps and drops. I have no issue in keeping up with my chums at trail centres (well, I'm often in front...) and then promptly lose them on the descents on this! Marin called it a 'pocket DH bike' which is an exaggeration, but reflects it's position at the burly end of the 140mm bike bracket. It felt comfortably within it's realms on the DH trails in FOD (fast, rooty, steep).
There are numerous little rubs and some scrapes to the paintwork but no dents, cracks or anything structurally problematic. I have put lots of photos up to allow you to examine the frame.
Review here: http://www.bikeradar.com/gear/category/bikes/mountain/product/review-marin-attack-trail-08-22480
2. FSA Gravity Light 22-32-44 chainrings. £20 posted. Premium chainrings from FSA, profiled middle ring shifts very smoothly and the teeth are still in good shape.
3. Sugino/Specialized 53-39 chainrings. £10 posted. Well used but teeth still have their profile. From an RD2 chainset.
4. USE Titanium Spinstix QRs. £20 posted. Unusual, 55g skewer set which have no moving parts other than the thread/nut end. I really like these but have Maxles at both ends, so surplus to requirements.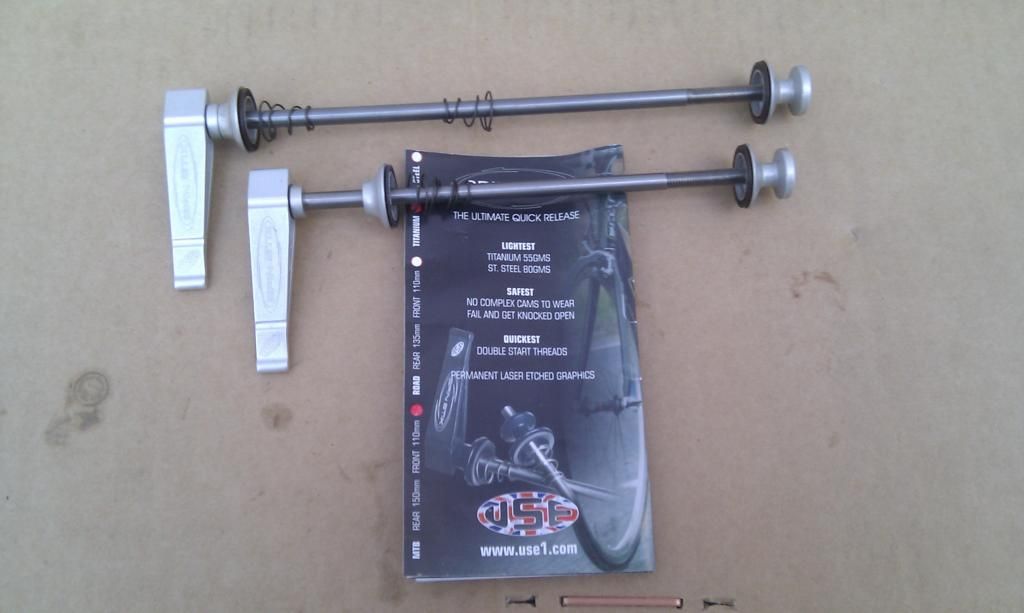 5. SDG Bel Air FeC. £15 posted. Legendary comfy saddle, minor scuff to one edge and a touch of rust on the rails.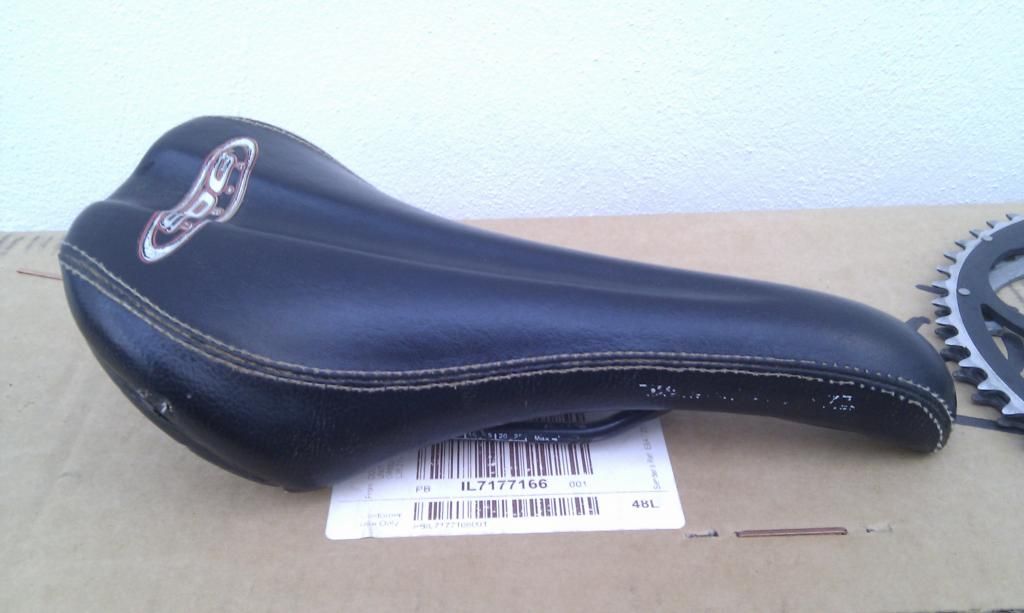 6. Sunline V1 31.8 711 riser bar. £20 posted. Not used for long (bought a few moths ago), swapped for an identical silver bar to coordinate with build. very minor mark around the clamp. They look pretty much new when built up.
7. Crank Bros. Eggbeater SL, no cleats. £25 posted. Very lightweight pedals, still in good working order but axles show minor rust spotting. These have the nicer quality die cast/forged wings not the nasty bent steel cheaper ones. Flat adapter thingies included.
8. ODI Ruffian cartridges and end caps, £8 posted. Used for about 2 months, I moved to X-trainers hence no lockrings in the sale.
9. Shimano IS-PM 160 brake mounts with bolts, £8 posted. For IS frame and fork to PM calipers.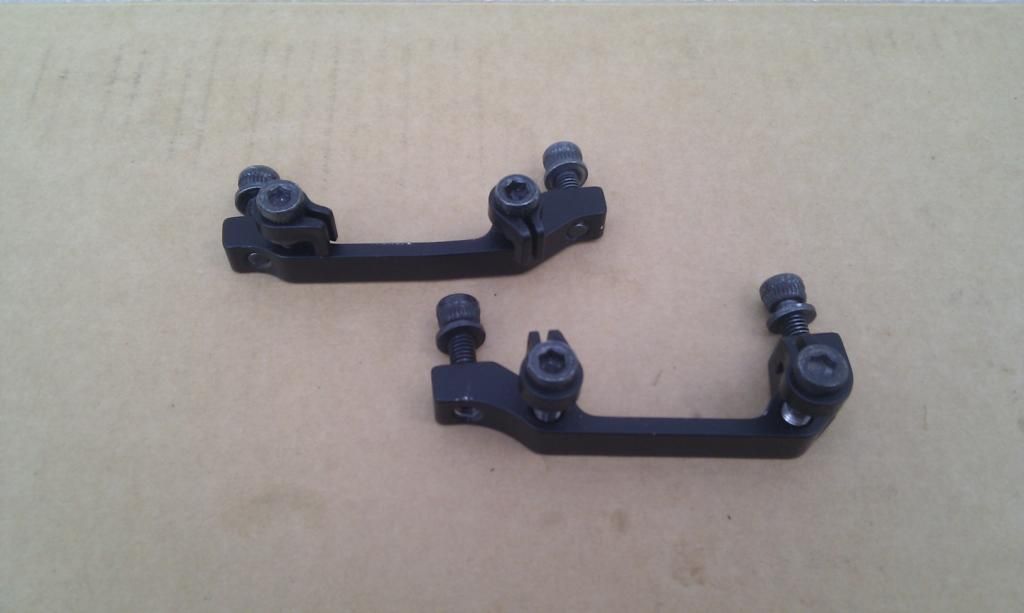 Thanks for looking