October 21, 1976. If there was a day when mountain biking started, that was the day. (Gary Fisher wasn't there. I was though.)
My mates and I had been riding the hills on our 40-year old bikes, upgraded with derailleur gearing and an attempt at better brakes. My roommate Gary Fisher had been the first in our crew, I followed in short order, and by now a year and a half later, there were a couple of dozen of these monstrous bicycles roaming the hills of Marin County.
Every ride started by going UP. The towns are at the bottoms of the hills and the dirt roads go to the tops. No matter which way you go, eventually you reach the top of something, where you spend a bit of time, refresh, enjoy the view, toss the Frisbee. But sooner or later one would make a break for his bike, and it was on. Le Mans.
Problem was, the rides had grown to a dozen or more, and while four or five riders can dice, bigger groups on narrow roads are insane. Riders in the middle of the group can't even see the road, and sheer aggression and size were more important than skill. After talking the subject to death for a month or so, a half dozen or so assembled on that date to hold a downhill time trial on a road that plummets 1300 feet in a little less than two miles, 14% average grade but much steeper in places. We figured it would be the world downhill championships, and declare a champion for life.
It didn't work out that way. It turned out that first, everyone who didn't win, wanted another shot at the title. And second, wow, racing downhill against the clock is about the most thrilling thing it's possible to do. Losing isn't that much worse than winning. Even if you can't beat Gary or Joe, you can try to improve your own time.
Speaking of Gary and Joe, Gary showed up for the fifth race, and he holds the course record. Joe Breeze showed up at the third race, and he's second all time. This race took over my life and the lives of Gary Fisher and Joe Breeze and a few others and led us to start building our own bikes, which led to a lot of other stuff.
The 40 year old records, set on bikes made in the '30s, still stand, in spite of the best efforts of modern FS downhillers. The first 150 years are uphill, and a DH bike can't start that way. Also, you have to ride the course over and over to really dial it in.
Encouraged by Joe Breeze, I have Photoshopped the original images of the Repack race posters from 1978 and 1979. The original posters were cheap photocopies, but the enhanced images are stunning. So I will post them here.
I did not print these posters for advertising. Two years after the first race, it had become a "thing." I decided to create documentary evidence of my involvement in case anyone made a competing claim about putting on the first DH races. The artist was my roommate, Pete Barrett, a cartoonist who also did the graphics for the MountainBikes business cards and stationery.
Here's the first race advertising for these new bikes.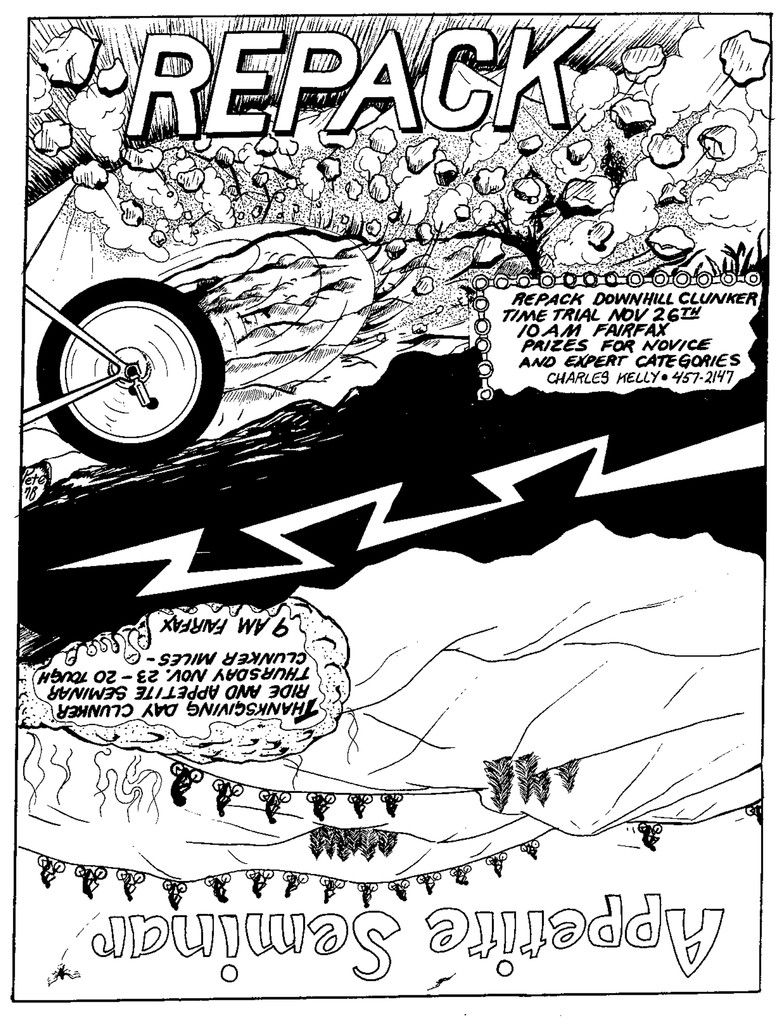 This one was the "Evening Magazine" race, filmed by a KPIX crew and shown nationally. Some of the footage turned up in Klunkerz. (Hi Bill)