Righto, this doesn't fit so time for it to to a better home.
This is a 54cm Voodoo Limba frame in very good but not quite perfect condition. This was designed by Joe Murray, and is "black magic" scandium with carbon seatstays. Also included is the carbon fork. Sizewise I'm 5'10 and found it a little cramped.
Also included is the FSA headset (a little tired), Avid Shorty 4 cantis, front canti cable hanger, seat clamp 105 rear mech and Tiagra front mech. The seatpost isn't included as it's missing a bit, and is in any case crap.
As above, it's in very good condition. There are closeup photos of some minor chipping near the seatclamp, and some very minor marks on the top tube. I only took this offroad about 3 times, the rest of its mileage was on tarmac, and it shows. The fork crown has a mark on the back which it unfortunately picked up in storage. Other than that there are only very minor wear and tear marks, I'd honestly call it a 9/10. Only frame I own with no chainsuck damage!
The frame doesn't have disk mounts, the fork however does.
So, price. Well, this was an £1100 full build. But I didn't pay £1100 for it! So I am thinking £200.
AAARGH, misfired and posted too early- pics are still uploading. Watch this space!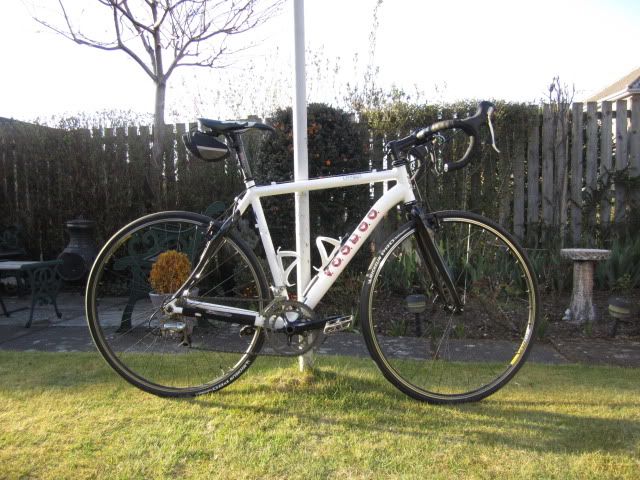 (yes it has flat pedals- haters gonna hate)
Headset looks like a pukka Orbit. It is not. Should last a while longer though.
Worst marks on the frame:

Ye virgin chainstays. Add your own horrible gouges

This is supposed to show some marks on the TT. They're too small to show up though. So I suppose that's informative

A mech