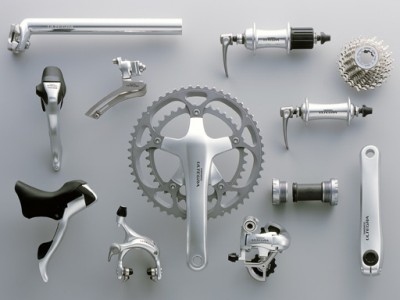 Chainset - 170 or 175 arms, compact rings with some use or 53/39 unused
RD - minor scratch but otherwise clean, VGC
FD is 5600 105, band 31.8mm, VGC, shims available
STIs - Functionally perfect, have some corrosion 'woodworm' lines on the anodized surface, odd but seen it before on HP Shimano parts.
Brakes - VGC, pads still with ~70% on them.
No chain, cables or cassette.
Done maybe 1300-1500 miles tops, then replaced with 6700 and kept in a spares box but I won't have a use for it now.
£185 posted insured. james.olsen.remote at hotmail.co.uk