2009 Transition Preston Freeride frame in medium with fox DHX5.0 shock.
This makes a great all mountain / heavy duty XC bike as it has very similar geometry to the Bottlerocket but with a slightly longer seat tube and a little lighter making it more capable of riding up a mountain. You could take this to Cwmcarn and ride it up Twych Trail and then down the black run at as it can handle both.
£575 collect from Bristol, happy to post for cost.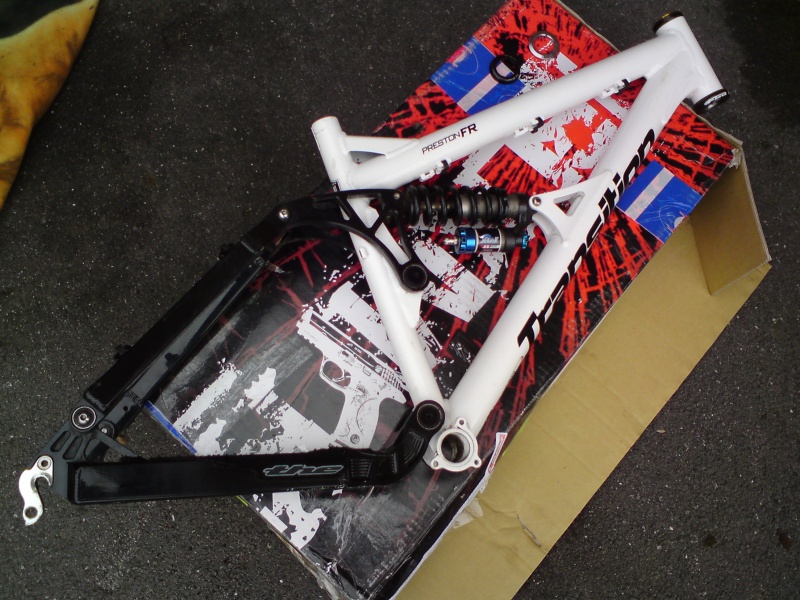 Frame hasn't been used in anger and looks like new, I got it as a crash replacement from Transition in September.
never jet washed.
comes with spare rear triangle and bearings plus original decal kit (red, green and other colours)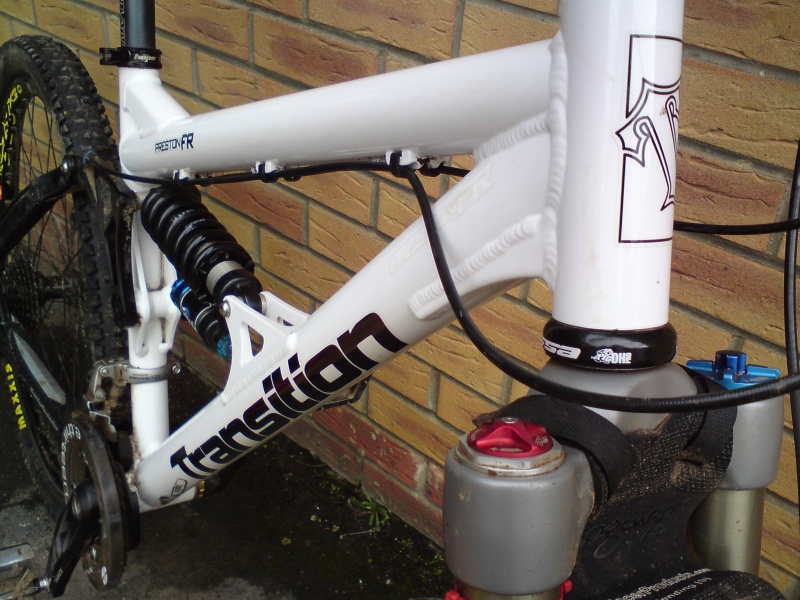 130mm (5") Rear Wheel Travel
Fox DHX 5.0 Coil 7.5" x 2" or DHX 5.0 Air 7.5" x 2"
6061 Heat Treated Aluminum
Medium (17")
Frame Weight: 7.8 lbs (without rear shock)
Complete Bike Weight Range: 36-39 lbs (Depending on Rear Shock and Fork)
Oversize 5mm thick headtube (1 1/8") and gusset
Custom CNC rocker arms (Ultra Stiff 15mm thickness)
Compatible with up to 7" Single Crown Forks
Accepts up to 8" Rear Disc Brake Rotors
Easily fits up to 3.0" rear tire
Works with Front Derailleur or Chain Guide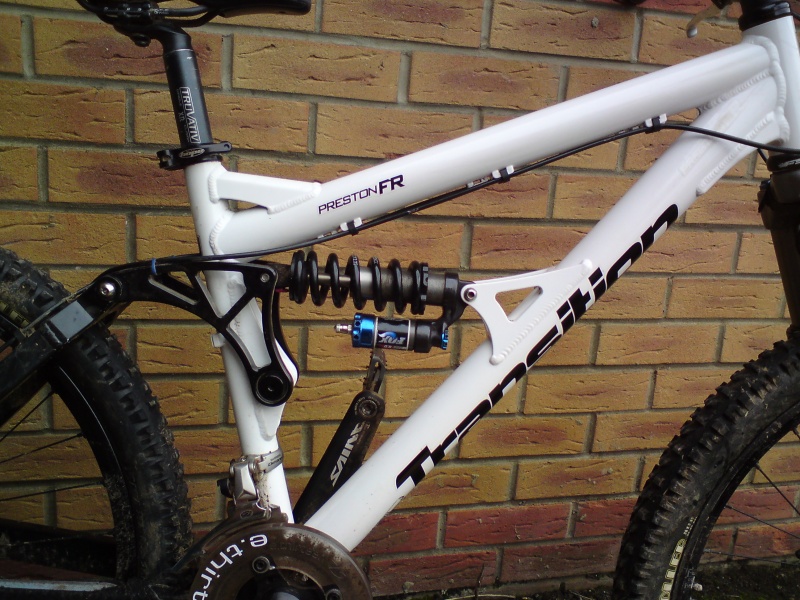 "The Preston FR is designed for the agressive trail rider that loves to earn their way to the top by pedaling but also needs a bike that is burly enough for freeriding on the way down. Make no mistake, the Preston FR is no large travel huck bike. It is designed for the rider that still wants to feel the trail and has some finesse for flowing technical freeride lines. We shy away from calling the Preston FR an all mountain bike even though it is superb on long singletrack epics. The Preston FR is built with strength in mind to tackle those rough freeride trails without weighing you down."
Gets fantastic reviews:
Mountain Biking Magazine Names Preston FR Bike of the Year
"The agile suspension of the Preston makes for snappier pedaling, allowing you to flow down your favorite trails faster and with more control."
- Mountain Biking Magazine
For the full review, click here.
Da-Drop.com review of the 06 Preston FR
"It is truly the best all-around bike I have ever ridden hands down!! I really enjoy the feeling I get every time I set my Vans on the pedals and point it towards whatever's in my way."
- Matt Norris (aka Dr. Billy Bad Ass)
For the full review, click here.
NSMB.com reviews the Preston FR
"You're getting a high-quality frame from a company that truly believes it is producing a no-compromise product suited to a rider who enjoys the bold and burly, but also has the skills and range to appreciate a bike that excels at a wide range of tasks."
- Richard Belson, NSMB.com
For the full review, click here.
Hick Hucksters review the Preston FR
"The Preston railed corners with minimal sus-pension movement, so it felt extremely stable and predictable. It really feels like more than 4" travel when landing bigger hits. I don't know whether it's just the Preston design or the Romic rear shock, but I like it. "
- Brad Walton, HickHucksters.com
For the full review, click here.
Bikemagic.com review the Preston FR
"If we're honest with ourselves, there aren't that many situations that absolutely demand 6+in of travel out back, and plenty that benefit from a handier tool. It's clearly not for everyone, but we suspect that there'll be a lot of people for whom the Preston is exactly what they've been waiting for."
- Mike Davis, Bikemagic.com
For the full review, click here.
Preston wins 2006 Riders Choice Award from MTBR.com
MTBR.com awarded the Preston FR at the 2006 Interbike show with the 2006 Riders Choice award. This award is based on the reviews given to the Preston by customers.
Click here to view the award.