Lack of time means this bike has barely been used in the last two years, so sadly it's time for it to go - it's been a lot of fun!
This was a friends bike from new and I've had it about 5 years. It's based on an Orange Patriot 7+ frame in Large, which was ahead of the trailbike times with 7" rear travel, all-ways-adjustable 5th element rear shock, 1.5" headtube, full length seatpost and fittings to run a front mech if you want.
So, it can be a mini DH bike as here, but could also very easily be ridden as a big trail bike with single crown forks. I've ridden it in both forms and it's a blast.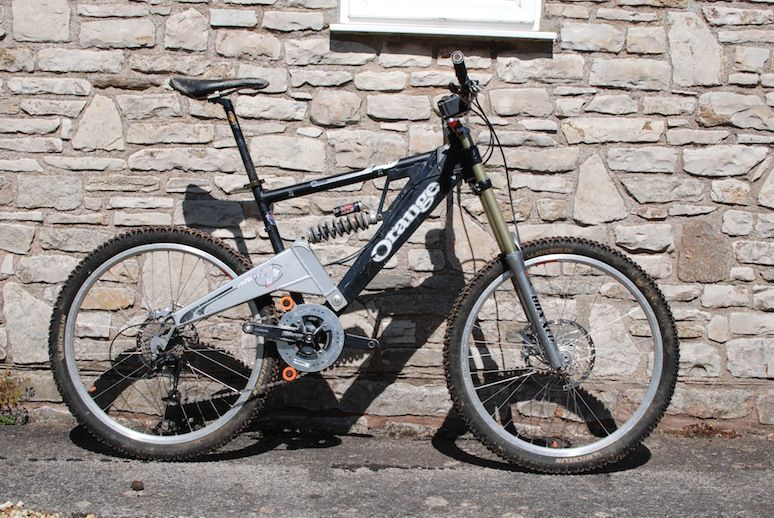 The forks are Boxxers with 7" travel and tall top crown to slacken off the head angle. They've been to TF Tuned many times and the internals are some hybrid of various generations. The forks are, in all honesty, past their best with adjustments carried out internally and some scoring to the legs around the top bushes, though new seals and oil fitted last week. Still ride well though and so stiff compared to single crowns.
It's a large frame, which I think is an 18". I'm 6'3" and it a teeny DH bike to me, as a trail bike I'd want it a bit bigger - so whether it fits you depends on what you want to do with it.
It's been used, but not abused, there is paint missing and a ding to the rear rim hence the cheap price.
Brief specs.
Halifax's finest with 5th element coil.
7" Boxxers.
Hope M4 brakes front and rear with 8" rotors.
Handbuilt wheels with Mavic rims on Hope hubs.
MRP chain guide.
Brand new FSA 1.5" headset with reducers.
Full length seatpost.
Michelin Comp 16 tyres, grip like nothing else I've ever ridden.
So, buy it to give big bikes a go without a major outlay, take it to the Alps, put some single crown on and take it hooning in your local woods - all good.
I live just outside Bristol and would prefer to sell in person for cash so that the buyer is fully aware of it's condition - just to avoid misunderstandings. If you not in the area I'll find out postage prices and can pack it up.
£375ish I think, but very open to offers as I need to make garage space.
I'm not the most regular visitor to the forum, but will try and get back to you as soon as I can (been around here since the beginning but not a prolific poster for any of you suspicious types - magazine subscriber 293). I'll do my best to answer any questions, email in my profile.
More pictures here - http://s1077.photobucket.com/user/Austen_Cook/library/Orange?sort=3&page=1.
Thanks.