Orange Five, the most versatile bike I've ever owned.
It's time to get rid. New house fund demands...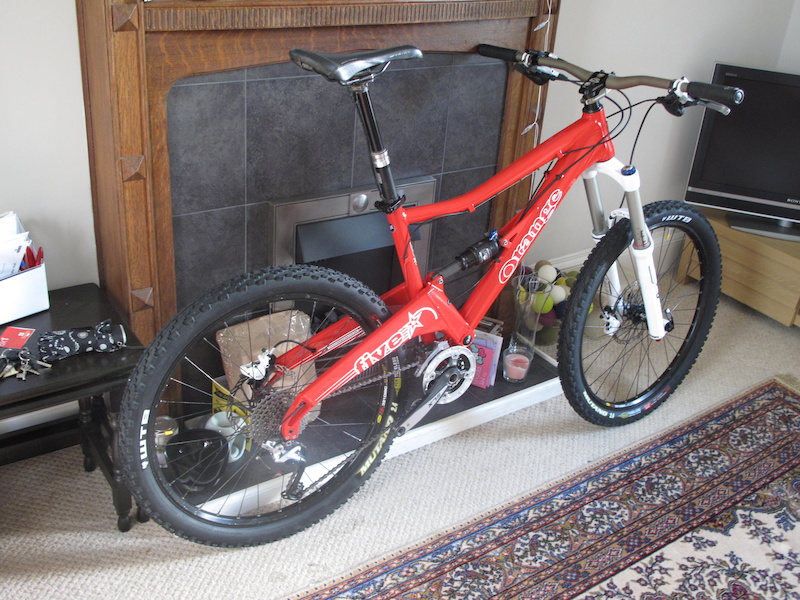 2011 Orange Five frame (freshly repainted in 'passion red' with new bearings)
Maxle swingarm
Fox RP23 BV
RockShox Lyrik RC2 DH (approx 15 hours use)
RockShox Reverb
Hope ProII hubs on Mavic 321 rims
Renthal bar (brand new, uncut)
Renthal stem
Hope headset
Avid Elixir 5 brakes
SLX cranks (scratches to end of right hand crank)
SLX front mech, shifter, chain and cassette
XT rear mech
Gammut roller and Hope bash ring
Fizik Gobi saddle
Brand new WTB tyres
Extras;
Elka Stage 4 coil shock
Offset titanium shock bushings
2x hangers
1x bearing kit
The frame is as new with a fresh coat of paint from Orange.
The forks were taken off my freeride bike, less than 15 hours use, as new.
Everything else is described pretty well in the pictures;
http://www.pinkbike.com/u/davef2/album/Orange-Five/?page=2
I'm after £1650.
Please visit the full gallery here;
If you're interested, e-mail me on;
DaveFlynn2 (at) hotmail (dot) com