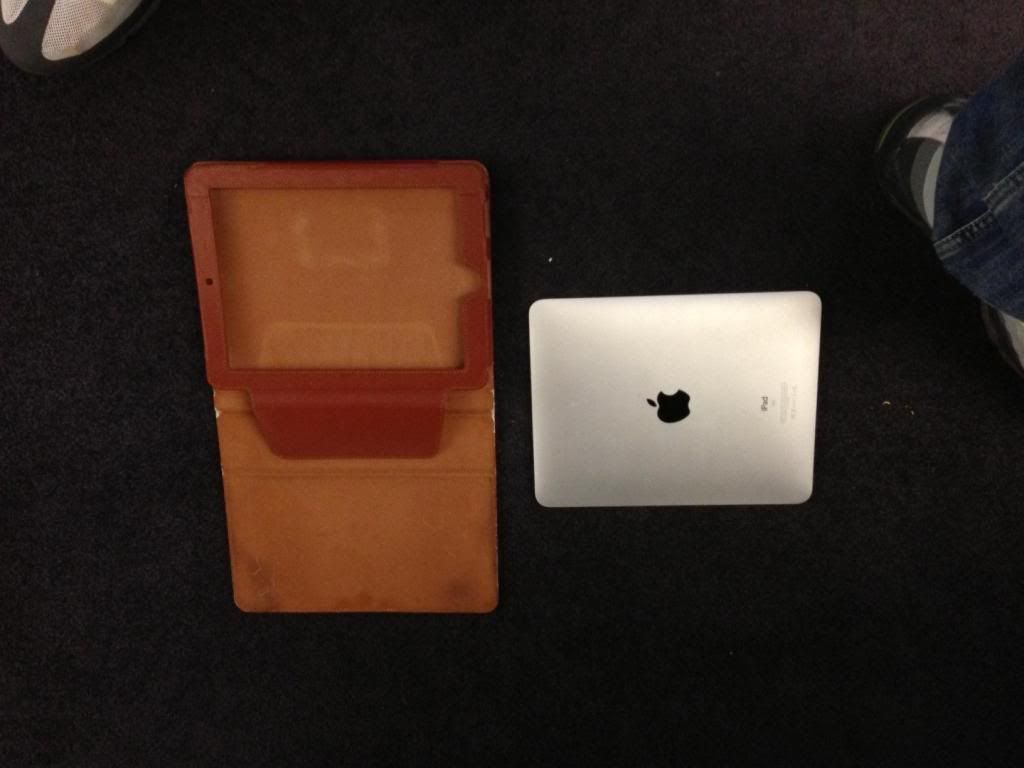 Tired of carting the laptop into bed with you to watch porn documentaries? Is holding a book (an actual book, made of paper) too much of an effort and not 'bang on trend' enough for you? Do you require all your music to be held in a format that ties you to a specific piece of software THAT KNOWS IF YOU'RE DOING NAUGHTY THINGS? (except porn, it doesn't know about that). No? Then this isn't the advert for you.
However, if you tick one or more of the above boxes then step right this way. For sale is one first gen iPad in pov spec 16gb wifi flavour. That's right, 16gb. Enough for a fair few films, a number of books and all the dodgy knocked off music you could ever need. Unless it amounts to more than 16gb. In which case that bit's a lie. However, unlike some scrounging heathens on here I do actually own this contraption and I will actually post it to you.
OK, so its not the latest one. I'm sure there's some geek somewhere that'll tell you the 'Original' iPad is the best one to have for some technical reason that I wouldn't understand. Take it from me, they're wrong. Buy a newer one if you want the all singing all dancing 'take pictures, skype/sext/bore people with holiday snaps' version. This does t'interweb, films and iBooks very well. It's also quite good for email if that's your bag and, well I'm sure there's all manner of Apps you could download too if you don't have any proper hobbies.
But that's not all - there's a CASE. Man alive is there a case. Weighing roughly twice the weight of the iPad itself, this leather bound piece of Yoobao's finest (who?) actually emits pheromones to attract the opposite sex. Stroll into your local rip off poncy coffee chain, place said iPad in case on table and watch as members of the opposite sex (women?) flock around you in awe of your manliness, taste and general awesomeness. Throw in a pair of skinny jeans, knobber glasses and deck shoes with no socks and you'll literally be beating them off (ensure iPad is in sexy case for this bit).
As you can see from the above picture - our office cleaners are pretty rubbish. Additionally you can also only see the back of the iPad and the case (in a bit of a state). This is because photobucket doesn't like pictures taken from my iphone (5 in case you're wondering (yes I am in case you're wondering)) but I can supply more if you want to see the front of an iPad that desperately. The device itself is mint - not wanting to miss any potential ladyfriend opportunities it's spent its life encase in brown leather. Literally, its unmarked. The case on the other hand is battered (doesn't detract from sexiness) but that's what a case is for right? Call it patina. Or shagged.
I'll throw a charger in if you're one of the 3 people left on the planet who doesn't have an apple one but I'm keeping the headphones. Not because I'm tight or have a massive issue with personal hygiene (it is a bit rank using someone else's earphones though right?) but because I've lost them. I've done you a favour, they're sh1t.
And for all this awesomeness? £150 posted. Yes, 150 smackers. Chav trainers not included. Hit a brother up on wilkitcher @gmail.com and we can discuss my inability to write sensible adverts on STW...