This bike is one of the best hardtails I have had the pleasure of owning. There's no denying that it's in its element when pointing downwards, but it's just as much fun on twisty singletrack and it climbs fantastically well for a long travel hardtail, even with Fox 36's fitted, although it's happier with 150mm revs or similar. As much as I would like to keep the Pig my new project takes precedence so needs must.
Included with the frame will be a Cane Creek 44mm headset for 1 1/8" steerer, Hope QR seat clamp, Nukeproof Warhead seatpost, Shimano LX front mech and Shimano Hollowtech bottom bracket.
The frame is just over a year old (bought in May last year and built up in June). There are a few very light scuff marks, and a small paint chip at the bottom of the down tube (pictured) but the overall condition of the frame is very good. Most of the hose and cable contact points were heli-taped from new.
While stripping the frame I noticed that the bottom headset cup bearings were feeling a little rough. It's not noticeable with the forks in place but I would imagine the bearings will need replaced sooner rather than later. The bottom bracket is in perfect condition with super smooth bearings.
I still have the sticker set that was supplied with the frame as I only used three of them.
This is the Swopout dropout version and the full specification can be found here http://www.ragleybikes.com/our-frames/blue-pig-x/
I'm after £220 posted by recorded delivery
My email is in my profile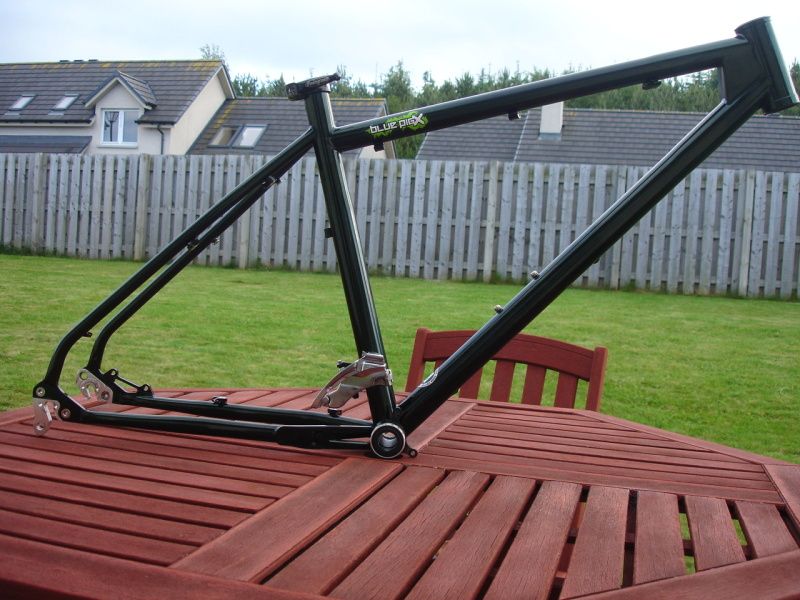 I'm also selling my 200x57mm Double Barrel shock which is in excellent condition and comes with a 400# ti spring. I'm willing to split if anyone just wants the shock on its own.
£295 posted (or £255 just for the body and £40 for the spring)
More pics of the frame and shock are available.
Again, my email is in my profile.
Cheers
yetiman