2014 FOX 32 FLOAT 29 100 REMOTE CTD, tapered and 15mm axle, they'll come without the remote as I need it for my shock, I do have the double cable gubbins if you want to convert your remote to dual remote. Personally I never lockout out my fork but you have the option here. 187mm steerer. Brand new, never ridden. £270. (£430 @ CRC)

Marzocchi Marathon 100mm forks, straight steerer and QR. Very plush and in good condition except for a scuff near the dropout, I can get more pics if you want. £75

Salsa Pro-moto carbon bars, almost new, the only marks are from the controls marking the clear coat, no scratches. 17* or 11* x 660mm. OS clamp. £35 each

Formula Oro Bianca Brakes, lovely brakes, new pads plus spares, bled. £50

SIDI Action SRS size 10, amazing shoes, cost around £200 but a little small for me. Should fit if you're a 9 really. The sole pads are replaceable. £30

SLX Dual Pull front mechs, VGC, one is M661 3x9, the other is M667 2x9, both come with the adapter of your choice. 28.6, 31.8 or 34.9. £15 each.

KMC x9 chain and link, I can't get .5 side of my Park chain checker anywhere near fitting, it's in better condition than the pic shows. £12

HG61 11-32 cassette, less than 100 miles £12
Ultegra CS-6500 12-27 cassette, used for 4 laps of Mtn Mayhem. £18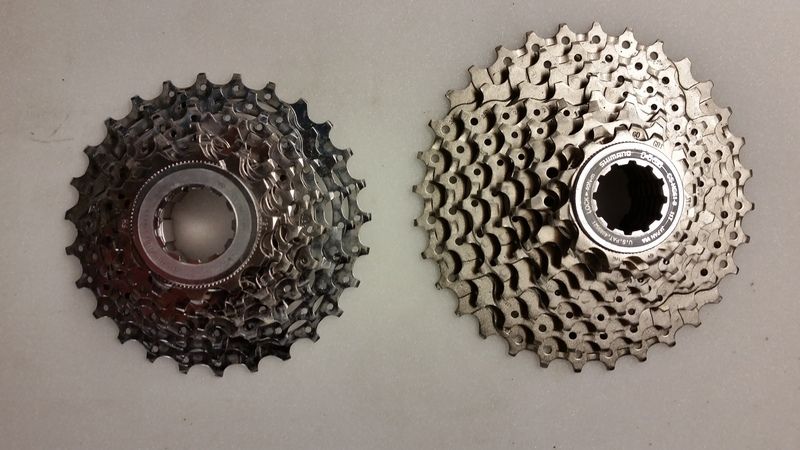 Conti Race King and X-King, 29 X 2.2 Folding, brand new, £18 each
Click on photos to see more, matthewex AT hotmail DOT co DOT uk. Prices are negotiable, PP gift or you pay the fees please.