Having a small clearout:
First up a 17'' Blue Carver 96er frame.
This comes with the geared dropout but can be run single speed using the included EBB.
Same frame as http://www.carverbikes.com/frames/original-96er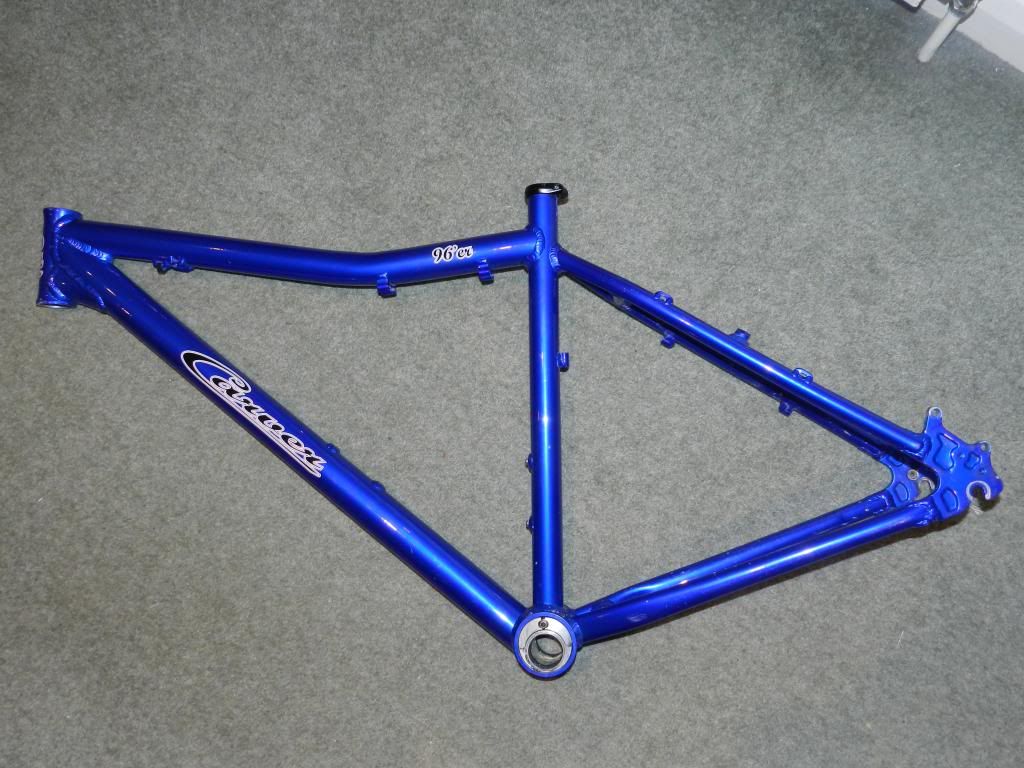 Looking for £90 posted.
Can include a On One 29er Front wheel for an extra £20.
Santa Cruz Blur 4x Frame.
Brought this last year from Daveyboywonder (from this forum) lack of use/space means its time to sell.
It was powdercoated by Triple-S last year complete with new decals and bearings.
Its the smaller of the two frame sizes.
Its in a very good overall condition with only a little bit of chain slap (now covered with a protector)
There was a small cable rub mark on the top tube that was checked before powdercoating and was found not to be a problem.
Comes complete with Fox Float RL Shock, Nukeproof Headset, Nearly new shimano external BB and a Santa Cruz seatclamp.
The photos shown below are from when I brought the frame, its still in the same condition and I can supply photos its just still built up as a bike.

http://www.santacruzbikes.co.uk/site2009/bicycles_archive/blur4x.html
Will be after £405 Posted.
I do have some parts that will go nicely on it if needed.
A Pair of Forumla Oro Bianco Brakes.
A very pretty and nicely made pair of brakes.
Rear brake has been fitted with a braided hose.
Slight bit of paint peeling of the lever mount.
Rear brake lever pivot has been replaced with a Bolt and Nylock Nut.
Bikeradar review here:
http://www.bikeradar.com/gear/category/components/disc-brake-systems/product/review-formula-oro-bianco-9919
Worked perfectly last time I used them, but they may benefit from a bleed.
Front hose is 85cm Rear is 140cm.

Would be after £50 posted for these, can probably supply mounts/rotors if needed.
445mm White Brothers Rock Solid Carbon Fork.
Nice light rigid fork.
Good tracking due to 34mm stanchions.
Comes with a post mount brake mount.
Bike radar review http://www.bikeradar.com/gear/category/components/forks-rigid/product/review-white-brothers-rock-solid-fork-11-13689
Steerer is 190mm.

Would be after £100 posted
All payments would preferably be by paypal.
Any questions please just email.
Jon